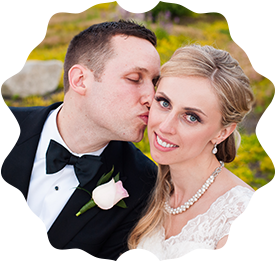 "
In searching for photographers for my wedding, I had three priorities… the first was that their work had to be jaw-dropping. My second priority was that the style of photography had to be lively – I loathe posed, formal photos, and did not want that for my wedding… I wanted photos that truly captured the love and life present on that day – people laughing, people crying, people rejoicing. Ariel and Matt know how to capture these special moments that will stay with you throughout your life – it is such a unique gift, and they have it. Third, I wanted photographers with whom my then-fiance and I would click. Matt and Ariel have an amazing dynamic with one another than makes you as a couple feel so relaxed – they are HILARIOUS!! They make you laugh so that in your pictures, you see true emotion and happiness.
Our pictures are so beautiful, it makes me want to cry every time I look at them (tears of joy, of course!). Each photo captures love, family, happiness and warmth.

"
Anna + Nate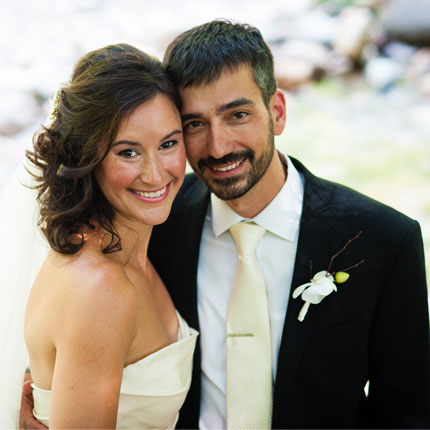 "
Ariel and Matt went above and beyond… the only limit was what we were willing to do (get in a stream for a shot? sure! Go to the top of a mountain? Absolutely!) Beyond just the willingness for the shots, the pictures came out beautifully! They both have quite an eye and impeccable timing. I was dancing and totally forgot they were there, and yet they were right where the fun stuff was happening, the candid shots came out looking very natural.

"
Cara + Jonathan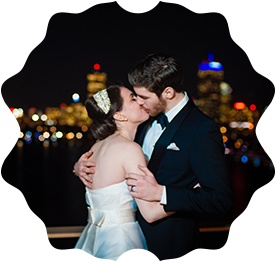 "
Ariel and Matt are, without a doubt, two of the most talented, kindest, and hardest working people… The quality of our pictures and the ability they had to capture the love and the fun on our big day was well worth whatever price they put on their services. They are just as fun as Kyle and I, and I knew instantly that they'd be the right people to capture the joy of our wedding. Seriously, we picked them because we could both see being friends with them outside of working together – a major plus in hiring a vendor!

"
Caitlin + Kyle


"
AMW Studios made our wedding day perfect! So easy to work with and laid back but pictures are amazing. Truly profesional and the best around!

"
Heidi + Chris


"
Ariel & Matt felt like guests at our wedding, not hired photographers. My cousin even thought Ariel WAS a guest and began to hit on her (oops!) Not a burden at all, they offered helping hands with any tasks that guests or family needed. While I cannot speak for the girls, as we were prepping for the ceremony, Matt fit right in with my friends and family as one of the guys. He helped keep the mood light (in spite of any nerves) by cracking jokes and taking friendly jabs. However, he was still very professional, capturing fantastic moments and unique shots. I would absolutely recommend Ariel & Matt. Regardless of size or setting, make the hire and RELAX! These two know what they are doing, they will help you have fun, and they will do an incredible job of capturing your big day!

"
Rebecca + Sam




"
If you want to truly enjoy your wedding day and relax knowing with confidence that your photographers will document the event beautifully and in detail, hire AMW Studios. Ariel and Matt are so fun and personable, they make you feel comfortable and at ease! I felt like they were truly a part of my wedding day and were not just vendors, but are now friends.

"
Brittany + John




"
Right from the start I new Christopher and I made the right choice hiring Ariel and Matt. You're so fun and relaxed, yet completely professional. Christopher is not a fan of getting his picture taken, even he enjoyed working with you guys and he felt comfortable the entire time. When the wedding day rolled around Ariel and Matt felt more to us like guests, not our photographers. Even though it rained on our wedding day and the music didn't work, Ariel and Matt were able to capture the beauty of our day…You wouldn't be able to tell looking at our pictures that a million things did not go as planned. The one thing that mattered most to me was pictures and I must say that is the one thing that actually went smoothly, all thanks to you guys. I could not be any happier with our experience with you. You are fantastic.

"
Taylor + Chris




"
We did not realize ahead of time how much time you end up spending with your photographers on the day of the wedding. For this reason, we lucked out in hiring Matt and Ariel who were as easy to hang out with as they are strong in their craft… When Casey's pants ripped doing jump shots right before the ceremony, Ariel saw the humor as much as well did. She kept the mood light, which helped us stay relaxed… When considering what photographers to hire, think about whose work you like and also think about who you want to stand near for so much of one of the biggest days of your life.
They made us comfortable, they made us laugh, and they engaged with our guests so energetically. The photos are great not just because of their style, but because of their personalities.

"
Casey + Kevin