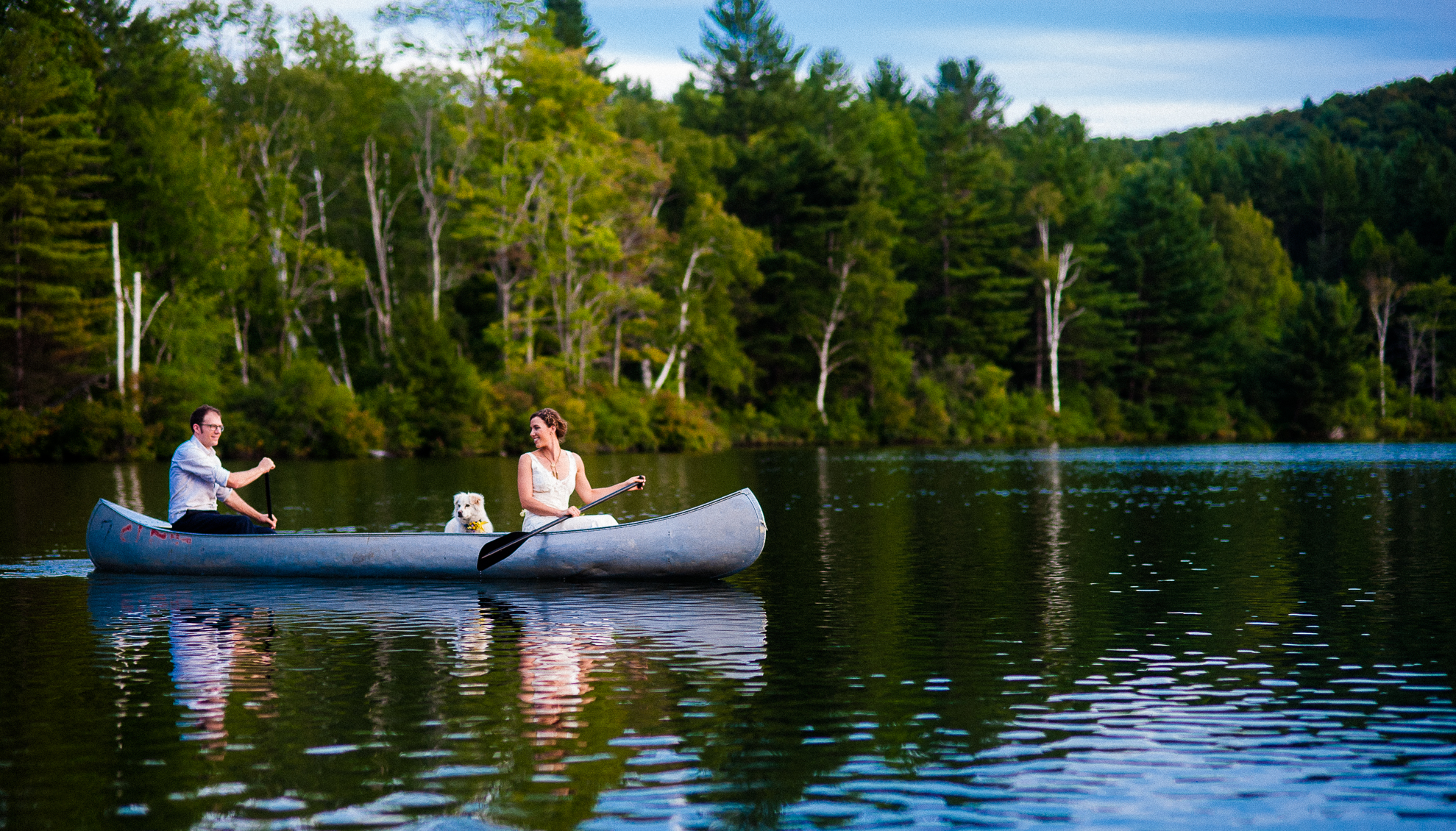 The White Mountains are the rugged mountains that stretch through northern New Hampshire and dip into Maine. They are named after the snow capped peaks that tower over the wilderness. The Presidential Range is the crowning jewel of the White Mountains; featuring some of the highest, most rugged peaks on the East Coast with Mount Washington being the tallest! The west coast often gets all the glory when it comes to mountain views, but these peaks prove that the east coast can be just as beautiful!
If you're planning an elopement, the quaint, wilderness-covered state of New Hampshire would make the perfect getaway. So keep reading to learn all about how to elope in the White Mountains!
Set a Date

For Your New Hampshire Elopement
One of the first things you'll need to do for your White Mountains elopement is set a date! But before you open up your calendar, there are a few things you'll need to consider.
Weather in the White Mountains
Like any mountainous region, the weather in the White Mountains can get pretty extreme. Winter brings blizzards and huge piles of snow – so unless you're keeping your elopement closer to sea level (the lower elevation areas can be a beautiful winter wonderland and you'll get towering white peaks in the background), winter isn't an ideal time to elope.
If you want some adventure on the day you tie the knot, I recommend eloping sometime in July and August. This gives you the most flexibility to adventure your way; you could time exploring some of New Hampshire's incredible lakes or swimming holes. By June the snow will have melted, and you'll get the best weather for hiking! Keep in mind that even when temperatures rise in the summer, the summit of many of the mountains will be significantly colder – so bring a jacket!
Fall is gorgeous if you want to see the leaves change colors. The temperature is perfect during the day but will be cooler in the evening and first thing in the morning. You may get some snowcapped peaks as well! September or early October is the absolute best month to enjoy fall in The White Mountains.
Spring is incredible for wildflowers – but, higher elevation areas will likely be snowy!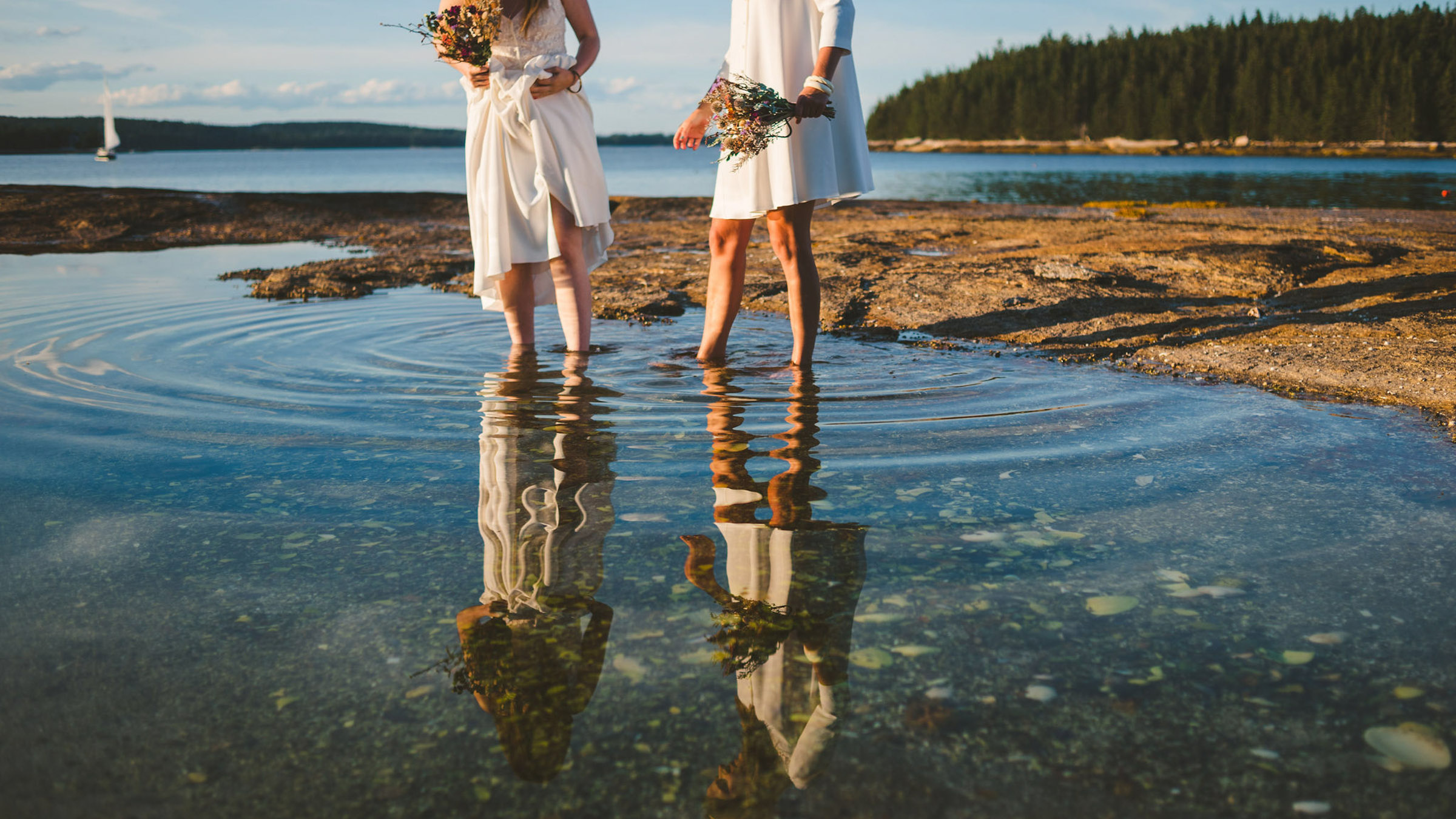 Avoiding Crowds

in the White Mountains

Because summer brings the best weather to the White Mountains, it also brings crowds of tourists and locals who want to hit the trails to take advantage of the sun. To avoid crowds, consider eloping right before busy season, or right after. Eloping in June or September will give you more privacy, but keep in mind that you may run into some snow if you're headed up to the higher peaks like Mount Washington!

Even if you elope during the busy season, there are still a few ways to avoid crowds. First, I always recommend that couples plan their elopement for a weekday. Since most people are off work on the weekends, eloping during the week, especially Monday through Thursday, will give you a chance to find a secluded spot to say your vows!

Another way to avoid onlookers while you read your vows is to plan your ceremony for sunrise. If the thought of waking up before the sun sounds unappealing, hear me out! Not only will sunrise give you an incredible view of the sky lighting up in shades of pink, it will also give you so much more privacy. Getting to even the most popular places while everyone else is asleep will guarantee that it will be empty – or at least nearly empty. You'll have plenty of space to say your vows with no one around. If sunrise really isn't your cup of tea (I can't blame ya!), opt for a sunset ceremony – while it isn't as private as sunrise, most people do clear out before the sun starts going down.
Choose a Location
With so many beautiful spots throughout the White Mountains, narrowing it down might be the hardest step! To get you inspired, here are some of my favorites.
Mount Washington
Mount Washington is the highest peak in the northeastern United States! At 6,288.2 feet in elevation, its summit is known for unpredictable weather but if you're up for an adventure; consider eloping on Mt. Washington. There are several trails that you can take to the summit, and after a steep thigh-burning ascent, you'll be greeted by a sweeping view of the surrounding mountain peaks. If you want to say your vows on the summit of Mt Washington via a hike I would recommend a very early start to the adventure. The Ammonoosuc Trail may be a great option, this gives you the opportunity to stop at AMC Lake in the Clouds hut for a refreshment on the way up or down! You also have the option of saying your vows by the water at stunning Lake in the Clouds.
Just imagine eloping on a clear day, with mountains as far as you can see! For those who want the views without all the thigh-burning, Mount Washington even has a train called The Cog that climbs all the way to the summit or you could drive the Mount Washington Auto Road which is an incredible experience in and of itself! The cool thing about driving up is it gives you a ton of photo opportunities along the way!

Mount Lafayette
The second most prominent peak in New Hampshire, Mount Lafayette is one of the most hiked mountains in the White Mountain range. This is one of my personal favorite hikes I've ever done! For an epic White Mountains elopement, you can take the 8.6 mile Franconia Ridge Loop, which takes you past a waterfall and up to the summit of Mount Lafayette.

Pro tip: Hike this epic loop backwards and stop on the way up at the AMC Greenleaf Hut for a refreshment. This also helps to avoid some of the crowds because most people hike it the other way. For a rustic overnight experience you could book a night at the Greenleaf Hut and wake up to say your vows at sunrise on top of Lafayette! Traversing the ridge line and tying the knot at the highest point is an experience you'll remember forever!
Franconia Notch State Park
Franconia Notch features hikes for every level of adventure – whether you want a short walk around the lake, or a steep trek up to Mount Lafayette, you'll find a trail here! The park offers swimming and canoeing on Echo Lake, and even an aerial tramway that will take you over a panorama of valleys and mountains. This is the perfect White Mountains elopement location whether you want a strenuous hike, or a relaxing day!
Cathedral Ledge State Park
For those who love the reds, oranges, and yellows of fall, Cathedral Ledge is the perfect place to elope. You can enjoy trails around the lake, or to the summits of the surrounding mountains. No matter what time of year you elope, this park will make a beautiful backdrop!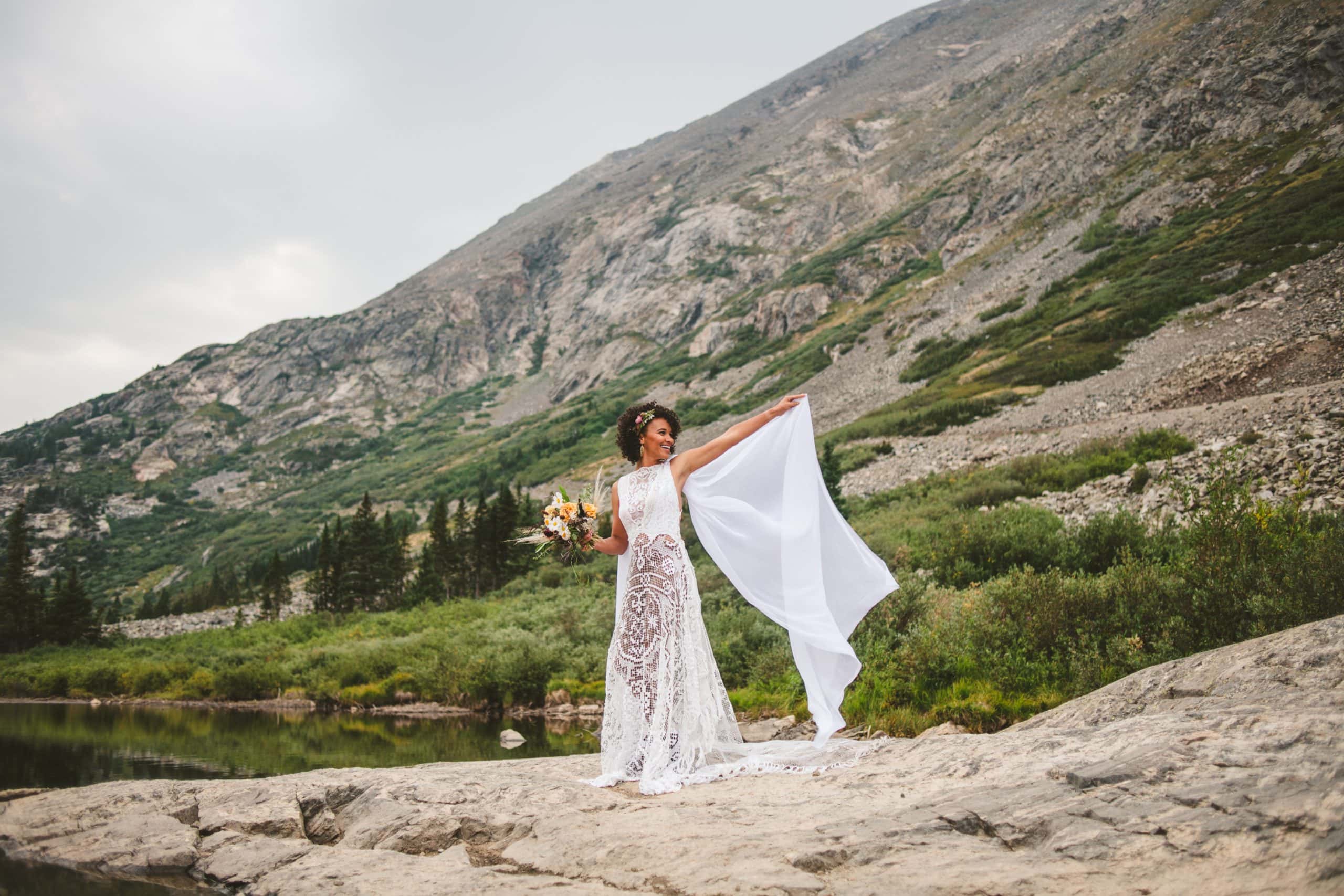 Hire Your White Mountain Elopement Vendors
A lot of vendors fill their calendars a year out, so it's never too early to inquire! A great team of vendors who specialize in elopements will take a lot of pressure off of you – planning even a small ceremony can be stressful, so leave it to the experts! While most wedding vendors also offer services for elopements, I strongly recommend hiring people who specialize in elopements. They'll be the experts when it comes to locations, permits, and everything that eloping entails.
Luckily, I know a pretty sweet photographer who doubles as an elopement coordinator & guide! Hint, hint… it's me! As an elopement photographer, I believe in helping every couple get the day of their dreams – so that means I'm here to help with everything, beginning to end. Plus, I've got a list of all the best elopement vendors in New Hampshire!
The Legal Stuff
When most couples think about their elopement day, paperwork usually isn't the most exciting thing on their list. But, it's important! Here's the scoop on everything you'll need to make sure your marriage is legal and valid.
Getting Your Marriage License in New Hampshire
To get your marriage license, you'll need to visit any county clerk's office in New Hampshire. You'll need your birth certificates or passports and a photo id, along with $50 for the marriage license fee. After you receive your license, there's no waiting period – but it does expire in 90 days.
The Officiant
You will need an officiant to sign your marriage license – but you have a few different options! You can hire an elopement officiant who is ready for whatever adventure you're planning, or ask a friend or family member to perform your ceremony. Getting ordained is easy and free, so all they would have to do is visit ULC.org. After a few minutes, they'll be ready to perform your New Hampshire marriage ceremony.
The Witnesses
You actually don't need witnesses in New Hampshire – yay! Just another reason why the White Mountains are the perfect place to elope, especially if it's going to be just the two of you.
White Mountains Park Permits
Depending on where you elope, you may need a permit – even for a small ceremony. Each location's requirements are different, so make sure to do your research or hire an elopement photographer who helps with this piece!
Book Flights and Lodging
If you're flying in from out of state, the closest airport to the White Mountains is the Franconia Airport. But, this airport is pretty small, so you may also want to try the Manchester-Boston Regional Airport, which is bigger and offers more flight options!
The White Mountains have plenty of lodging options, from luxurious resorts to quaint cabins. Combine your elopement with your honeymoon, and choose a home base to come back to after a day of exploring! You can stay somewhere cozy, like the Sunny Brook Cottages, or at a romantic bed and breakfast.
Ready for Your White Mountains Elopement?
If you're set on the White Mountains, I don't blame you! The scenic overlooks and natural beauty are hard to resist. So, if you're ready to start planning your day, contact me! I'm ready with all the secret locations, all the planning resources, and all the hype girl energy to help you craft the perfect day.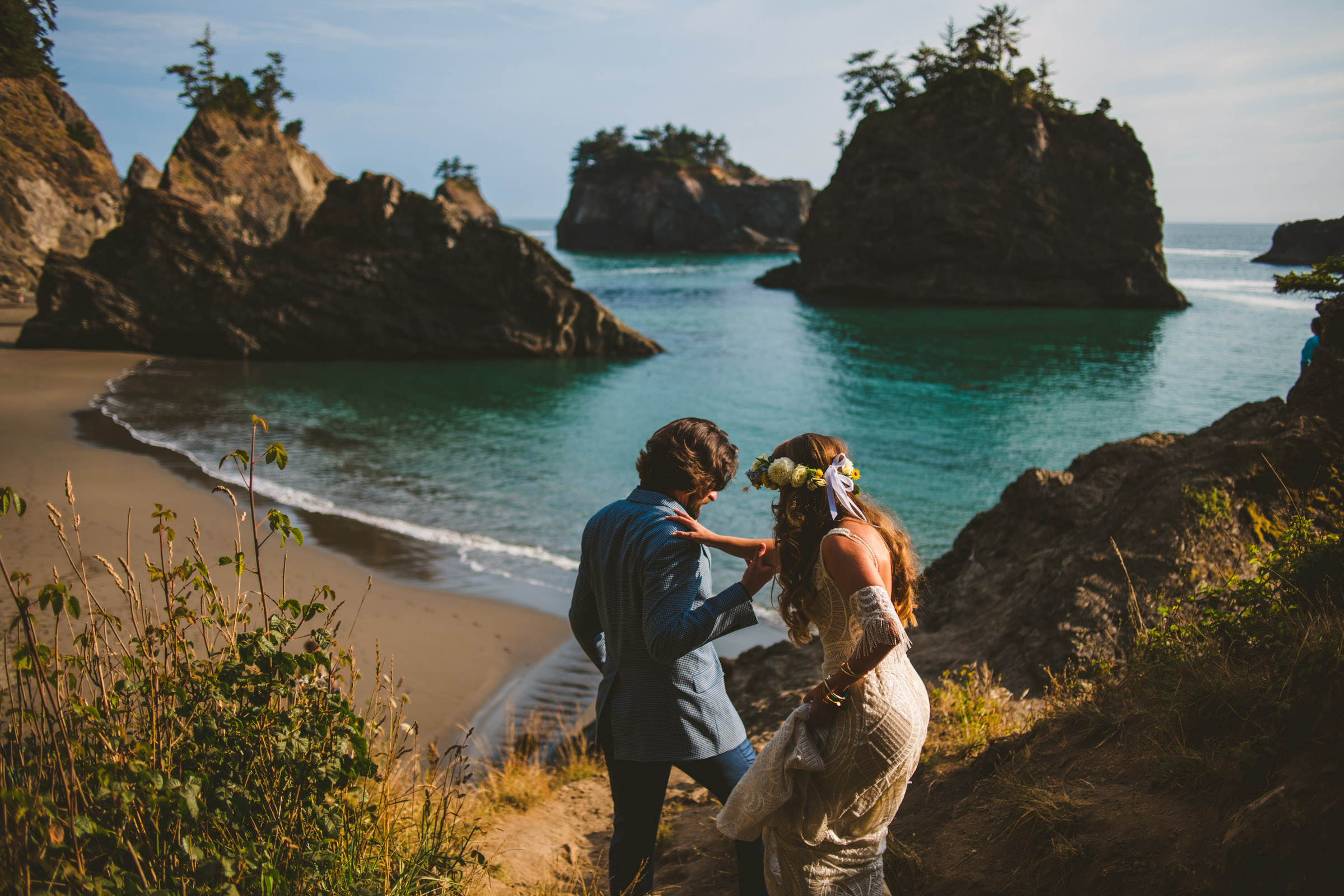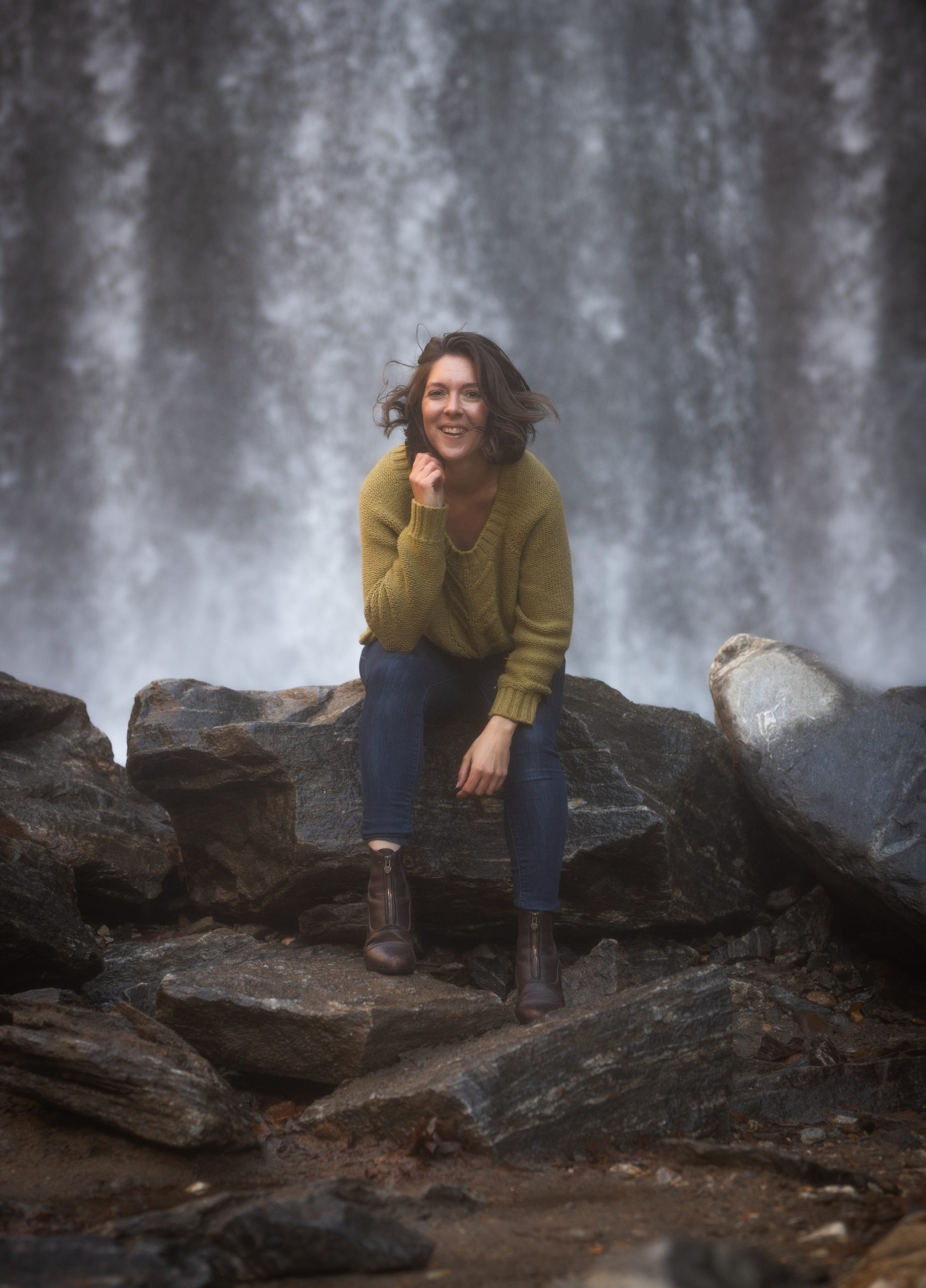 As an elopement photographer and outdoor enthusiast I get absolutely giddy with excitement when helping fellow adventure seekers, travelers, dreamers & fun-loving couples plan their experience based, intentional wedding days.
I live on the road full time traveling the country in my dream home on wheels – a 38' long fully off grid, converted bus.
Some of my favorite adventures include: Backpacking and ice climbing in Alaska, hiking the Napali Coast on Kauai, trekking in the jungles of Costa Rica.