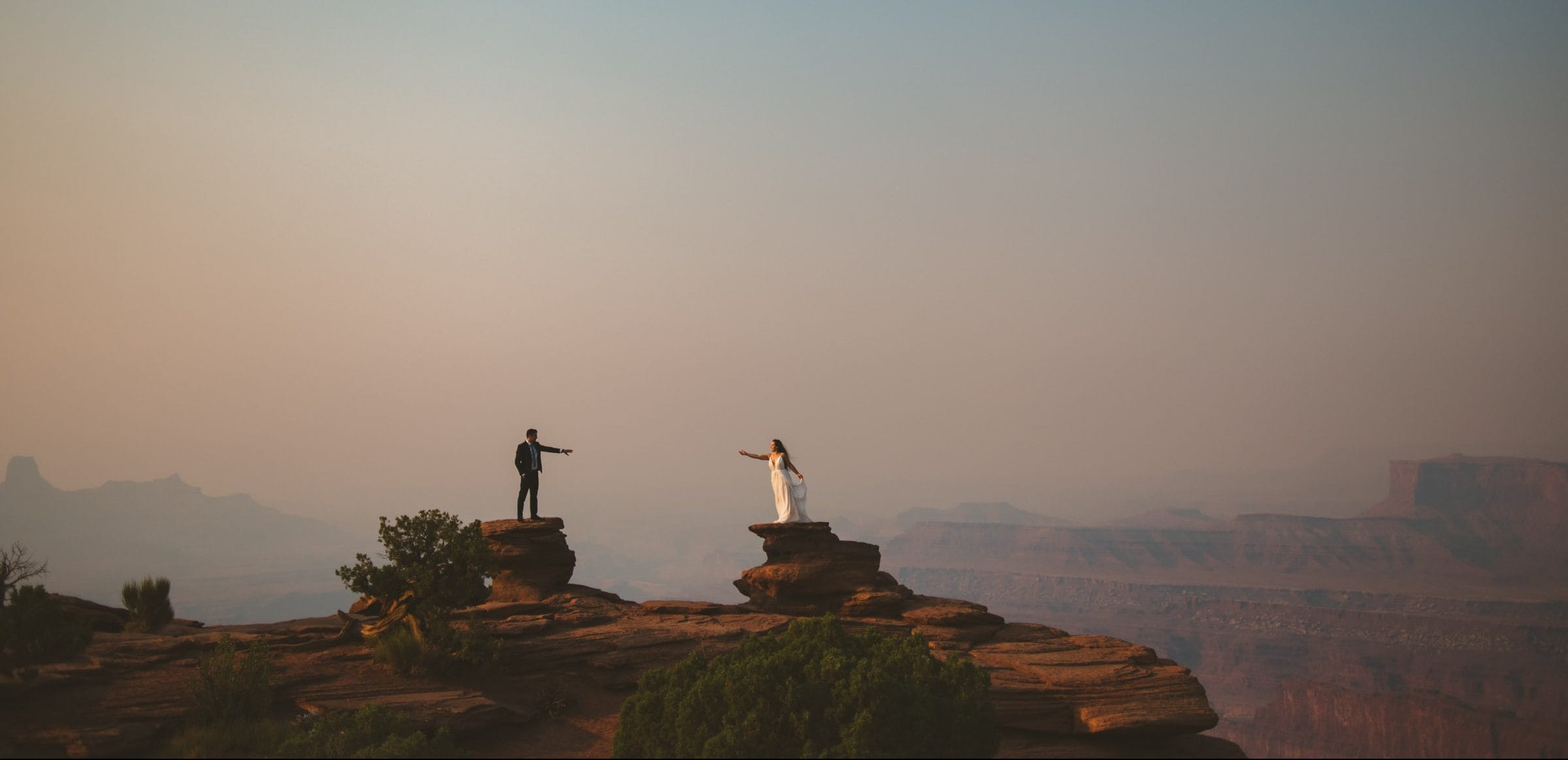 Sedona, land of red rocks and incredible sunsets, is located between Phoenix and Flagstaff in Arizona, and draws rock climbers, hikers, and eloping couples from all over! It is even said that Sedona is an energy vortex, which means the town's energy is conducive to healing and meditation. Whether or not you resonate with the spirituality aspect, it's hard to deny the good vibes and rejuvenating feeling of being outdoors! If you love vast desert views, unique rock formations, and cactus gardens, a Sedona elopement might be right up your alley! Keep reading to learn everything you'll need to know about how, and where, to elope in Sedona, Arizona.
Sedona Elopement Guide
About Sedona
Weather in Sedona
Though it's located in the desert, there is occasionally a dusting of snow over the red rocks of Sedona. Winter temperatures are relatively mild, with morning and evening lows in the 30s, and day time temperatures in the high 50s. I think winter is an amazing time for a Sedona elopement, as there aren't as many crowds. You're more likely to have some privacy for your ceremony, and the snow makes for some unique views!
Spring and fall are the most popular times to visit Sedona, as temperatures start to warm up. While the weather is perfect for an elopement, you may run into more crowds throughout the day.
Summers in Sedona can reach up to 100 degrees – which isn't ideal for most couples! Unless you plan to stick to only going outside in the mornings and evenings, summers are better spend in the mountains.
Avoiding Crowds
The most popular times to visit Sedona are March through May, and September through November. The weather is just right, so tourists flock to hike and explore the red rocks. If you don't want to brave the chilly winters, I recommend eloping in either March or November. This way, your elopement will be right before or right after the busy season, and you can have optimal weather, with less crowds.
Even if you elope on the busiest day of the year, there are a few things you can do to ensure more privacy for your ceremony. I always recommend that couples elope on a weekday, as these days are significantly less busy! You can also plan your ceremony for sunrise, when most people are still asleep.
Important Leave No Trace Information for your Sedona Elopement *No Wedding Setups Allowed*
As of January 2021, Sedona elopements can't include arches, rugs, tables, or any kind of wedding setup! But, with backdrops so beautiful, who needs all the extras anyway?
Where to Elope in Sedona
You'll have no trouble finding a beautiful place to tie the knot – but you might have some trouble narrowing down your options! Here are some amazing places to get you inspired.
Cathedral Rock
With just 1.2 miles round trip, you'll find incredible views at Cathedral Rock. With towering rock formations behind you and cactus groves along the trail, this is one of the most iconic views in Sedona. Hike to the top at sunset for a jaw dropping view of the valley below – the short (but steep) trek will be worth it!
Bear Mountain
Whether you hike to the top or stay closer to sea level, this less trafficked spot is perfect for a Sedona elopement. Bear mountain makes an excellent backdrop for those who want to elope in the valley of Sedona, amongst the desert shrubs and cactus gardens. But for couples seeking a little extra adventure, a hike up the mountain will lead you to sweeping views of the desert.
Red Rock Crossing
Red Rock Crossing is easily accessible, with a creek surrounded by lush greenery and Cathedral Rock in the distance. Oak Creek runs through this area, and the red rock formations that tower above it aresome of the most photographed in Sedona!
How to Make Your Sedona Elopement Official
When you elope in Sedona, you'll need to do some paperwork to make sure your marriage is legal!
Marriage License
To elope in Sedona, you'll need to get an Arizona marriage license. This can be done at any county clerk's office in the state, but the Coconino county office is closest to Sedona. You'll need to go together to get your marriage license, and bring photo IDs and $83 in cash, or cashier's check. There is no waiting period, which means you can use your marriage license as soon as you get it! If you're traveling from out of state, make sure to get to Sedona, Arizona early enough to do this. After the ceremony, your marriage license will need to be mailed or dropped off within 10 days.
Officiant
An officiant needs to sign your marriage license to make your elopement official! You can hire an officiant, or have a friend or family member get ordained. If there's someone you trust to perform the ceremony, they can become a minister for free on ULC.org!
Witnesses
Two witnesses need to be there to sign your marriage license. But, the only requirement is that they be over 18 – which means if you weren't planning on inviting guests, and of your elopement vendors or literally any adult you run into throughout the day can sign!
Where to Stay in Sedona for your Elopement or Intimate Wedding
After a long day of exploring the red rocks and taking in those epic desert views, you're going to need a place to kick back and relax. Here are some places perfect for your stay in Sedona!
Enchantment Resort
This luxurious resort has casitas and suites nestled right in the red rocks of Sedona. You can take in the beauty of Arizona right from your bedroom window, or from the pool!
Canyon Wren Cabins
These rustic (but fully modern and complete with amenities) cabins are the perfect romantic getaway for those who want to be out in nature, without getting down and dirty with camping! The cabins are tucked away in the quiet woods of Oak Creek Canyon, providing a cozy home base for your Sedona elopement.
Country Cottage
Searching on Airbnb is always a great way to find places to stay, and this little cottage in Sedona is the perfect spot! Perched right next to a lavender field, this tiny home provides a perfect getaway.
Book Your Elopement Vendors
Planning even the smallest elopement ceremony can be stressful – but that's why I'm here! As an elopement photographer, my job is to be your guide and cheerleader as we plan your elopement. From finding the perfect (and not so popular) spot to say your vows, getting all the right permits, and recommending other elopement vendors who will make your day absolutely incredible, I'm here for you! If you're ready to plan your Sedona elopement, reach out, and let's do this thing!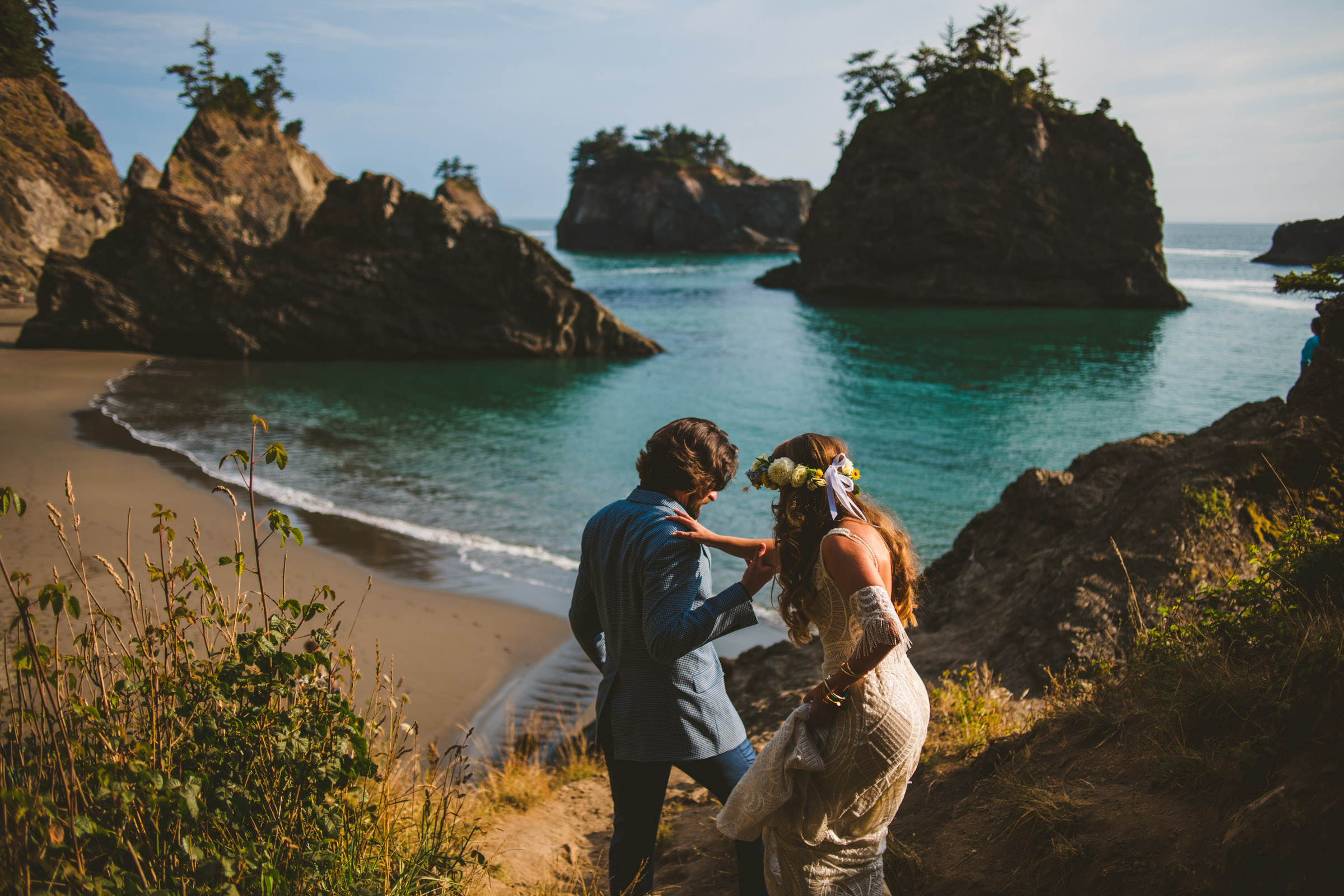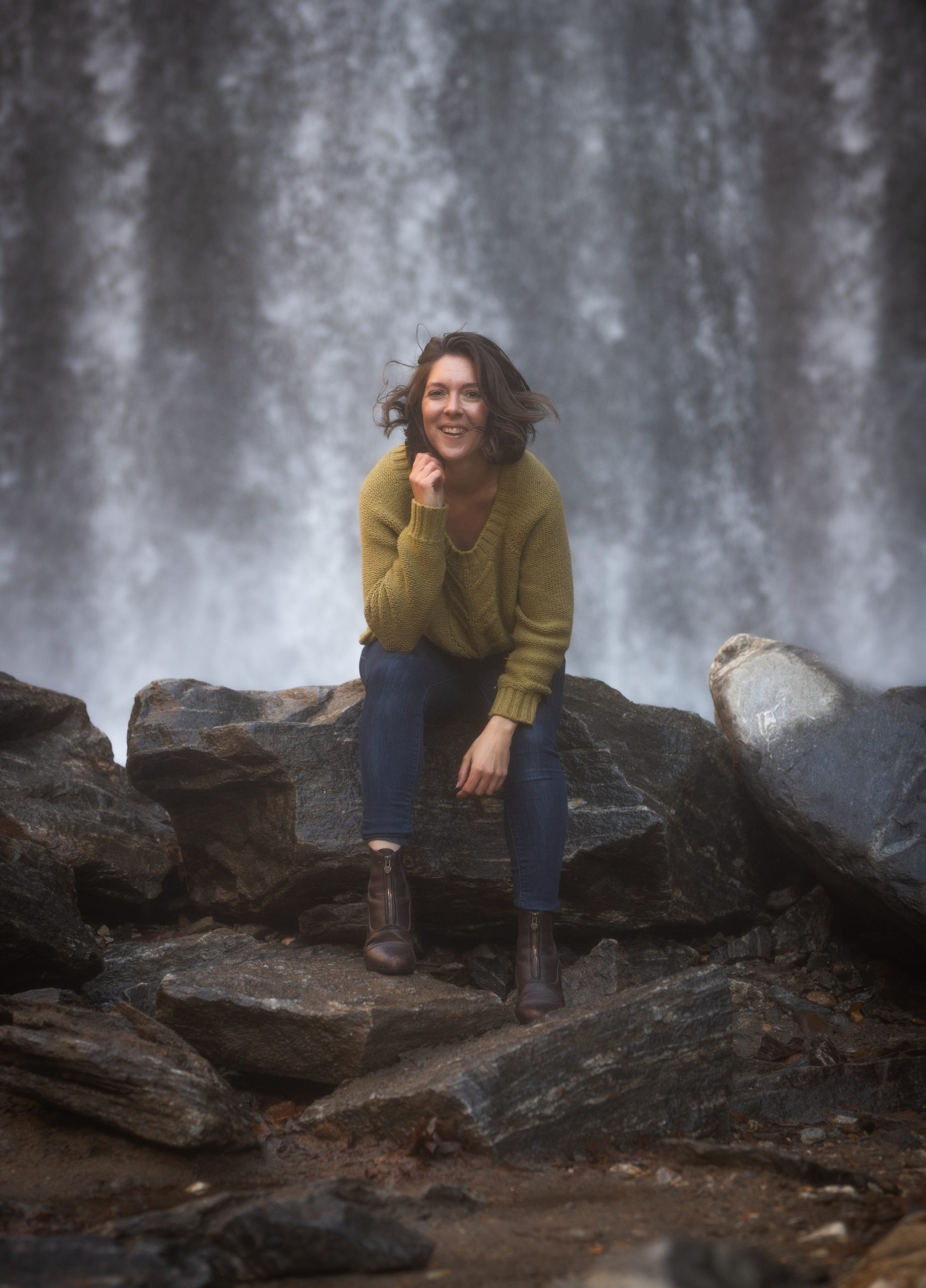 As an elopement photographer and outdoor enthusiast I get absolutely giddy with excitement when helping fellow adventure seekers, travelers, dreamers & fun-loving couples plan their experience based, intentional wedding days.
I live on the road full time traveling the country in my dream home on wheels – a 38' long fully off grid, converted bus.
Some of my favorite adventures include: Backpacking and ice climbing in Alaska, hiking the Napali Coast on Kauai, trekking in the jungles of Costa Rica.