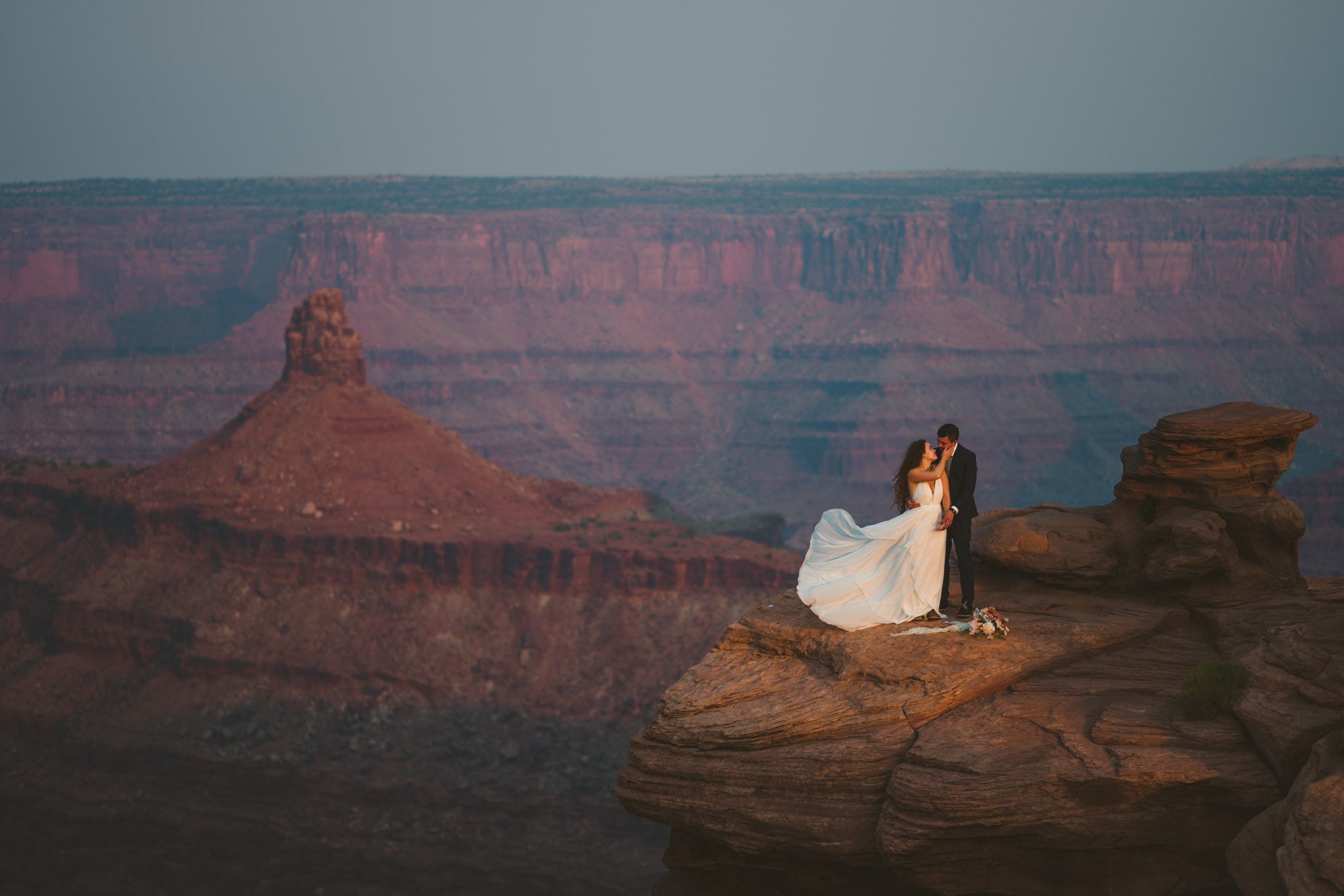 Moab, a stunning red rock playground for any intrepid adventurer. A truly magical place that I'm always stoked to return to and always sad to leave. If you're into pretty much anything outdoorsy; Moab should be at the top of your list of places to visit; Rock climbing, kayaking, mountain biking, spelunking (yup this is a thing), 4×4 adventures – Moab has it all! If you're recently engaged & you're considering a destination wedding or adventure elopement in the desert, Moab should be at the top of your list. I'm hoping this post and these images will give you inspiration & helpful information to get you started planning your adventurous wedding experience in Moab, Utah.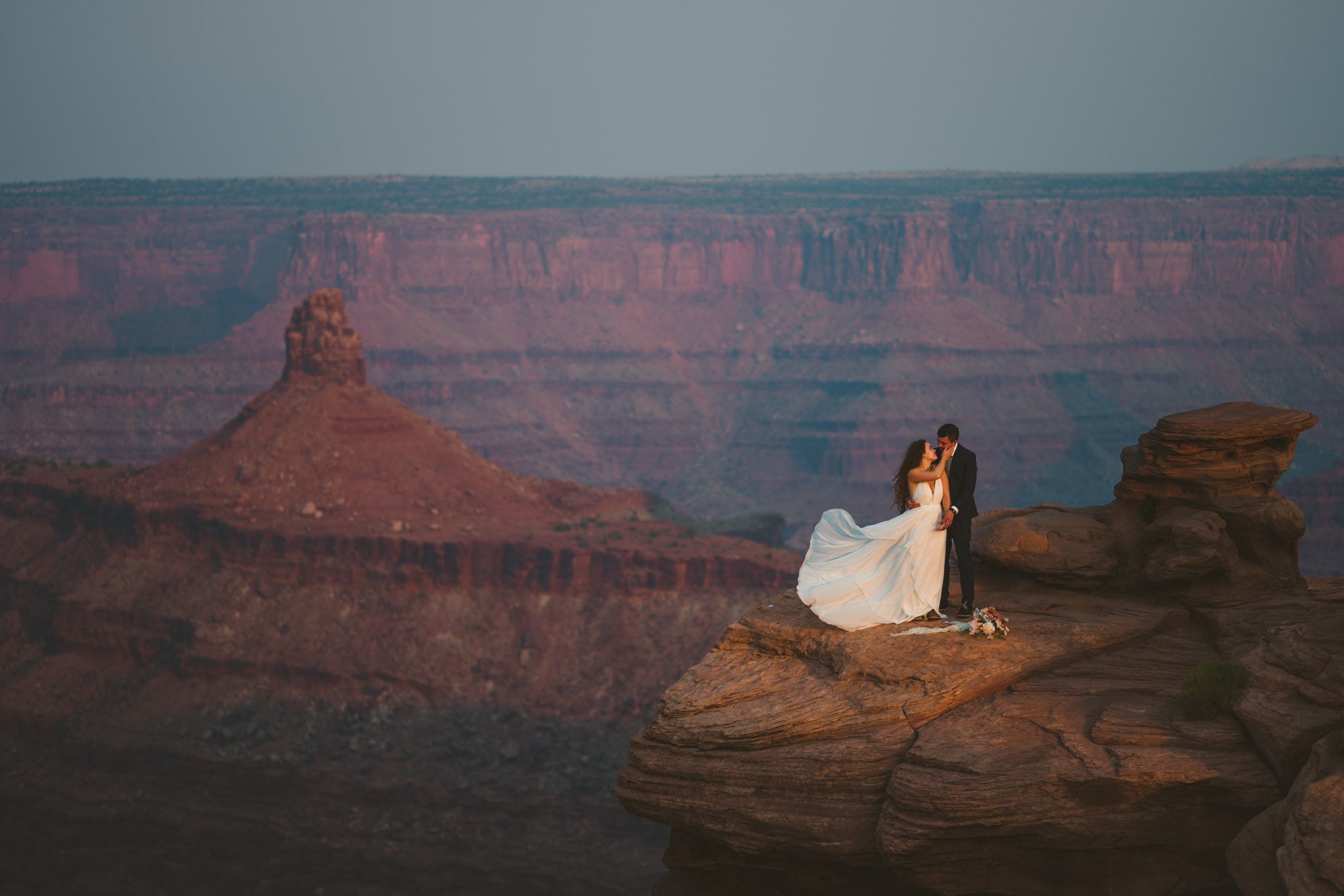 Eloping in Moab, Utah
Moab has exploded in popularity recently with couples looking to have an adventurous elopement or destination wedding. From it's cute downtown area with lot's of good food, drinks & local shops to endless outdoor activities it's no surprise that it's becoming such a sought after destination for an adventure wedding experience.
Getting Your Marriage License In Moab
You can get your marriage license in Moab at the Grand County Clerks office:
125 E. Center St.
Moab, UT 84532
To obtain the marriage license you both must show up at the clerks office between 8am-4:30pm Monday through Friday. Make sure you have your photo IDs and know the full name of your officiant. A non refundable of marriage license fee of $40 must be paid. There is no wait period so you can get married anywhere in Utah the day you get your marriage license. Your license is valid for 30 days. In addition to your Officiant you will need two witnesses over the age of 18 to sign the license to make your marriage official. Often times your elopement photographer can be one of the witnesses.
More information or apply for your marriage license in Grand County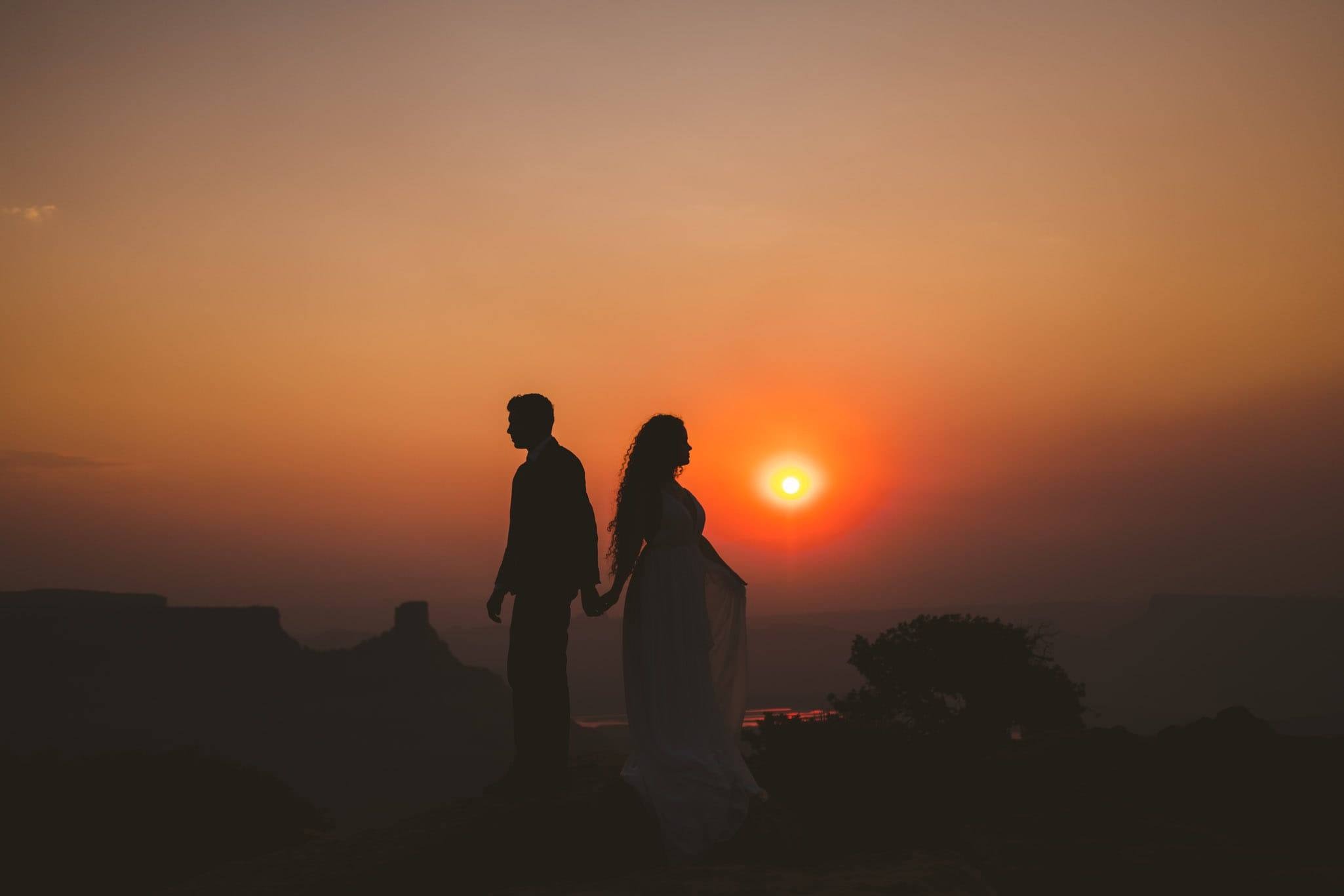 Best Moab Elopement Locations
Say your vows standing cliffside at Dead Horse Point, beside the Colorado River or under a gigantic red rock arch – Moab has it all!
There are many incredible locations to get married in or near Moab. Below you'll find a sampling of the more popular options but there are so many more off the beaten path places to explore. The awesome thing about eloping is you can make your wedding a full day adventure & explore a couple different locations! As your Moab elopement photographer I can help you consider what locations would be the best for you & any guests you have invited. There is a lot that goes in to picking that perfect place to say your vows and I would love to help you find that hidden gem of a location.
Arches National Park Elopements
When someone say's they're visiting Moab, Utah, Arches National Park is probably the first thing that pops into me head. Arches National Park is packed with unique & epic sandstone rock formations. Can you imagine saying your vows under one of the towering arches that made Moab famous? The word magical comes to mind. Do keep in mind that Arches National Park is very very popular amongst tourists so planning for a midweek, sunrise ceremony will offer your best chance at privacy for your Moab elopement. If you don't mind the cold & even love the idea of getting married in the snow with a beautiful red rock backdrop; choosing to have elope in the winter in Moab is a great way to enjoy Arches without the crowds.

No matter the time of year you must have a permit for your elopement, wedding or any kind of ceremony in Arches National Park. The permit fee is $185 this includes a $55 non refundable application fee and a $130 administration fee. You can file for your Arches National Park Wedding permit just 10 days from your ceremony date but I highly recommend planning well in advance and securing your permit at least 30 days prior.
Dead Horse Point State Park Elopements
Located about 9 miles from downtown Moab is this treasure of a state park. It has miles of hiking & biking trails and many stunning locations to say your vows. A huge plus for you dog lovers is that many of the trails at Dead Horse Point State Park are pet friendly so you can have the sweetest elopement with your pup by your side. Make sure to plan ahead and get the required wedding permit at least 30 days in advance though I recommend leaving yourself 45-60. The permit for a wedding or elopement at Dead Horse Point is just 60 dollars and does not include regular entrance fee's to the park which you can expect to pay the day of.
Canyonlands National Park Elopements
Home to stunning Mesa Arch, Canyonlands National Park is worth considering for your desert elopement. It's about a 45 minute drives from Moab and overs vast gorgeous landscapes as the backdrop for an epic place to say your vows. There are 4 sections of Canyonlands with Island in The Sky being the most popular and also the busiest section to visit since it's the closest to downtown Moab. You do need a permit to have your elopement or wedding ceremony in Canyonlands National Park; as with Arches the fee is $185. This fee does not include your entrance to the park on the day of your wedding.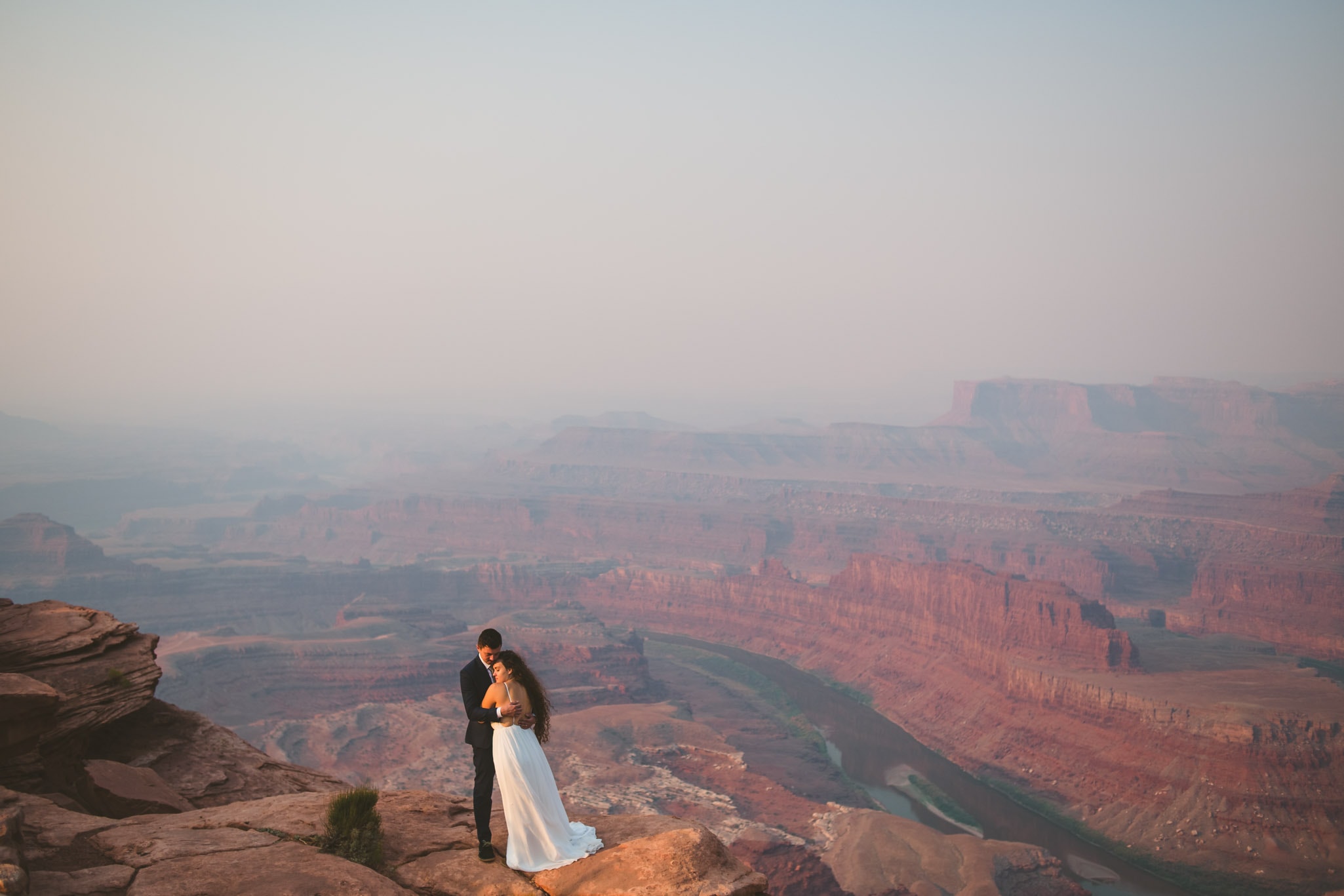 Castle Valley Elopement or Surrounding BLM Land in Moab
My last trip to Moab I spent some time exploring the public lands that surround Moab, particularly Castle Valley. BLM land offers so many incredible options for a more off the beaten path experience with so much gorgeous scenery. From free camping to endless hiking & mountain biking trails BLM offer just as much opportunity for adventurous souls to enjoy the outdoors as any of the national parks in the area. You as a couple do not need a permit to have your small wedding or elopement ceremony on BLM land but your photographer must have the correct permits which they can get through the local BLM office. I can help you find the perfect location for your Castle Valley elopement.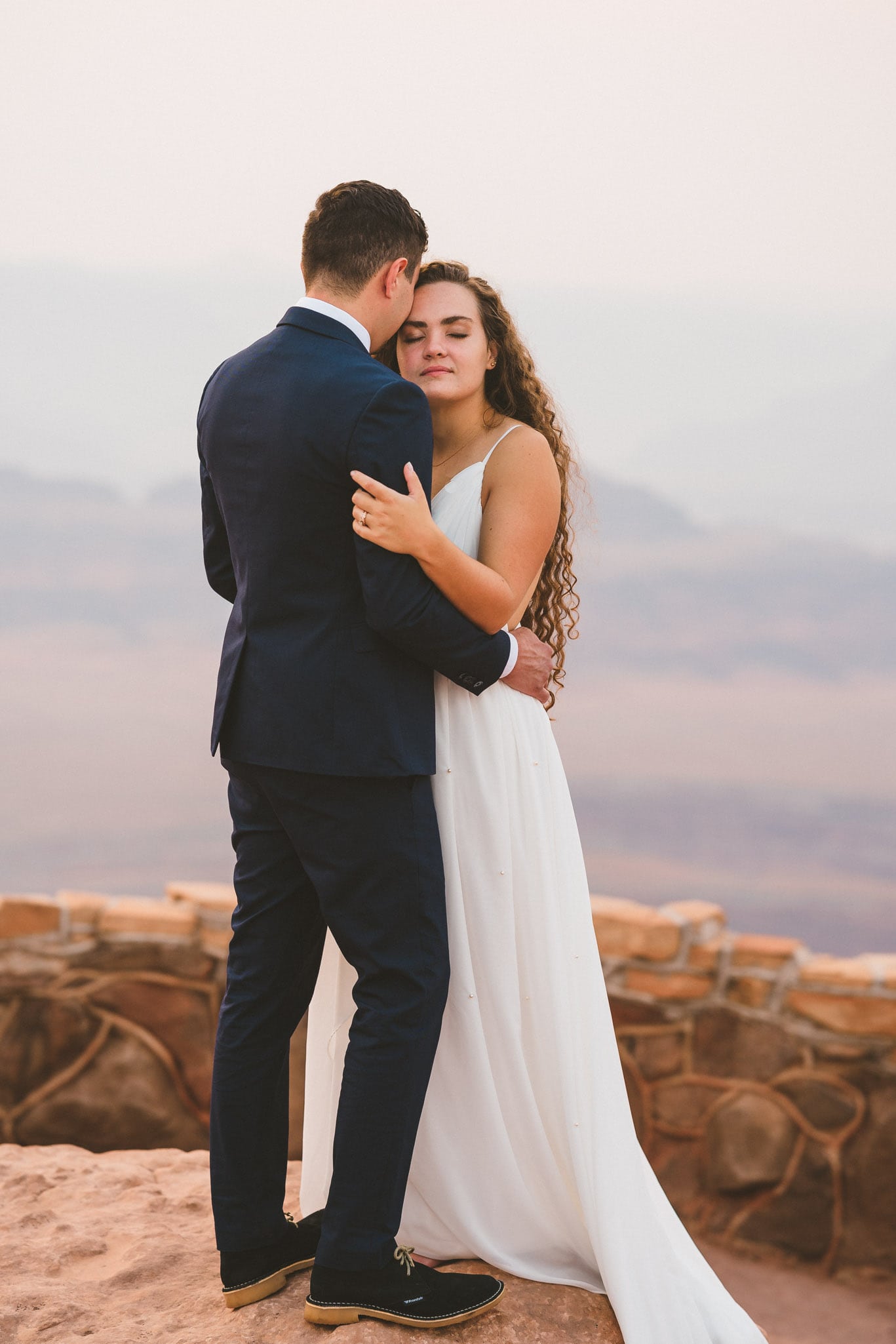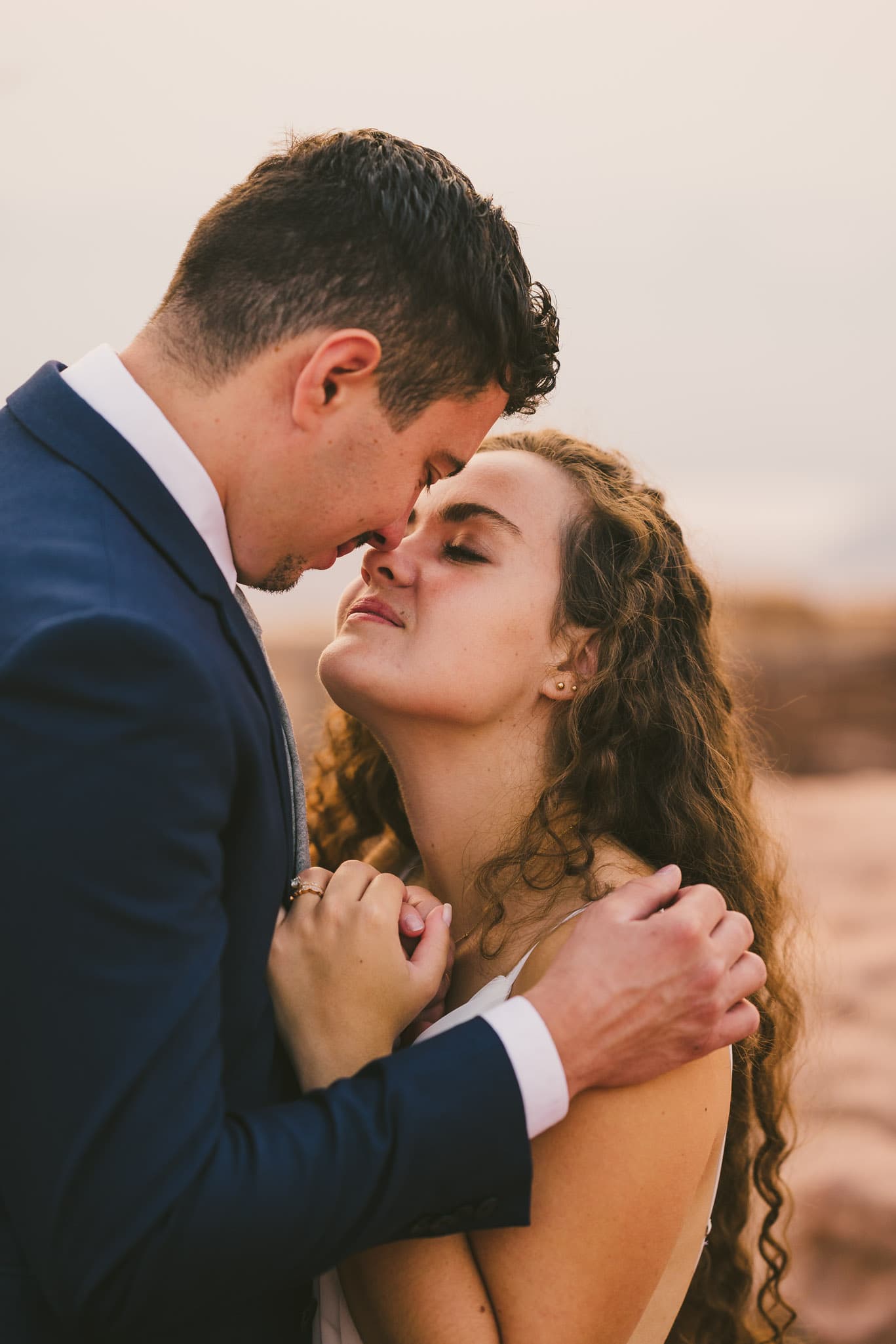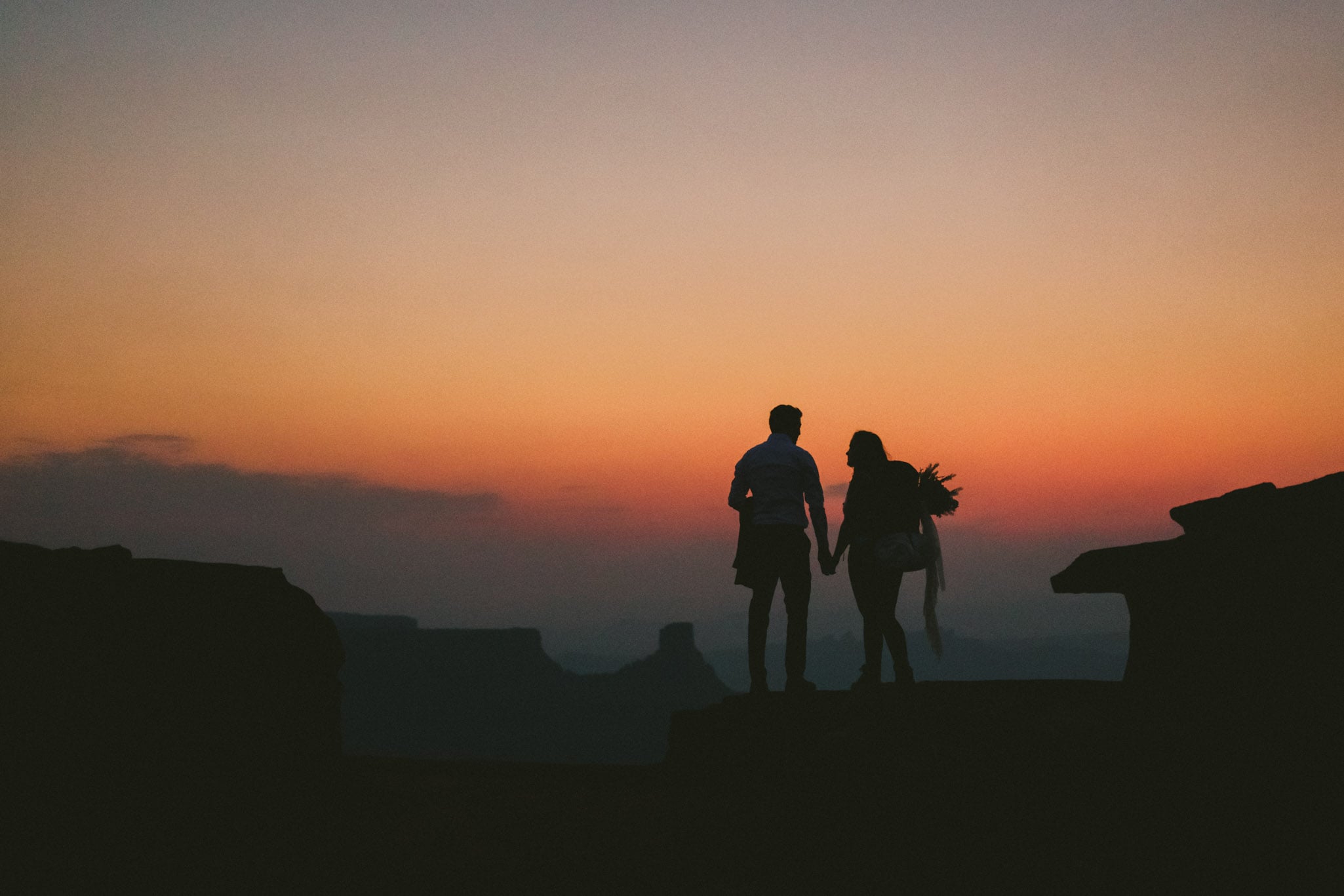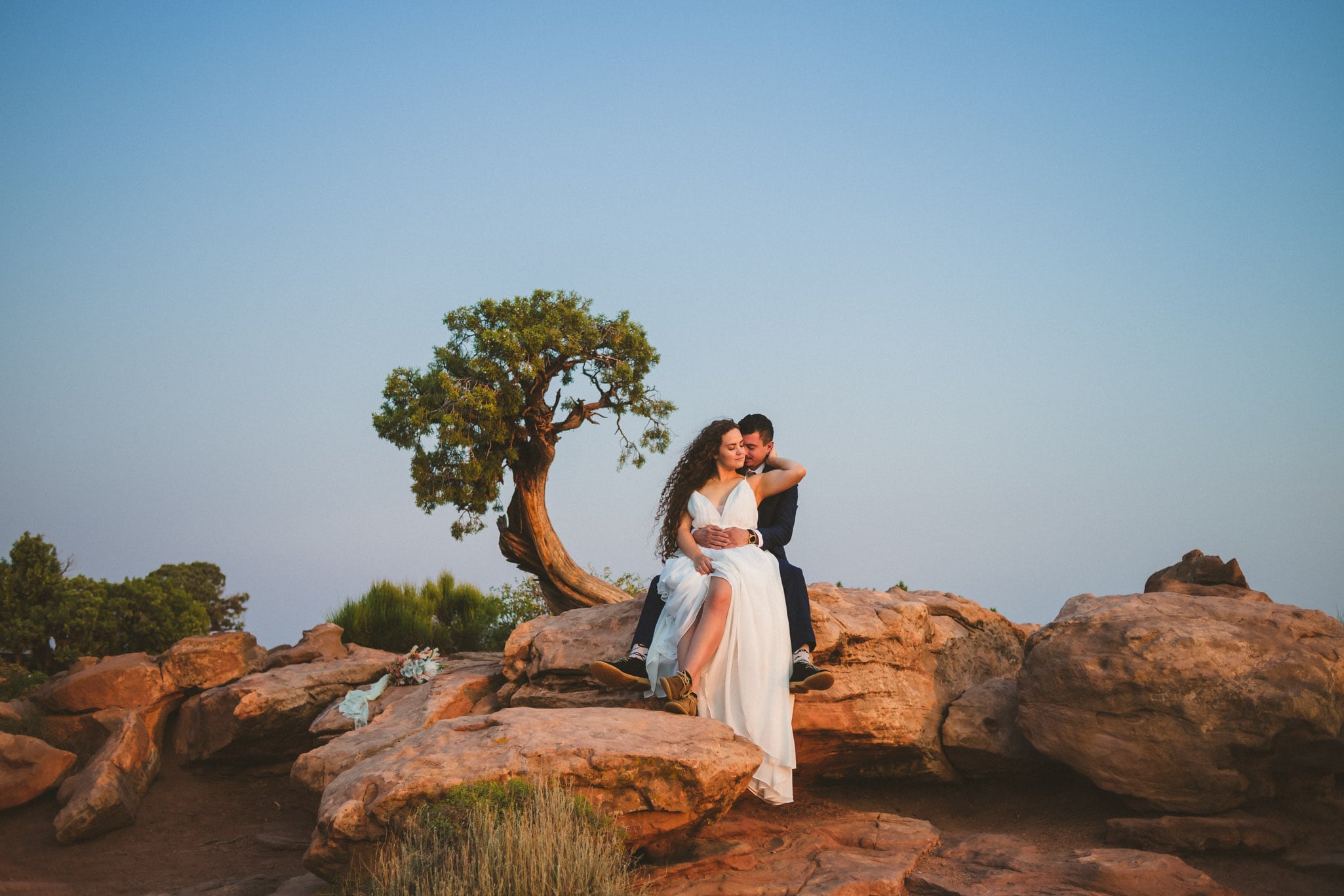 Sample Itineraries for your Moab Elopement
For this intimate elopement we wanted to avoid the crowds of tourists that flock to Moab to visit Arches. We chose to wake up before dawn and head out to nearby Dead Horse Point State Park which is far less popular than Arches but is simply stunning. S & E got dressed together on the edge of the canyon cliffs. We explored the rocks, watched the sunrise over the Colorado River below, danced in the warm sunlight. There are some epic rock formations and we explored the rim of the Canyon before finding a quiet location for S & E to say their vows. Once we had soaked op the last of the early morning light we headed back to Moab for a quick breakfast break. Moab has so many cute restaurant options, you can see my dining guide below for ideas on where to eat. Post breakfast we met up just outside Moab along the Colorado River for some kayaking fun. There are so many incredible unmarked pull offs that have awesome beach areas & places to put your boat in the river. We spent a couple hours playing in the river before heading to Moab's only Brewery for lunch & a post elopement beer.
Half Day Moab Elopement Timeline:
2pm – Get fancied up at lodging, Sorrel River Ranch.
3pm – First Look or if you got dressed together then jump in the car & depart for Arches National Park
4:30 – Elopement Ceremony under Double Arch
6:00 – Head to Castle Valley for Sunset Pictures
7:30 – Dinner back at Sorrel River Ranch under the stars.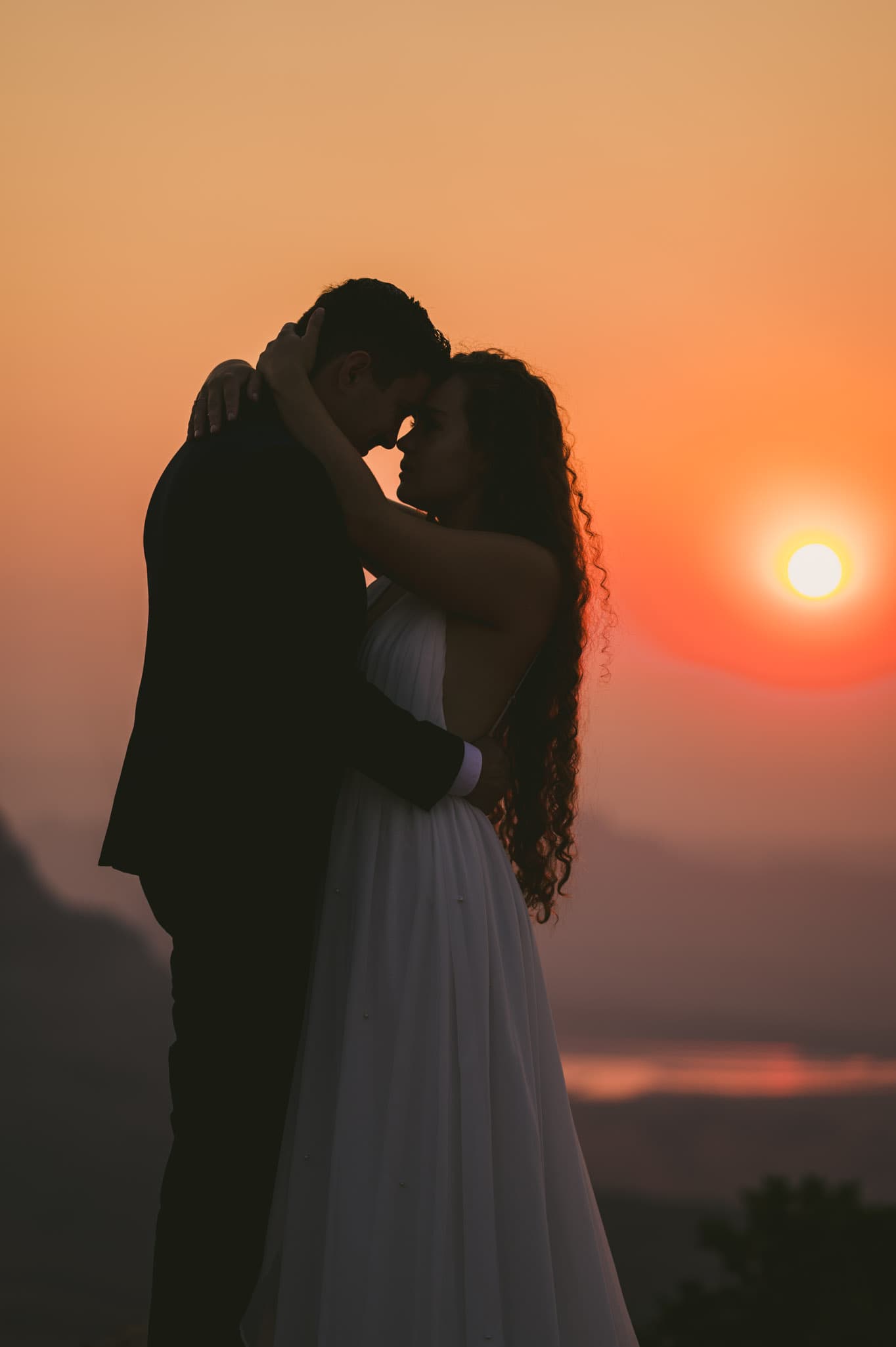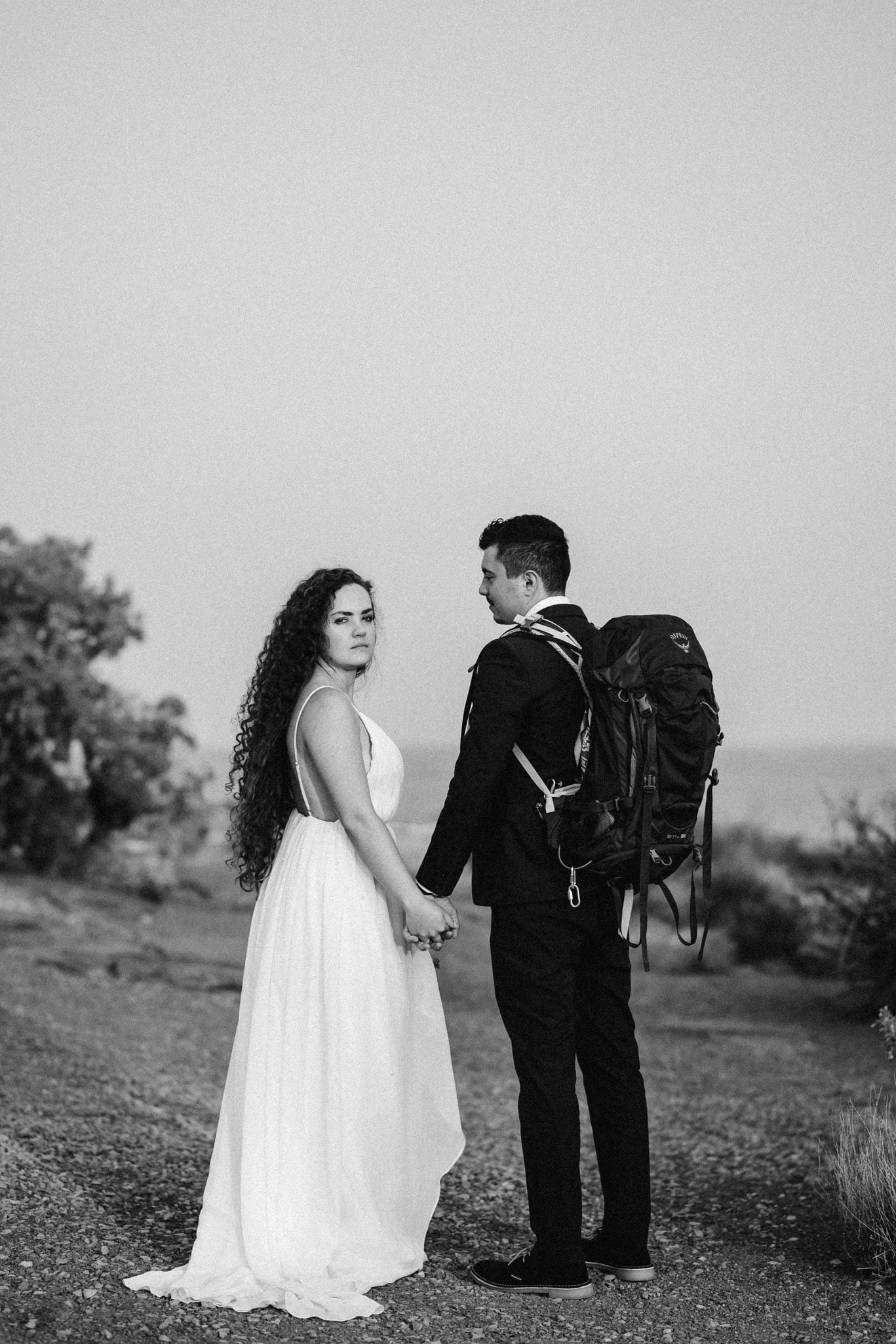 Full Day Moab Elopement Timeline
9am – Adventure Activity; Horseback Riding or Helicopter Tour
12pm – Picnic Lunch, swim/kayak by the Colorado River
2pm – Hair & Makeup back at Airbnb
3:30pm – First Look
4pm – Jump in the car and head to Dead Horse Point
5:30pm – Elopement Ceremony at Dead Horse Point
6pm – Portraits & Sunset Watching at Dead Horse Point
7pm – Head back to Airbnb where a private chef is cooking you dinner
7:30pm – Dinner
8:30pm – First dance & night portraits under the stars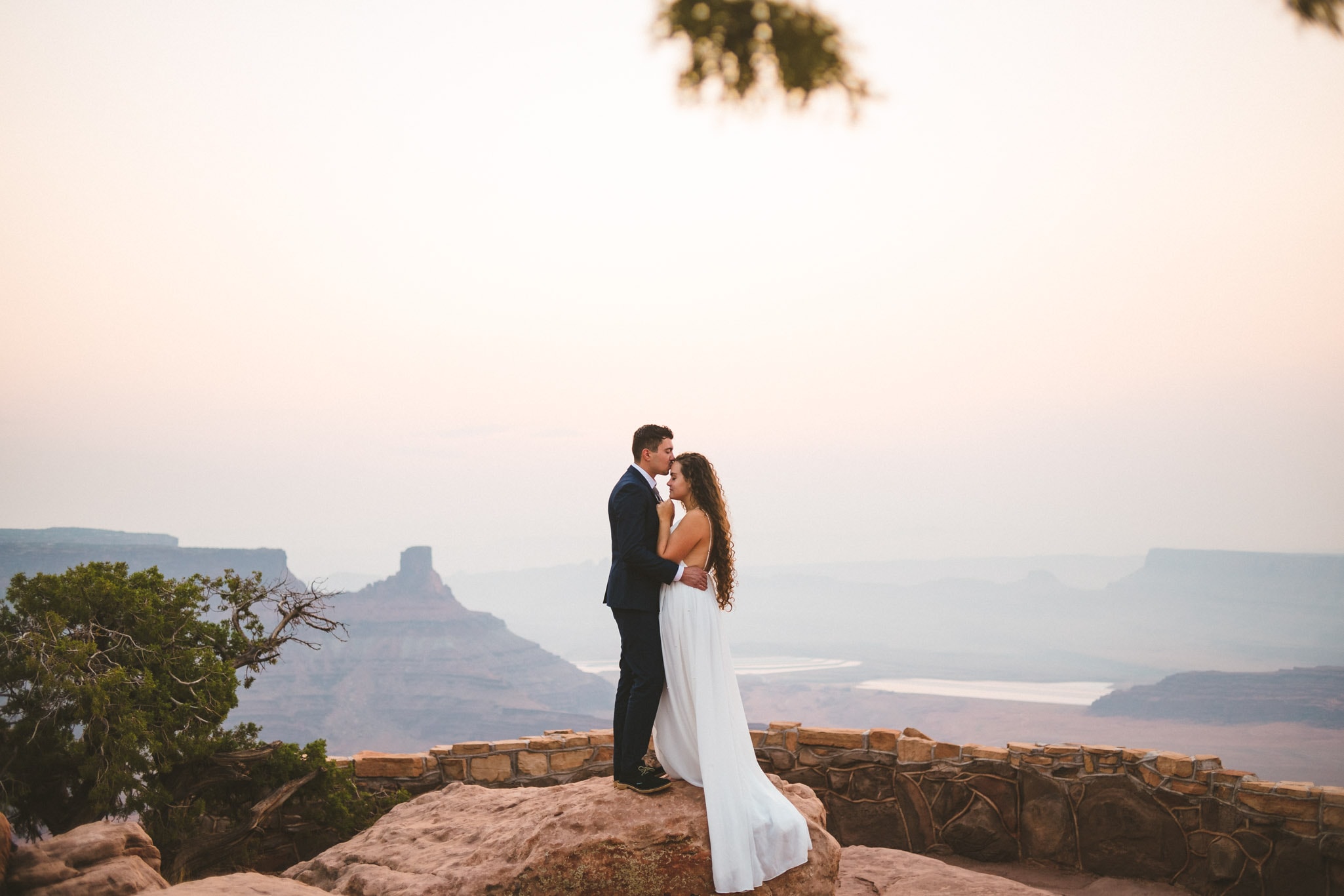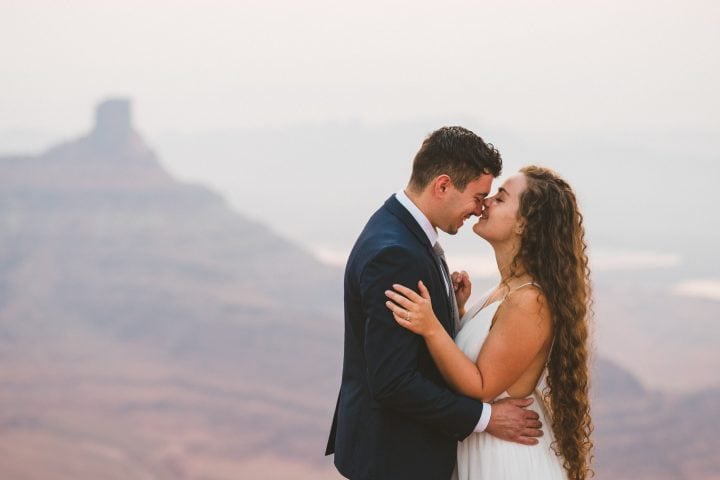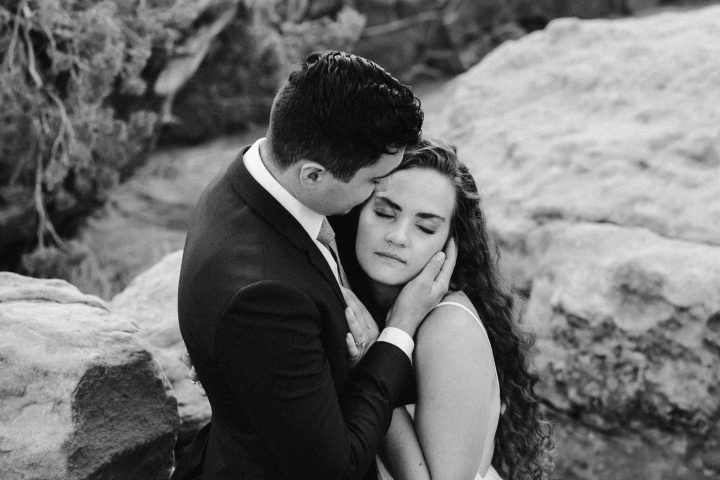 Where To Stay For Your Moab Elopement
Under Canvas: This is an incredible place to stay for your elopement as a couple or if you want to include family & friends and for an epic party under the stars Under Canvas Moab should definitely be considered!
Sorrel River Ranch: Luxurious lodging & unlimited activities (horse back riding, atv's, river boats, canyoneering) await you at Sorrel River Ranch. If you stay here you're super close to Castle Valley which is an epic place to say your vows.
Castle Valley Inn: Located 30 minutes from downtown Moab in Castle Valley is this gorgeous bed & breakfast. If you're looking for a quiet place to get away this would be an awesome location. Eloping with family? They have multiple cottages & rooms so there is plenty of space for all!
This Moab Airbnb Would be Good For a Larger Group
This Moab Airbnb has so much character and would be great for a small group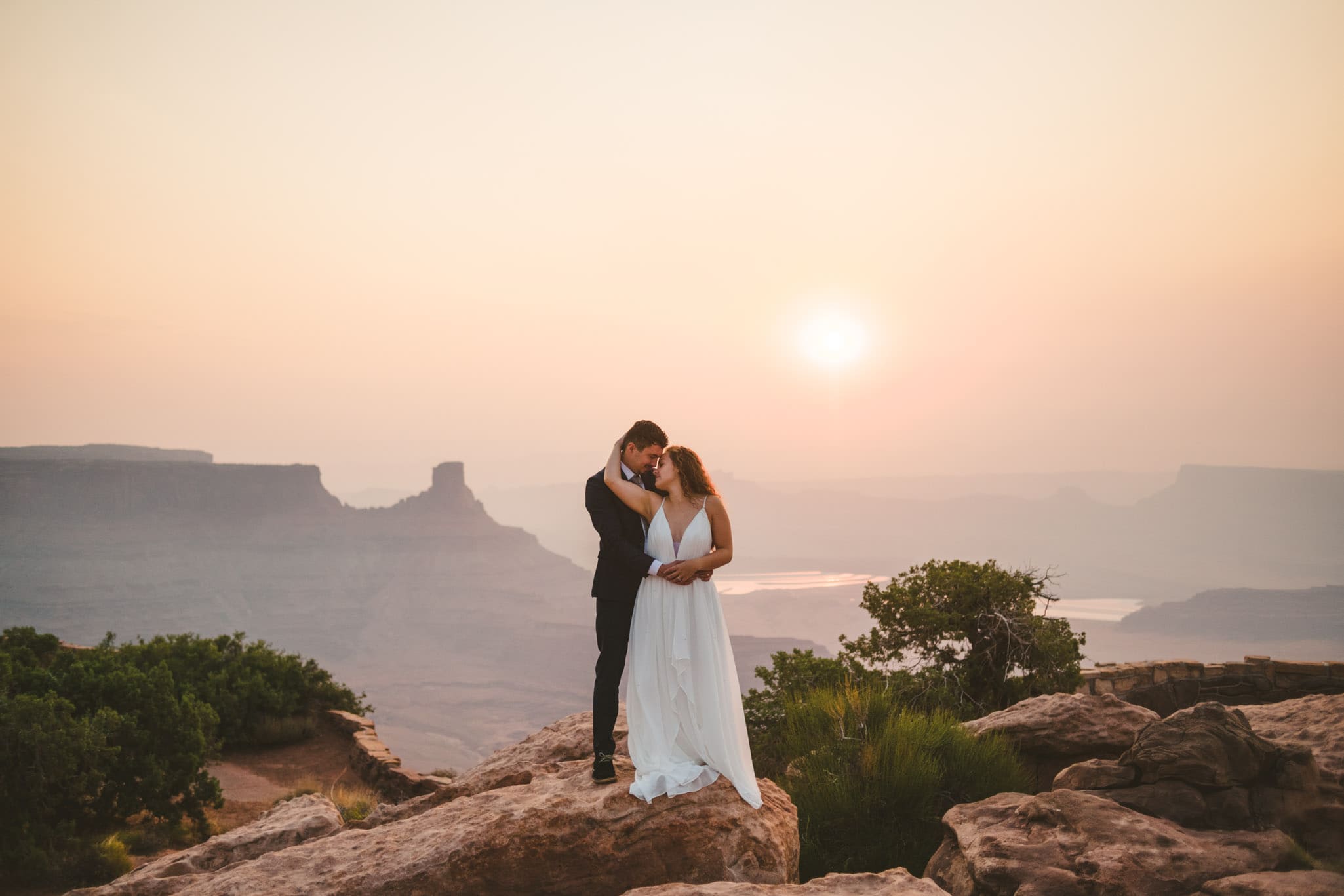 Where to Eat in Moab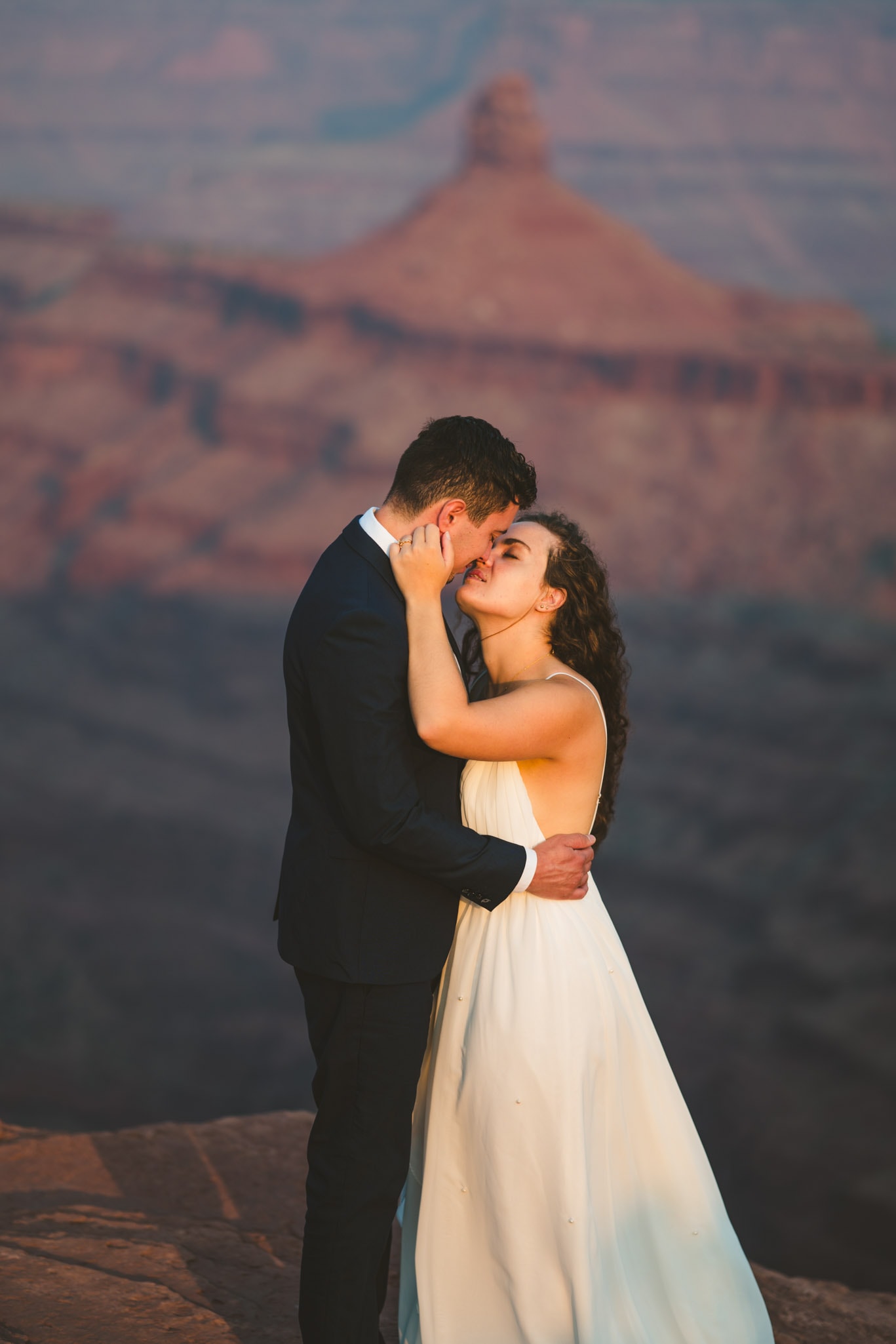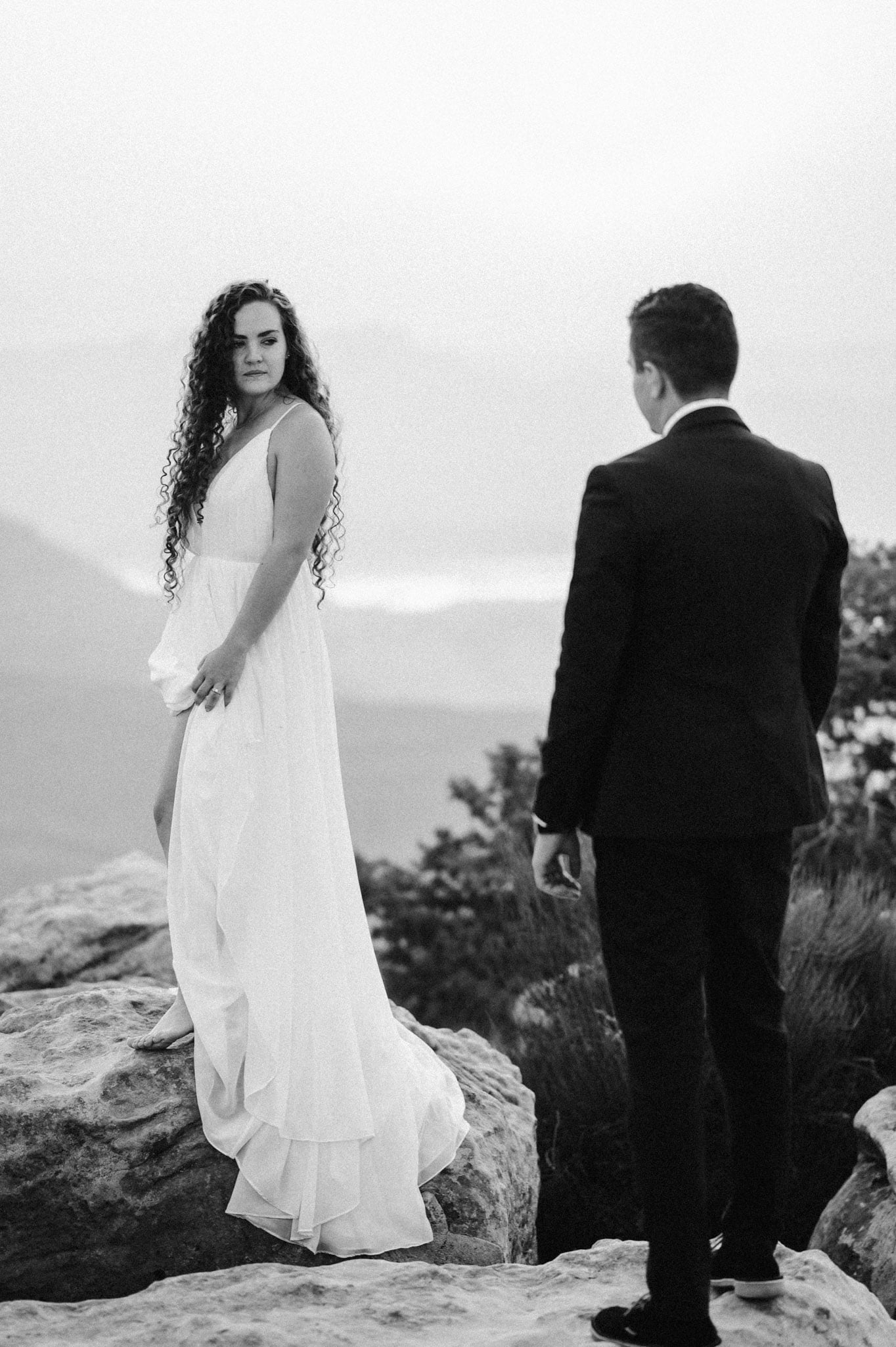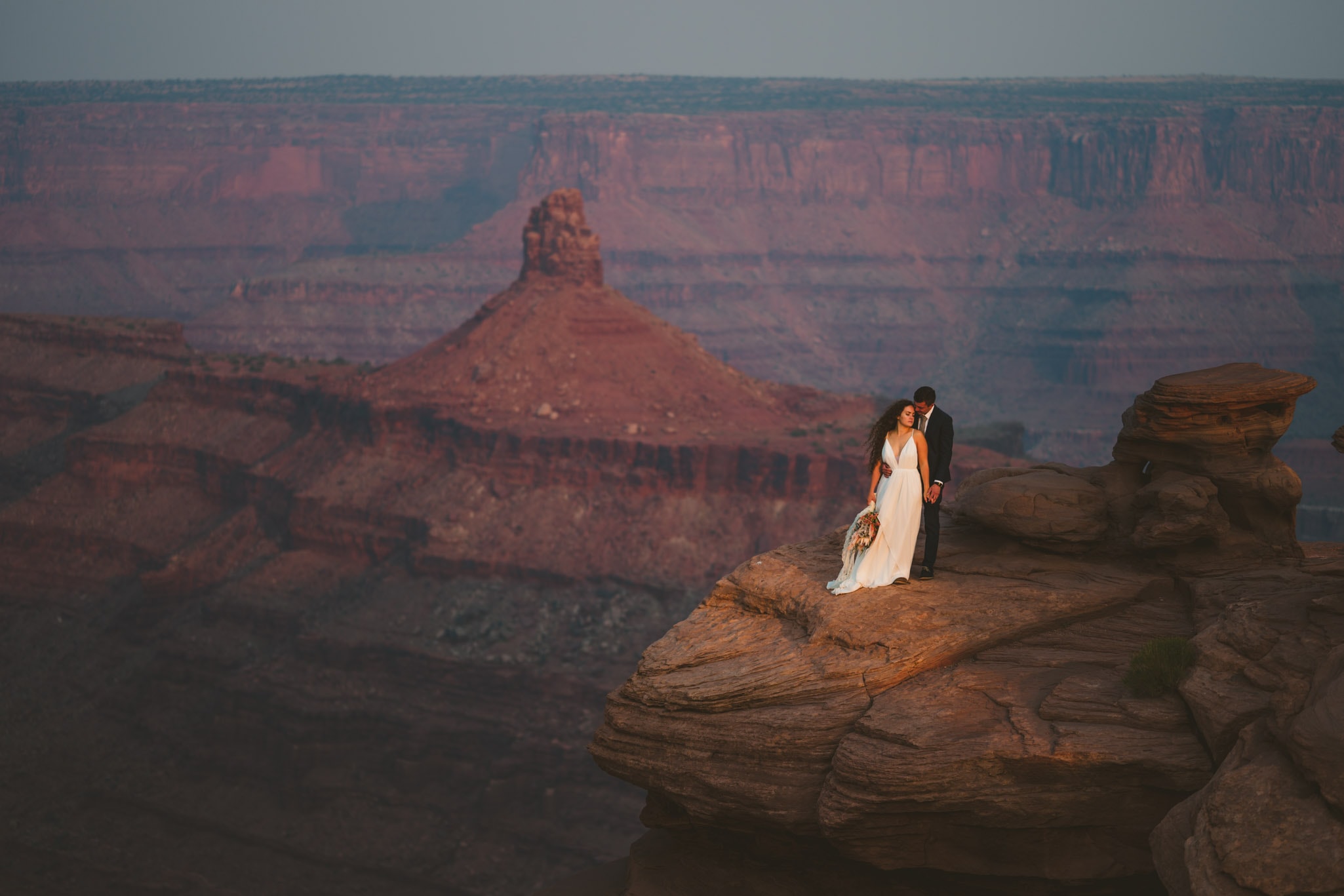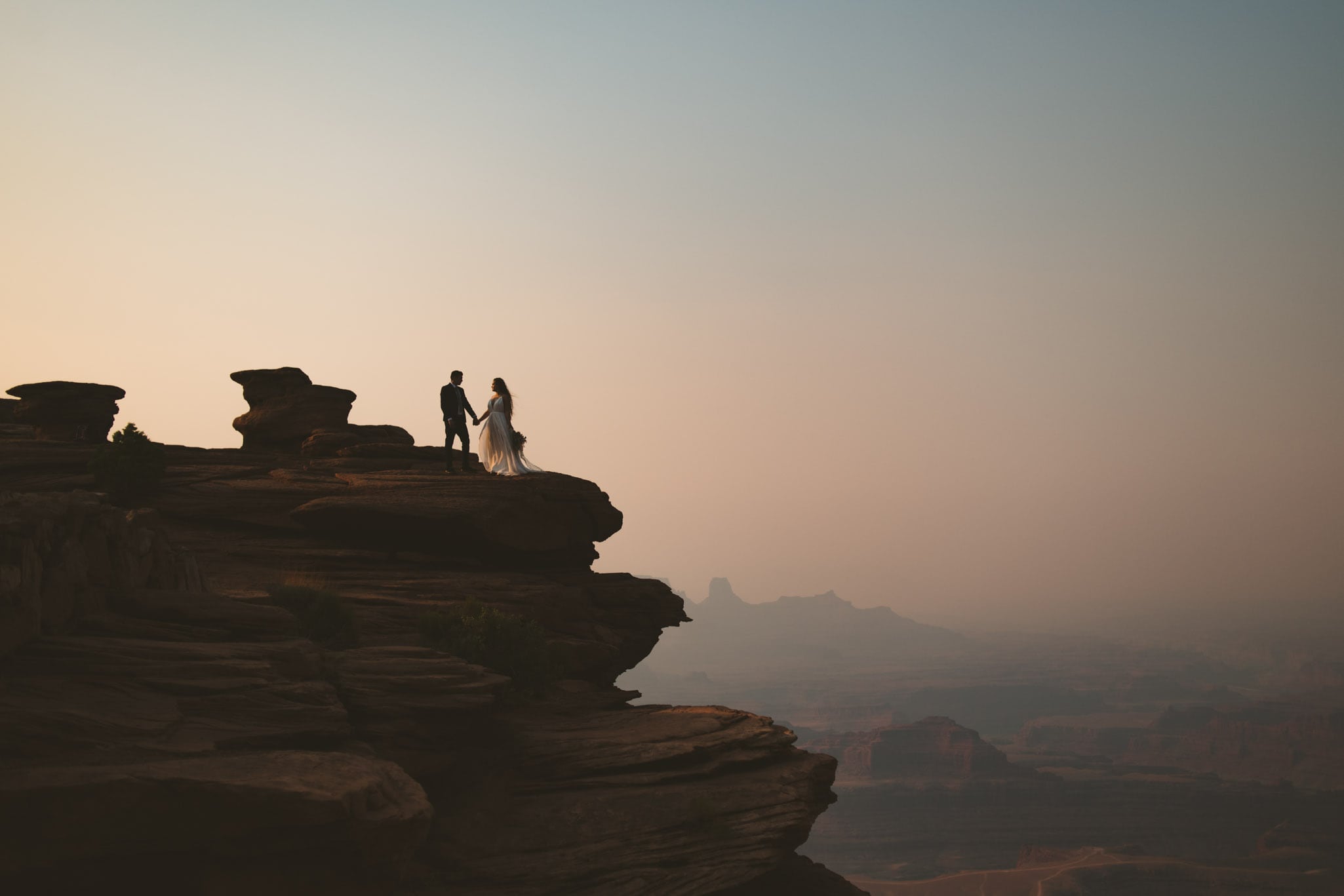 What Time of Year is Best to Get Married in Moab, Utah?
Anytime of year is a great time to visit & elope in Moab but Spring is definitely the most popular time of year in Moab. Both National Parks; Canyonlands & Arches are open year round. Winter in Moab is epic. While it's true that some of Moab's downtown amenities close for a short period of time between December – March, outdoor activities abound and you get to enjoy them all without the crowds!
Spring in Moab
This is arguably the best time of year to visit Moab & as the days warm up crowds begin flocking to Moab. From March until May the days are temperate and the landscape is covered in desert wildflowers. Spring is technically Moab's rainy season but since this part of Utah only gets about 9 inches of rain a year you can expect any rain showers that do happen to pass rapidly. If you plan on doing some serious hiking this is a good time to do it because it's not as brutally hot as summer can be in Moab.
Summer in Moab
If you visit Moab between June – August you should plan on spending lot's of time by the Colorado River or exploring one of Moab's swimming holes. Hike early in the day or later in the afternoon. For reprieve from Moab's temperatures which can get above 100 degrees you can head to the nearby La Sal Mountains. Moab's skies are some of the darkest in the world and summer evenings are the perfect time to enjoy the beauty of the celestial sky.
Fall in Moab
Fall is dry & cooler than the heat summer brings. It's a great time to hit the trails for some adventuring. Fall is prime time for mountain biking as well; try your hand at Moab's infamous Slick Rock Trail. The Aspen & Cottonwood trees start to change color and their yellows against the red rock backdrop is absolutely stunning.
Winter in Moab
Winter is in my opinion the most underrated time of year to visit Moab. The chance at seeing a beautiful contrast of white snow coating the red rock desert landscape is worth being slightly cold at times. Between November-February, tourism dies off and you're left with the ability to hike without throngs of people. Get married in Arches National Park underneath one of the vast red rock formations. Mountain bike, cross country ski & more!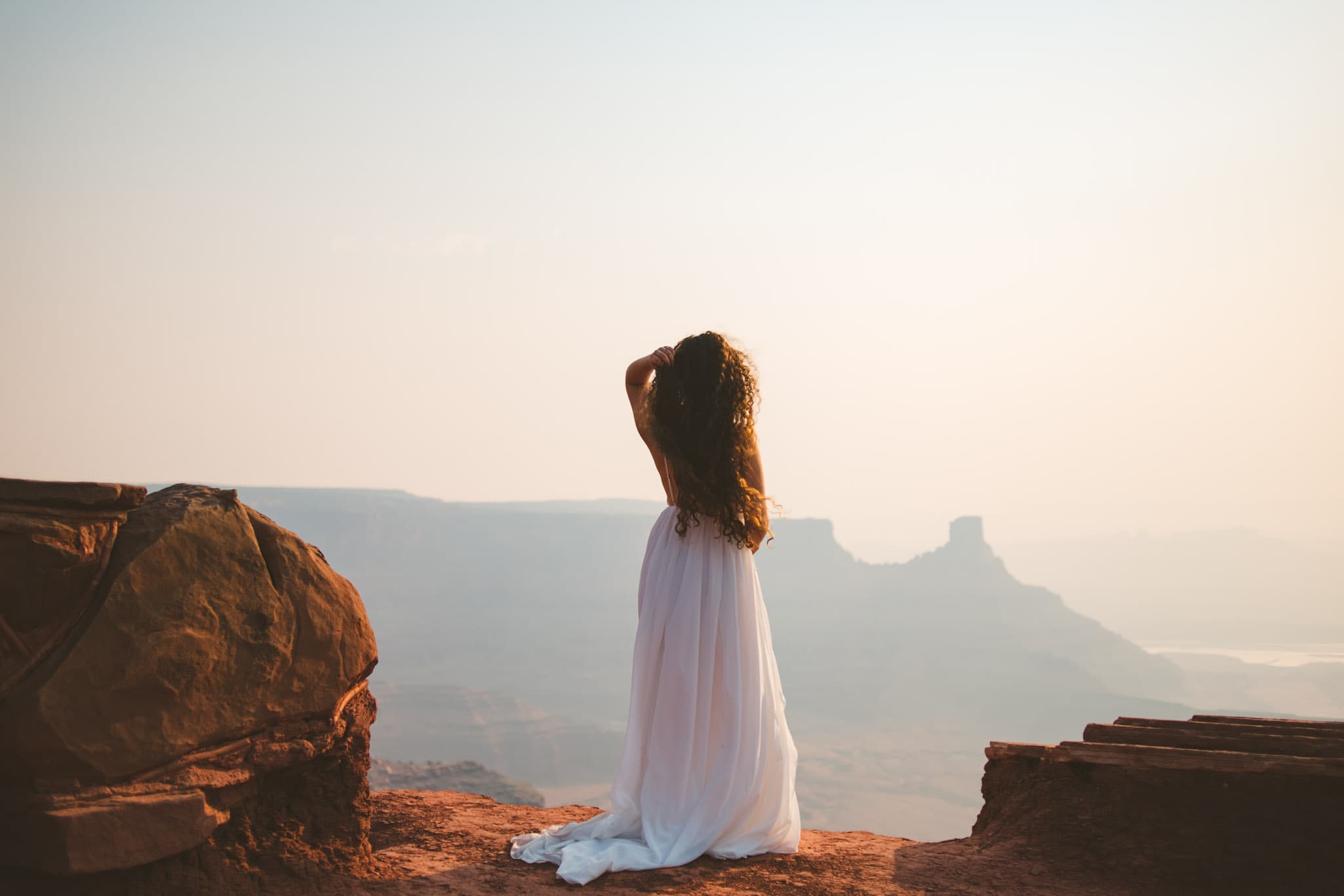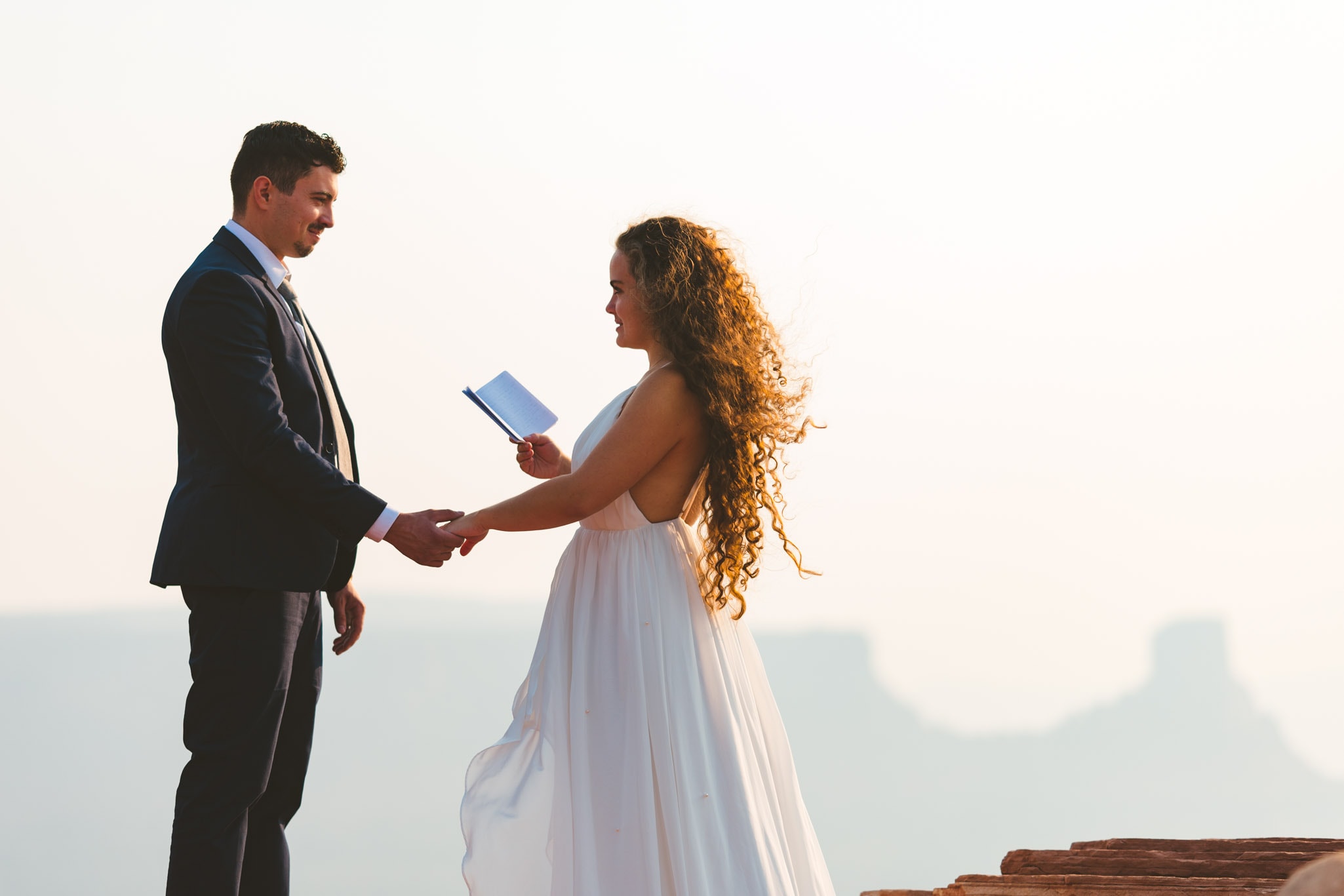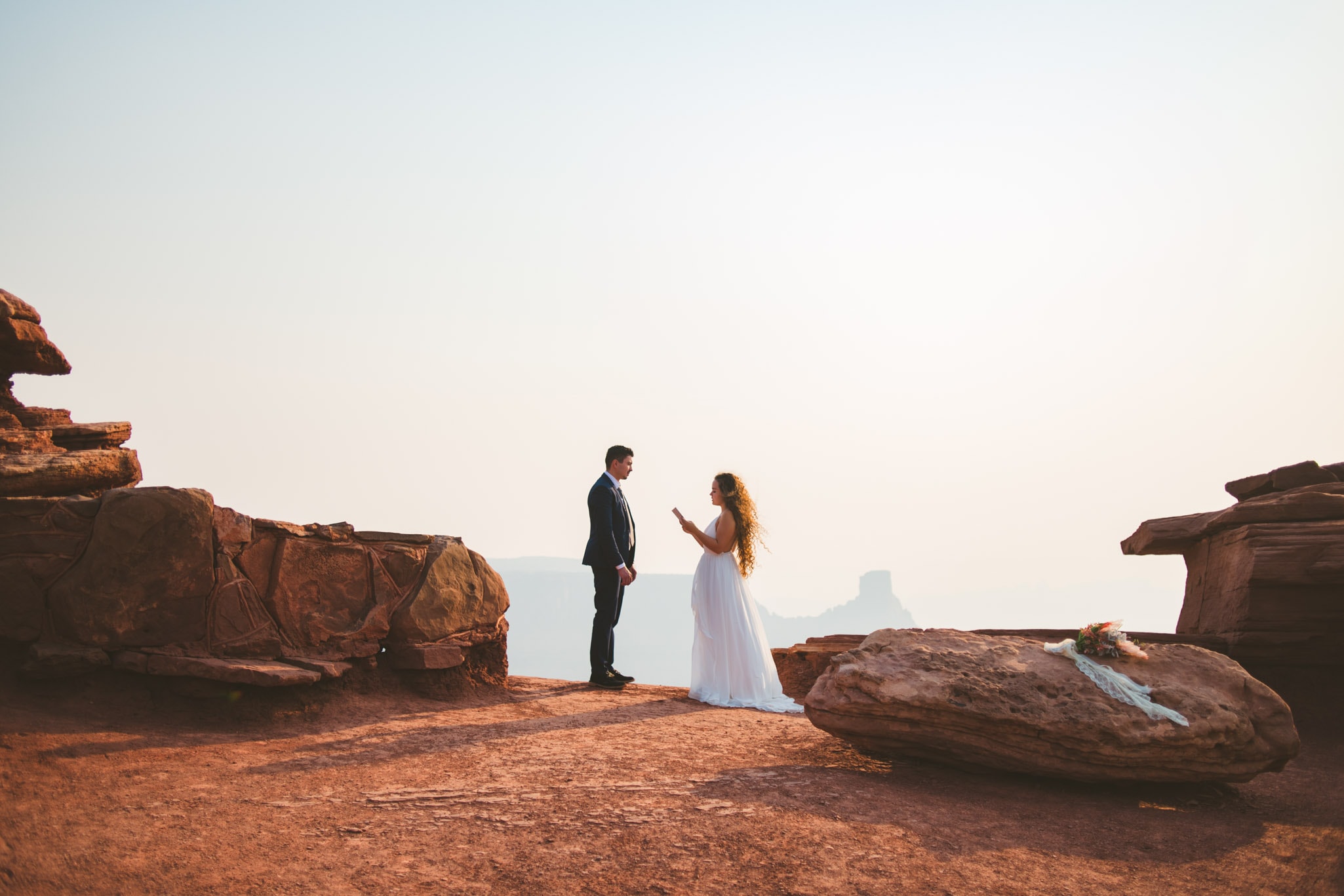 Tips to avoid crowds during your elopement in Moab:
Elope midweek
Start your day at sunrise. You'll be rewarded with beautiful light & less people.
Consider locations beyond the ever popular Arches or Canyonlands.
Elope in the winter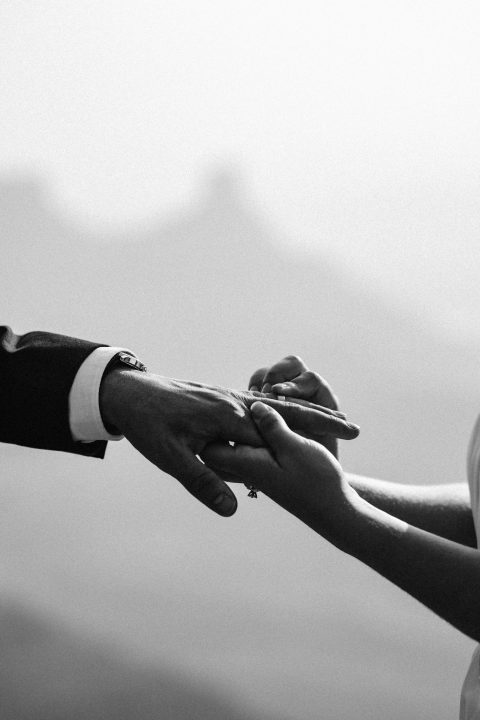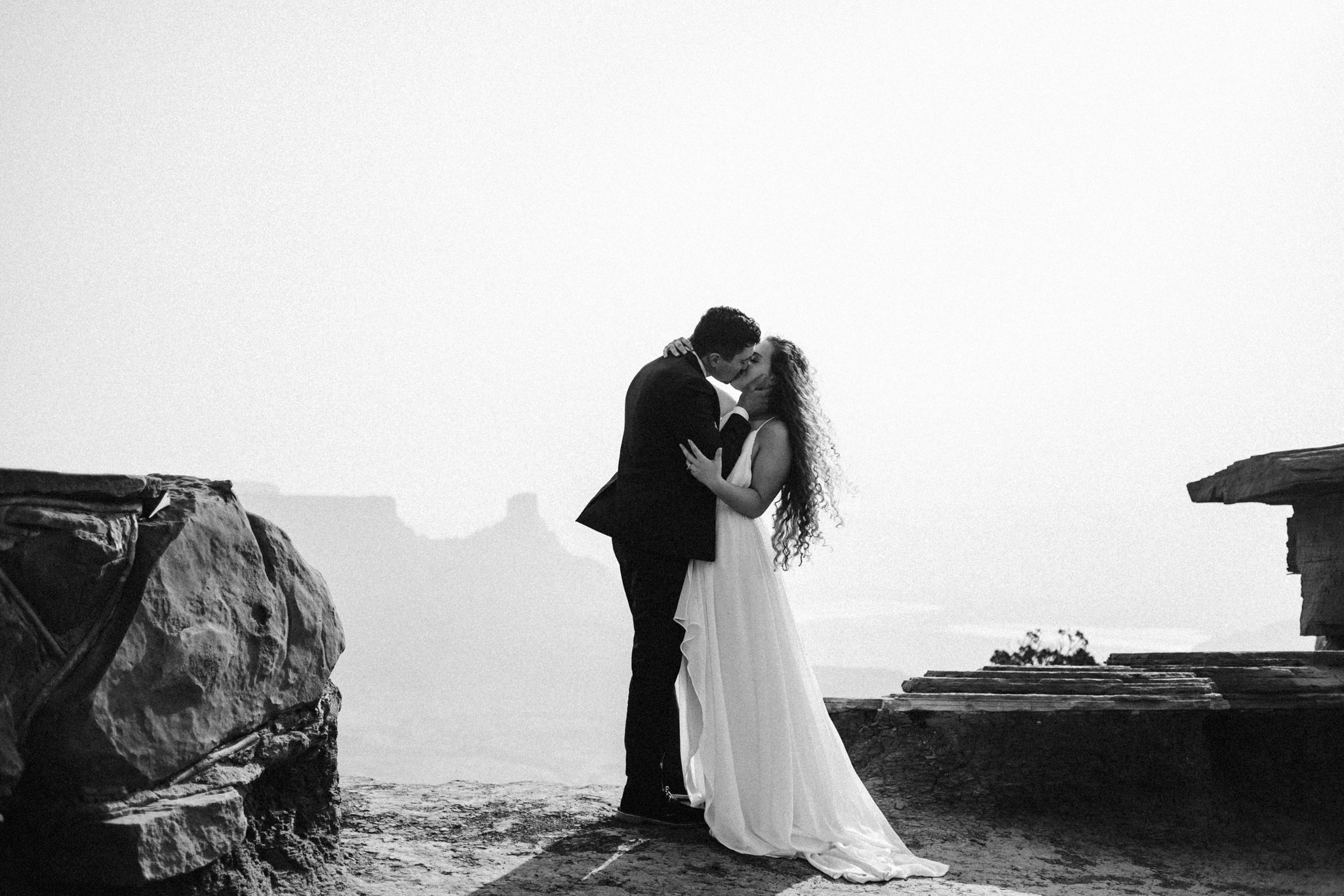 Activities For Your Moab Elopement
Discover Moab has a pretty epic list of local to Moab guides, outfitters & services to make the most of your adventurous elopement. Here are some of my favorite activities I've had couples choose for their Moab elopement:
Horseback Riding | What better way to spend a few hours than enjoying the stunning desert scenery from the back of a horse. I can help you find a guide for a romantic horseback tour with a sunset picnic or why not ride to an epic location to say your vows?
Kayaking on the Colorado River | As you can see in the photos below, kayaking would be a pretty sweet way to spend a couple hours on your elopement day. There are incredible recreation areas & pull offs where you can put your boat in and go for a paddle. Don't have your own boat, Moab has plenty of outfitters that can set you up with kayaks or if you're feeling adventurous sign up for a guided whitewater rafting trip.
Rock climbing or Canyoneering | If you're a climber Moab is a great place to be. Why not spend a couple hours the morning of your elopement to enjoy some of the best climbing Utah has to offer.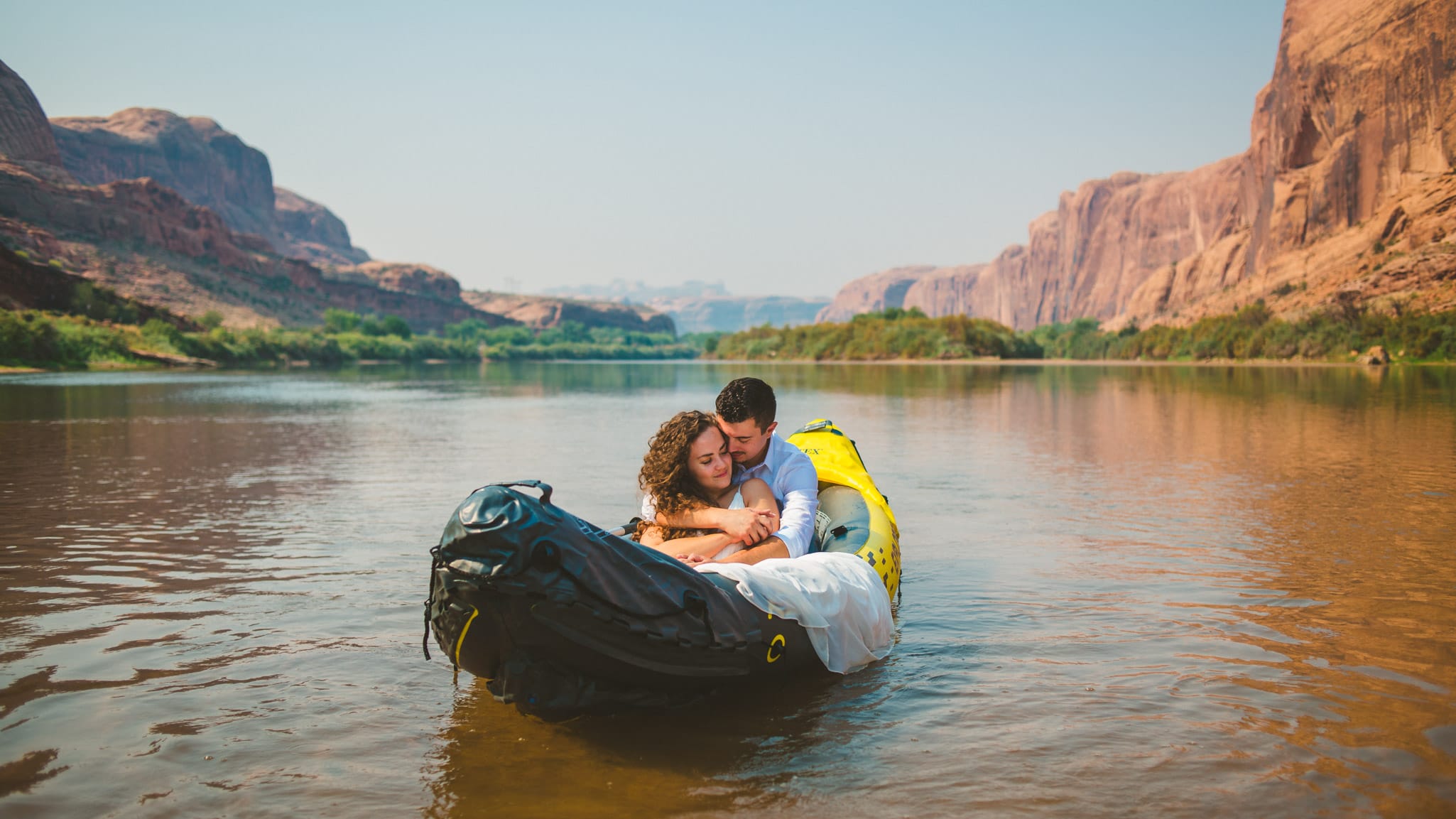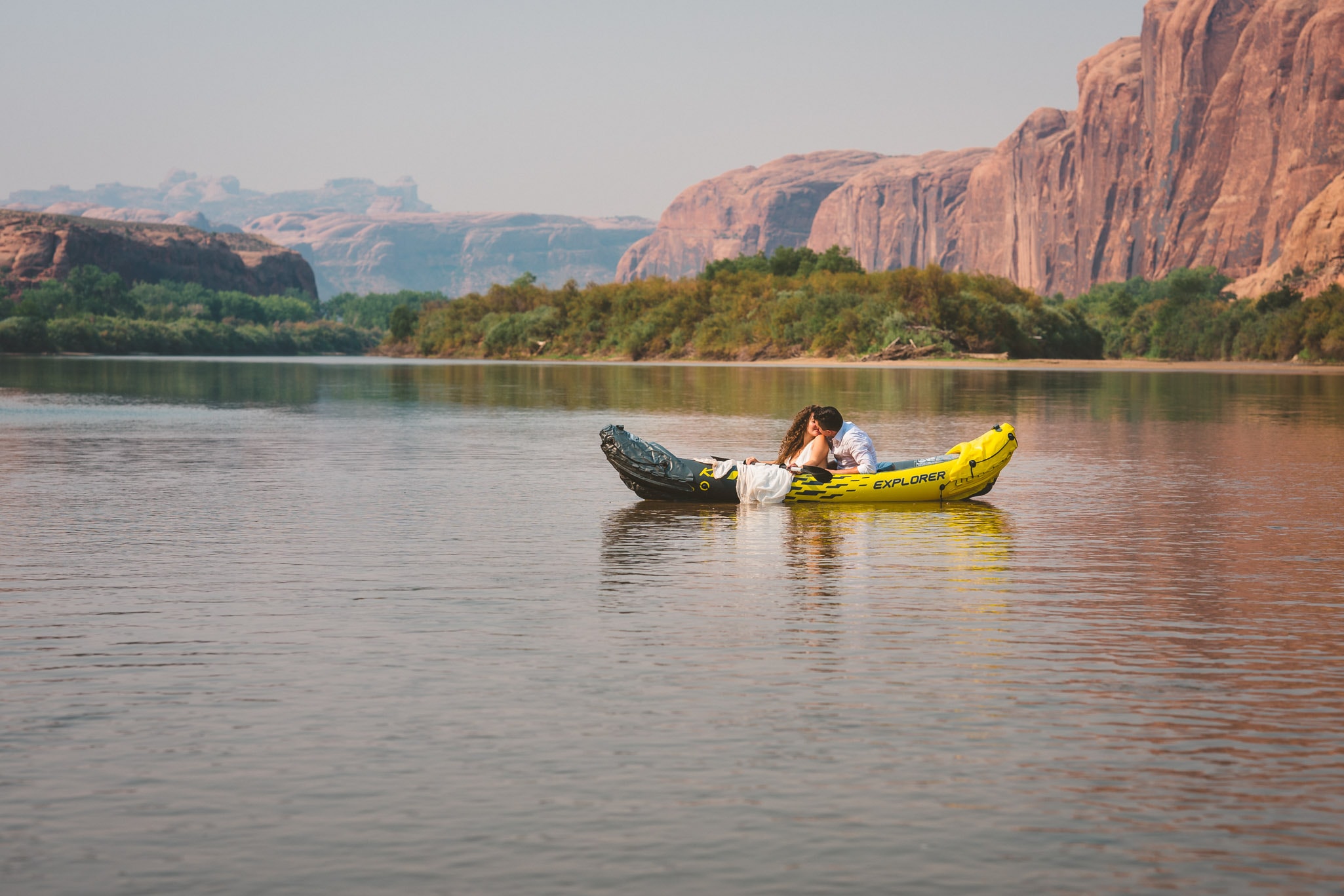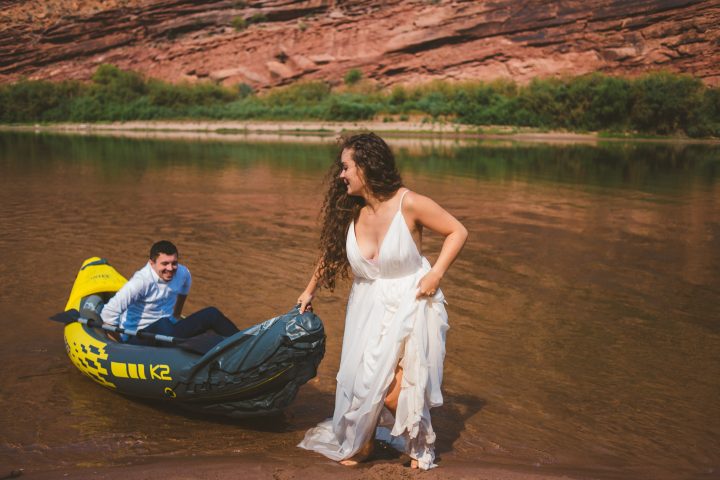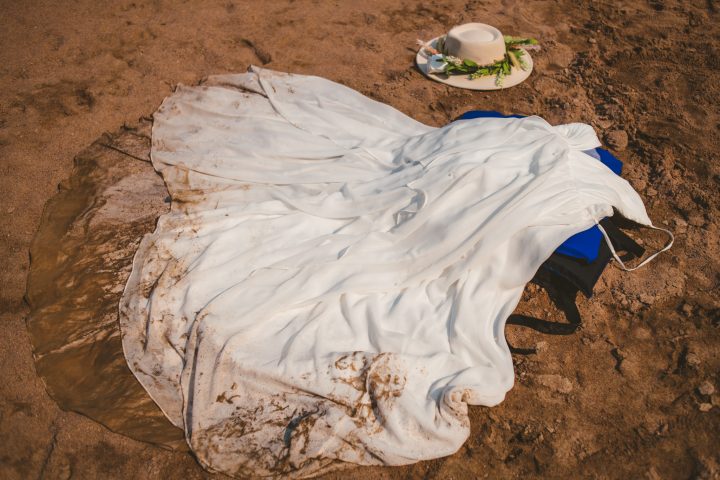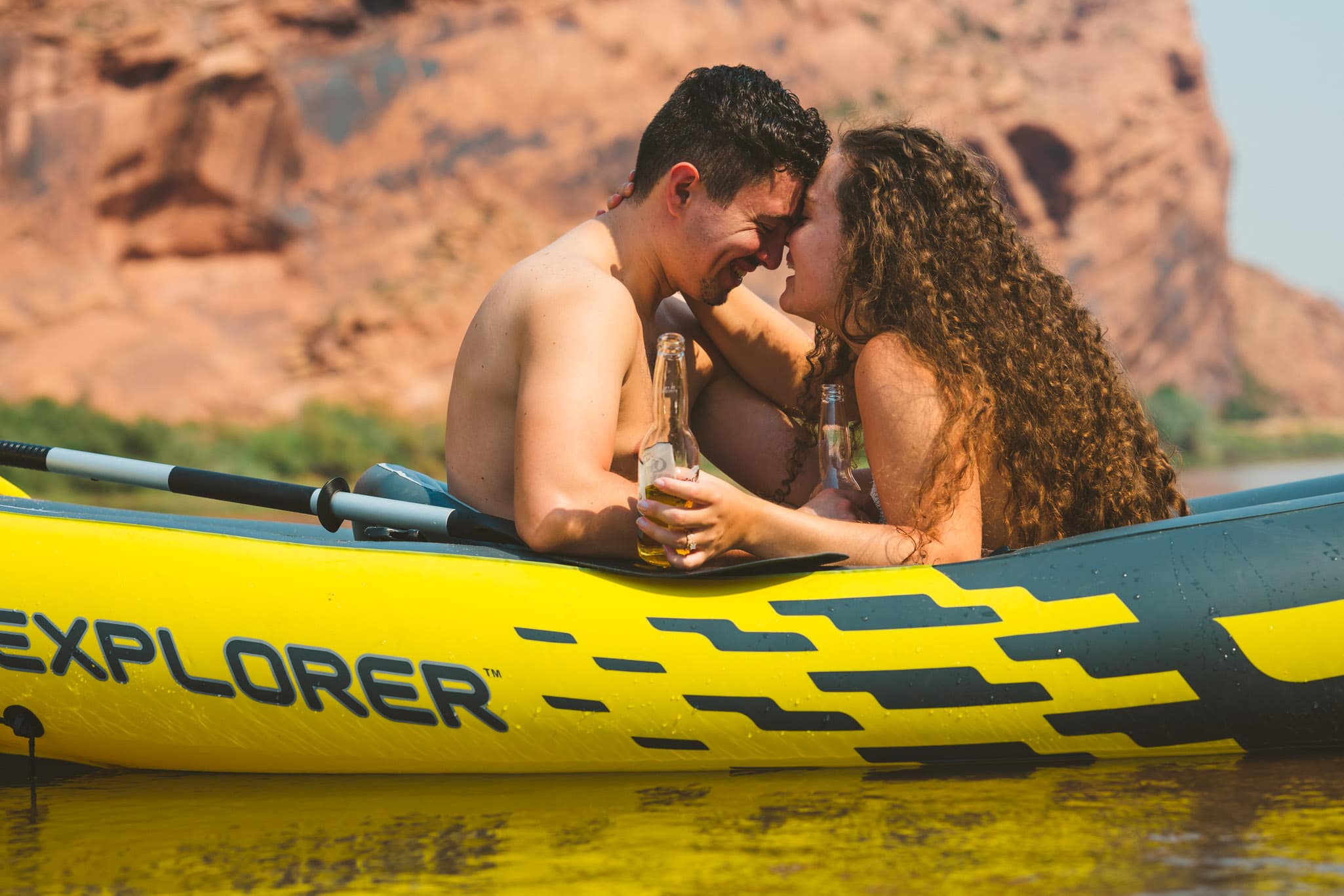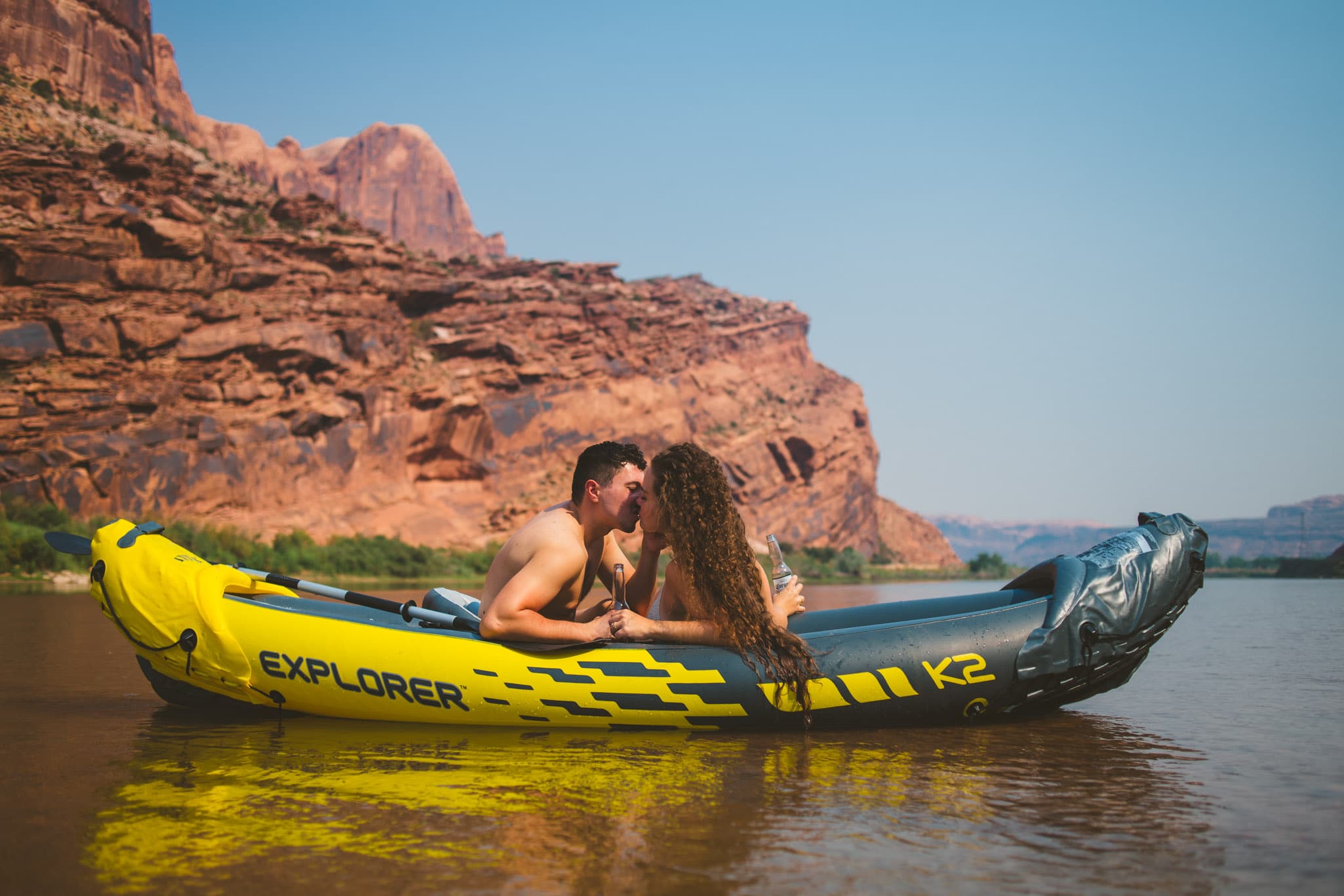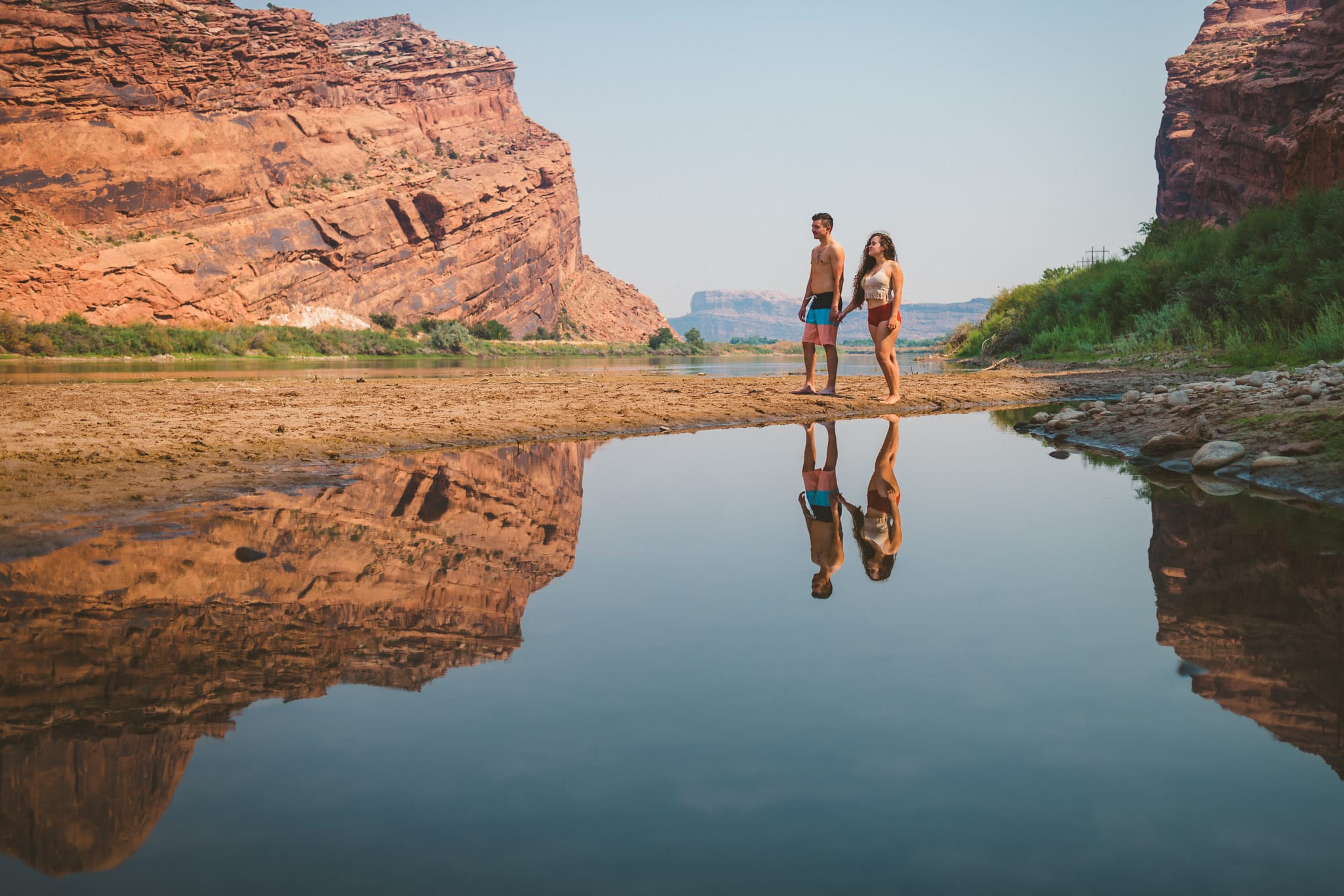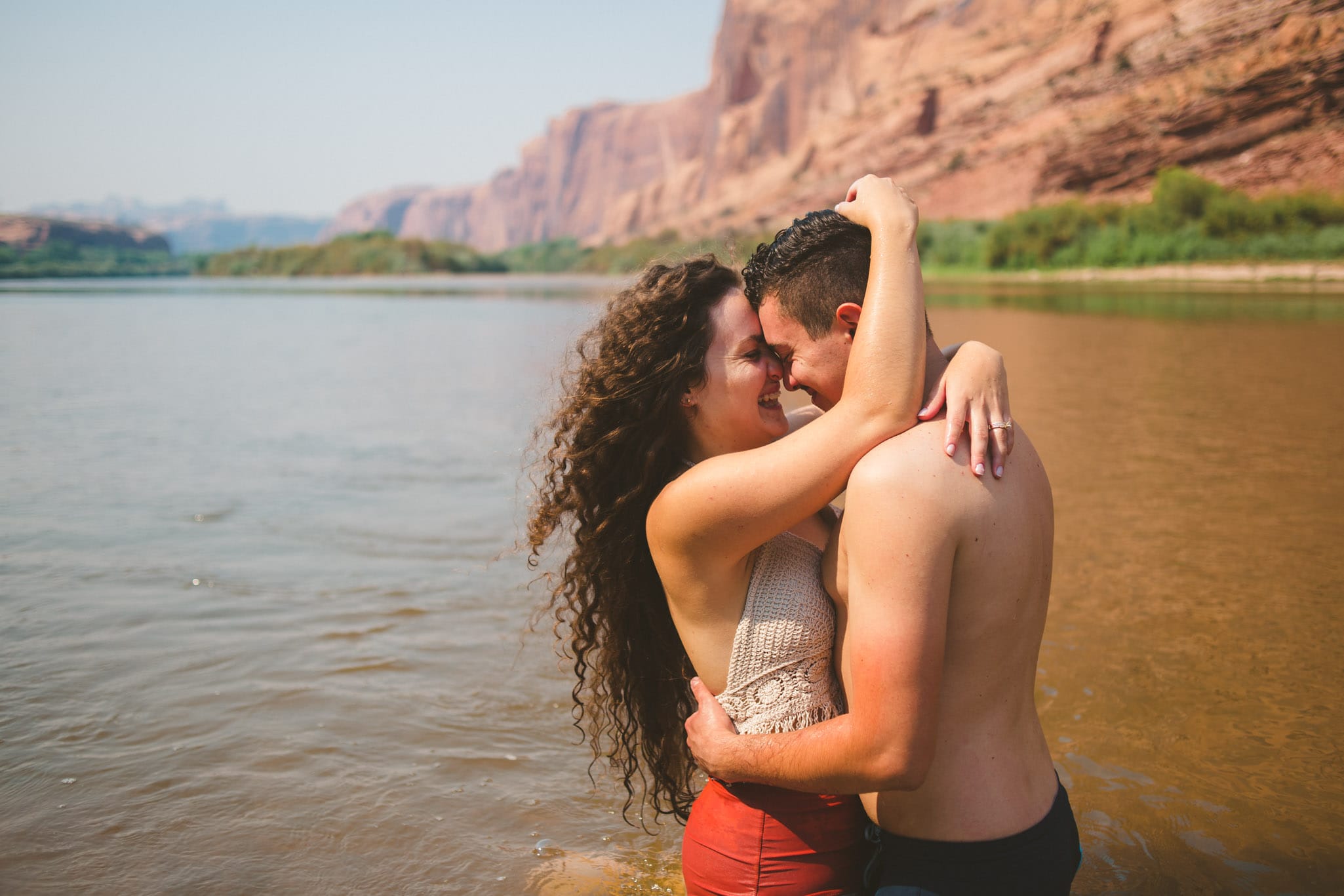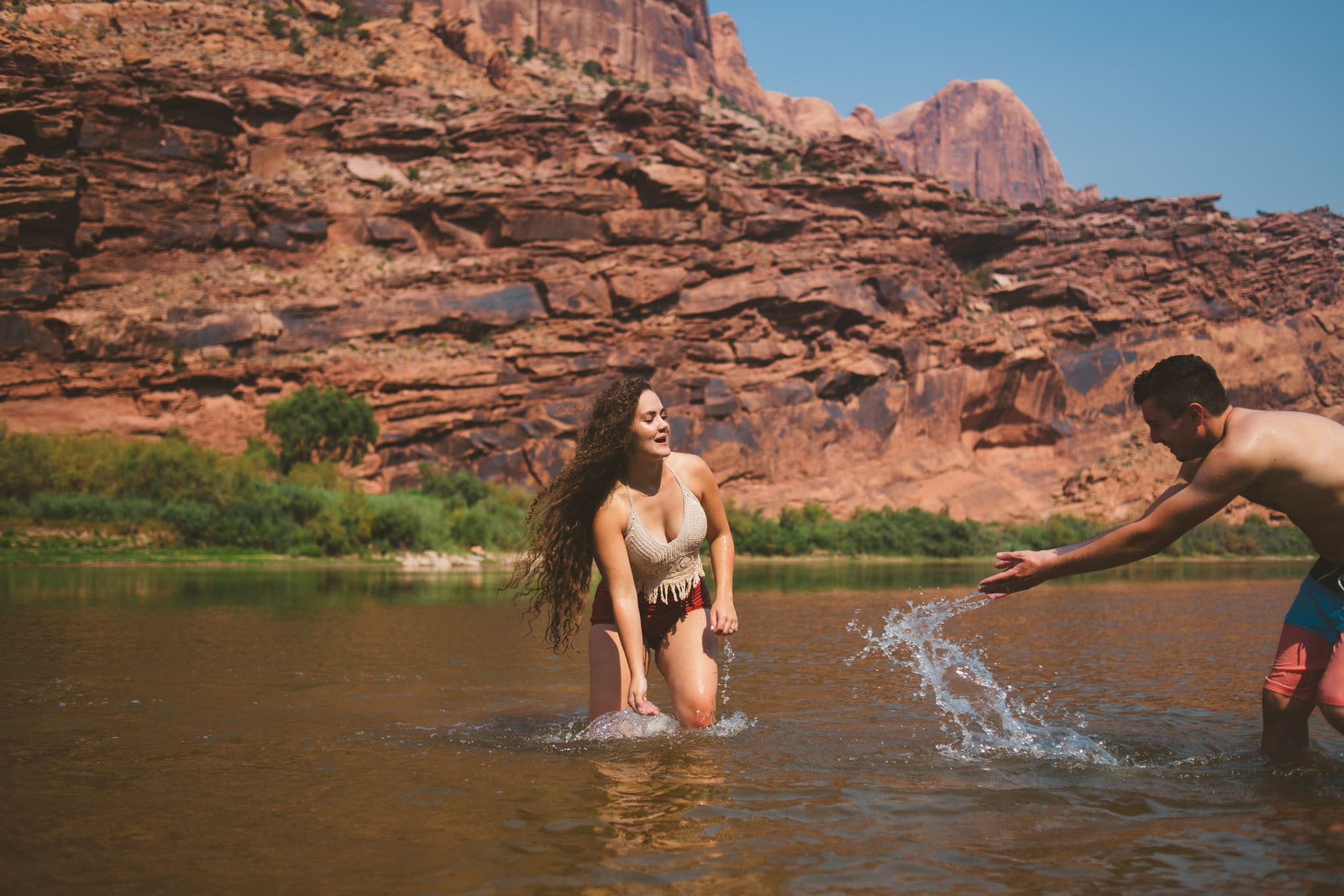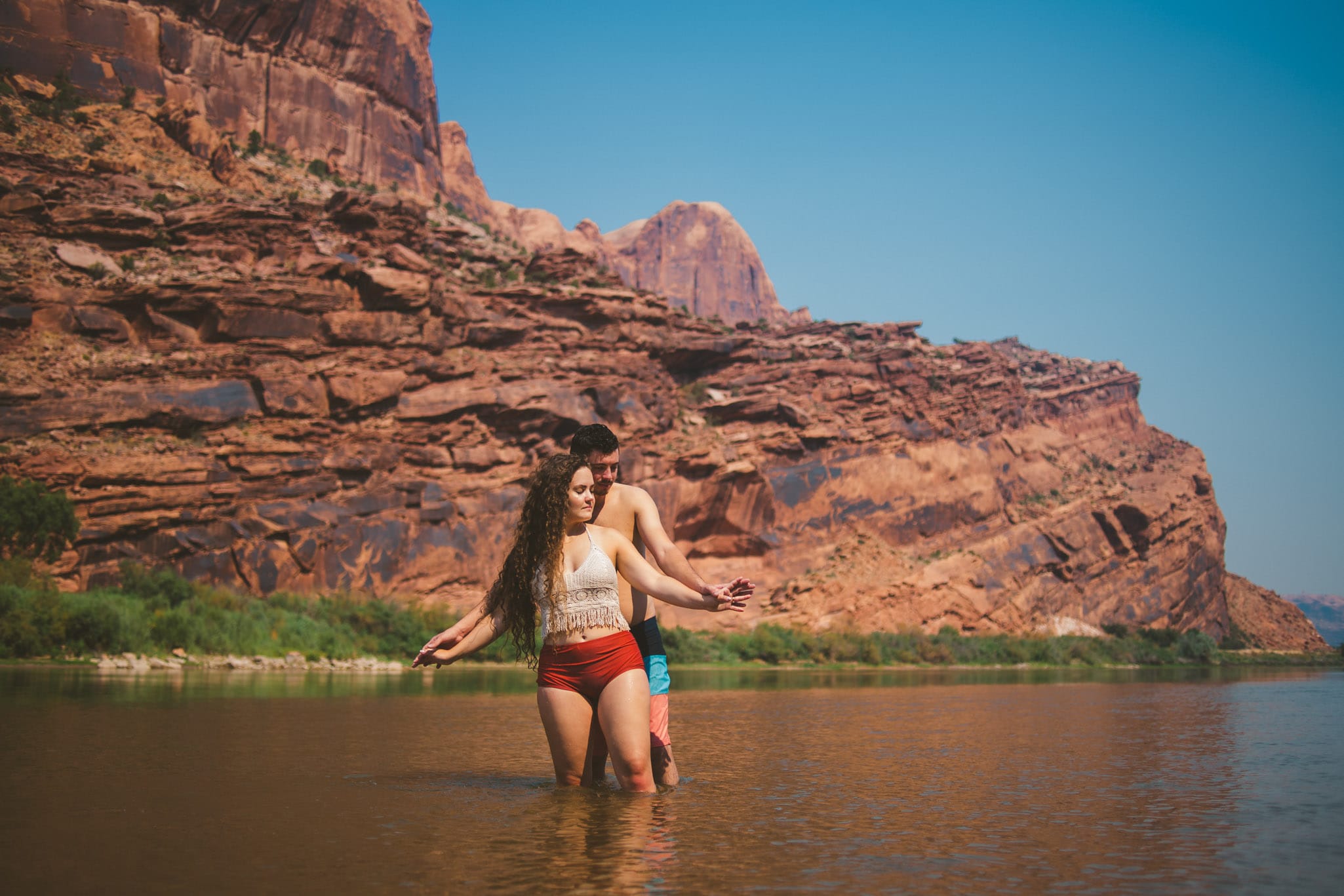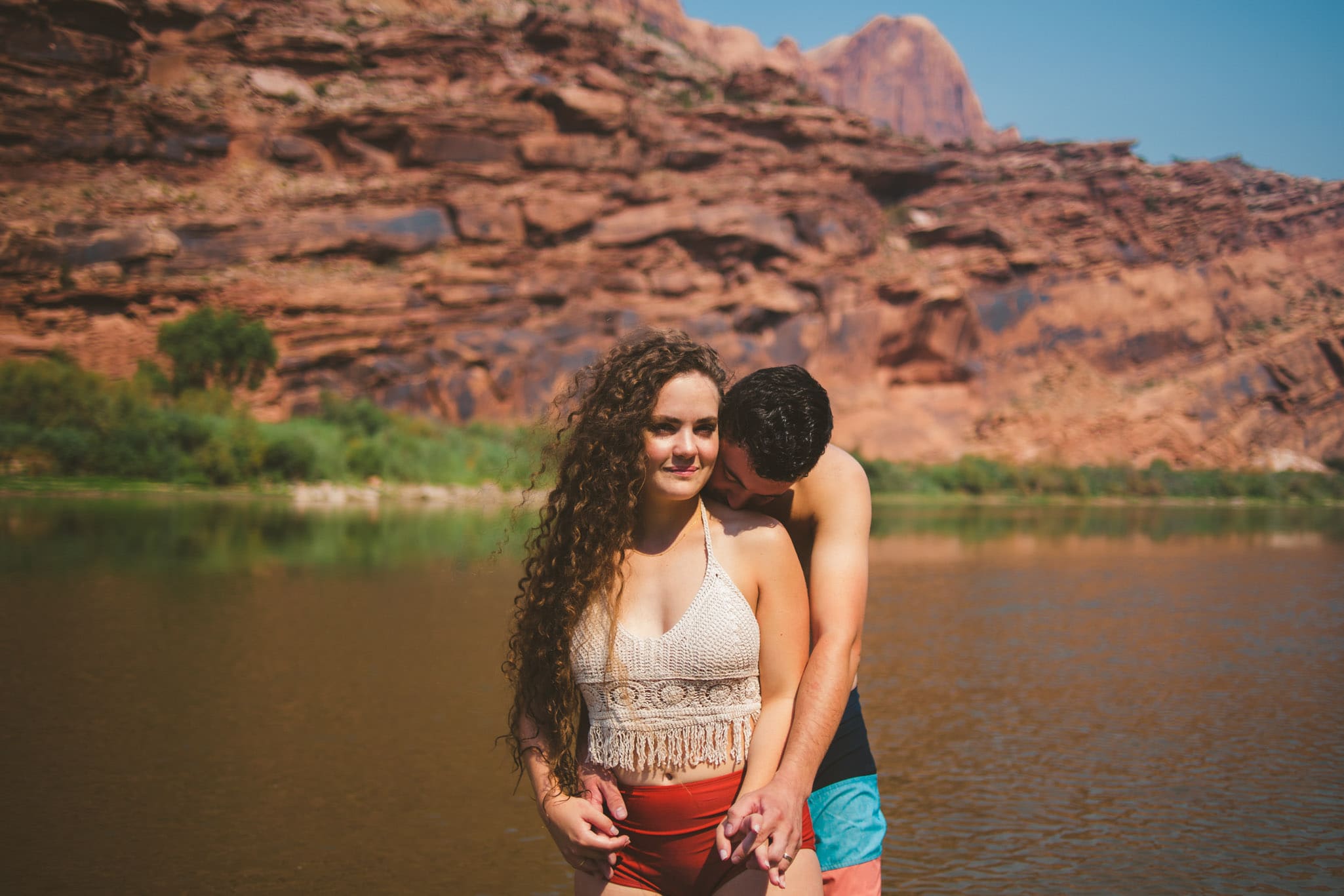 Moab Elopement Photographer
Hi I'm Ariel and I specialize in helping couples craft & document their adventurous elopement or small wedding experiences! I travel full time in a 37′ long school bus and frequent the Southwest for much of the year. I fell in love with Moab and adore every moment I spend there. If a traditional wedding simply isn't for you and you need some help crafting an adventurous outdoorsy wedding experience, I would love to help you! Beyond creating epic imagery & documenting special moments I will help guide you through the process of planning your elopement. From customized location ideas, timeline & activity help, recommending awesome other awesome Moab elopement vendors – I'm here with you every step of the way!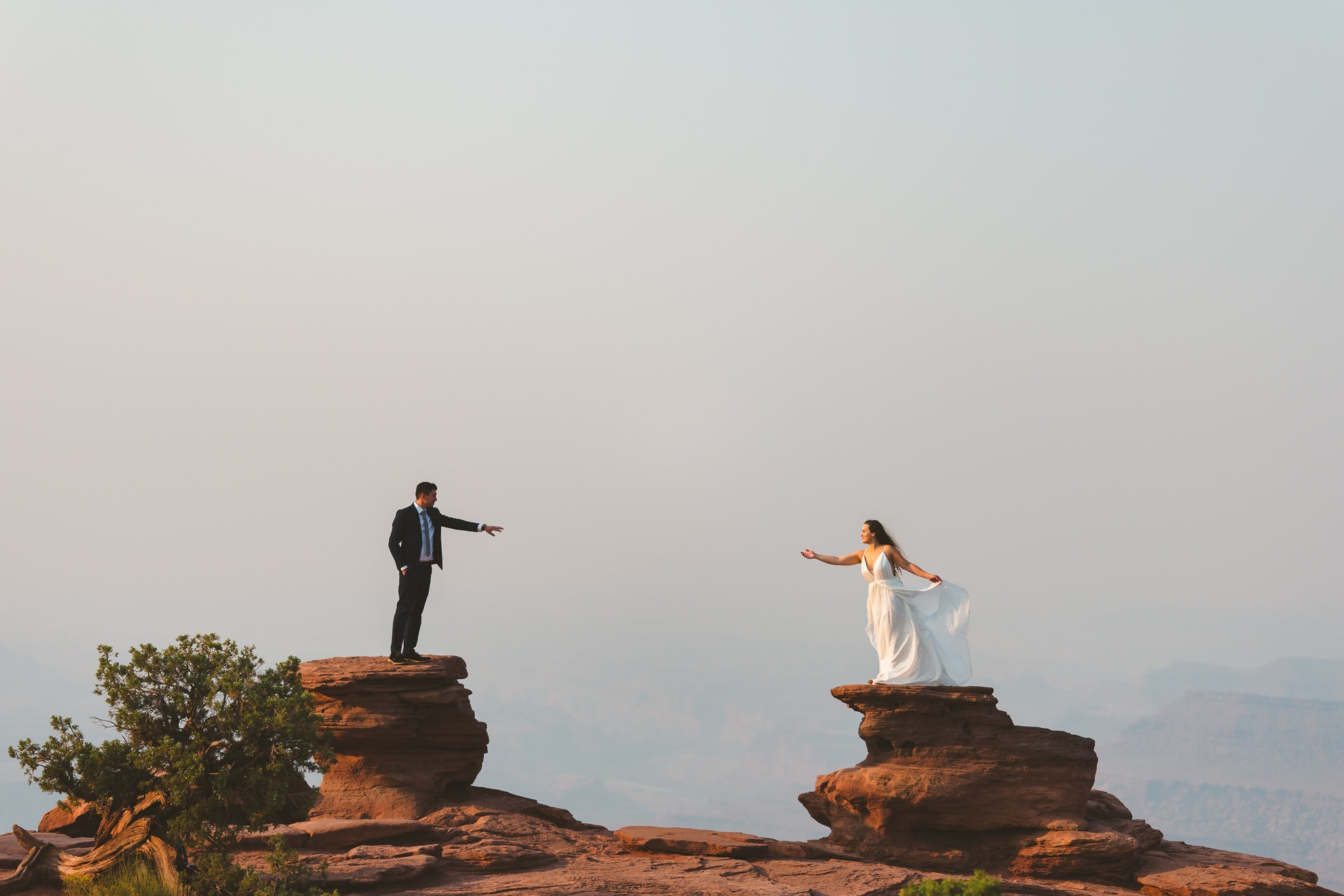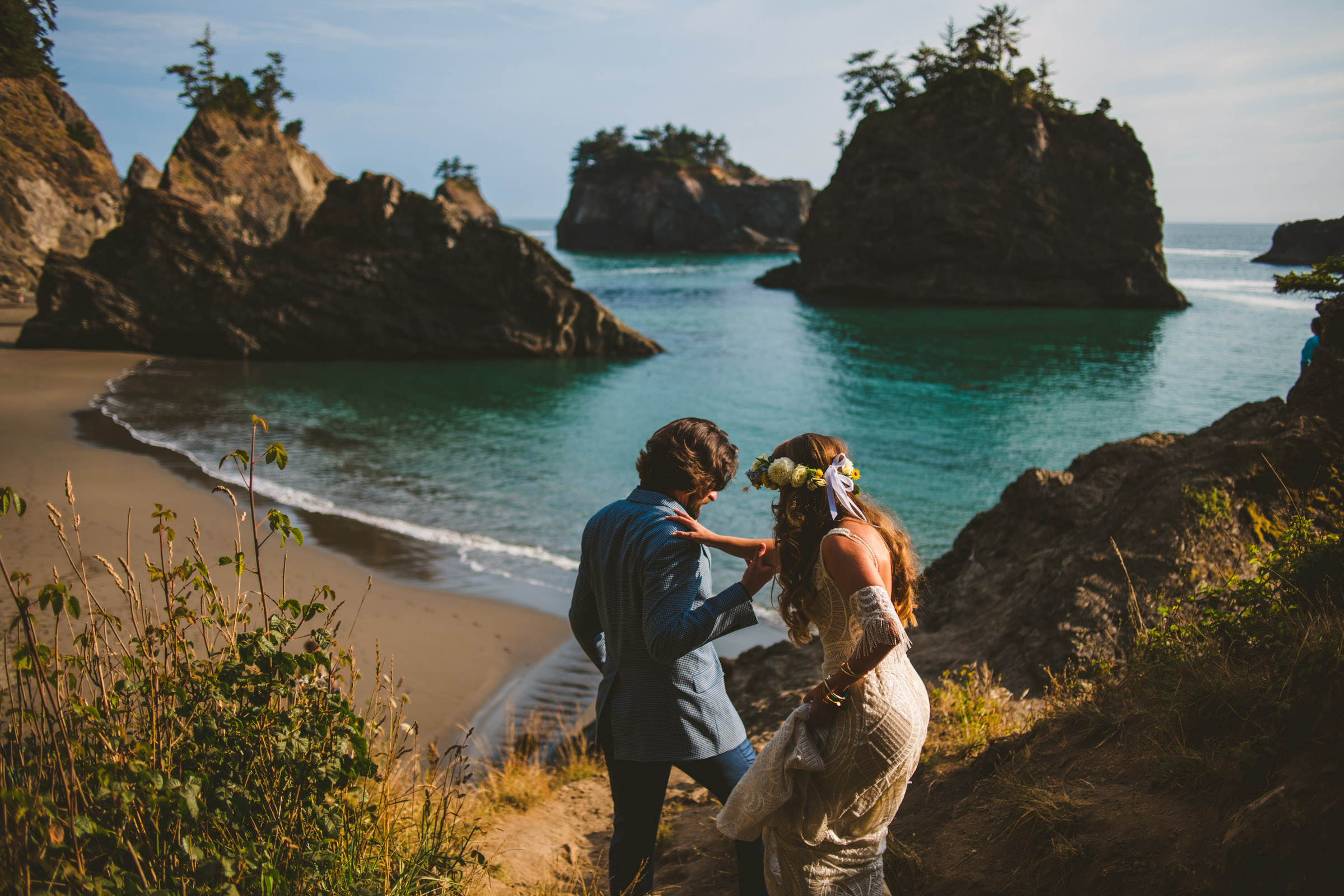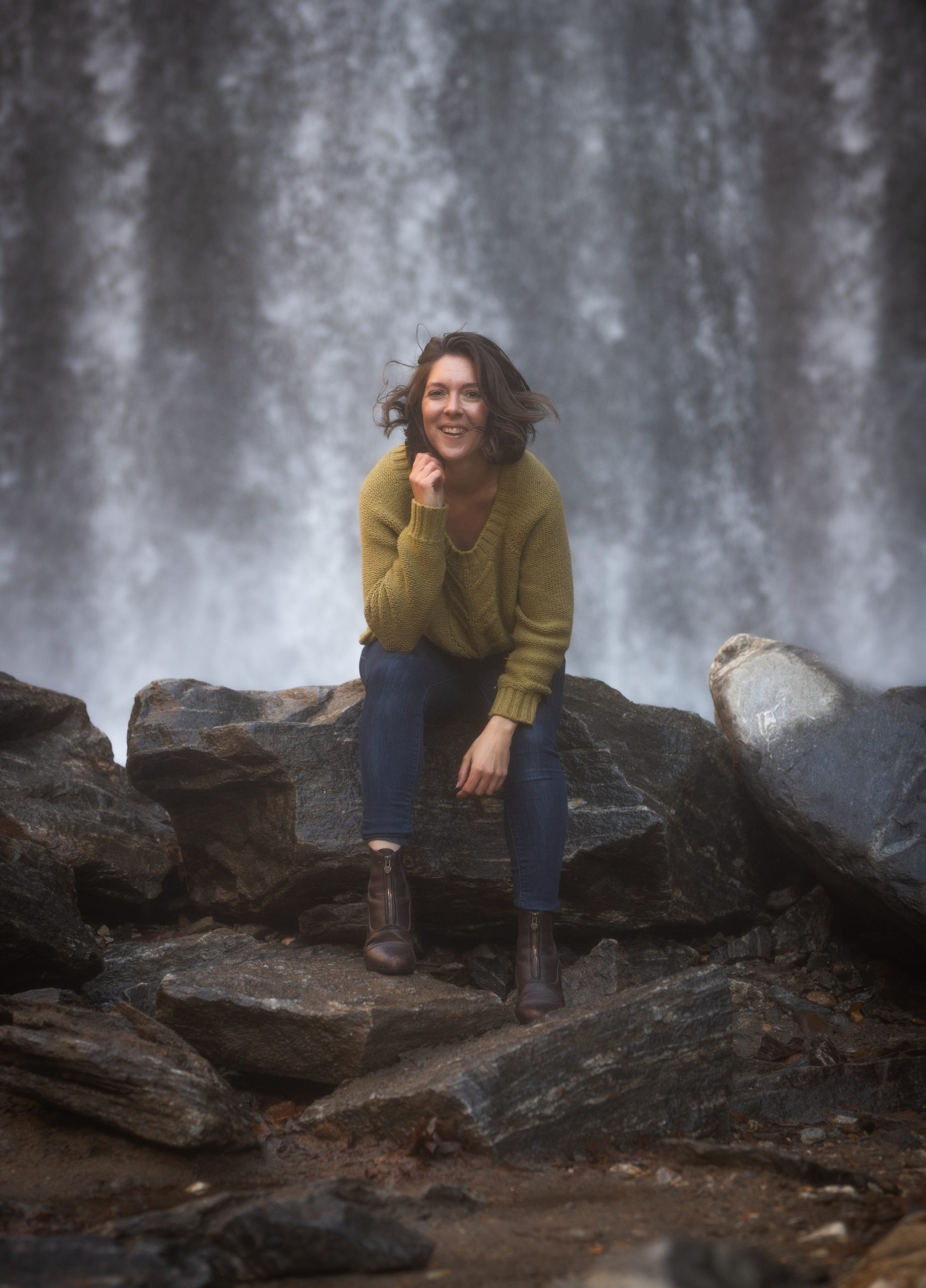 As an elopement photographer and outdoor enthusiast I get absolutely giddy with excitement when helping fellow adventure seekers, travelers, dreamers & fun-loving couples plan their experience based, intentional wedding days.
I live on the road full time traveling the country in my dream home on wheels – a 38' long fully off grid, converted bus.
Some of my favorite adventures include: Backpacking and ice climbing in Alaska, hiking the Napali Coast on Kauai, trekking in the jungles of Costa Rica.