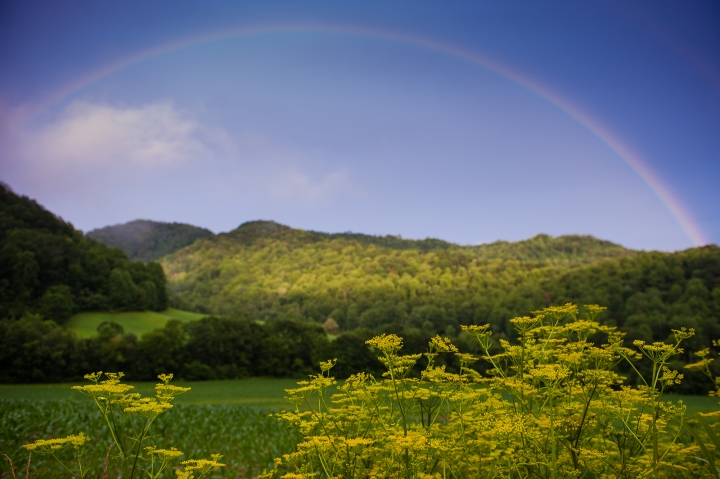 You guys, I had SO much fun capturing this amazing mountaintop proposal! Admittedly it was a bit of an adventure before everything came together perfectly for these two. Matt had to be so very patient because mother nature had other ideas in her head and her own timeline in mind. You see, when Matt originally contacted me the plan was for him to propose at sunset on top of beautiful
Max Patch
. The weather forecast was a bit iffy for that evening but we texted back and forth and decided to take a chance. As I hit the road the weather looked a bit more promising, we had sunshine and even a few beautiful puffy clouds. I was excited… This was all going to come together simply perfectly for Matt and Sarah! As I got exited I-40 and made the turn north into the mountains the sky opened up… I mean, serious torrential downpour. I quickly pulled off the road and texted Matt an update. He and Sarah had just hit the road and we decided to continue with the plan in the hopes the storm would blow on through. The further I drove up the long windy dirt road the worse the weather got. I made it up to the parking lot and jumped out of the car…. Rain, wind… I waited a few minutes, hoping for some sign that the weather might decide to cooperate. No such luck. We opted to come up with a Plan B…
To make a long story short, mother nature didn't exactly cooperate with Plan B either… Sunrise up at Craggy Garden's was gusty, foggy and rainy. We decided to touch base after breakfast and I got to searching for a place close to Asheville with a beautiful mountain view. I found Lookout Mountain in beautiful Black Mountain. It was a short hike up to a craggy top with gorgeous mountain views. It sounded perfect! The sun was out and finally things were coming together for Matt to pop the question!
I hiked up about a 1/2 hour ahead of Sarah and Matt so I could get into place inconspicuously before they arrived! This also gave me time to shoot a few scene setting images!
The view from the top of Lookout Mountain was gorgeous!
When Sarah and Matt first arrived there were quite a few people lingering on the summit.. Eventually though they had a quiet few moments and…
The image above and the one below are two of my favorites from the day! How cute are they?!
Sarah admiring her beautiful ring!!
On the way back down the trail we took our time and stopped to take some photo's of these two enjoying the day! I love how joyful these two are!
Love the one of Sarah above! Also… Notice the matching footwear… Chaco's forever! Yup, adorable!
Western NC's rhododendron tunnel's never get old!
Isn't Sarah's ring gorgeous?! I certainly think it is!!
Congratulations to Sarah and Matt on their engagement! We can't wait to document their winter wedding in Greenville SC at gorgeous
Twigs Tempietto
AMW Studios – an
Asheville wedding photography
studio run by Ariel and Matt – We are located in the Foothills of the Blue Ridge Mountains and available for destination wedding photography worldwide… We specialize in creating modern + dynamic imagery for adventurous couples. Getting married or know someone getting married? We are now booking weddings, adventure engagement sessions & lifestyle portraits for 2017 and 2018! Drop us a line – info@amwstudios.com – let's chat! We can't wait to tell your story…