Elopements are becoming an extremely popular way to get married and a lot of couples are choosing to elope in Asheville, North Carolina. This beautiful mountain city is a meca for lovers of the great outdoors, fine cuisine, craft beer, great music and a thriving arts scene so it's no wonder that couples are choosing Asheville as the place to say I do. This post is filled with tons of information to help you plan your Asheville Elopement.

You might be wondering, why elope? Making the decision to elope allows you to have a wedding day that focuses solely on the one thing that matters; the two of you and your love for one another. The intimacy of an elopement ceremony is unmatched. Just think about saying your vows, full of emotion on top of a mountain or beside a waterfall with no one to hear you except (if you choose) the few people who mean the very most to you!
You might be saying "Okay, an elopement sounds great and Asheville is amazing but whats next, how do I actually do this?!"… First of all, answering this burning question for couples is what I do as an Asheville elopement photographer and guide. So yes, I had fun writing this post and I hope it helps you plan your dream elopement in Asheville but I'm also here to help!
Set up a free consult and let's start crafting your Asheville elopement experience: Contact Ariel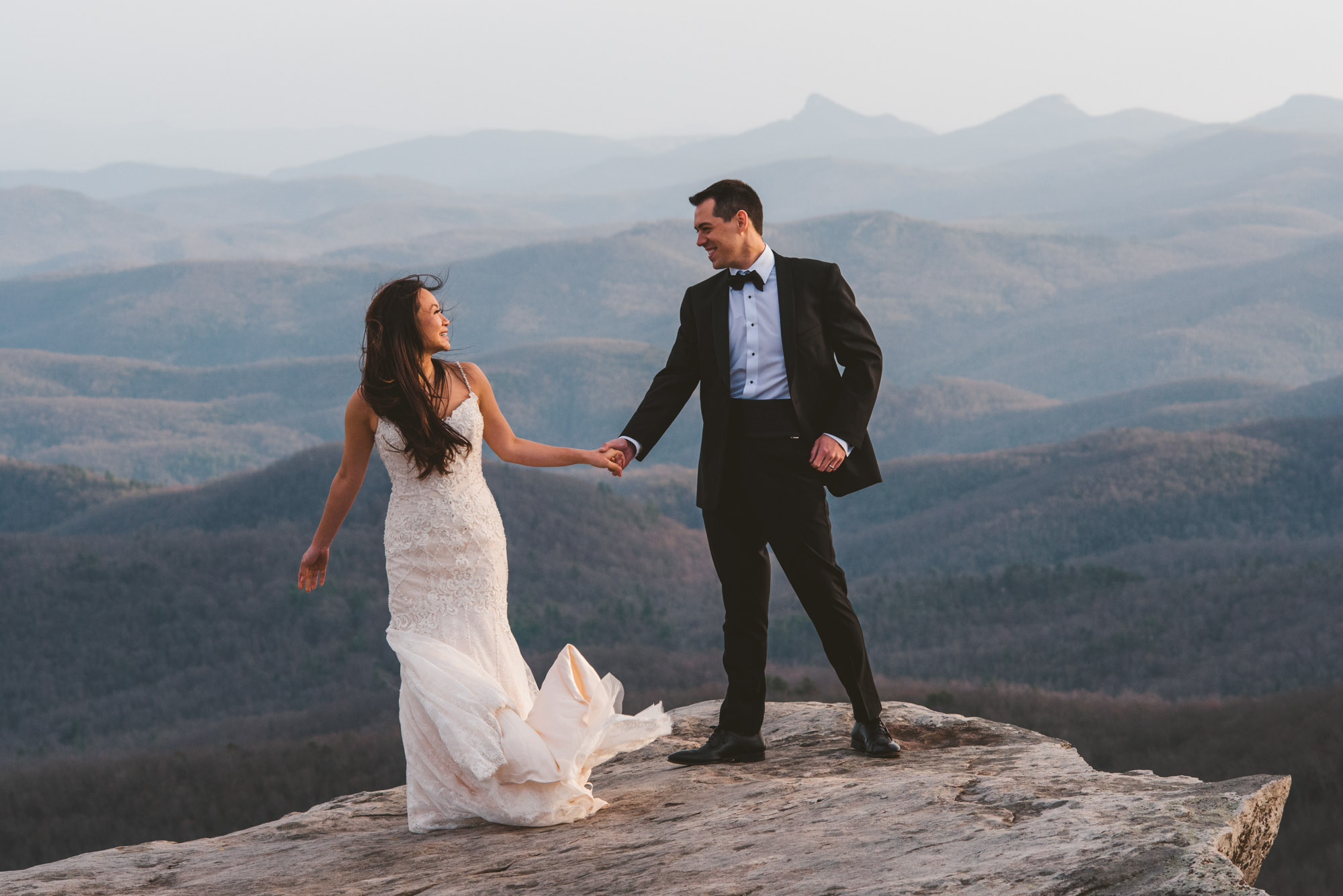 Planning to elope but aren't set on Asheville and don't know where to start see my elopement guide which talks you through how to get started planning your adventure elopement: How to Elope
Asheville is quickly becoming one of the top elopement destinations in the United States. With amazing restaurants, craft breweries, hiking, climbing, waterfall chasing and endless outdoor opportunities your Asheville elopement can be a one of a kind, adventure fill experience!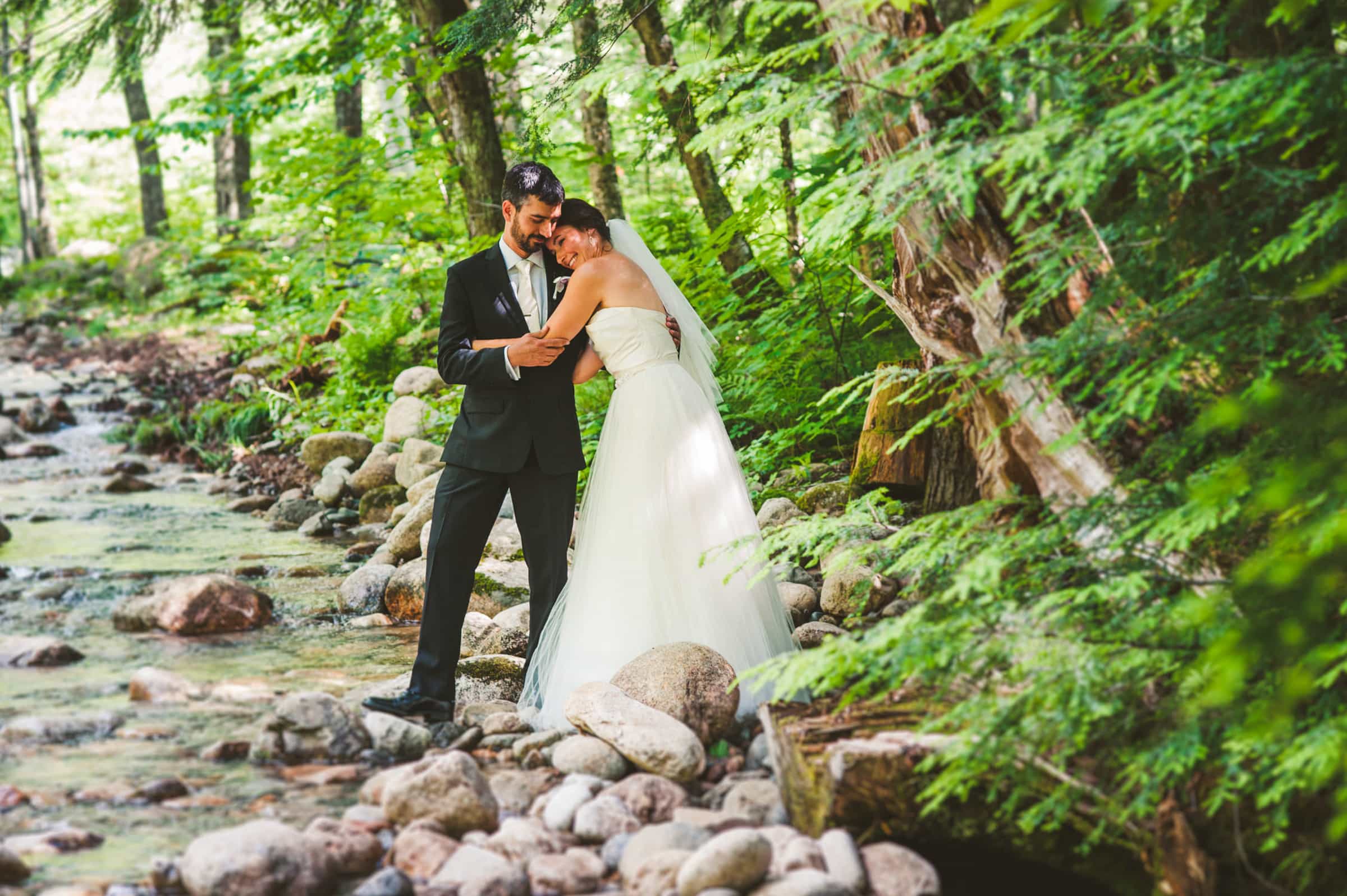 10 Tips for Your Asheville Elopement:
You + Your Partner (have close family + friends join to if you'd like!)
Book a photographer you connect with who knows the area. Send me an inquiry to set up a free consulation!
Think about the general setting you'd like to say your vows; City/Urban, Waterfall, Woods or Mountain Top – Your photographer will be able to suggest exact locations based on your vision. See some of my favorite places below
Apply for marriage license
Make sure you secure a permit for the location chosen; different areas have different restrictions you can find some basic info below! This is something I help my elopement couples with!
Don't forget an officiant. This can be a friend or family member who is ordained or there are a few officiants I can recommend who specialize in outdoor/adventurous elopements.
Plan on saying your vows close to sunrise or sunset for less people and the best light!
Think about how you want to spend your day; you can see sample activities and timelines below!
Consider hiring a private chef, making reservations a nice restaurant in Asheville for your wedding dinner.
Spend your elopement day adventuring together, creating amazing memories and celebrating your love for each other!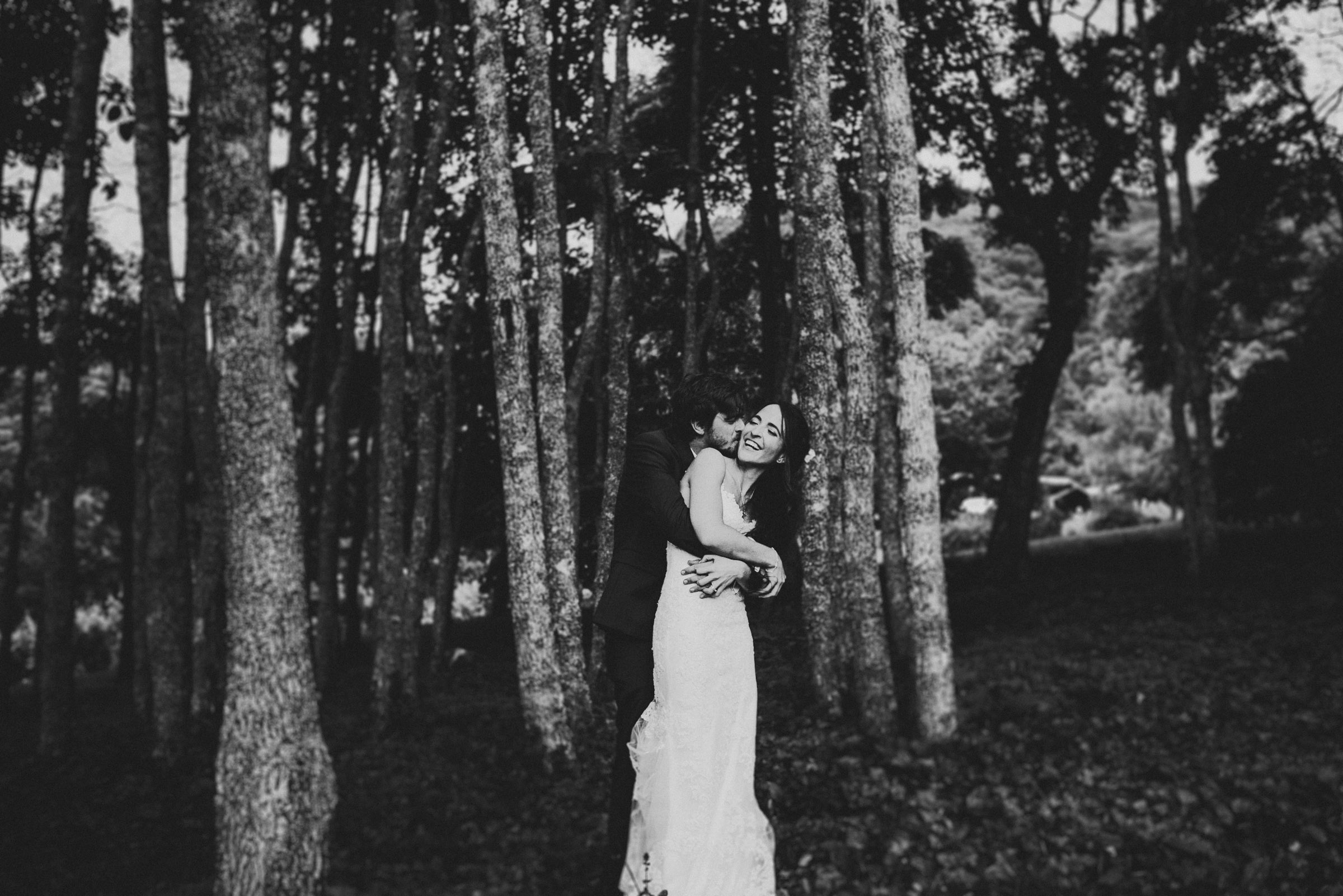 WHERE TO ELOPE IN ASHEVILLE
The mountains of Western North Carolina are vast and there are endless options for your adventurous elopement. I've listed some favorite locations below divided up into different general areas.

Best Asheville Elopement Locations
Here are some of the most popular locations to elope in or near Asheville NC. Most of these options are about an hour from downtown Asheville with fairly easy access!
Let's Start Planning your Asheville Elopement!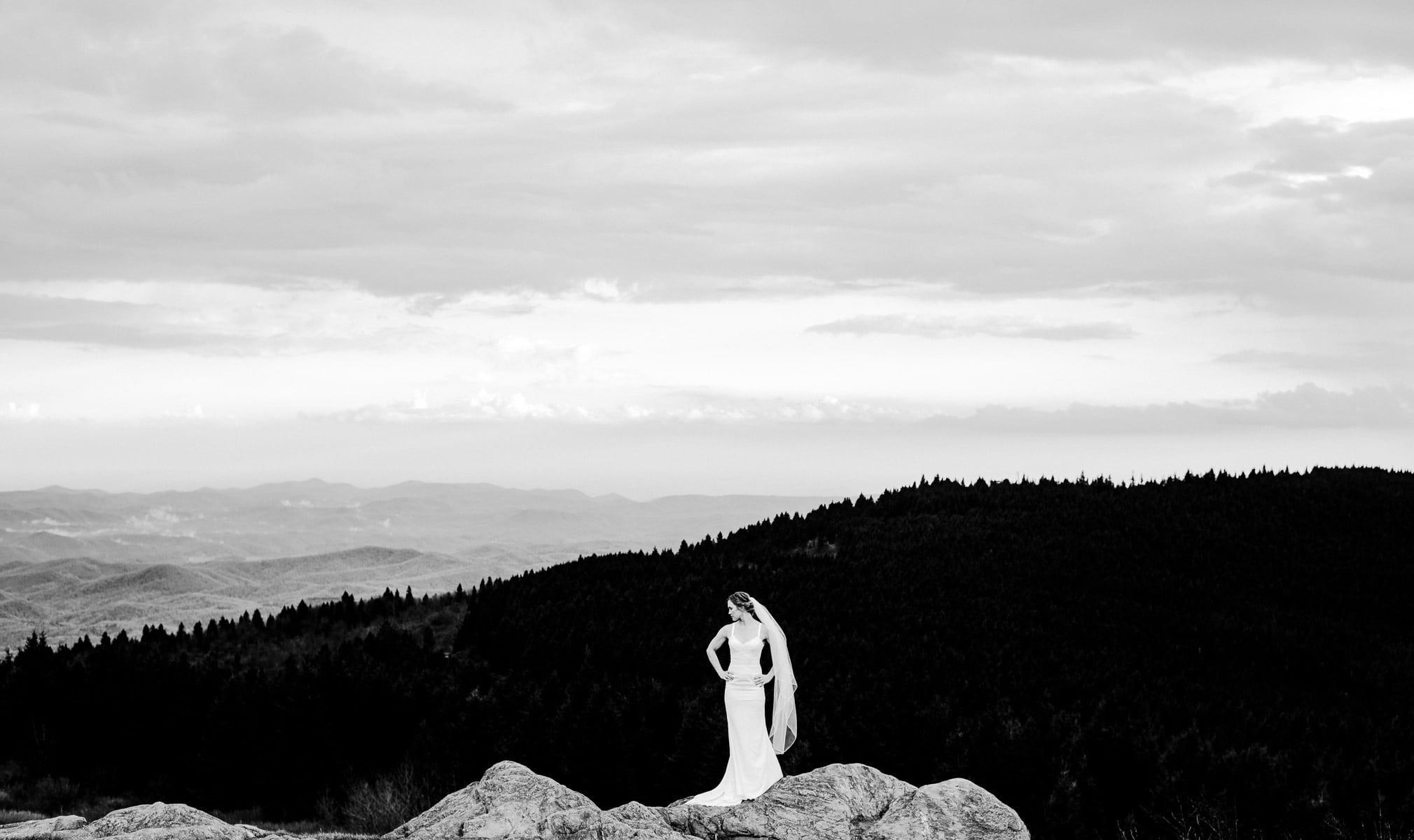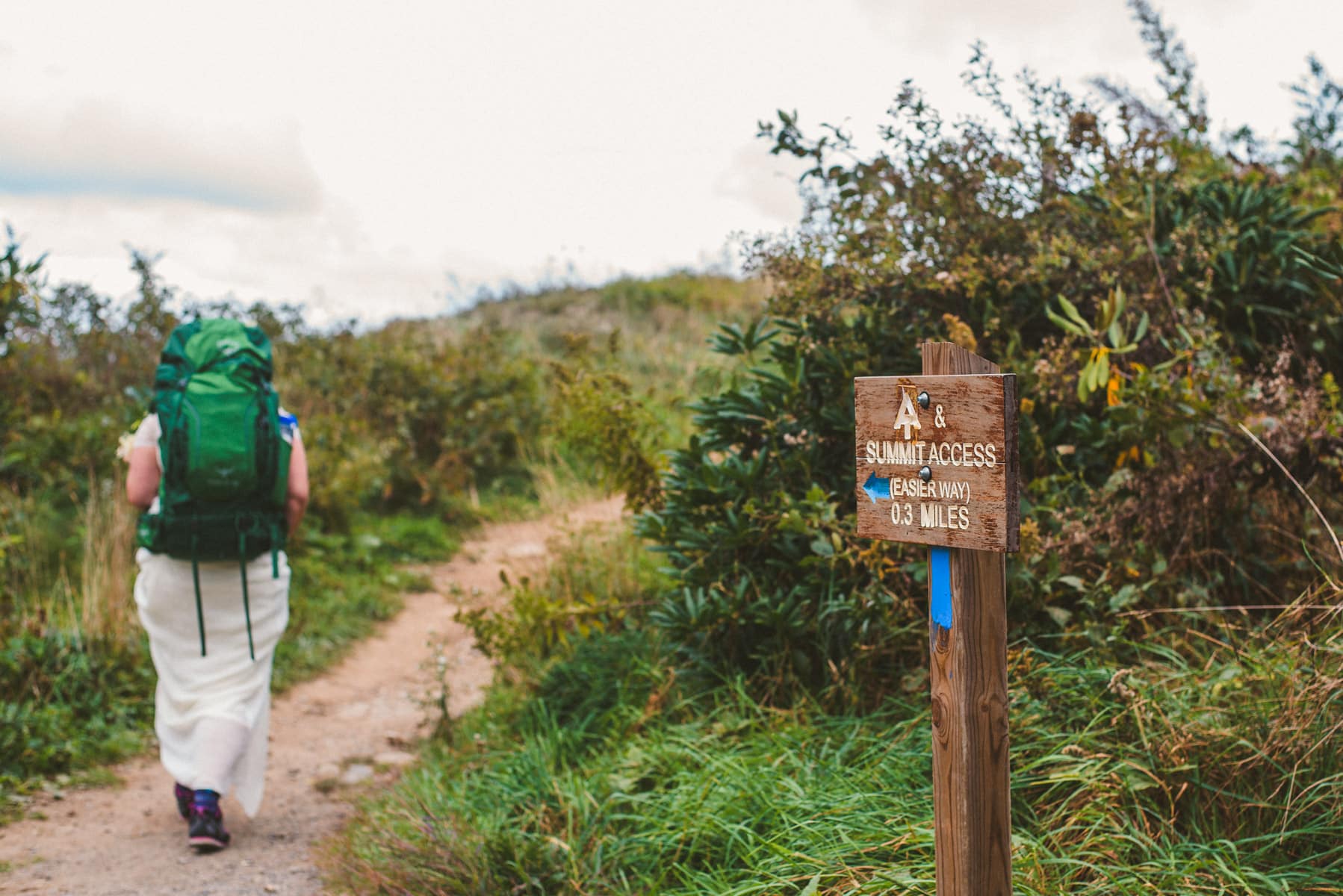 Best Boone Elopement Locations
The Boone, Blowing Rock, Linville area… Often referred to as the North Carolina High Country, is one of my favorite places to explore! From the rugged Linville Gorge Wilderness to Boone's bustling downtown; there is something for everyone! Below I've included some of my favorite locations to elope near Boone North Carolina.
Let's Start Planning your Boone Elopement!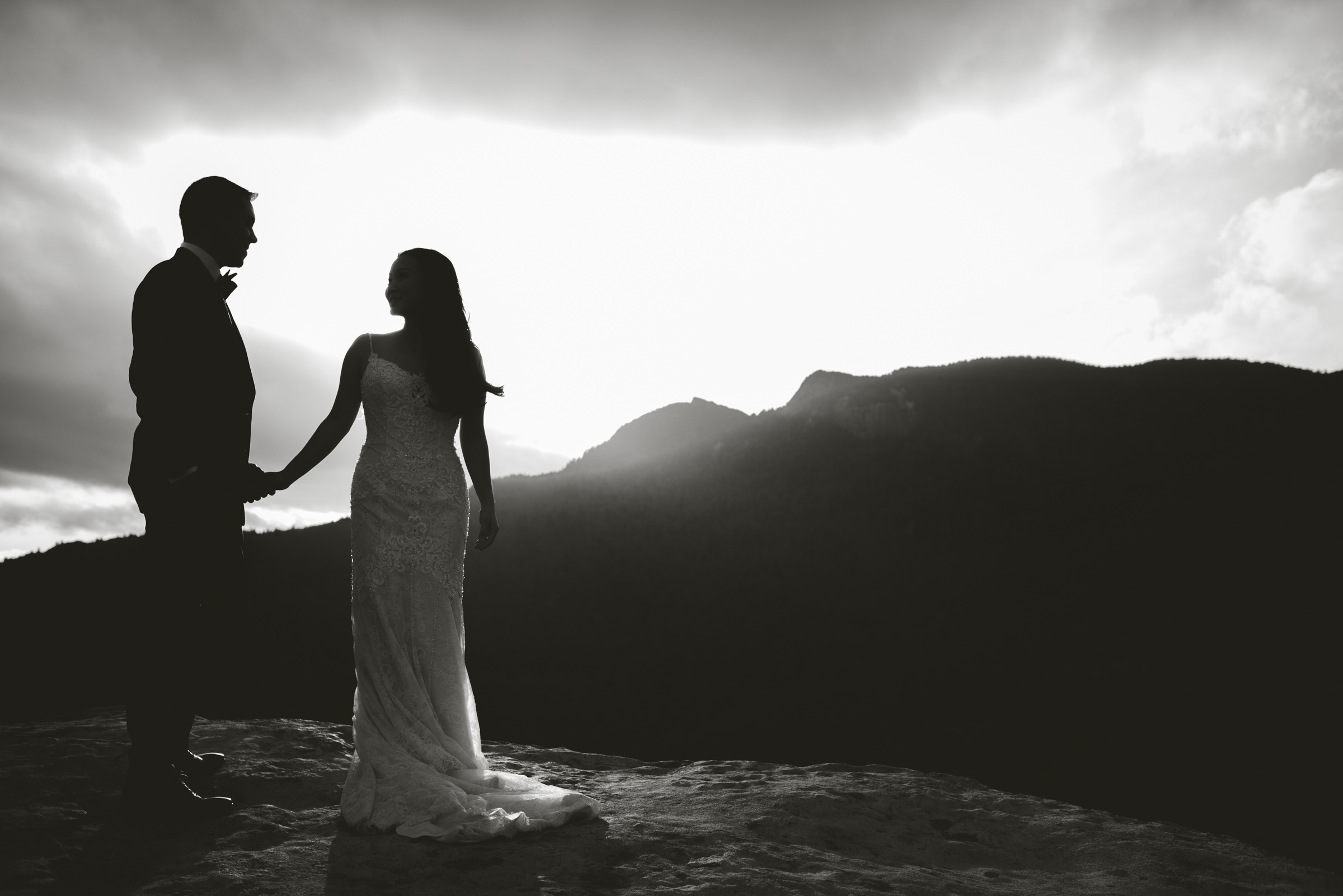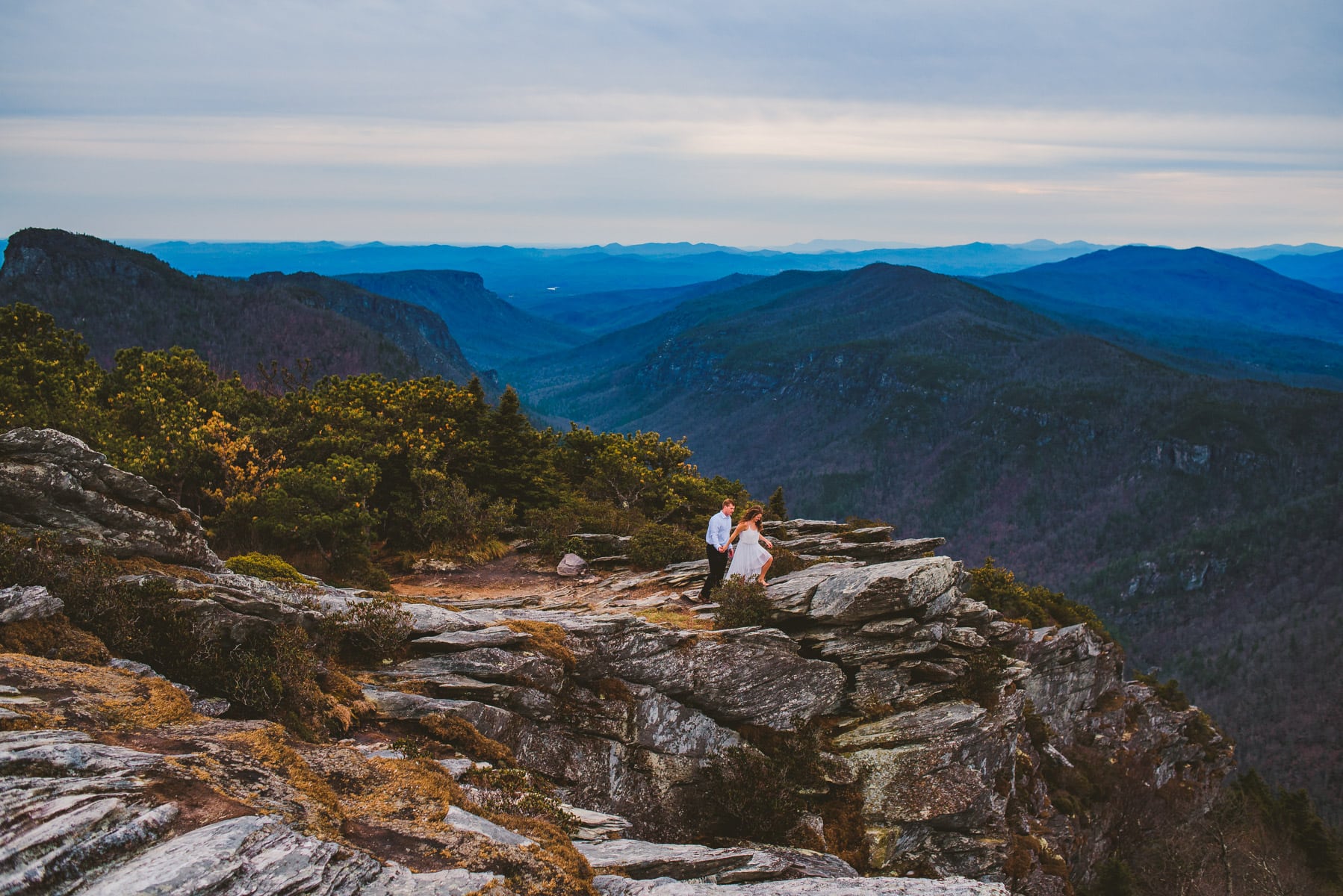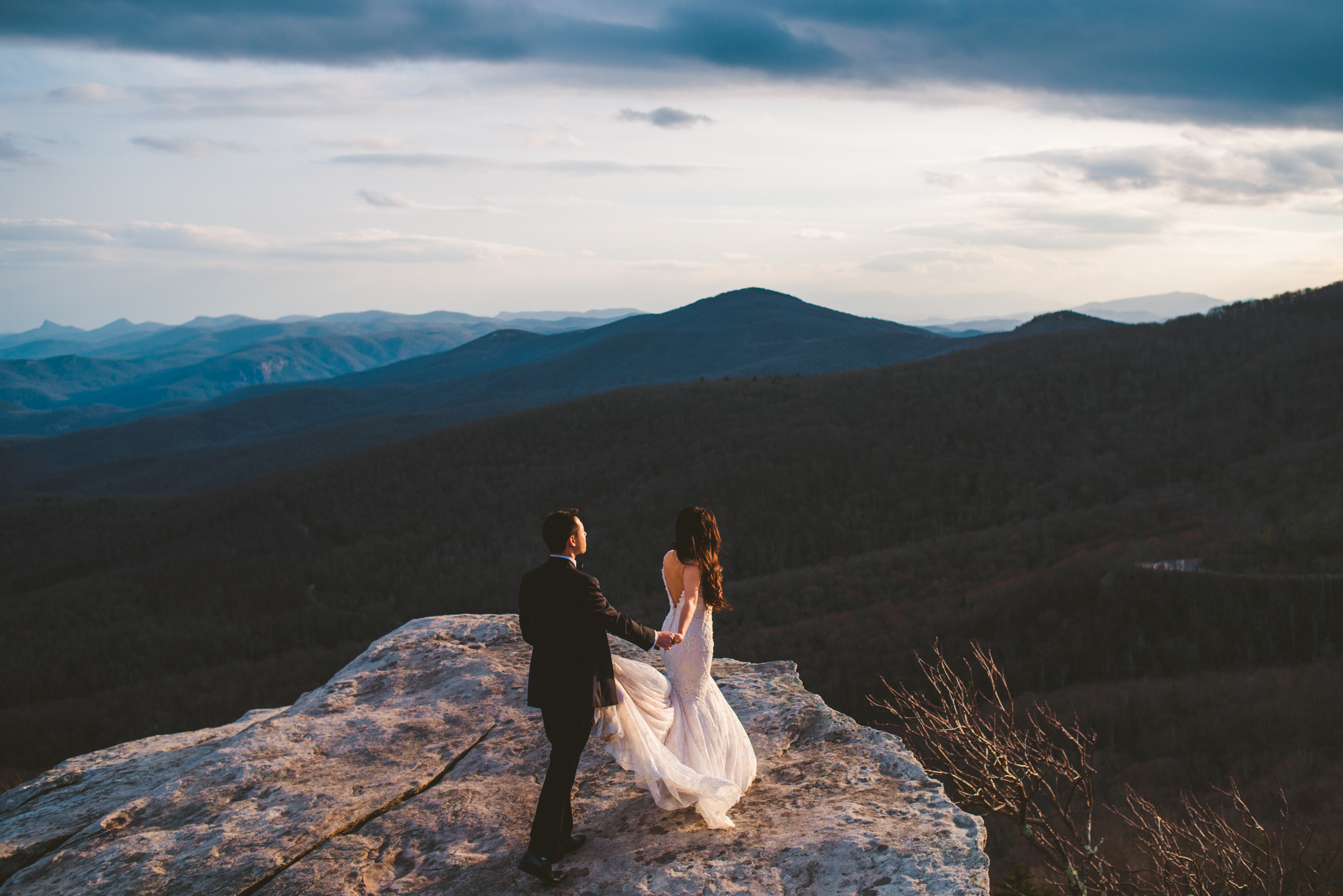 Best Great Smoky Mountain Elopement Locations
West of Asheville lies the Great Smoky Mountains and the Great Smoky Mountains National Park with some adorable mountain towns! Included below are just a few of the most beautiful places to elope in the Great Smokies!
Let's Start Planning your GSMNP Elopement!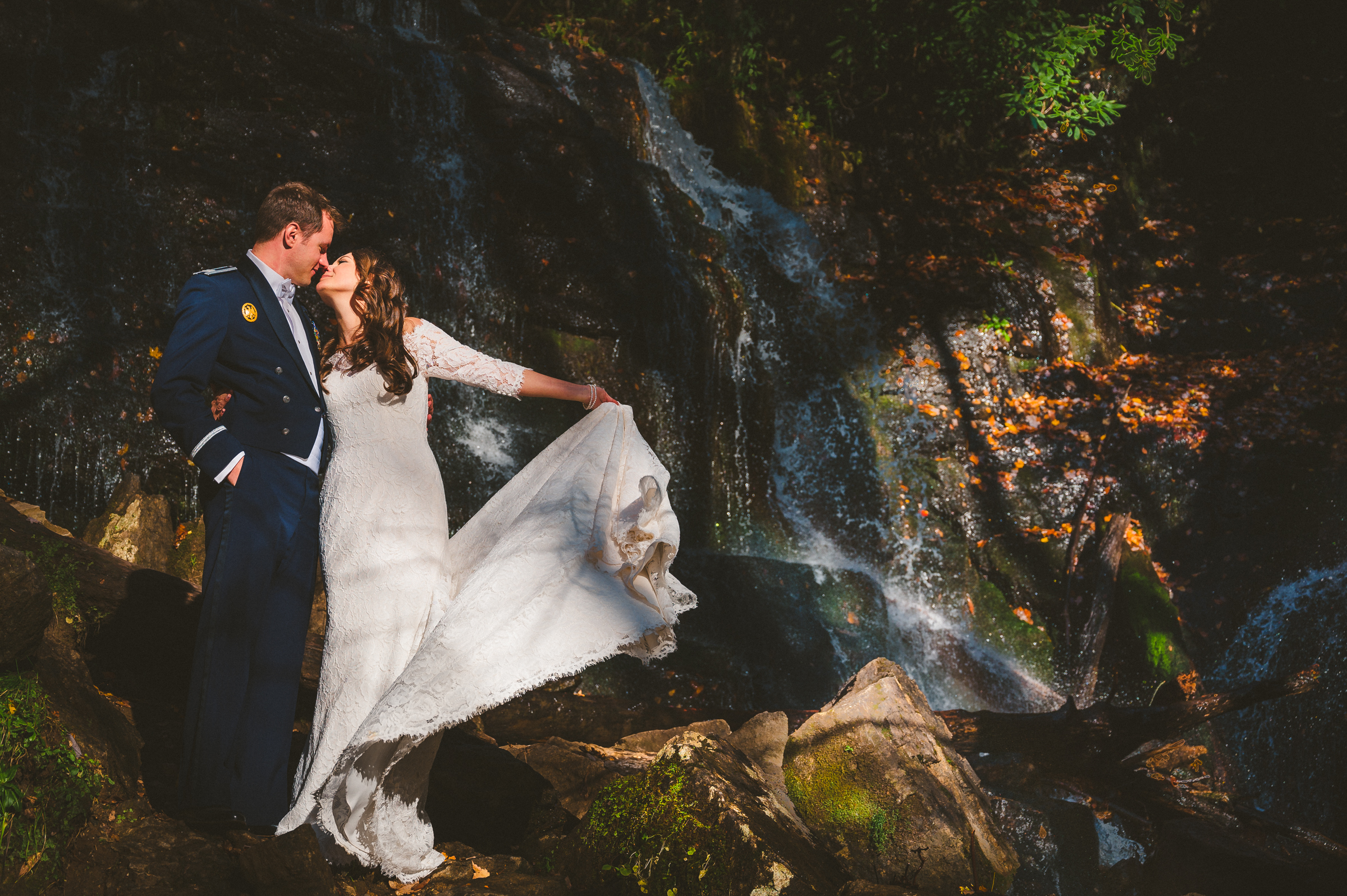 Looking for a location to elope near Asheville (or anywhere else in the mountains of western nc) that is a little more off the beaten path? I have secluded locations that I choose to keep off social media and favorites lists! Reach out if you want to chat more about your adventurous Asheville elopement!

LETS START PLANNING YOUR DREAM ELOPEMENT


BASIC PERMIT INFORMATION FOR YOUR ASHEVILLE ELOPEMENT
Most of the outdoor locations shared above require you to apply for a permit. Be sure to plan ahead and apply for that early. A quick summary with links:

Blue Ridge Parkway Elopement –
Permit Cost: $100
Best time of year: April-September (many sections of the parkway are closed in winter)
Live florals are not allowed, instead, consider a silk bouquet as a beautiful alternative.
Plan on a weekday or non holiday weekend for less crowds. You cannot get a permit for federal holidays & federal holiday weekends, as well as for the entire month of October.
Click Here to Apply for a Permit

Great Smoky Mountains Elopement –
Permit Cost: $50
Best time of year: March-November
Click Here to Apply for a Permit
APPLY FOR A BUNCOMBE COUNTY MARRIAGE LICENSE HERE
ASHEVILLE ELOPEMENT VENUES TO CONSIDER
Booking a beautiful location for your elopement ceremony is a great option especially if you have guests joining you that may not be quite as mobile. remember if you're craving an adventurous mountain experience you could always say private vows at sunrise in the mountains before meeting up later for a ceremony with friends/family. I offer full day elopement packages because I truly believe in creating a memory filled experience for my eloping couples.
ELOPEMENT VENDORS
This will be updated as needing with even more elopement vendors. If you're a vendor who specializes in Asheville elopements (and the surrounding area) feel free to reach out if you'd like to be added to this list
Florists
Flourish Flower Farm

If you're getting married on the Blue Ridge Parkway or any National Forest Land it's important to keep in mind that they don't allow live florals. Consider a silk bouquet instead!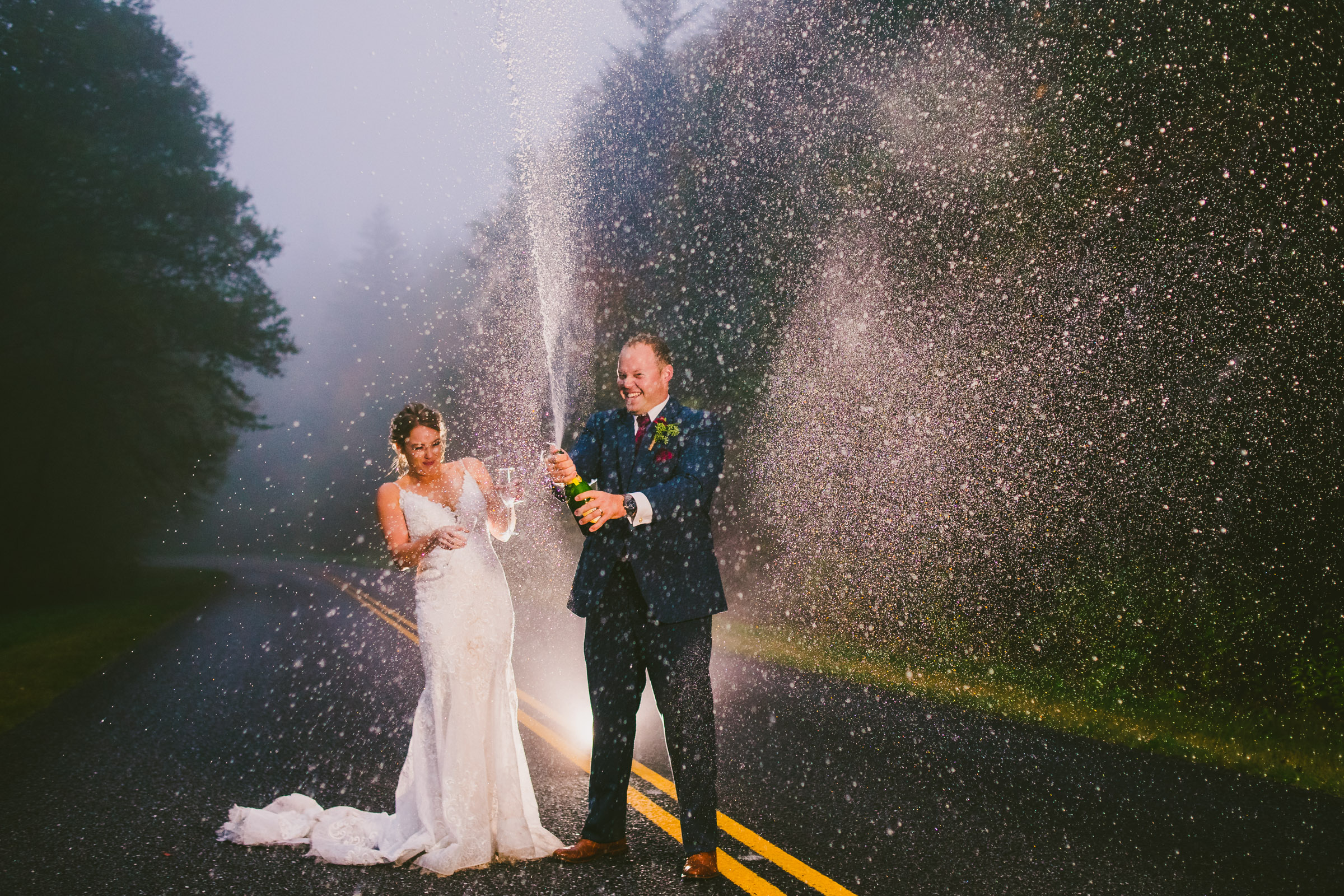 Hair and Makeup Artists for your Asheville Elopement
WHERE TO STAY FOR YOUR ASHEVILLE ELOPEMENT
Hotels:
Bed + Breakfasts/Inns:
For something a little different:
WHERE TO EAT DURING YOUR ASHEVILLE ELOPEMENT
Asheville's known for some pretty incredible food but here are my favorites for a post wedding dinner:
Or consider having a private chef come to your airbnb. Contact me for recommendations!
While you're exploring downtown don't forget to check out one of Asheville's amazing craft breweries like Wicked Weed Funkatorium and after dinner hit up the popular French Broad Chocolate Lounge
for a wonderful dessert!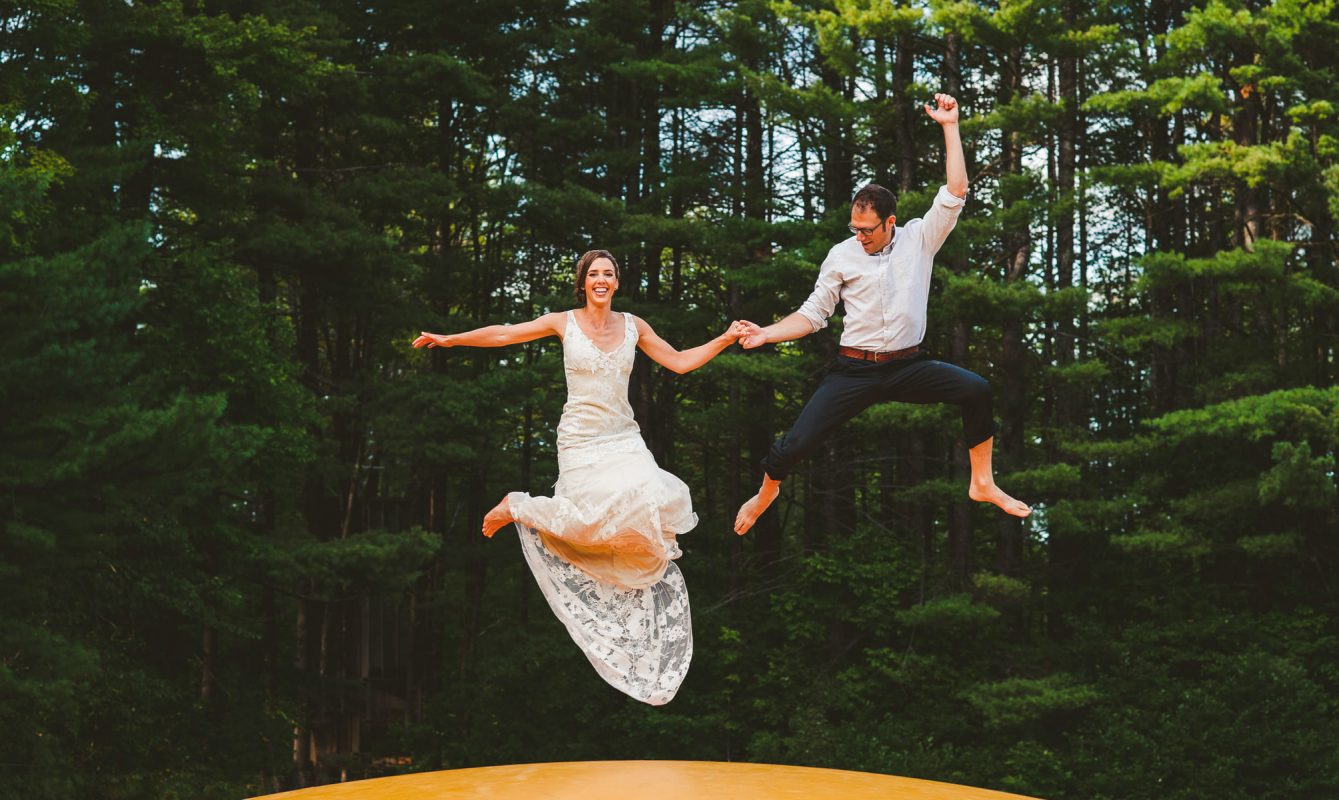 ACTIVITES FOR YOUR ASHEVILLE ELOPEMENT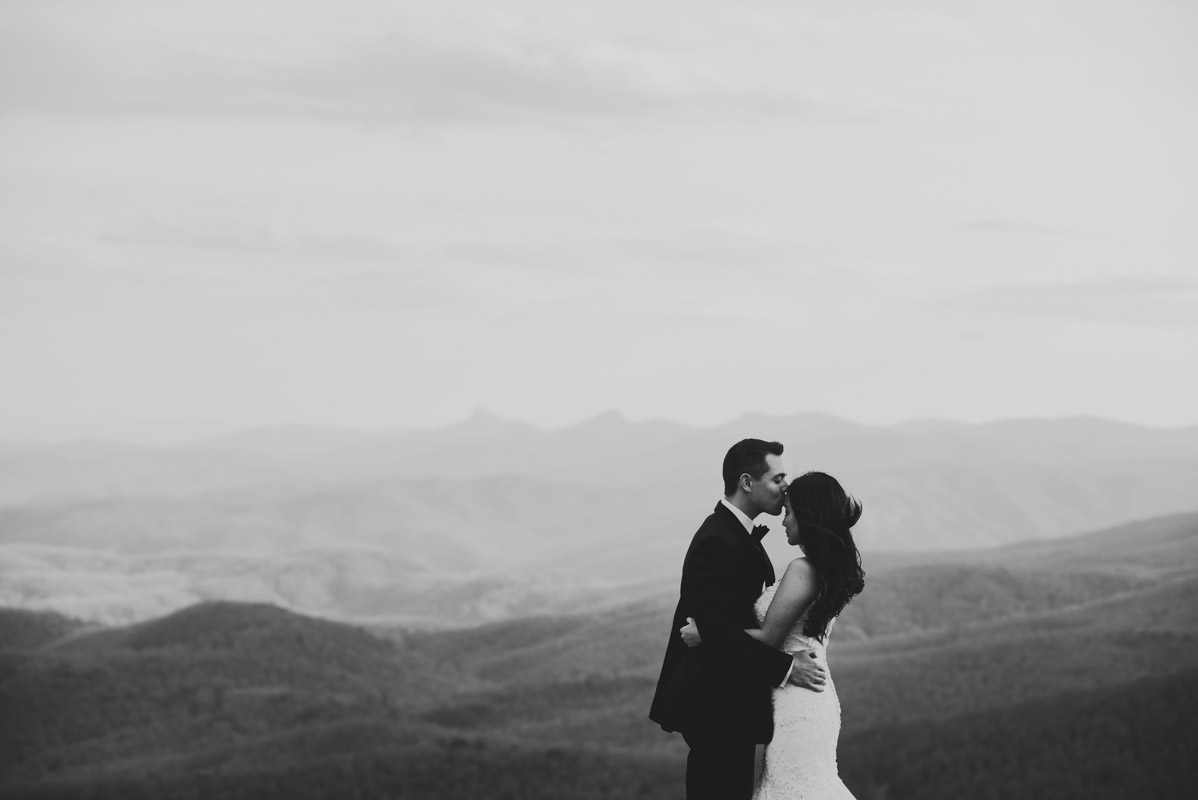 ASHEVILLE ELOPEMENT PHOTOGRAPHY
Asheville Elopement Pricing:
Reach Out
If you have an elopement idea a little out of the ordinary and you want to chat about it let me know.
If you're looking for more incredible location ideas, send me a note.
Let's Start Planning your Asheville Elopement!
Timeline Tips
I recommend planning on having your ceremony during the best light which usually means within a couple hours of sunrise or sunset. First figure out which time of day you'd prefer to say your vows and then start planning the rest of your day around that!

I offer custom timelines + activity ideas for all my couples!
FAQ'S
Do you offer elopement packages? My most popular elopement package is the full day package, this allows for the most freedom to plan/have documented a fun, relaxing and amazing elopement experience! I do offer the option to add an album or an engagement session to your elopement package
How many images will I receive? There are many variables, but I usually deliver about 75 images per hour of coverage.
Can I print the images? Yes! You will be able to download your high resolution images and receive a print release so you can make your own prints!
Do you edit all of the images? Yes!
How do you deliver the images? I send a beautiful online gallery where you can view, share and download all your images.
Do you travel for weddings? I travel for a large number of elopements and weddings each year, in fact when you book my full day elopement package my travel fees are included for all destinations within the United States.
How do we book you as our elopement photographer? Drop me a note to get started but it's super easy. My contract is online and can be filled out securely in about 5 minutes, Contract + A retainer of $1000 books me for your day!
I would be honored to document your elopement here in Asheville or beyond! Don't hesitate to reach out with any questions or to get started planning your dream elopement!

LETS DO THIS