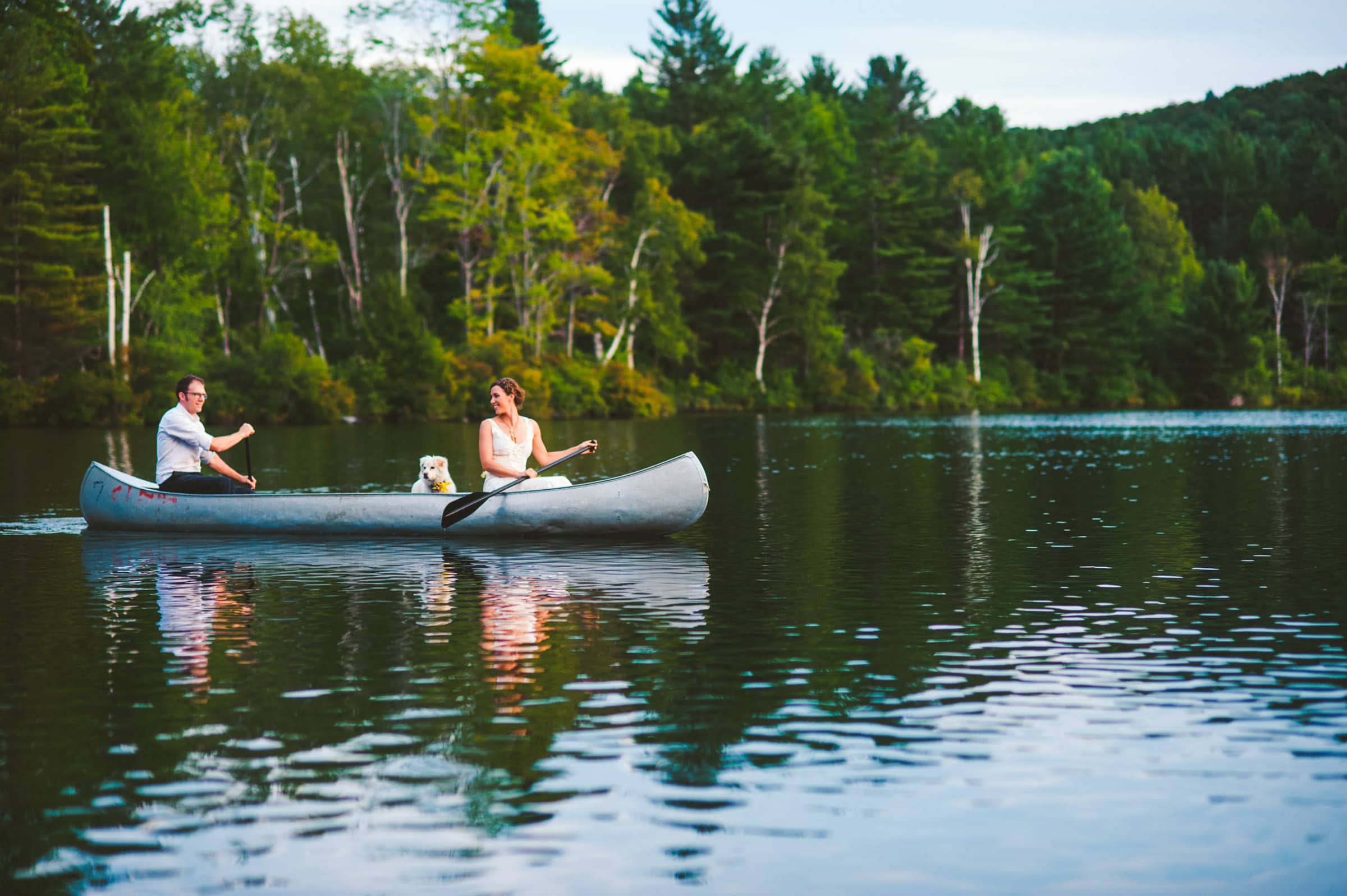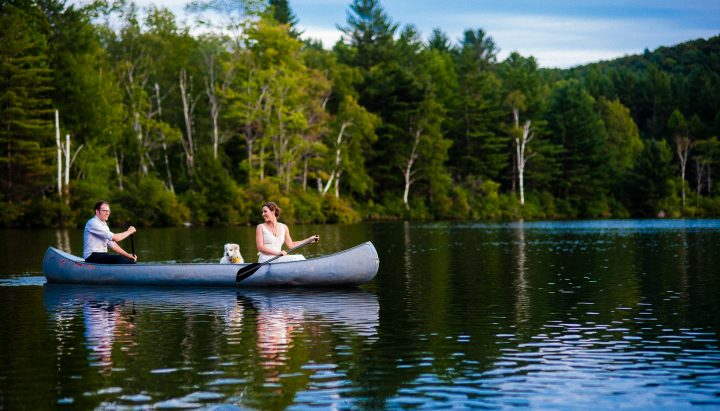 Since today's post is all about maximizing your time together on your wedding day… why not hijack a canoe and go for a paddle like Case and Dan did during their
summer camp wedding
in the mountains! It's Wednesday again and guess what that means?! Yup… This Asheville wedding photographer is going to get on her soapbox and share some well-meaning wedding planning advice!!! Just in case you missed it, here is my last
Wedding Tip Wednesday
post about
planning a fun + authentic asheville engagement session
! I hope you'll check back on Friday when I'll share a pretty awesome recent engagement session I photographed – the couple chose an activity (biking) and a beautiful location, and we had a blast creating Meaningful + Authentic + Adventurous images and it was the bomb!!!! Anyway… on to today's post!!! What's it about?!?! I know, I know you can hardly wait…. Ready. Set. Let's Go… Trust me when I say your wedding day is going to fly by – like "blink", and it's over fast….It can be pretty easy to get caught up in the little details and lose yourselves in the wedding day whirlwind. Today I'm going to share a few suggestions that will help you make the most of your big day together!!! We hope you'll consider adding one of these intimate experiences to your wedding day timeline. Some of the ideas are becoming more common while others would break common wedding day traditions!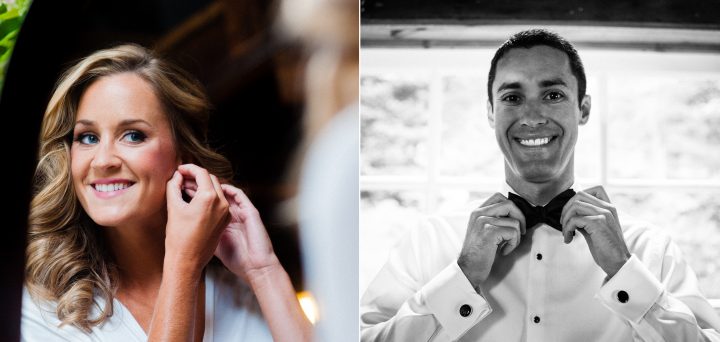 Get Ready Together
Now, first I'll say we've had just two couples out of the 100+ weddings we've photographed who have chosen to get ready together. What a sweet, intimate start to the day these two couples had, though!!! I understand you would be throwing custom to the wayside, but if you have a small wedding party – or perhaps no wedding party at all – this could be a perfect fit!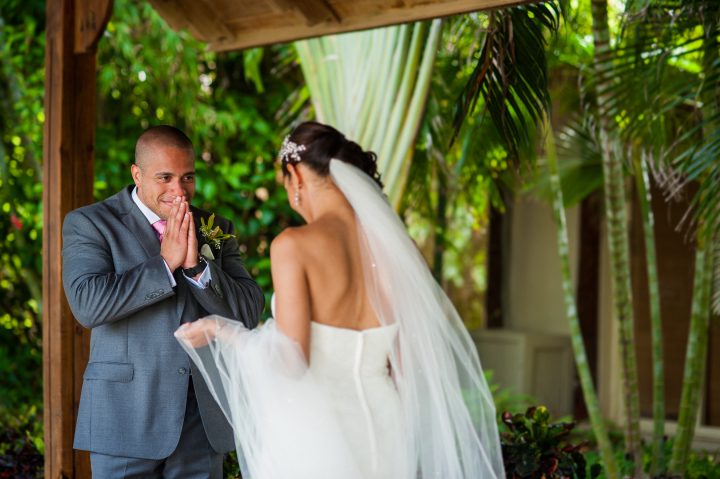 First Look
You should know how much we love first looks… I mean, really love first looks… You see, not only does it mean you'll get to enjoy some extra time together on your Asheville wedding day. There are plenty of other perks, such as setting time aside to do wedding party and family pictures before your ceremony so that everyone can go to cocktail hour after you say "I Do"!!! Plus it allows you a much more intimate experience seeing each other for the first time without all of your guests looking on! Every one of our couples who choose to do a first look raves about how amazing the experience was and how thankful they are to have the extra time to enjoy each other's company before the party starts!! Okay, so I think you get as
Asheville wedding photographers
just how much we love first looks. (I'm already working on a blog post that is all about this – can't wait, huh???!!!)
or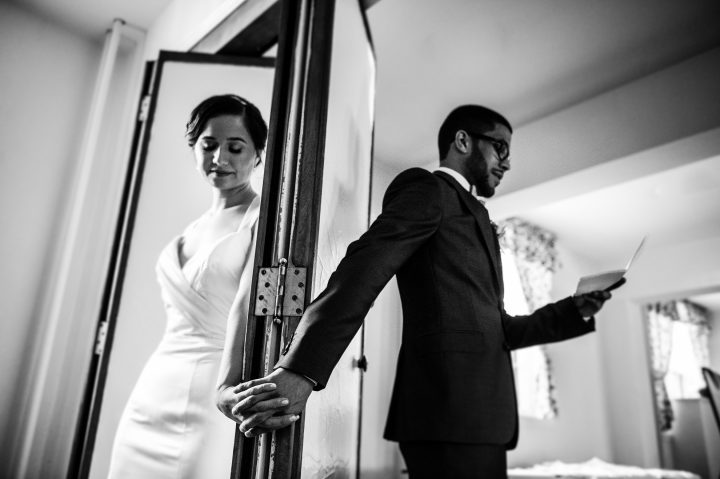 No Peak First Look
Not all of our couples are sold on the idea of a first look and that's okay – we understand it's not for everyone!!! Sometimes called "blind first look" or "no peek first look"… We encourage every one of our couples to take 10 minutes at some point during getting ready/before your wedding ceremony to hold hands… Share a private moment with each other. This is a good time to exchange cards or even a special gift. We usually find a door, the corner of a building or a big tree to position the bride and groom close enough to whisper to each other and hold hands but not in a position where you will see each other before your ceremony. It's always a big hit and tends to calm any pre-wedding jitters…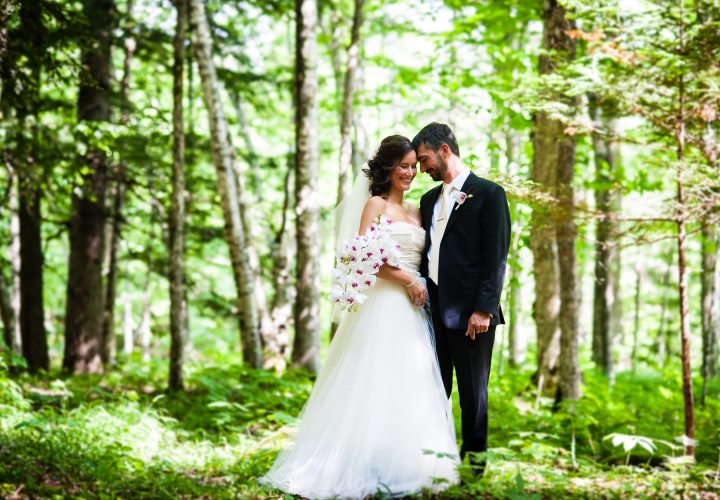 Read Your Vows in Private
Speaking your vows to each other can be a very personal experience – We've had many couples who choose to share their vows with each other in a more intimate setting before or after the ceremony! Sometimes couples opt to go with a more traditional vow at the altar and then write their own private vows to each other during a different moment of the day. Other times they will write a shorter version of their vows to share with friends and family during their wedding ceremony and then whisper an extended version to each other before or after they say their I dos! I think we can agree that reading your vows in private is a great way to spend a little extra time together on your big day.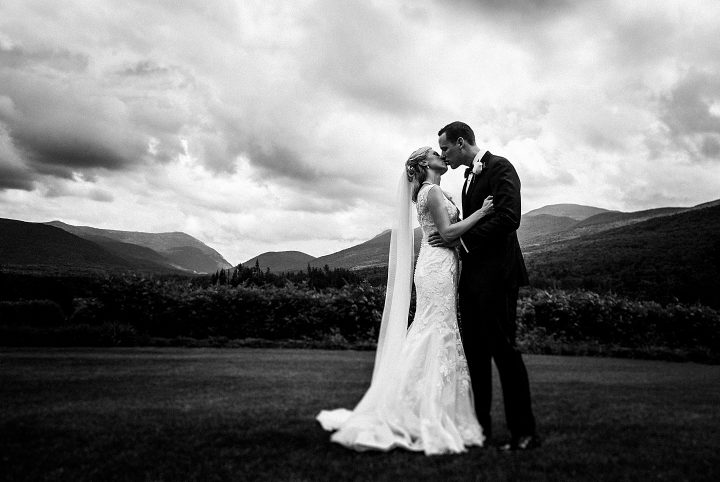 Post Ceremony Getaway or in Jewish Tradition "The Yihud"
Following a Jewish ceremony many couples choose a tradition that I personally believe all couples should have!!! In a day filled with chaos, the yihud — or "seclusion" — is a ritual that lets you focus on the day's true purpose – your new partnership. Immediately after the ceremony, the bride and groom retreat to a private room (or place… for some of our couples it's been a mountaintop or under a giant tree) for 15 minutes of personal time. No in-laws, no seating arrangement charts, no photographer or videographer. Just you and your new spouse enjoying each other's company… Perhaps with a drink in hand!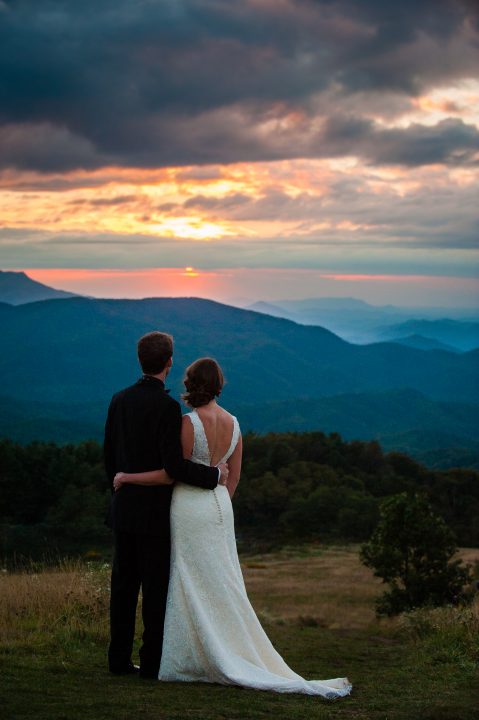 And…Possibly (Possibly Selfish) Our Favorite | Sneak Away for Sunset Pictures
When we're giving timeline advice to our couples, our one and only request is having 15 minutes (or more if possible!) with our couples around sunset for some romantic + fun portraits! Enjoy some quiet time away from the whirlwind of celebrating to just be with each other…. Enjoying each other's company and reflecting on the amazing day you've been having! You get some extra time together and some amazing images… it's a win-win!!!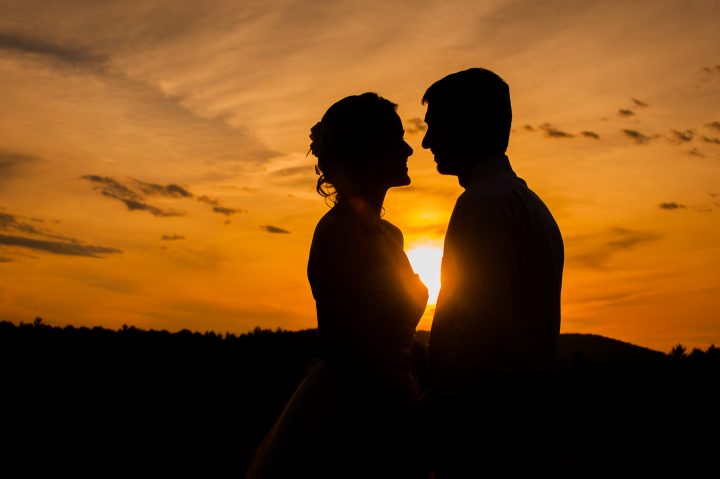 AMW Studios – an Asheville wedding photography studio run by Ariel and Matt – We are located in the Foothills of the Blue Ridge Mountains and available for destination wedding photography worldwide… We specialize in creating modern + dynamic imagery for adventurous couples. Getting married or know someone getting married? We are now booking weddings, adventure engagement sessions & lifestyle portraits for 2017 and 2018! Drop us a line – info@amwstudios.com – let's chat! We can't wait to tell your story…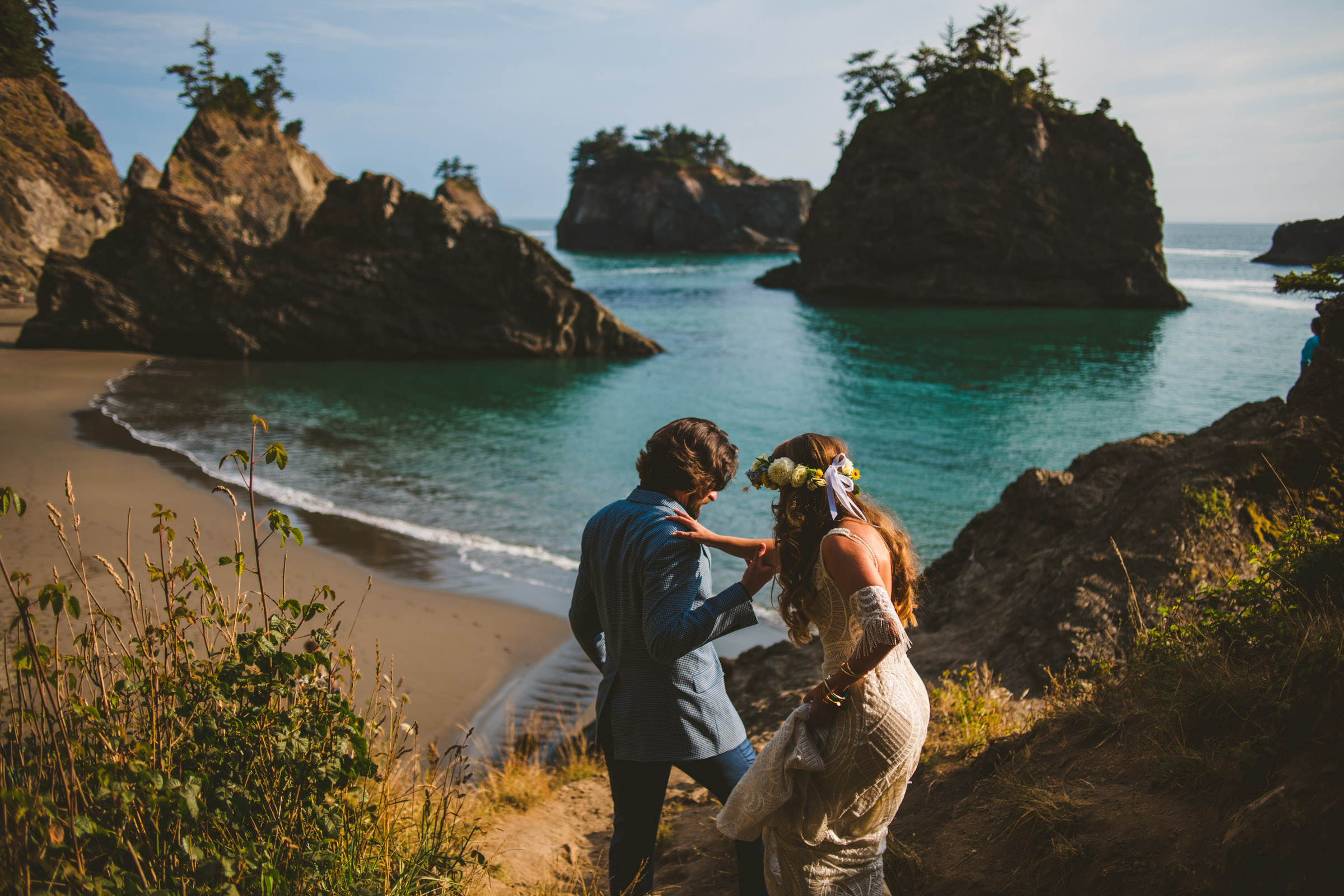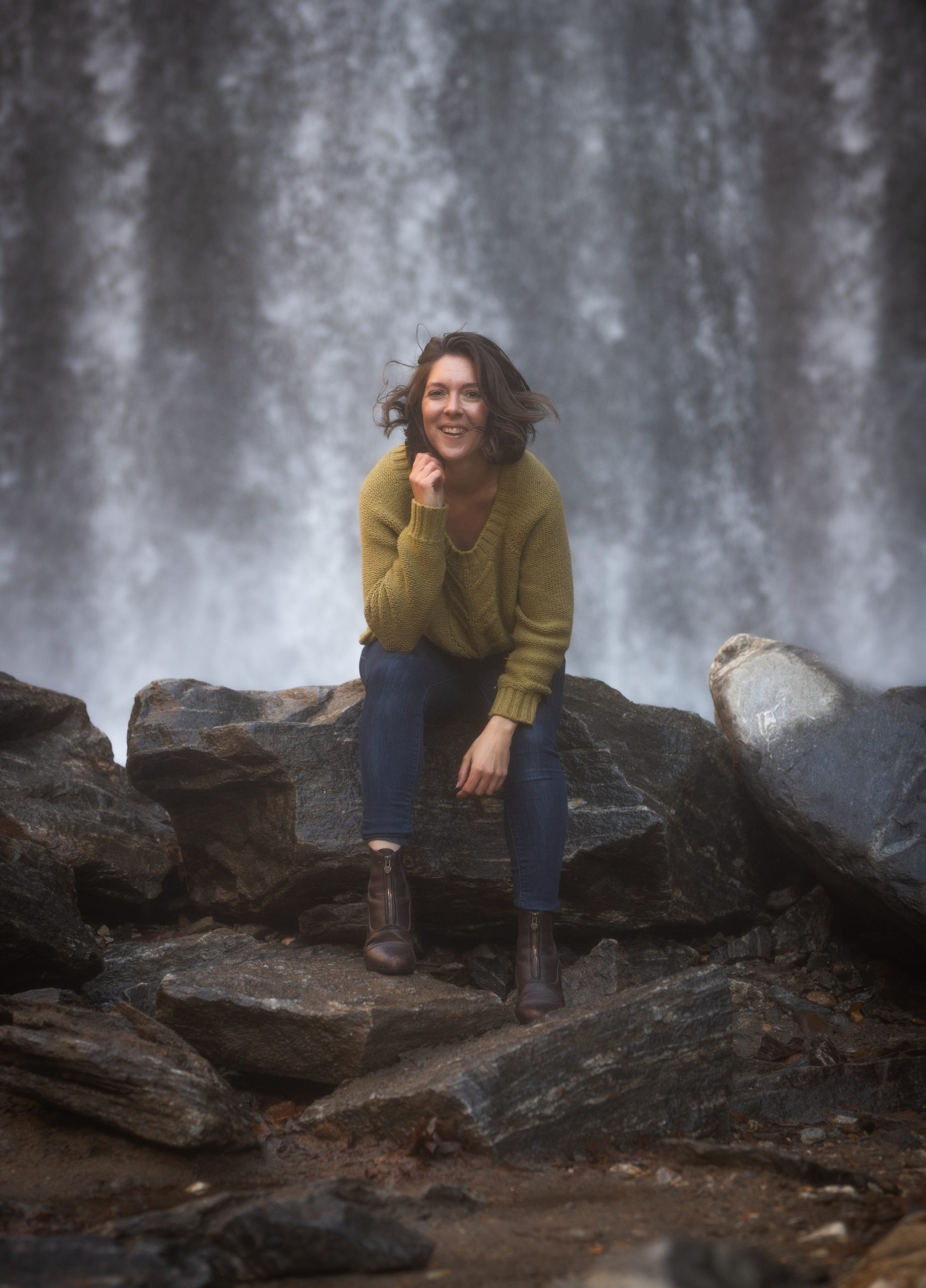 As an elopement photographer and outdoor enthusiast I get absolutely giddy with excitement when helping fellow adventure seekers, travelers, dreamers & fun-loving couples plan their experience based, intentional wedding days.
I live on the road full time traveling the country in my dream home on wheels – a 38' long fully off grid, converted bus.
Some of my favorite adventures include: Backpacking and ice climbing in Alaska, hiking the Napali Coast on Kauai, trekking in the jungles of Costa Rica.