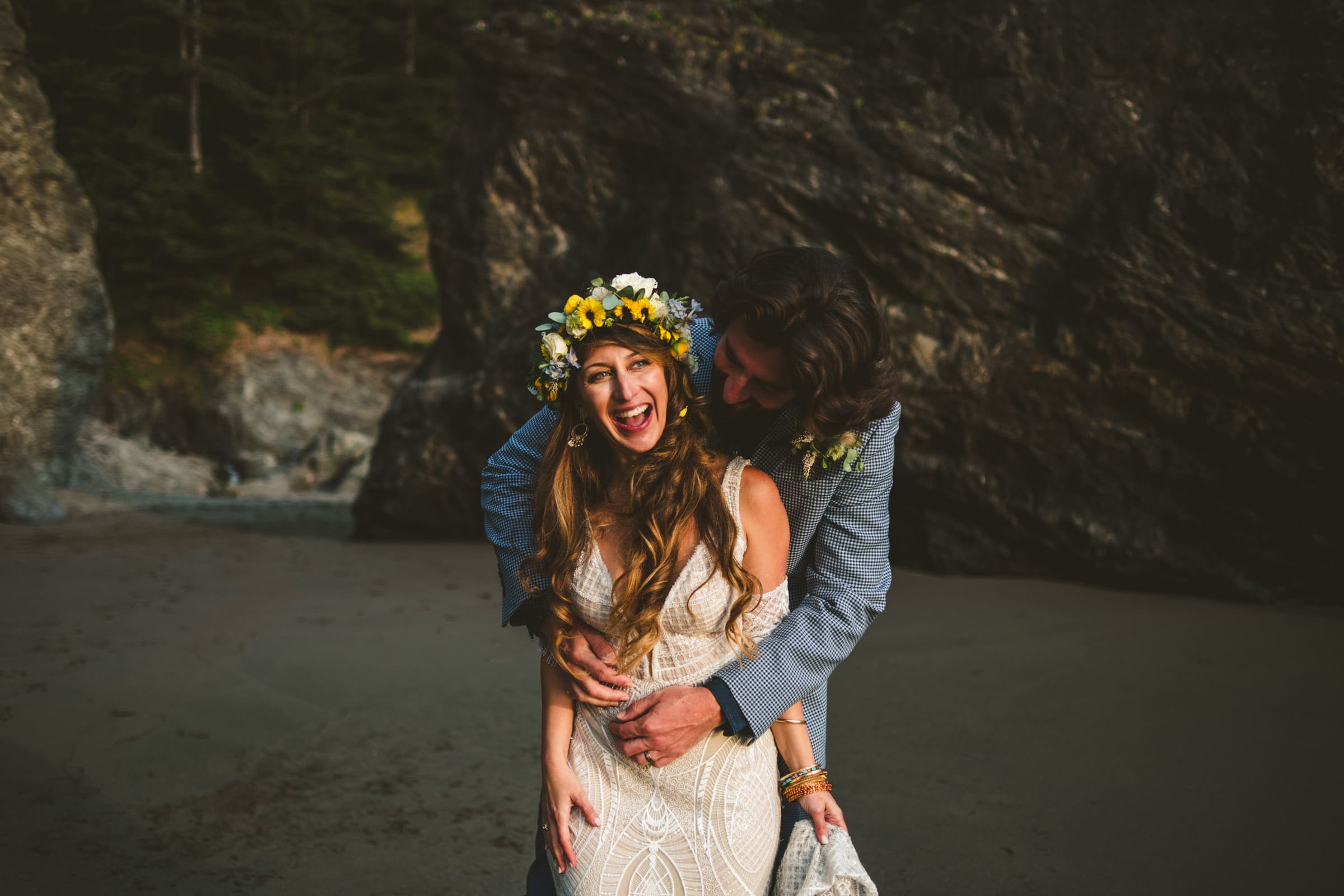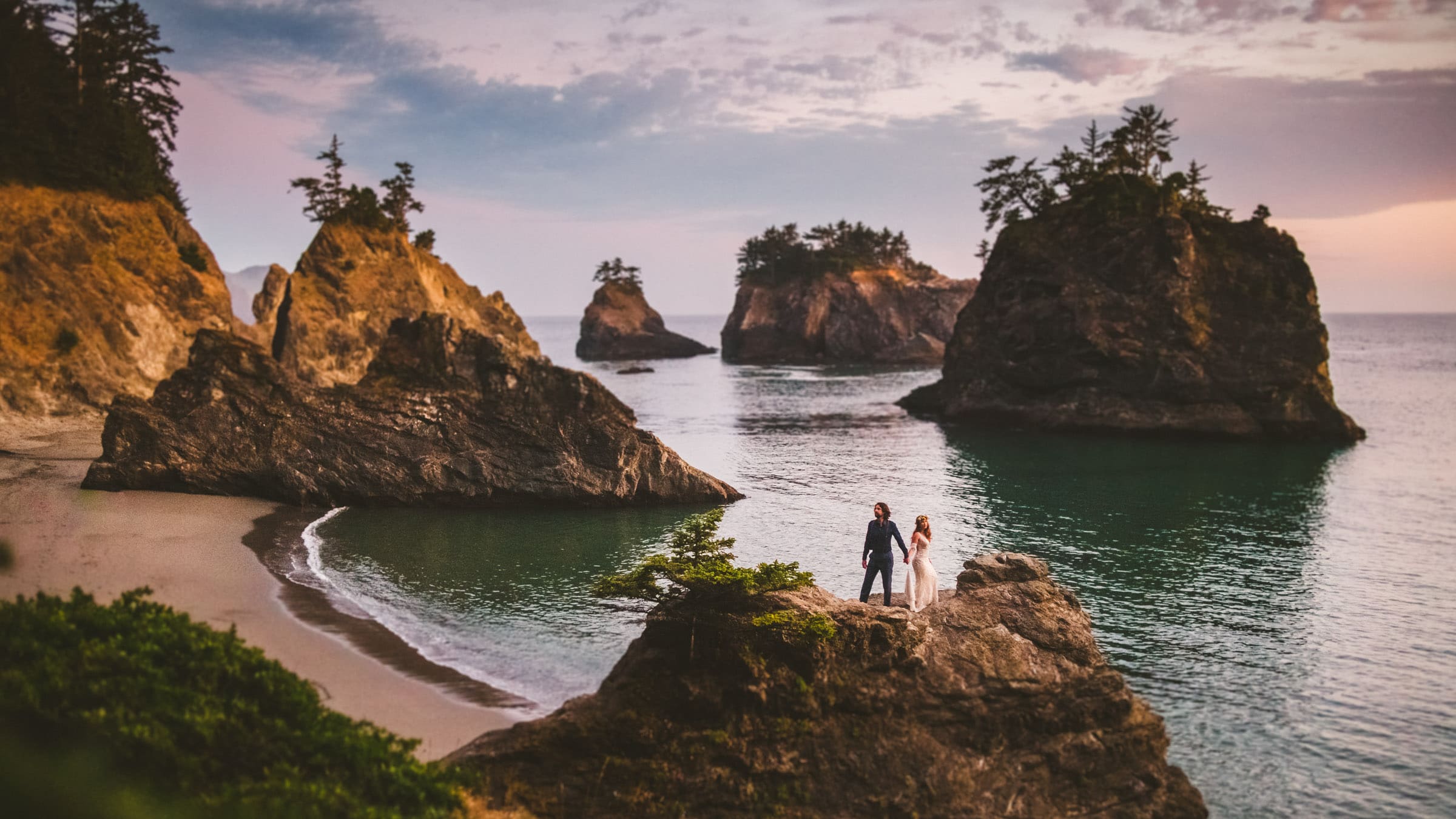 Everything you need to know to plan your dream Oregon Elopement!
Why Should You Elope in Oregon
Dreaming of a tranquil elopement deep in the mossy old-growth forests of the Northwest? If so, Oregon could be the perfect place for you. But Oregon is much more than just forests and beautiful rocky coastlines! Crater Lake is a sometimes forgotten about, but incredible and stunning location like no other. The deep blue water of the lake against the steep, rocky crater surrounding it makes it one of the best places to elope in Oregon. The Columbia River Gorge is another area that is beautiful and filled with waterfalls. The Columbia River has etched itself deep into the surrounding landscape, creating a deep gorge aplenty with wildlife and gorgeous scenery. The Oregon coastline offers miles and miles wild & rocky beaches unlike anywhere else on the west coast.
With so many great elopement locations in Oregon, it is hard to pick just one for your wedding day, but as an Oregon elopement photographer I'm here to help you find the one location that fits you the best. An elopement is already a very personal and intimate event, and the location you decide on adds to that effect. Every couple is totally unique, and your location should be as unique as you are. But first, what should you know about Oregon's marriage laws and eloping in Oregon?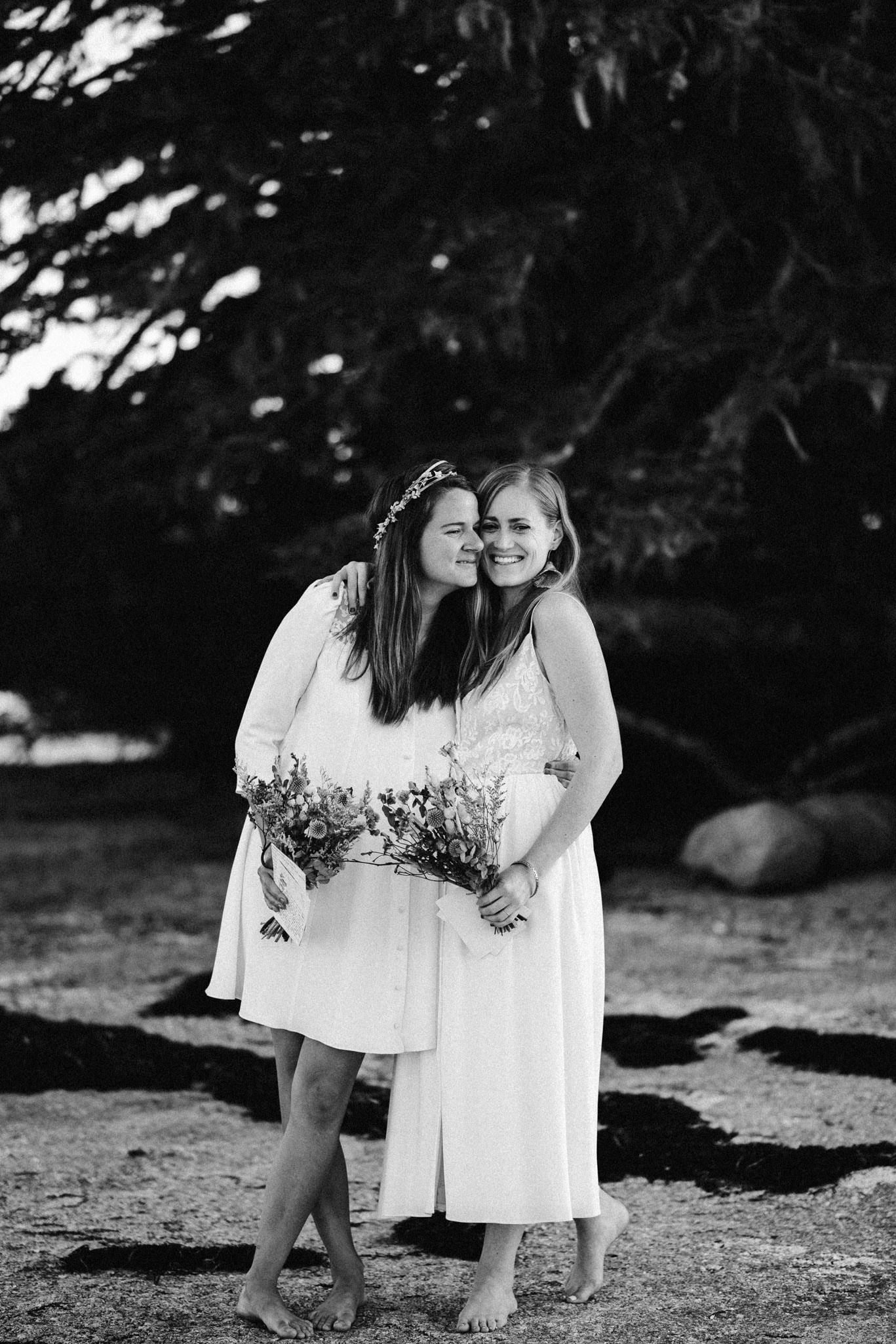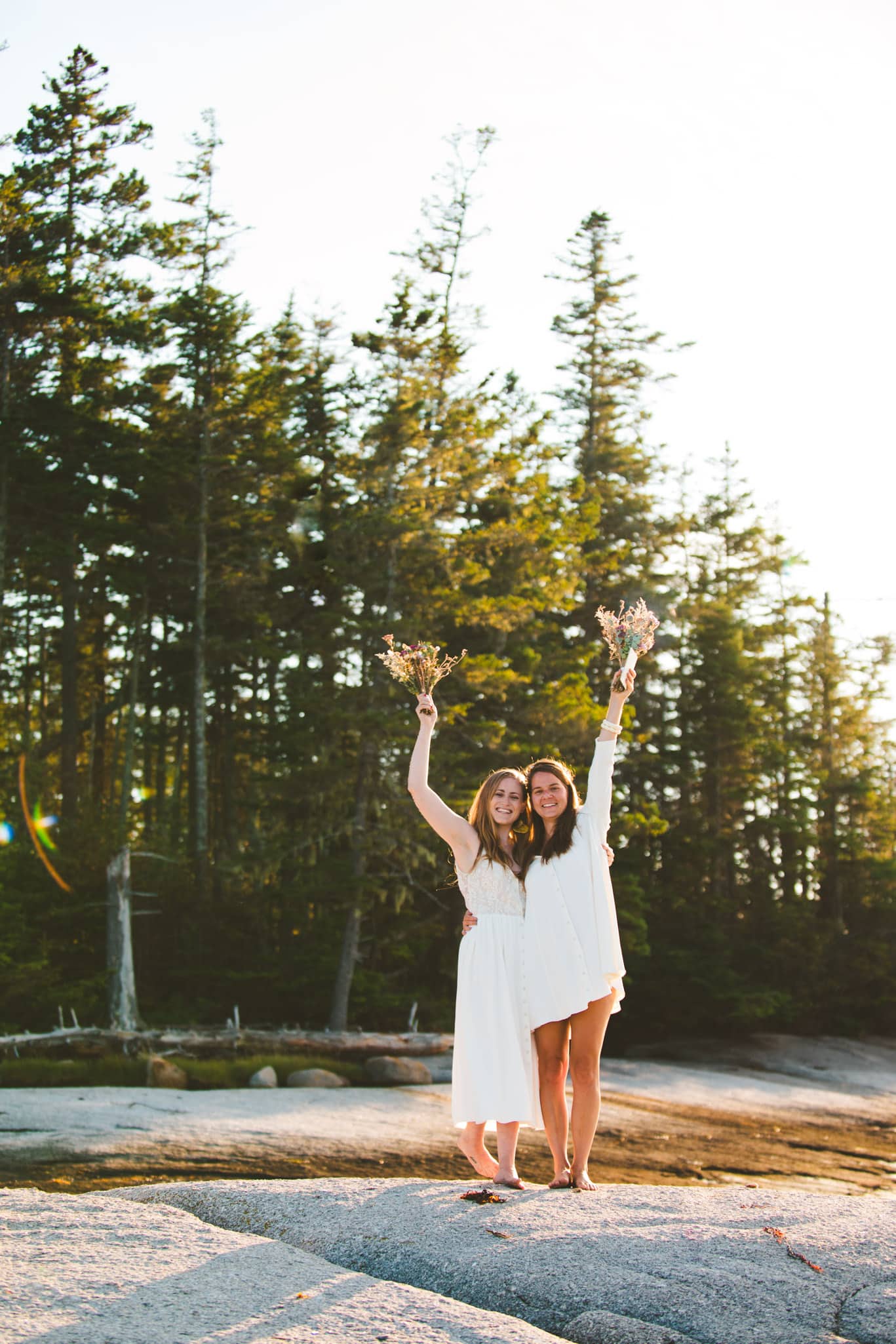 How to Elope in Oregon
Oregon's Marriage Laws and Marriage Licenses
Eloping in Oregon is fairly simple and the marriage laws and processes for marriage licenses is like many other states. Any couple over the age of 18 may apply for a marriage license, which costs $60 and is valid for 60 days after it is issued. You do not need to be a resident of Oregon to apply and your marriage license is valid anywhere in the state. This way you can get a marriage license anywhere in Oregon that is convenient for you and you don't have to get it in the county you are getting married in. There is a 3 day wait so be sure to plan accordingly if you're traveling in from out of state.
An officiant must fill out your marriage license form and two witnesses of at least 18 years old must be present at your ceremony. And lastly, depending on your location and size of the wedding, permits may be needed to elope in national parks, national forests, and other public land, so research specific to the area is needed to keep your elopement safe and legal.
The Best Places to Elope in Oregon
Now that you have your marriage license, you're ready to head off into the wild for your elopement. But what direction should you go? Should you head north to Mount Hood, or southwest toward Crater Lake? Would you prefer the mossy undergrowth of a wet old growth forest on the coast? Or would you rather take the road less traveled to eastern Oregon's high desert?
Your ideal location not only depends on the backdrop to your special day, but also any activities you may like to do together for your elopement. Hiking can be found throughout the state, but if you would like to surf and spend time on the beach together on your wedding day, good luck finding that on the high desert! And don't forget to consider the time of year you would like to elope. Most parks are still open in the winter, but scenery and available activities change based on the season.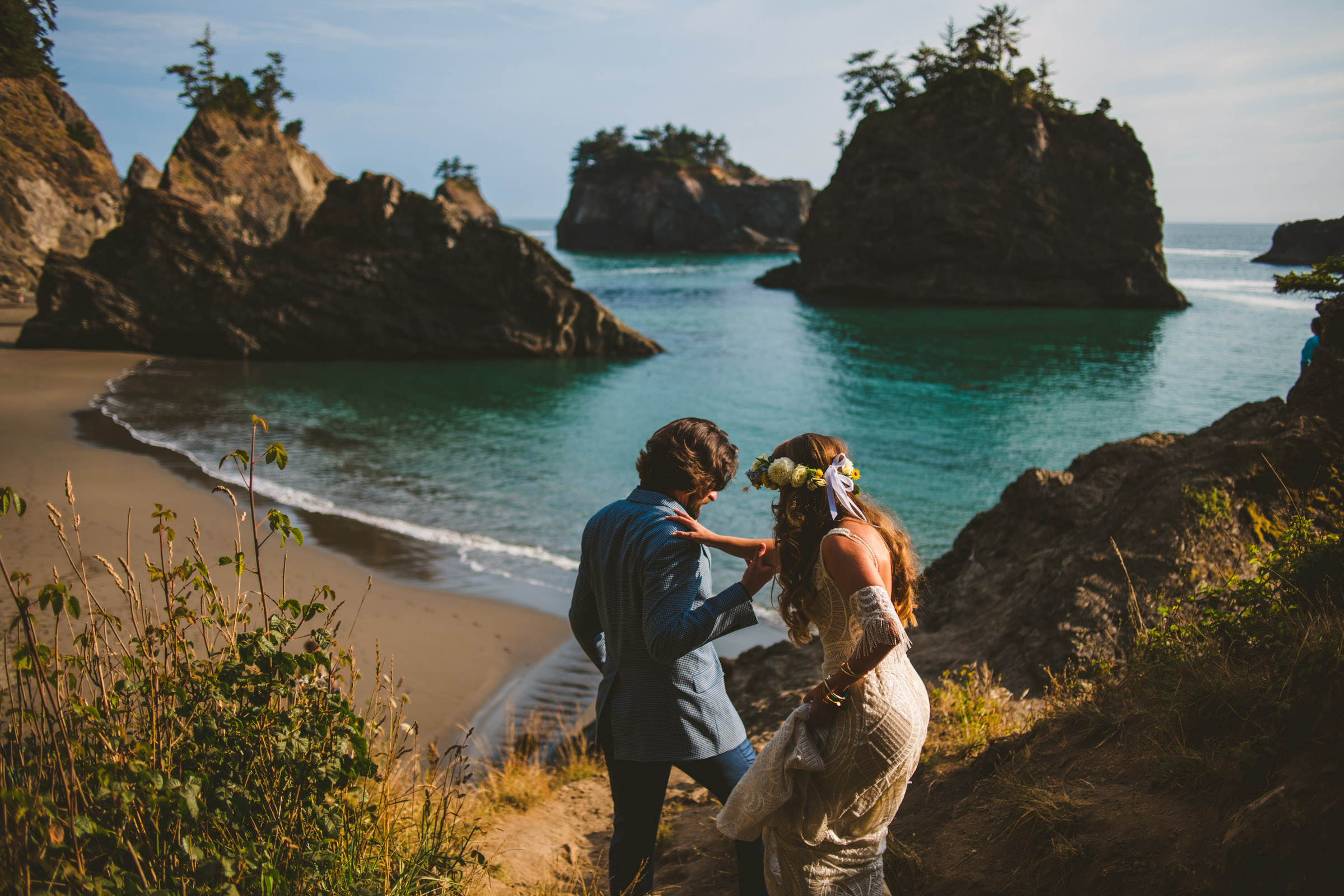 Where Can I Elope in Oregon
1. Crater Lake National Park
At nearly 2,000 feet deep at its deepest point, Crater Lake is the deepest lake in the United States, and is a lake like no other. Crater Lake formed when a volcano erupted and collapsed, leaving a large crater atop Mount Mazama. This crater eventually filled with water and today forms Crater Lake.
There is a variety of activities to take part in around Crater Lake for those looking for an adventurous experience. A variety of short hikes will take you to your vantage point of choice. If a hike doesn't sound like the perfect elopement day to you, no worries! Though no private boats are allowed on the lake to preserve its clarity and cleanliness, boat tours of the lake run during the summer months. And if you want the epic overlooks and views without the long trek up a mountain trail, the Crater Lake Rim Scenic Drive takes you to some of the best overlooks of Crater Lake and the surrounding Cascade Range.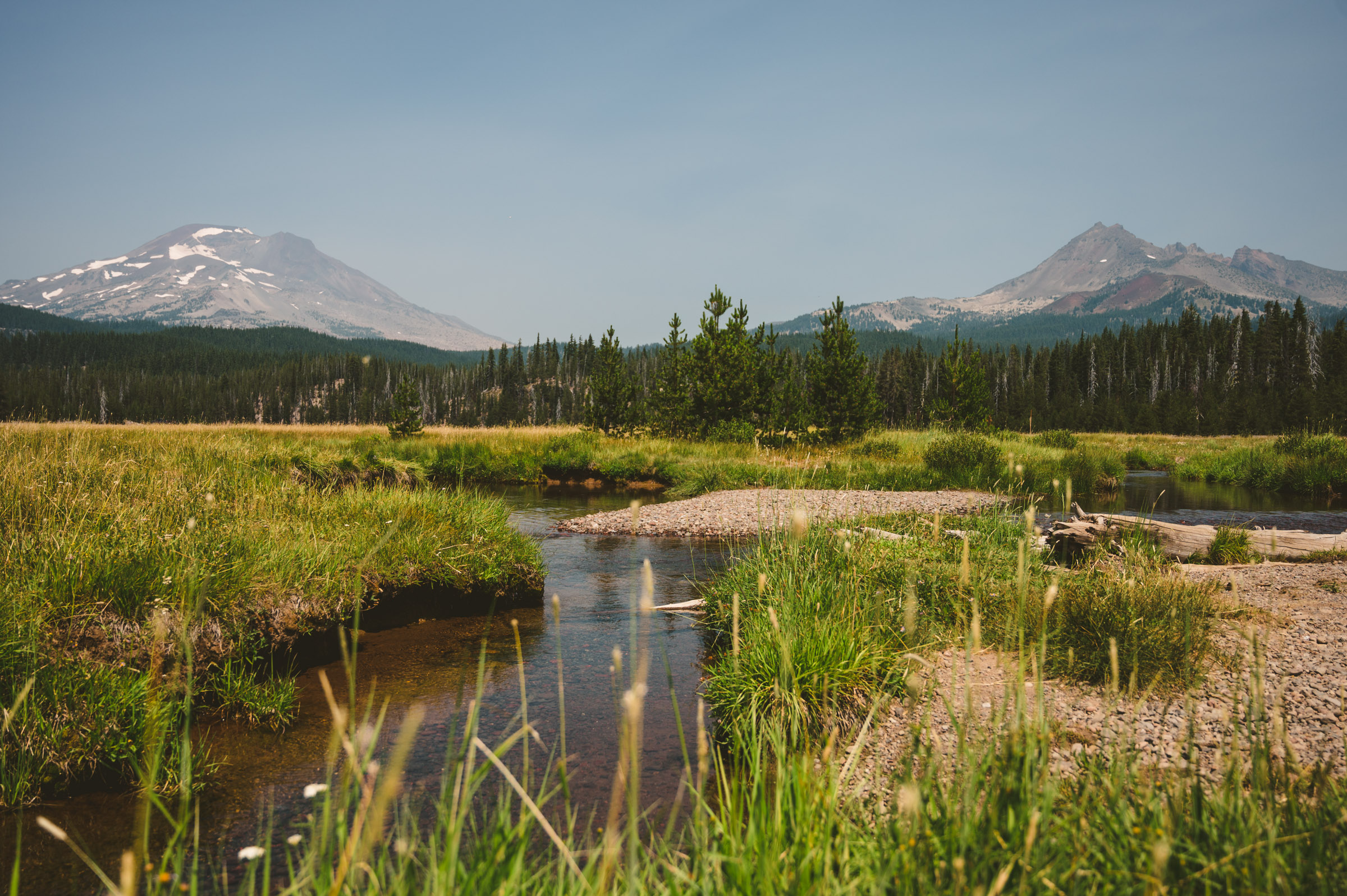 2. Deschutes National Forest
Deschutes National Forest and the accompanying area of Willamette and Umpqua National Forests are located just north of Crater Lake National Park and offer a great location, especially for mountain biking and camping. There are more than 80 campgrounds in Deschutes National Forest alone! There are plenty of summit views and alpine lakes to go around, great for day hikes or even overnight backpacking trips. Hikes such as the Todd Lake and Devil's Lake on the other hand, are shorter, easier trails that lead to no-less stunning views of colorful mountain lakes with mountain views.
For those looking for a snowy winter elopement location in Oregon, this may just be the place. Many trails are open in the winter for snowmobiles, snowshoes, and cross-country skiing. Mt. Bachelor is a great location year-round, but winter time is where it really shines. Skiing or snowboarding down the sunny slopes with the love of your life on your wedding day makes for some of the most memorable moments of your life together. And for a truly unforgettable experience, dog sled rides can be taken on the forested slopes of Mt. Bachelor.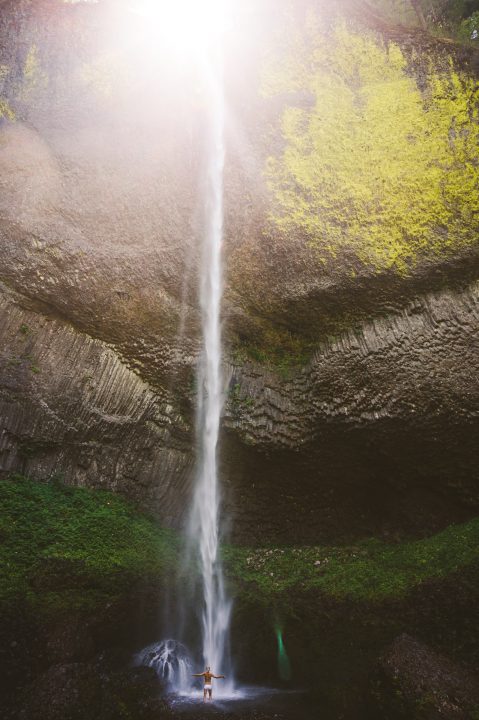 3. Mount Hood
Mount Hood is located in the north of the state, near the Washington border, about an hour and half drive from Portland. A popular destination for adventure-seekers across the country, you really can't go wrong eloping at Mount Hood. The area offers a taste of just about everything Oregon has to offer. Hiking, biking, OHV trails, climbing, skiing and snowboarding, and plenty of water sports are easily accessible in the area. Mount
 Hood is also one of the few places in the country where skiing and snowboarding are available year-round. However, even with its popularity, secluded and private areas are easy to find due to the amount of trails, for a more intimate elopement experience.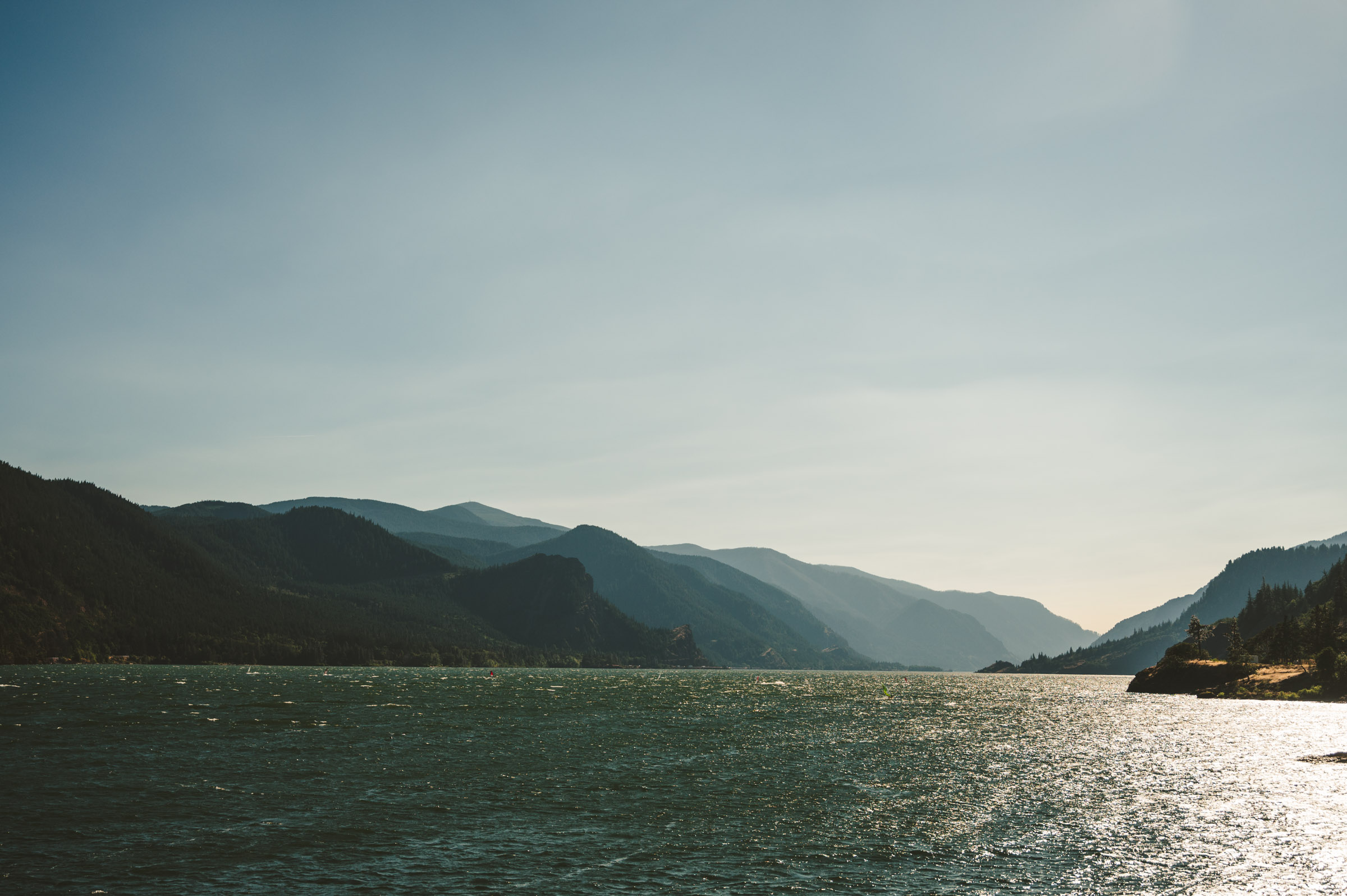 4. Columbia River Gorge
Columbia River Gorge is located near Mount Hood, but the scenery here changes drastically. The mountains gradually soften and eventually give way to the great Columbia River at the Columbia River Gorge. Over the years the Columbia River has eaten away at the surrounding landscape, leaving behind large bluffs and rock towers. These features not only are beautiful, but also offer some of the best vantage points of the surrounding landscape. The area is aplenty with waterfalls and greenery, with beautiful backdrops around nearly every corner.
Plenty of beautiful hikes take you to the surrounding bluffs for a stunning view of the Columbia River, or hike into the surrounding Cascade mountains to get an even better, bird's eye view of the area. Mountain biking is another great way to get around to the best spots, and with so many trails in the area, it is not difficult to find some privacy at a hidden waterfall or two. Watersports are popular here, with some of the best kayaking, along with canoeing and paddle boarding.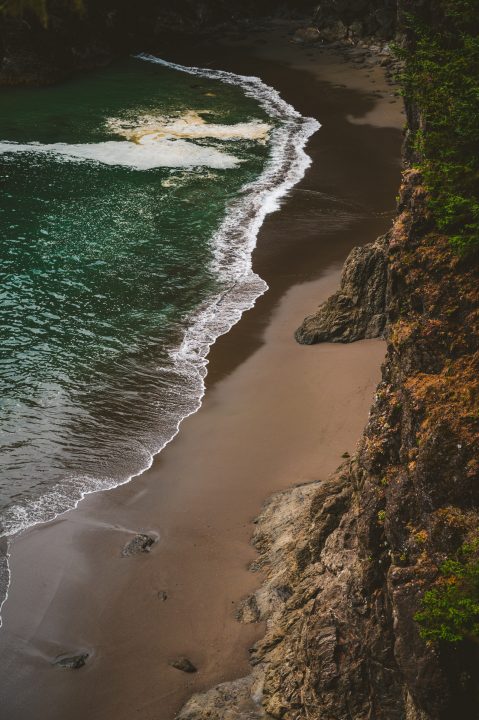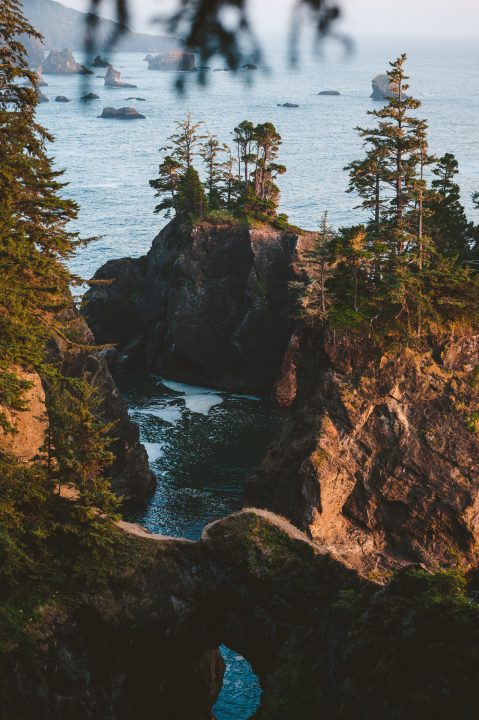 The state or Oregon has 362 miles of epic coastlines for an oceanfront elopement with views of the Pacific Ocean. It stretches from the border of California in the south up to the Columbia River in the north. Cannon Beach is one of the most iconic elopement locations along the Oregon coast. Haystack Rock is the main feature of Cannon Beach but all along this beach you'll find great views.
Other areas along the Oregon coast include Ecola State Park with its sea caves and overlooks of the rocky and rugged coast. Up towards the northern part of the coast, Fort Stevens State Park offers a very unique location with the old wreck the the Peter Iredale ship on the sandy beaches.
If you want to take a drive along the entire Oregon coastline, the Oregon Coast Highway (also known as U.S. Route 101) runs along the entire coast. For a lot of different location options, you could even plan a road trip elopement along parts of the coast that you want to visit! An elopement is your chance to break the rules and do something totally different, unique, and fun to create a totally amazing wedding day.
More planning help & inspiration for your Oregon coast elopement:
6. Oregon's High Desert
A desert is certainly not what comes to the minds of most when you mention Oregon, but this is certainly one of the most beautiful regions of the state. The high desert stretches from the center of the state past the southeast border and into Idaho and Nevada. This area sports some of the most unique rock formations you can imagine, along with plenty of wild, secluded locations nearly untouched by others.
The Painted Hills Unit of the John Day Fossil Beds are some of the most beautiful rock formations in the world. Formed by sediment deposits, these green, blue, red, and orange formations are an incredible location to elope and take in these one of a kind views in peace. Smith Rock State Park is another great location for an elopement in Oregon, especially for the adventurous few interested in a rock climbing elopement. But you don't have to climb on the massive rock features of the area to take in the views. Plenty of fantastic scenery can be taken in through the winding trails of the park.
Deciding to have your elopement in Oregon is a great choice. With plenty of variety in scenery and activities, you're bound to find something you'll absolutely love about this awesome state! Whether you decide on the greenery and forests of the coast, the snow capped peaks of the mountains, or the less traveled route to the high desert, an elopement in Oregon is sure to be special.
But of course, these are just a few of the great places to elope in Oregon and there are plenty of other locations waiting to be discovered, so don't be afraid to go explore and find that one place just for you! And don't be afraid to ask around! The locals know the area best and may be able to point you in a direction you may not have expected. And of course, don't forget to ask your elopement photographer! I have lots of experience with various locations and couples, so I'm always coming up with tons of new great locations!
More planning help & inspiration for eloping in Oregons high desert area: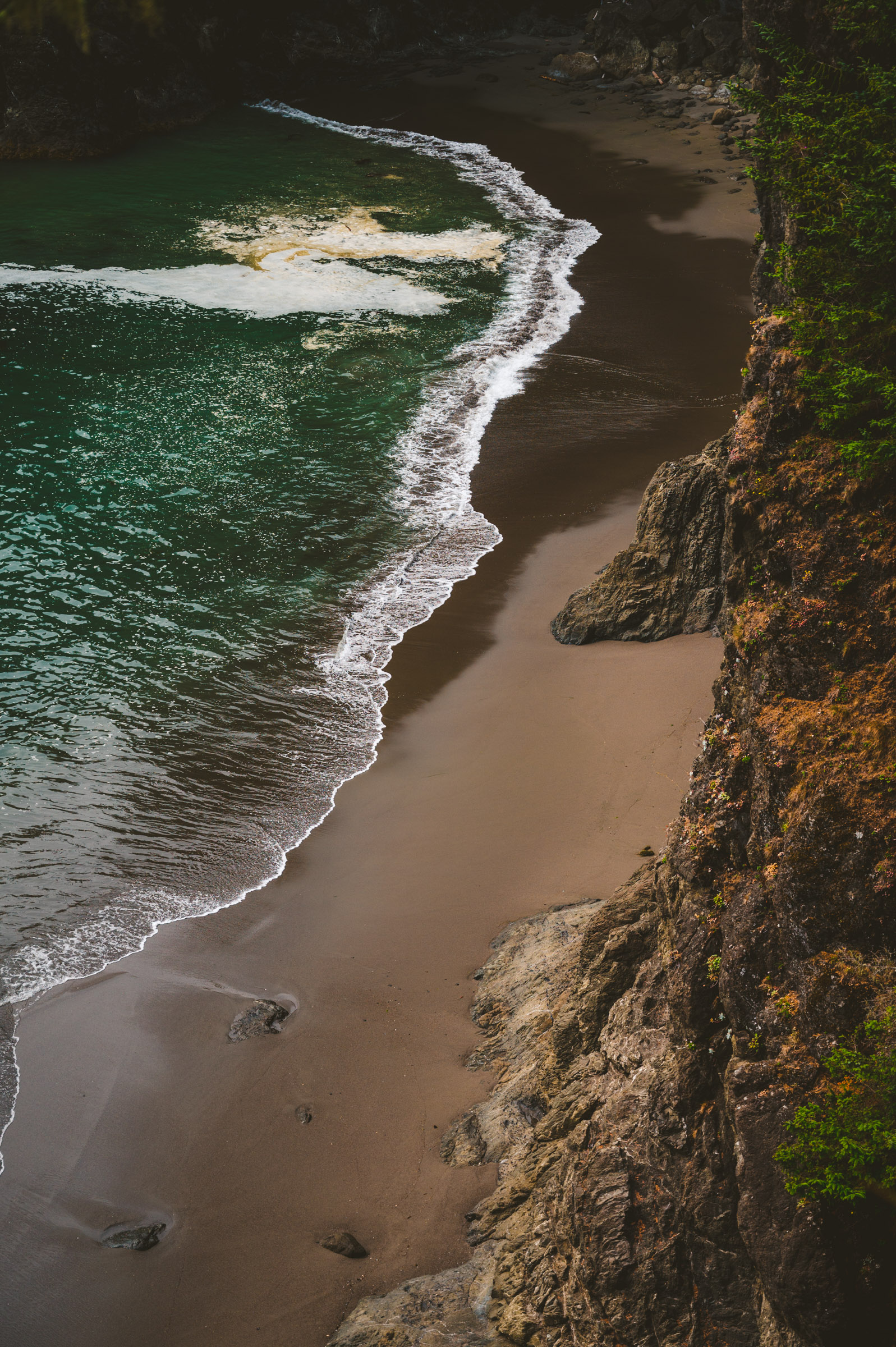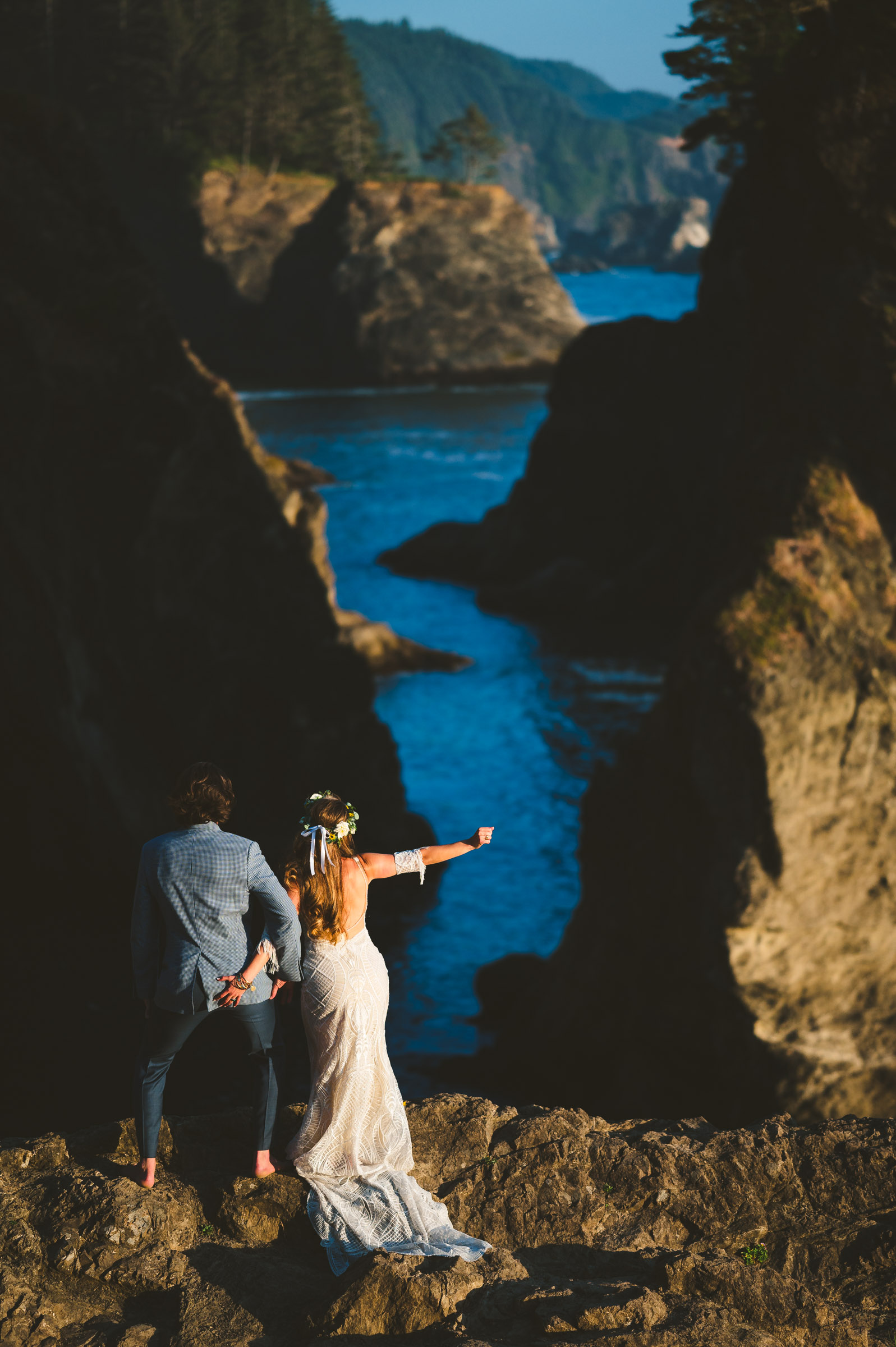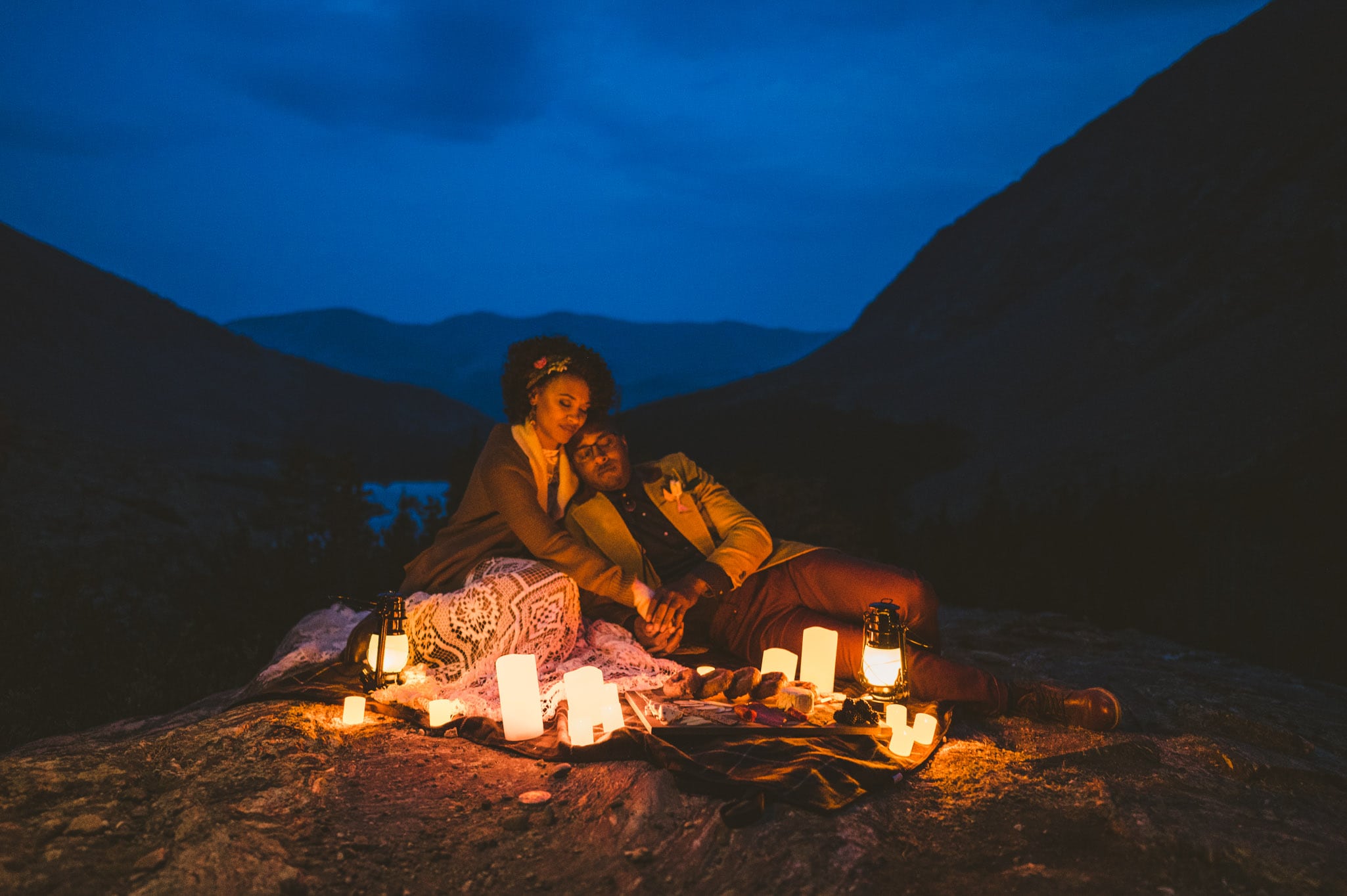 When to Elope in Oregon
As you can see, Oregon has a lot of different diverse landscapes and location options for your elopement. Since Oregon is in the Pacific Northwest, there are a lot of misconceptions that it is rainy and cloudy all the time. Although it can be cloudy and rainy at times, the high desert areas of Oregon around Bend and Smith Rock State Park see a lot more sun. It may be rainy on the coast but the high desert will be nice and sunny.
The high desert gets less rain so it can be a great elopement location in Oregon during the spring when the coast is a little more rainy and the mountains are still cold. You can also elope along the coast in the spring, but be prepared for a little more fog and rainy weather. It will also be a little cooler but not too cold. Summer is a great time for an elopement along the coast or in the mountains. The weather is a lot more mild and there is less chances for rain. The wildflowers are also beautiful around Mount Hood.
In fall, Oregon gets less rain than in spring but more rain than summer. So fall is still a good time to elope along the coast, in the mountains, or in the Columbia River Gorge. One of the best locations for fall colors in Oregon is Silver Falls State Park. During winter, you can have a snowy elopement in the mountains of Oregon. And the Columbia River Gorge is absolutely stunning covered in snow with frozen waterfalls. Not to mention, there are a bunch of hot springs in Oregon that can are fun to visit all year, but they just feel extra good on a cold winter day.
Oregon Elopement Photography Packages
4 hours – multiple days of elopement coverage anywhere in Oregon
Handcrafted Oregon elopement planning experience with unlimited assistance:

personalized location recommendations and questionnaires
Access to my list of the best Oregon elopement vendors & lodging
permit assistance
customized elopement timeline

Online gallery with full resolution and printing rights
48 hour sneak peak gallery from your Alaska elopement
Starting at $4,000 – Travel fees to ANYWHERE in Oregon are already included
My Oregon elopement packages include planning assistance for your elopement. Navigating the permitting process for various locations is not always the easiest, but that's why you hire a pro! I also help with creating a timeline and give you a custom location list that meet your needs. You'll also get exclusive access to my elopement guide for couples that includes packing tips and other helpful advice.
I'm always happy to help in recommending other great elopement vendors for you and want to suggest activity ideas for you elopement day so you can make the most of your wedding day experience. My Oregon elopement pricing begins at $3500; learn more about my elopement packages in Oregon.
Learn More About Your Oregon Elopement Photographer
Hey! My name is Ariel and I'd love to be your Oregon elopement photographer! My photography style is a little quirky, bold, and colorful. I love helping couples elope in the beautiful and diverse locations that Oregon has to offer. I offer more than just photography, I want to help create an amazing experience just for you!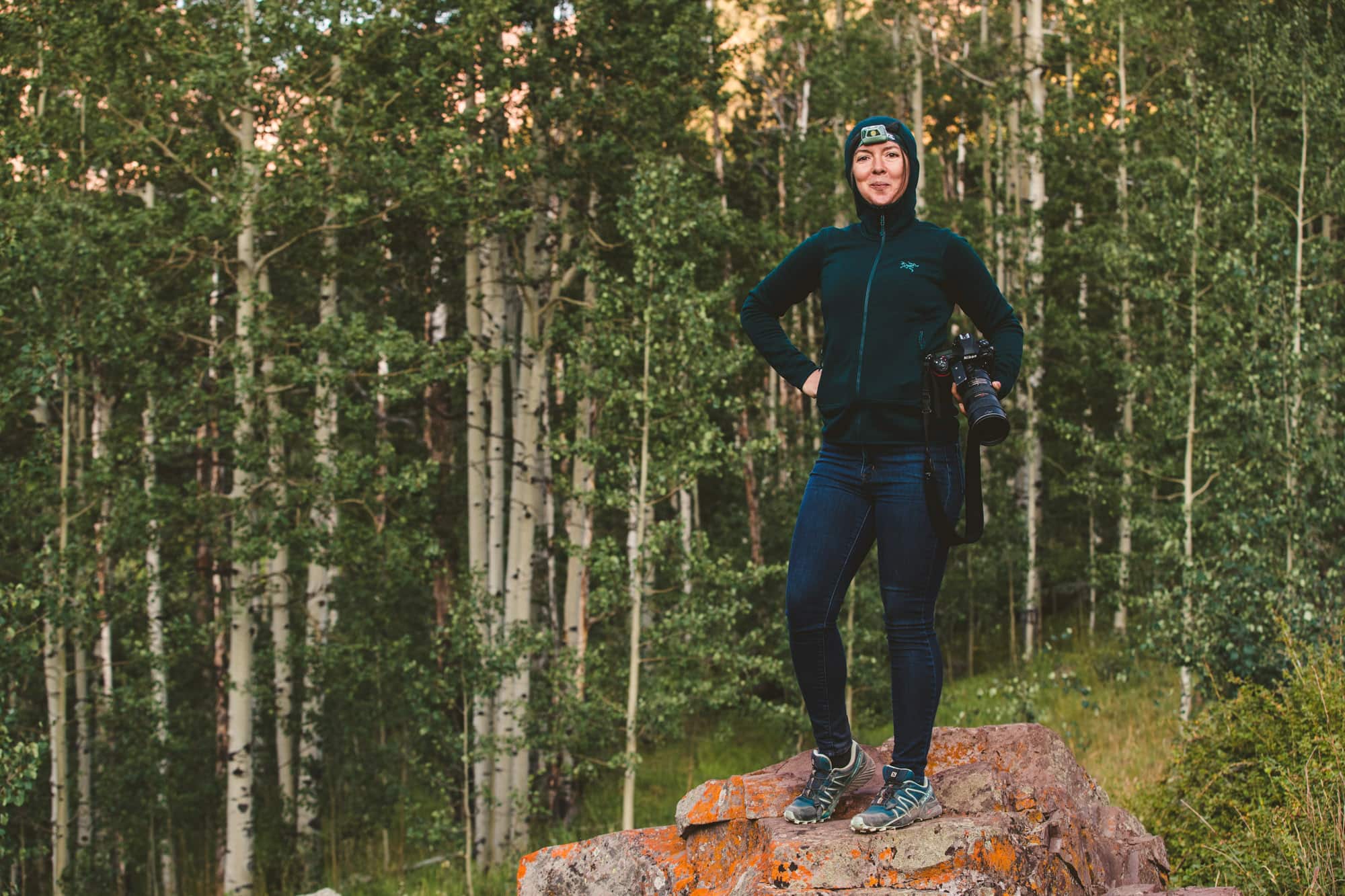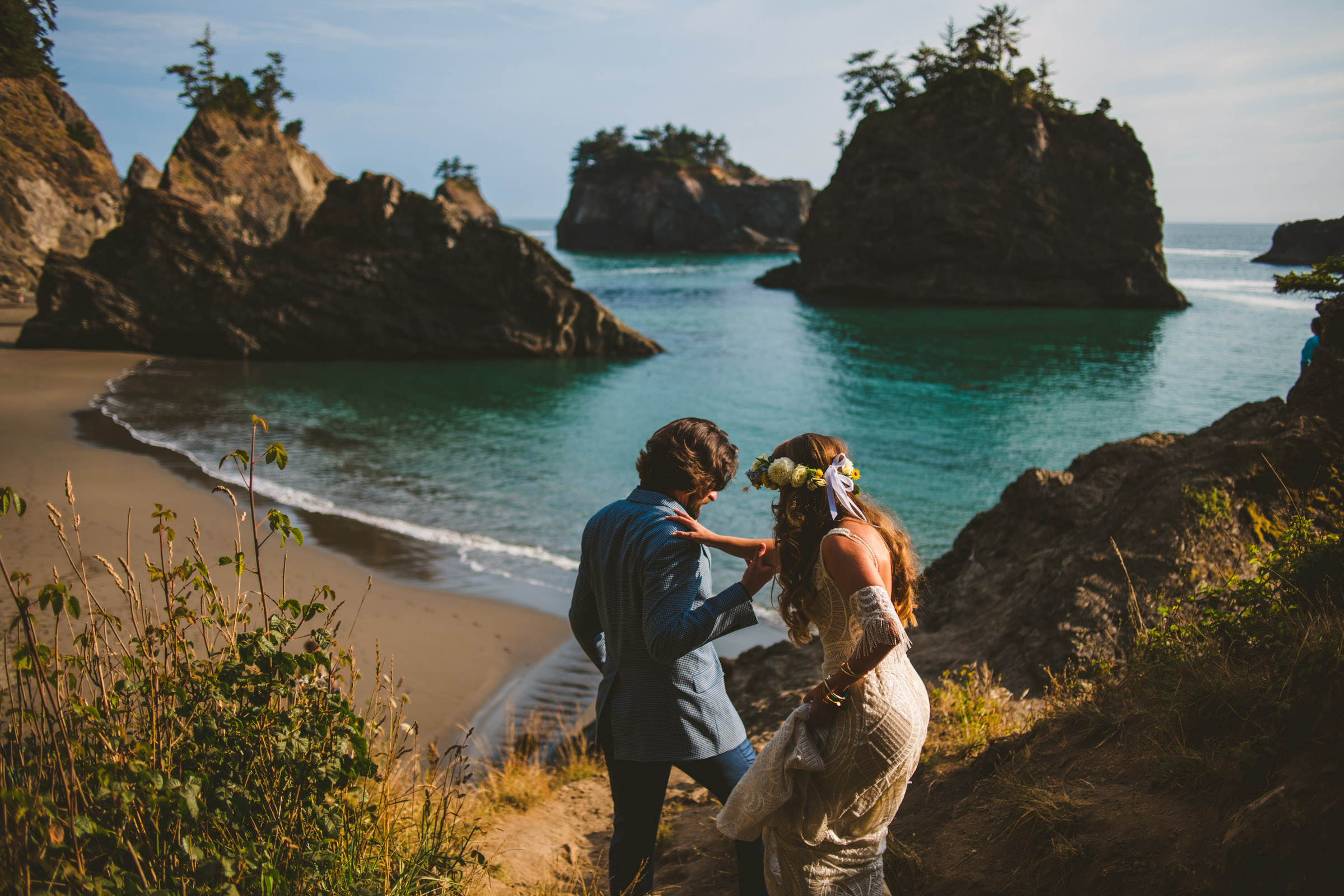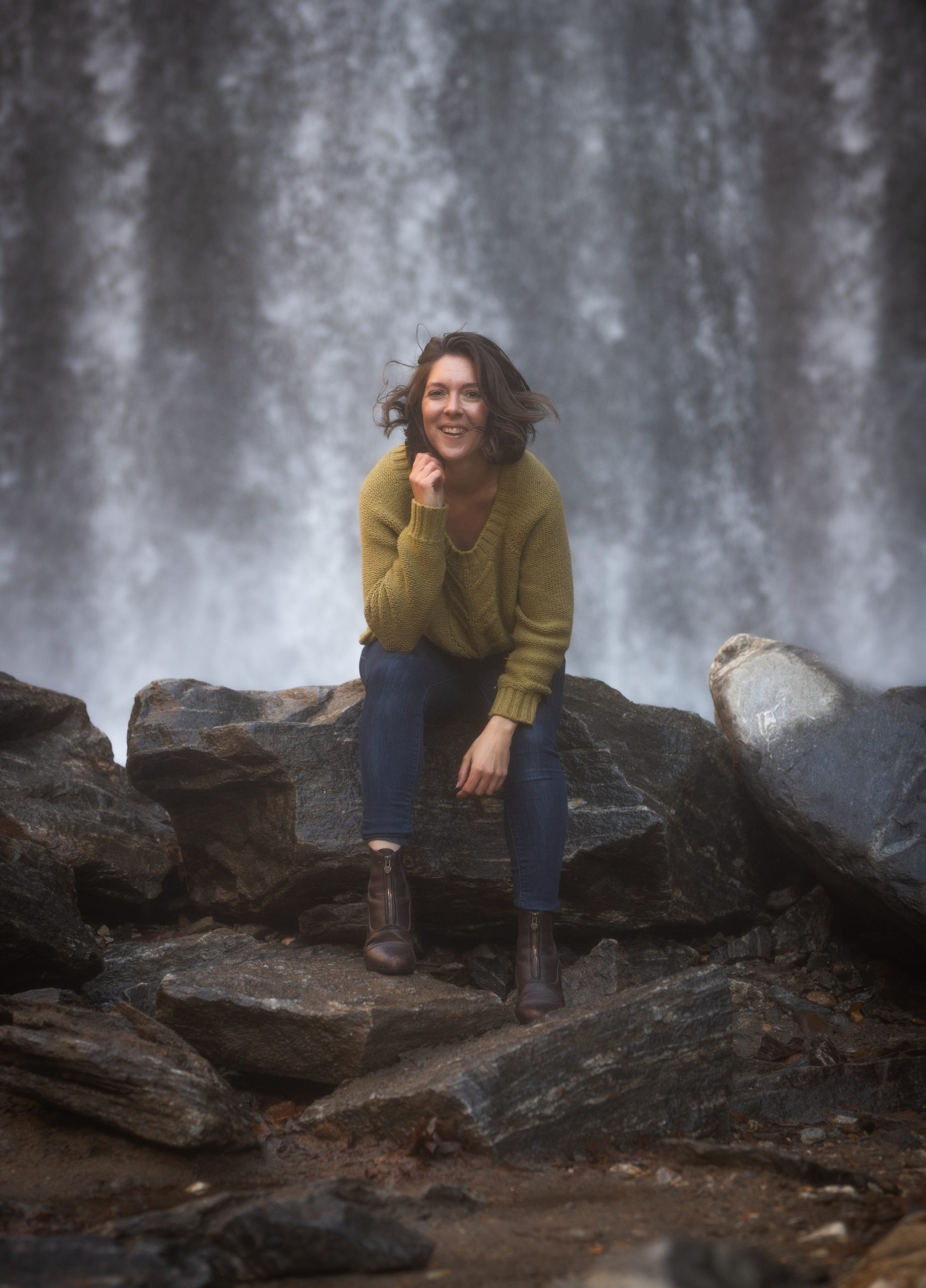 As an elopement photographer and outdoor enthusiast I get absolutely giddy with excitement when helping fellow adventure seekers, travelers, dreamers & fun-loving couples plan their experience based, intentional wedding days.
I live on the road full time traveling the country in my dream home on wheels – a 38' long fully off grid, converted bus.
Some of my favorite adventures include: Backpacking and ice climbing in Alaska, hiking the Napali Coast on Kauai, trekking in the jungles of Costa Rica.