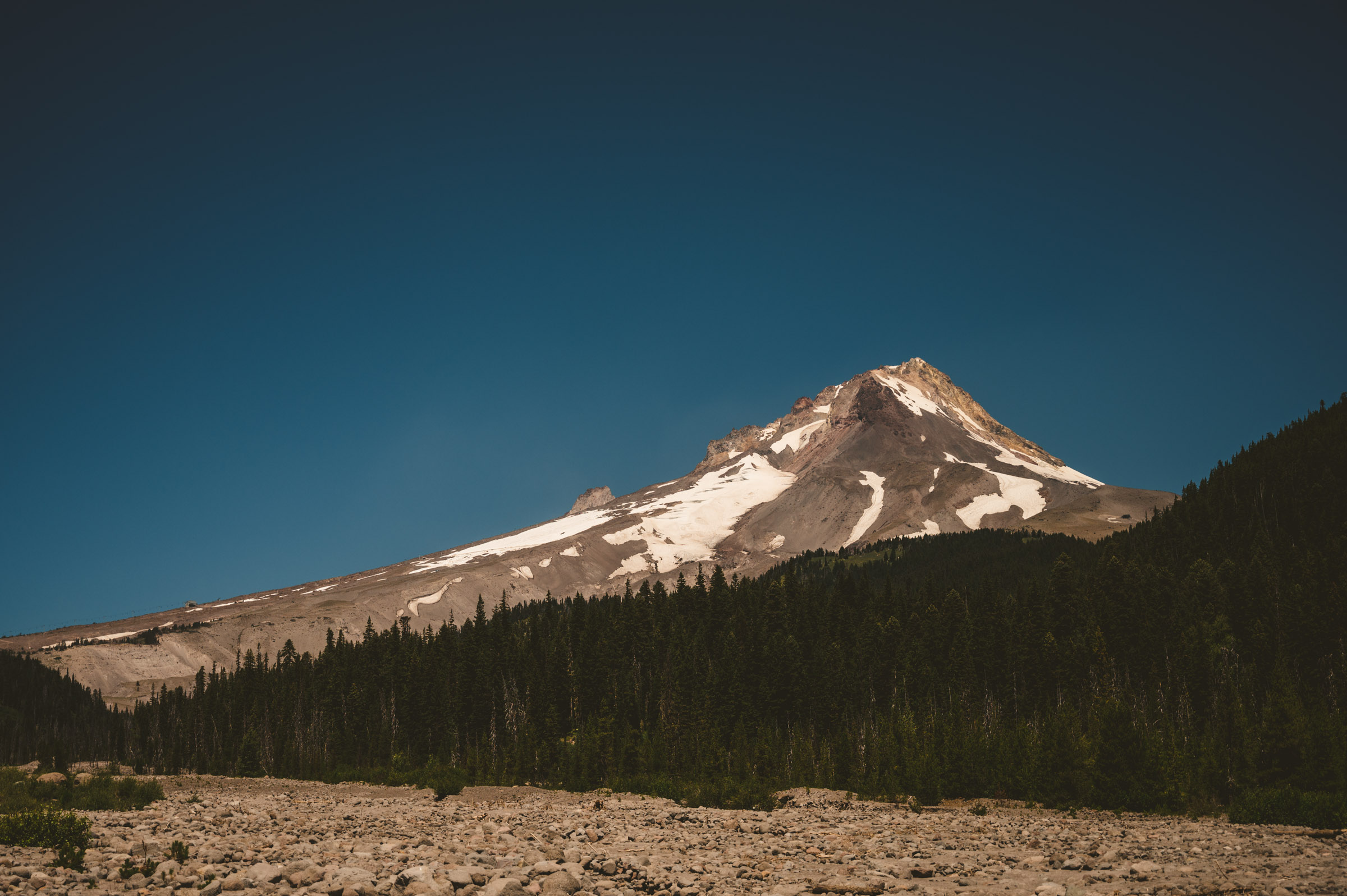 Three hours southeast of Portland is the small town of Bend, Oregon. With mountains and lakes on one side and desert landscapes on the other, Bend is full of stunning trails, overlooks, and scenery. For adventure seeking couples, a Bend elopement might just be the perfect way to get married – so whether you're dreaming of a boho desert ceremony or a dramatic mountain top view, keep reading to learn how to elope in Bend, Oregon!
Information About Bend, Oregon
Before you get too deep into planning your elopement adventure, let's talk about Bend!
Getting To Bend
If you're outside of driving distance, you can fly into the Redmond Municipal Airport just north of Bend. The airport is tiny, which means you'll rarely have to wait in security lines! However, this means flights are typically more expensive. For more flight options and better rates, you can fly into the Portland International Airport. It's a three hour drive from Portland to Bend, but landing in Portland means you can stop for some famous Voodoo Donuts! Either way, you'll need to rent a car to get to and around Bend.
Weather In Bend & The Best Time of Year to Elope
The weather will likely be one of the biggest considerations when you decide on a date for your Bend elopement. Each season has something to offer, so the best time to elope in Bend, Oregon depends on what you want to do!
Summers can get pretty hot – temperatures are in the 80s, and the sun shines nearly every day. If you're hoping to elope in a desert location, you'll likely find yourself overheating pretty quickly, especially on a hike. But, if you want to elope in the mountains, summer is perfect for you! Higher elevation areas are much cooler, so the weather will be great for hiking and you'll enjoy a snow-free trail!
Winters in Bend are cold, and often snowy. If you'd like to elope in a winter wonderland or go hit the slopes, the winter months also offer less tourists and crowding throughout the town.
In the fall and spring, temperatures are moderate – perfect for an outdoor elopement! Because summer is the most popular time to visit Bend, eloping in the off season will give you a chance to explore with a little more privacy. These seasons are particularly amazing for desert elopements, as the temperatures are warm but not too hot!
Where to Elope in Bend
My favorite thing about Bend is how much variety there is in its scenery! You can elope in the desert or in the mountains, and no matter where you choose, the backdrop is bound to be beautiful. Here are a few of my favorite locations for a Bend elopement.
Smith Rock State Park
Smith Rock is a rock climber's paradise, but even if you aren't hoping to send it on your elopement day, the deep canyons, rushing river, and towering rock walls are a jaw dropping sight. There are miles of trails to explore, so you can choose what level of adventure you want for your elopement!
Three Sisters Wilderness
The Three Sisters Wilderness, named for the three volcanic peaks towering over 10,000 feet each, covers 286,708 acres of land. Trails through this wilderness area feature dense forests of douglas fir and ponderosa pine, and climb up the slopes of the Cascade mountains. One of the most scenic hikes is Broken Top, offering panoramic views of No Name Lake and the glaciers surrounding it.
Sparks Lake
Sparks Lake is just off the Cascade Lakes Highway, and is a stunning spot to catch the sunset. With one of the Three Sisters and Broken Top in the distance, the lake offers an easily accessible spot for your elopement ceremony!
Where to Stay in Bend
You'll find everything from rugged camping to luxury hotels in Bend, Oregon. If you feel like getting down with nature on your elopement day, check out campgrounds near your elopement location!
For a glamping experience, where you can be out in the wilderness but still have access to a shower, these log cabins come in different sizes. Mountain side resorts like this one provide a luxurious place to come back to after a day of exploring, and you can find unique Airbnbs throughout Bend!
There's nothing better than having a home base to come back to after an eventful day – and while your elopement day will be eventful in the best way possible, you'll be glad to have a place to kick back and relax afterwards.
Make it Official
To make sure your marriage is legal, you'll need to do a little paperwork. It may not be the most glamorous part of your elopement day, but it's important!
Marriage License
To obtain a marriage license, you'll need to visit any Recording Office in the state. The office closest to Bend is the Deschutes County Clerk. You can apply for a marriage license online here, but you will need to either call or be at the office in person at least three days before your ceremony. There is a three day waiting period, which means after you get your marriage license, you'll have to wait three days before you can use it! The fee in Deschutes is $55 – this can vary if you choose to go to another county!
Officiant
For a Bend elopement, or Oregon elopements in general, an officiant is required to sign your marriage license. You can hire an elopement officiant who is ready to go on an adventure with you, or you can have a friend or family member get ordained!
Getting ordained is super easy (and free!) at ULC.org, and if there's someone you trust to officiate, this can add a great personal touch to your ceremony.
Witnesses
Two witnesses are required to sign your marriage license as well – but don't freak out if you weren't planning on inviting guests! I'm ready to wield my camera in one hand and pen in the other to double as a witness, and any other elopement vendors can sign for you too! The only requirement is that your witnesses be over 18, so you can even find some people at the trailhead to sign. Everyone's always stoked to help out!
Hire Elopement Vendors
A lot of wedding vendors will also book elopements – but, when it comes to your elopement day, don't you want someone who is an expert, who completely believes in what you're doing, who can guide you through the whole process?
As a Oregon photographer specializing in elopements, my job is to help couples like you get the adventurous, unique wedding day of their dreams! From location recommendations, to getting the right permits, to finding vendors who will complete your vision, I've got you covered! So, if you're ready to elope in Bend, contact me!
Looking for more elopement inspiration?!
Check out these related posts: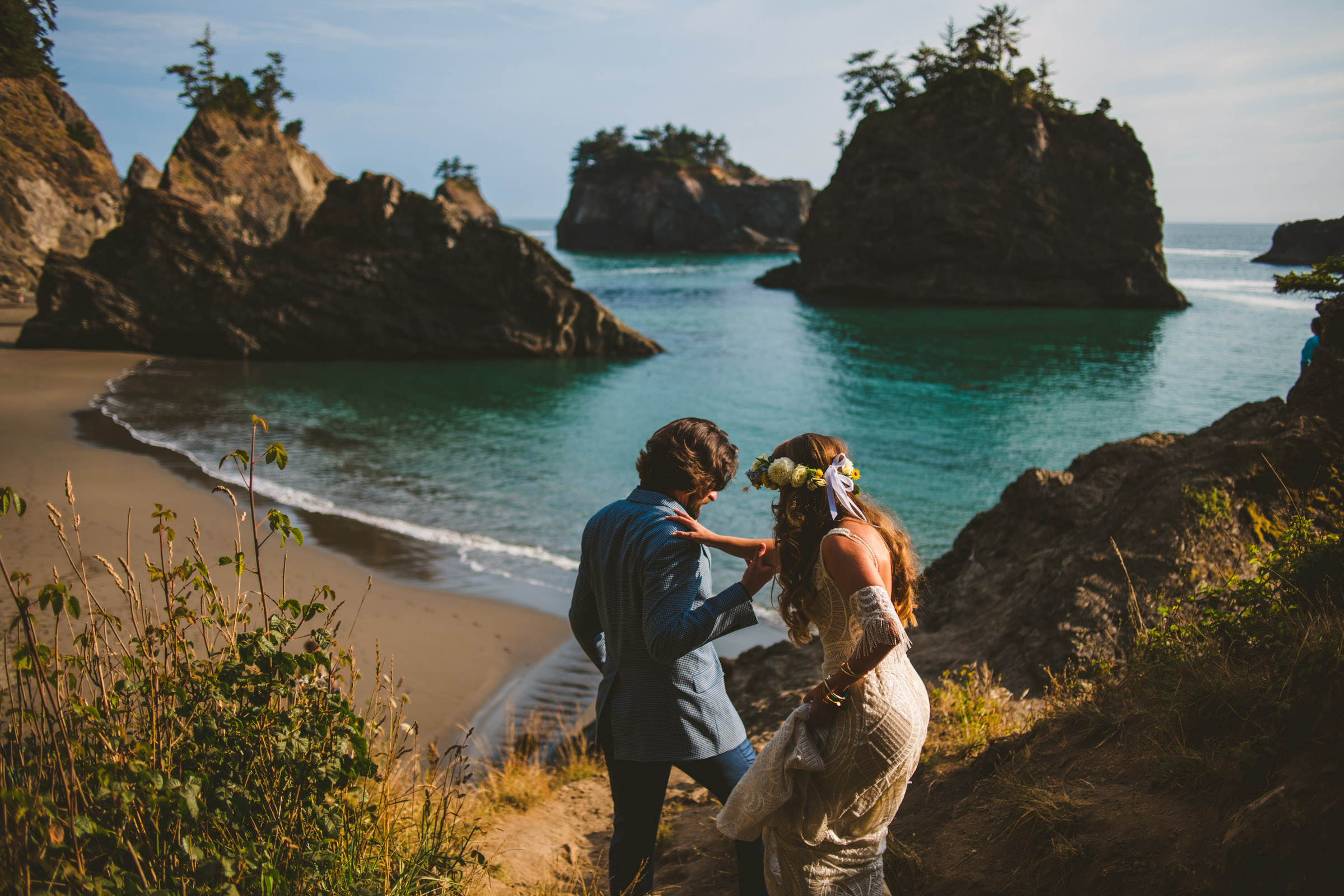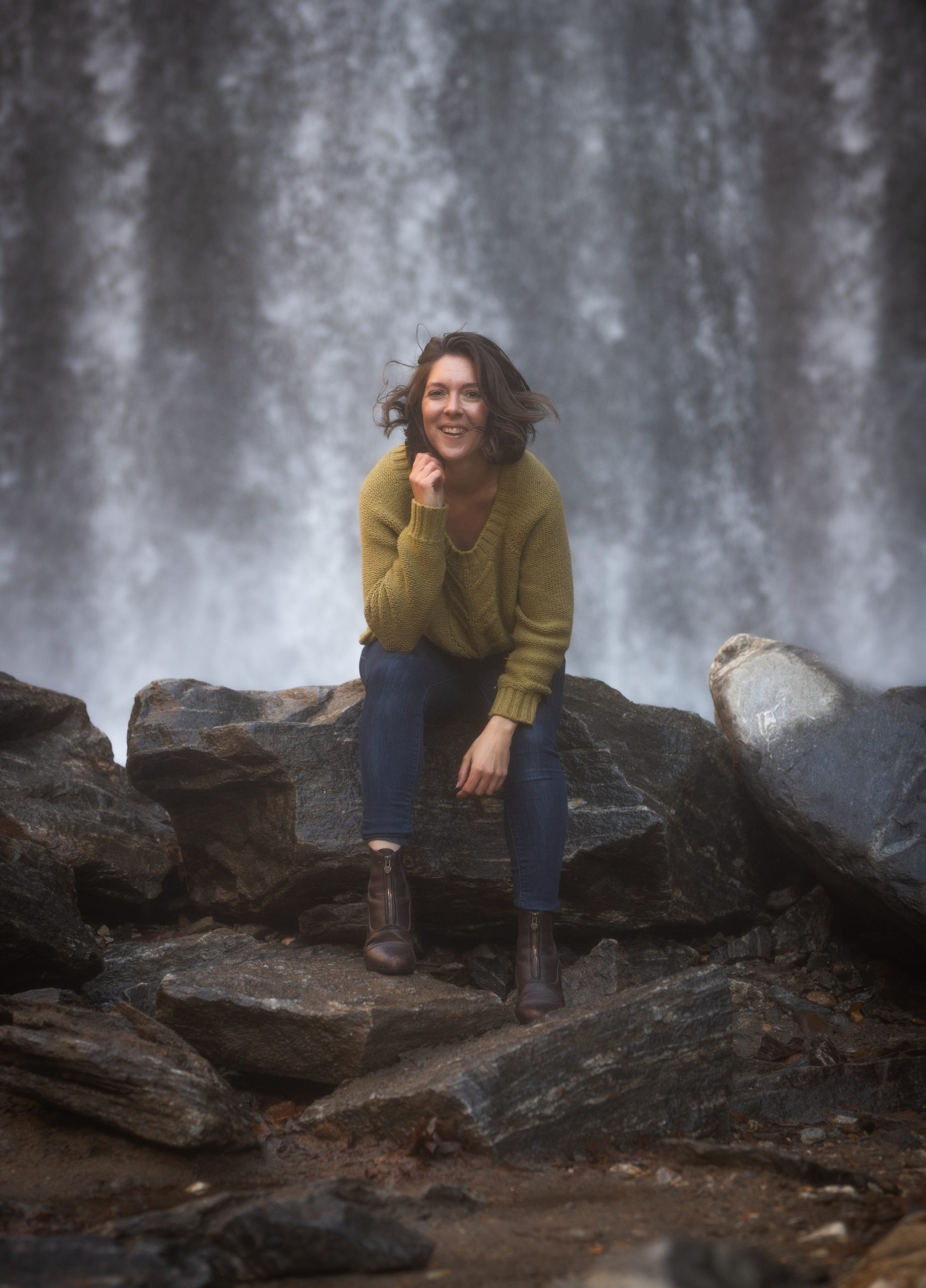 As an elopement photographer and outdoor enthusiast I get absolutely giddy with excitement when helping fellow adventure seekers, travelers, dreamers & fun-loving couples plan their experience based, intentional wedding days.
I live on the road full time traveling the country in my dream home on wheels – a 38' long fully off grid, converted bus.
Some of my favorite adventures include: Backpacking and ice climbing in Alaska, hiking the Napali Coast on Kauai, trekking in the jungles of Costa Rica.