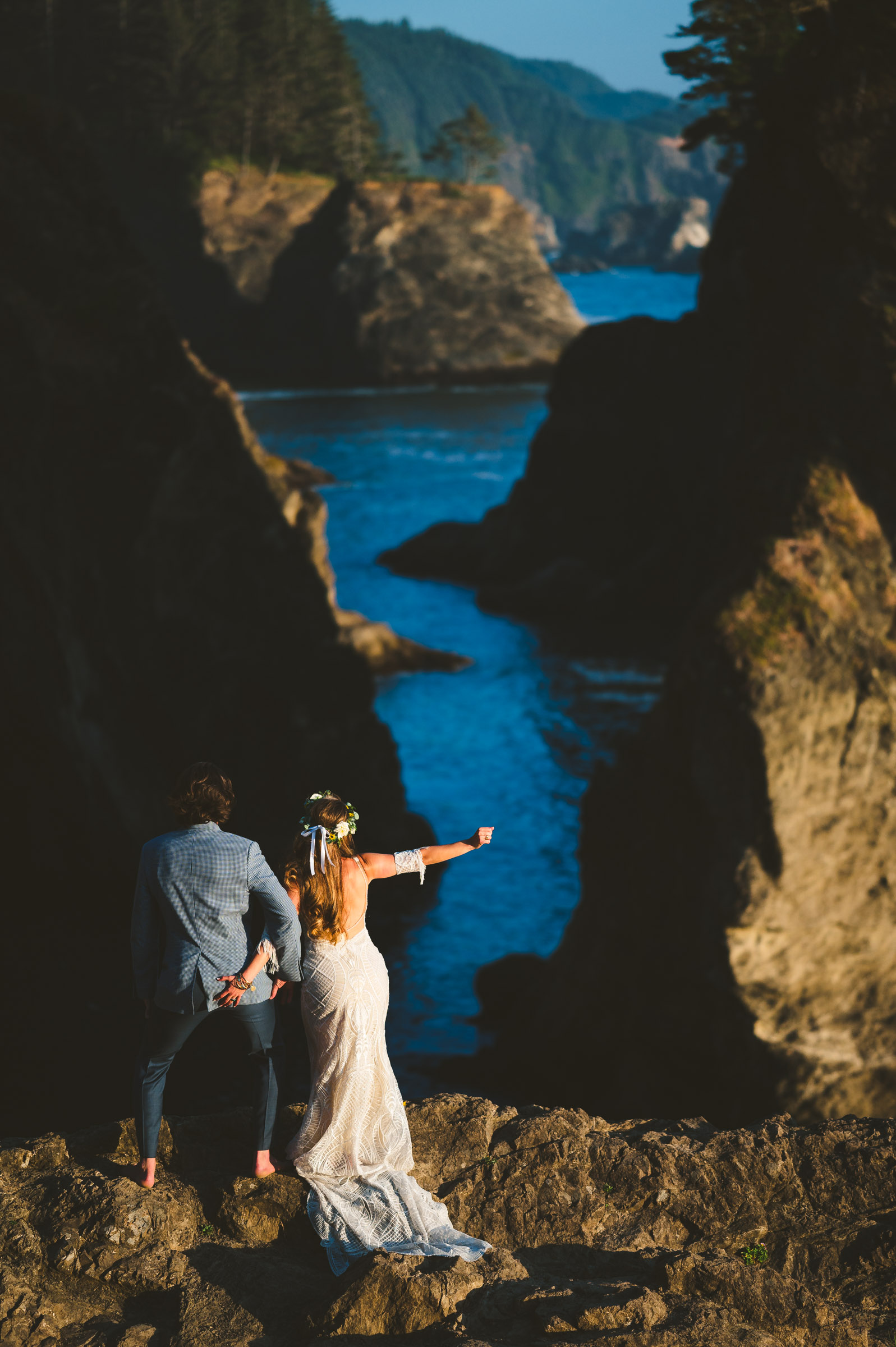 Best Oregon Coast Elopement Guide
Oregon is known for its rugged coastlines – the cliffs that tower over the water, the unique rock formations that stand out amongst the waves, the beaches for those who want to feel the sand beneath their feet and the chill of the Pacifc Ocean. There are tons of beaches dotting the Oregon coastline, from easily accessible well known spots to secret gems that require a bit of hiking. If you're planning your Oregon coast elopement, the hardest part might be narrowing it down to the perfect spot! Here are some of the best beaches in Oregon to help you find the right place to say your vows.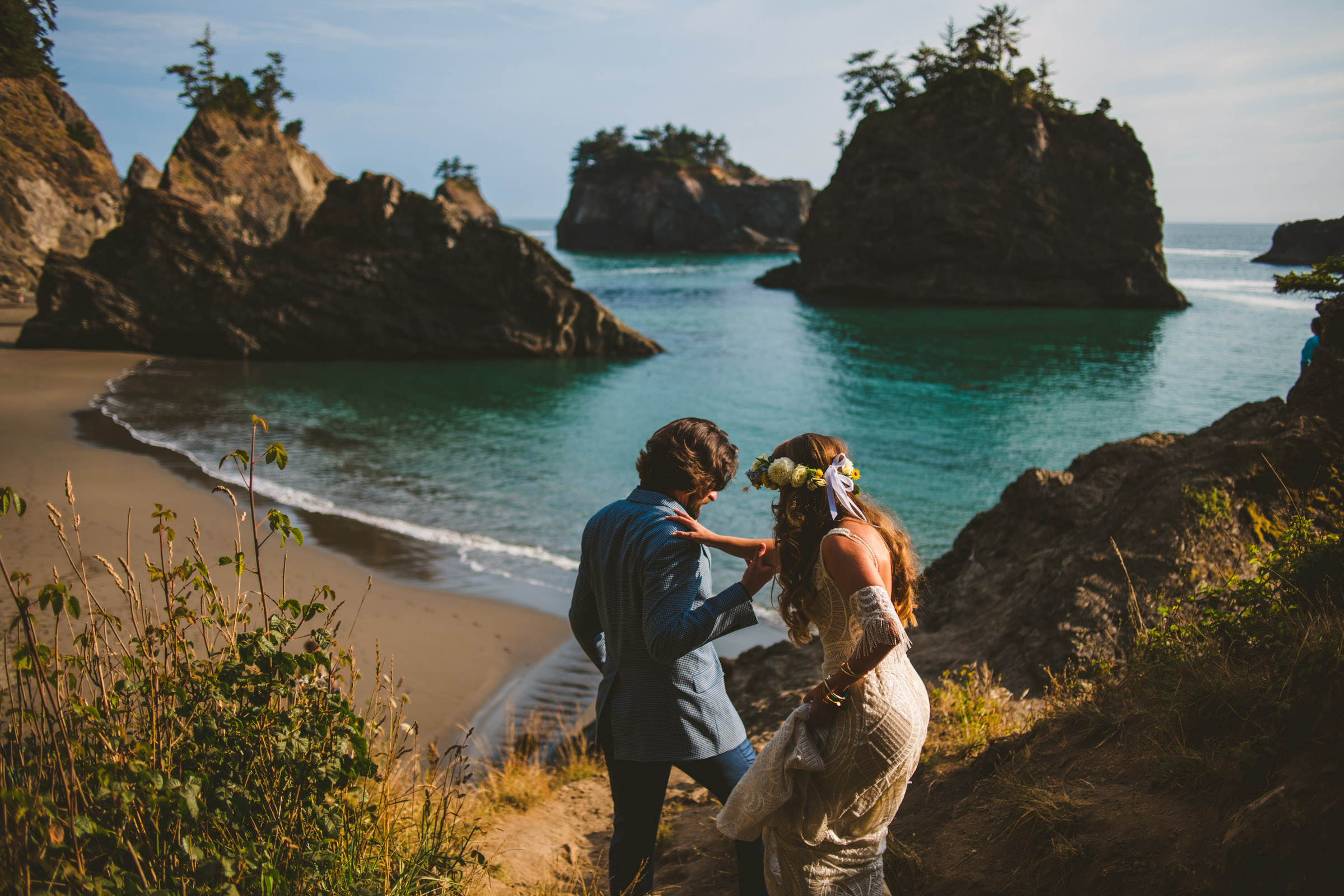 About the Oregon Coast
Before you head off to explore the beaches, keep in mind that Oregon's weather can be moody. In the winter, temperatures are fairly mild, hovering around 45 degrees throughout the day. However, winter also brings rain showers, and the beaches in Oregon are usually gloomy. The best time for an Oregon coast elopement is summer, especially July and August. These months are sunny and warm, and rainy days are few and far between. September can be a great month to elope as well, as the weather is still warm, but summer crowds will have left the beaches.
Many of the best beaches in Oregon can get pretty crowded, so to avoid this on your elopement day I always recommend that couples elope on a weekday! Weekends bring out more crowds, so by having your elopement ceremony while everyone is at work will help you get a little more privacy. I also love when couples elope at sunrise – being the first ones at a location and getting it all to yourself is worth the early wake up call!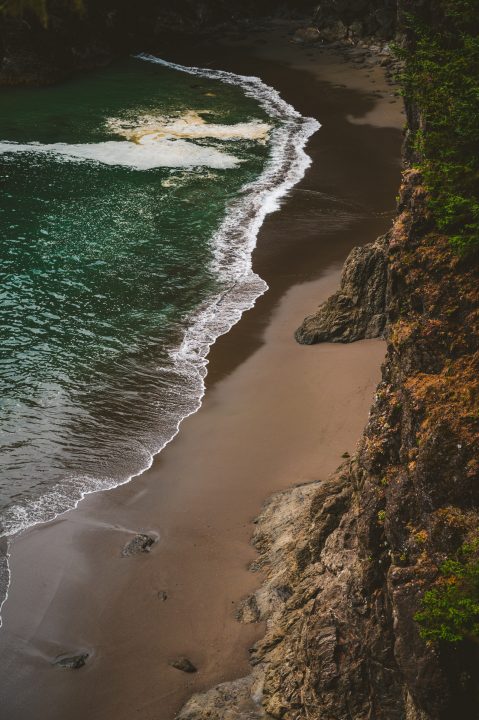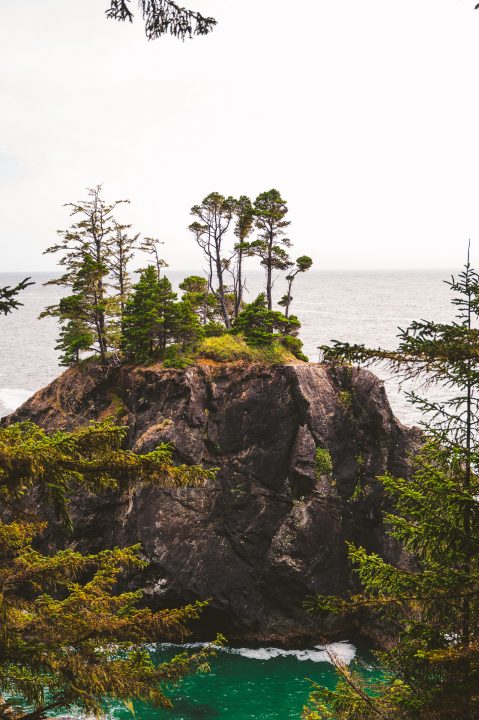 Cannon Beach is one of the most iconic beaches in Oregon. It's famous for Haystack Rock, which stands tall just off the shoreline. From May to August, Haystack Rock is home to colonies of tufted puffins! The town of Cannon Beach is a small, picturesque town where you can explore art galleries, local cafes, and fine dining restaurants, as well as the long sandy coastline. If you want to have your Oregon coast elopement at Cannon Beach, keep in mind that this location is very popular! But that means accommodations are easy to find, and the town has everything you'll need during your elopement.
Hug Point is located just a few miles south of Cannon Beach. There are rocky formations on the beach, carved out by centuries of ocean water. Choose Hug Point for your Oregon coast elopement, and you'll have the opportunity to explore tide pools, caves, and at low tide, even a waterfall! If you walk up to the rocky cliffs over the water, you'll be greeted with forested scenery and views of Hug Point from above. The Hug Point trail is just over a mile long, and will take you around the cove, with tide pools, caverns, and lots to see along the way! You'll need to be careful at Hug Point though, some places are only accessible during low tide, and if the tide comes in while you're exploring and adventuring around, you can get stranded!
This spot offers jaw dropping scenery – but you'll need to hike a little to get there! After 2.1 miles walking through wildflowers, woodsy groves, and occasional views of the ocean, you'll end up at God's Thumb – a (somewhat thumb shaped) rock formation that forms a cliff over the ocean. The view is unique, and awe inspiring, and though the trail is steep in places and often muddy, it's well worth the trek. This is one of the more private Oregon coast elopement locations, and if you arrive at sunrise you're almost guaranteed to have the place to yourselves!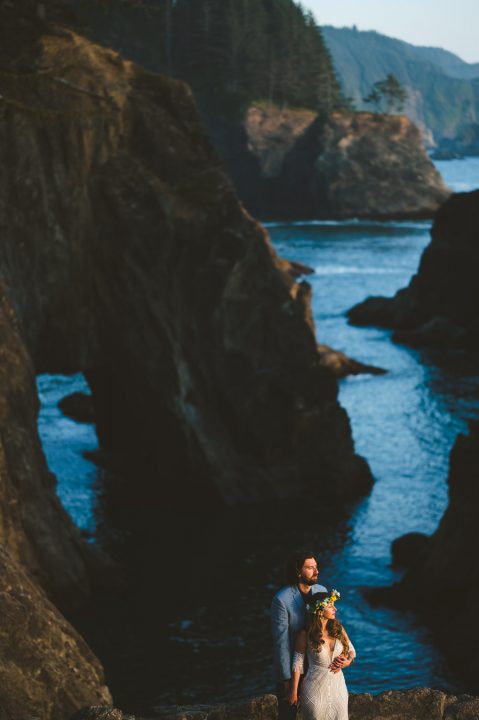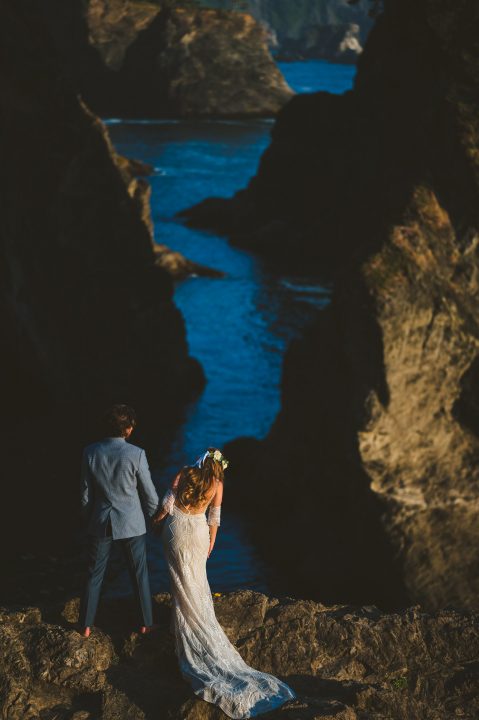 Samuel H. Boardman State Park
This park is located in southwestern Oregon, and was named after Samuel H. Boardman, the first superintendent of Oregon State Parks. There are several trails and viewpoints to choose from for your elopement, and most of them are pretty short – though they can often be slippery! The most iconic spot in the park is Natural Bridges, a corridor created by rock formations, and two of these towering natural structures are joined by a bridge. You can walk down to the bridge, though the trail is steep and narrow, with drop offs on each side – not for the faint of heart! This Oregon coast elopement location is definitely one of the best, offering a variety of scenery as you hike through the thickly forested trails to reach the ocean views.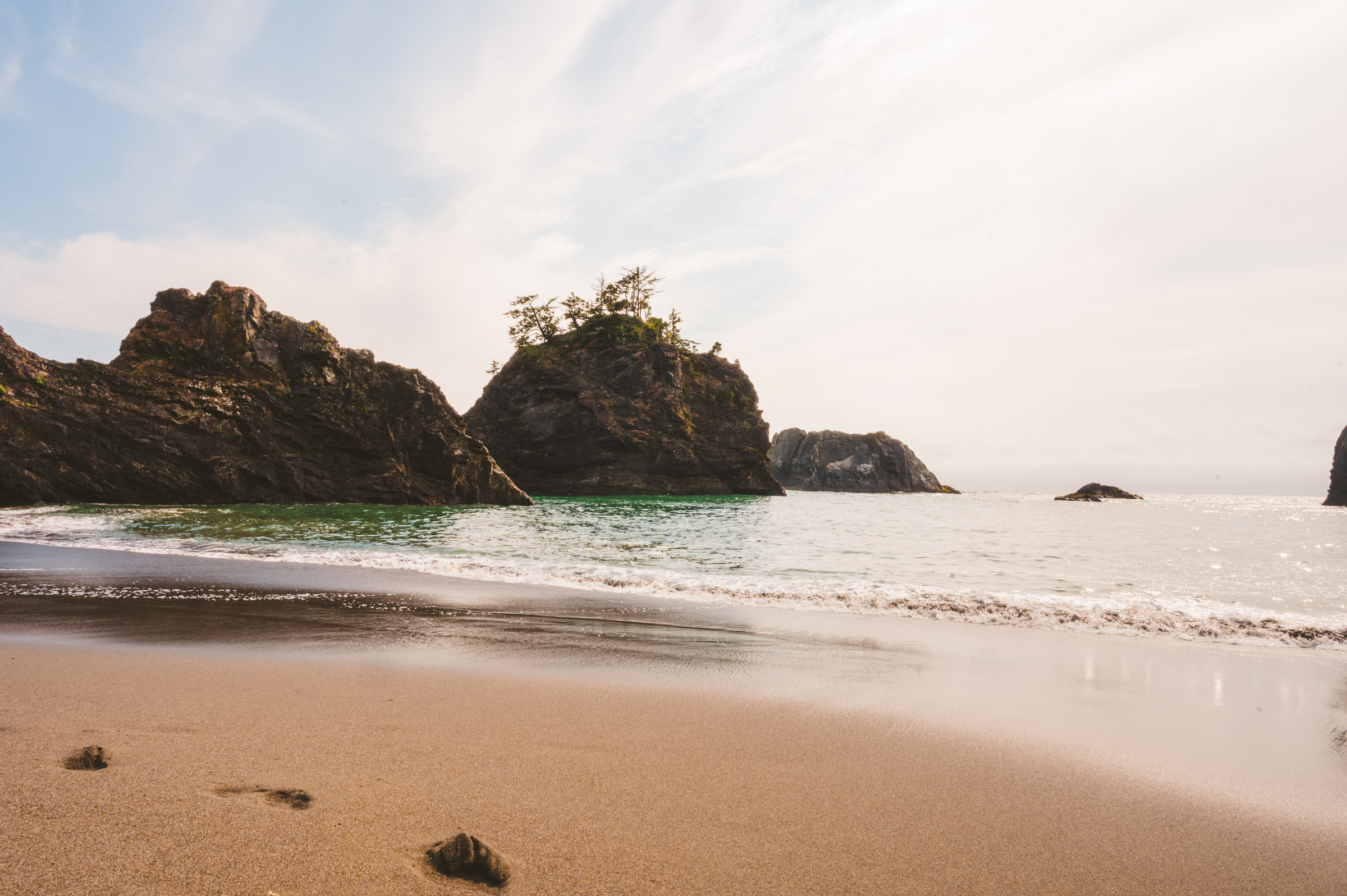 Oswald West State Park
Oswald West State Park is often overlooked by those who visit the Oregon coast, making it the perfect elopement location! There are several trails that start at the parking lot and lead you through the forest and to various beaches. Short Sand Beach is a local surf spot just half a mile away from the parking lot, perfect for a picnic.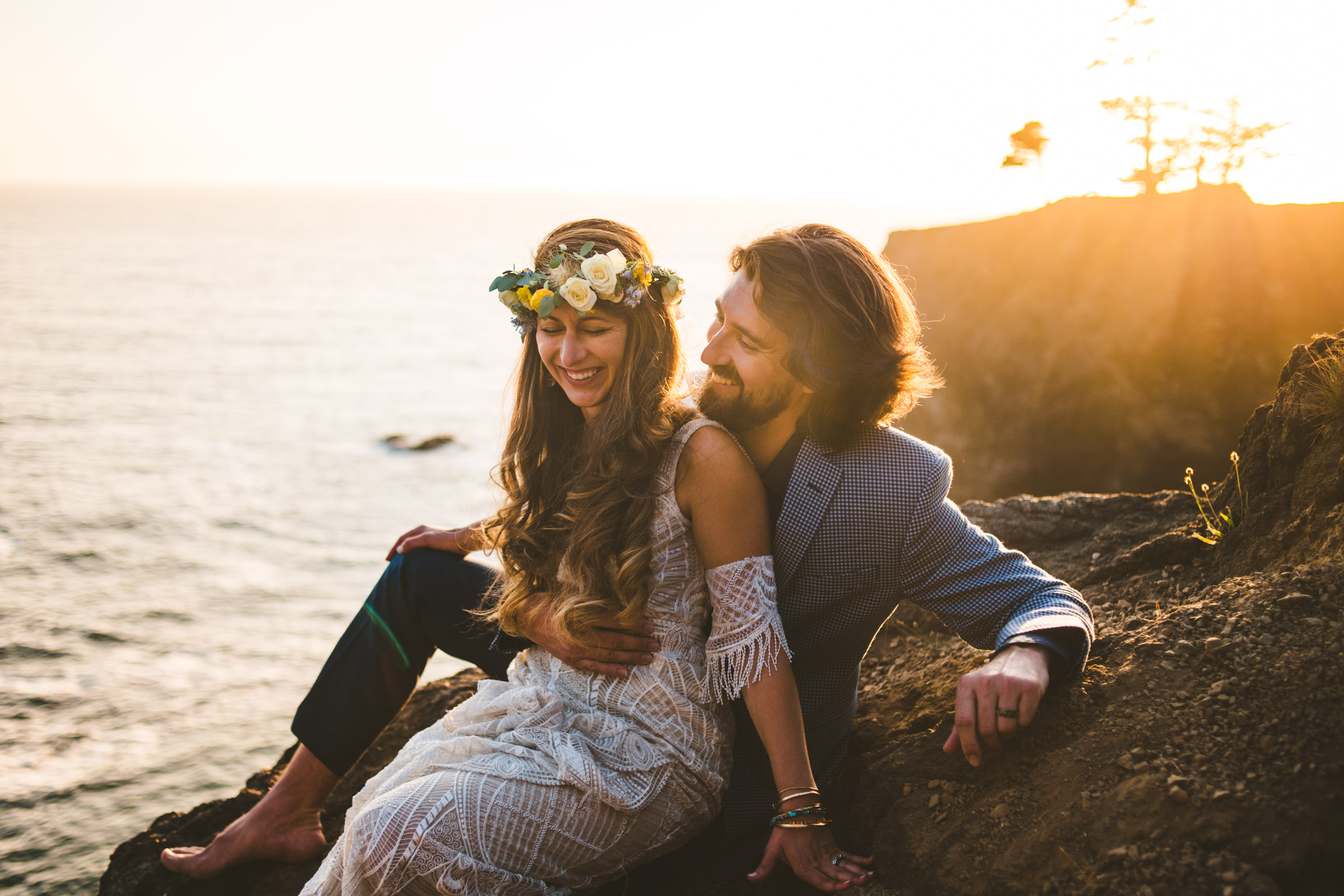 Cape Kiwanda
After Cannon Beach, Cape Kiwanda is probably the most recognizable beach in Oregon. You can elope on the beach with the singular sea stack rock in the backdrop, or climb the sandy hill to reach the cliffs overlooking the water. The sandstone cliffs have been carved out by the ocean, but be careful – the sandstone can be fragile. Pelican Brewery is right next to the beach, so you can relax and enjoy a local brew after a day of elopement activities!
Need Help Finding the Best Beaches in Oregon?
The best beach isn't one spot on the map – each couple is different, each elopement is unique, and your elopement location should reflect that! My job as an elopement photographer is to find the perfect, off the beaten path spot that seems like it was made just for you. So if you're ready to plan your Oregon coast elopement, contact me!
Looking for more elopement inspiration?!
Check out these related posts: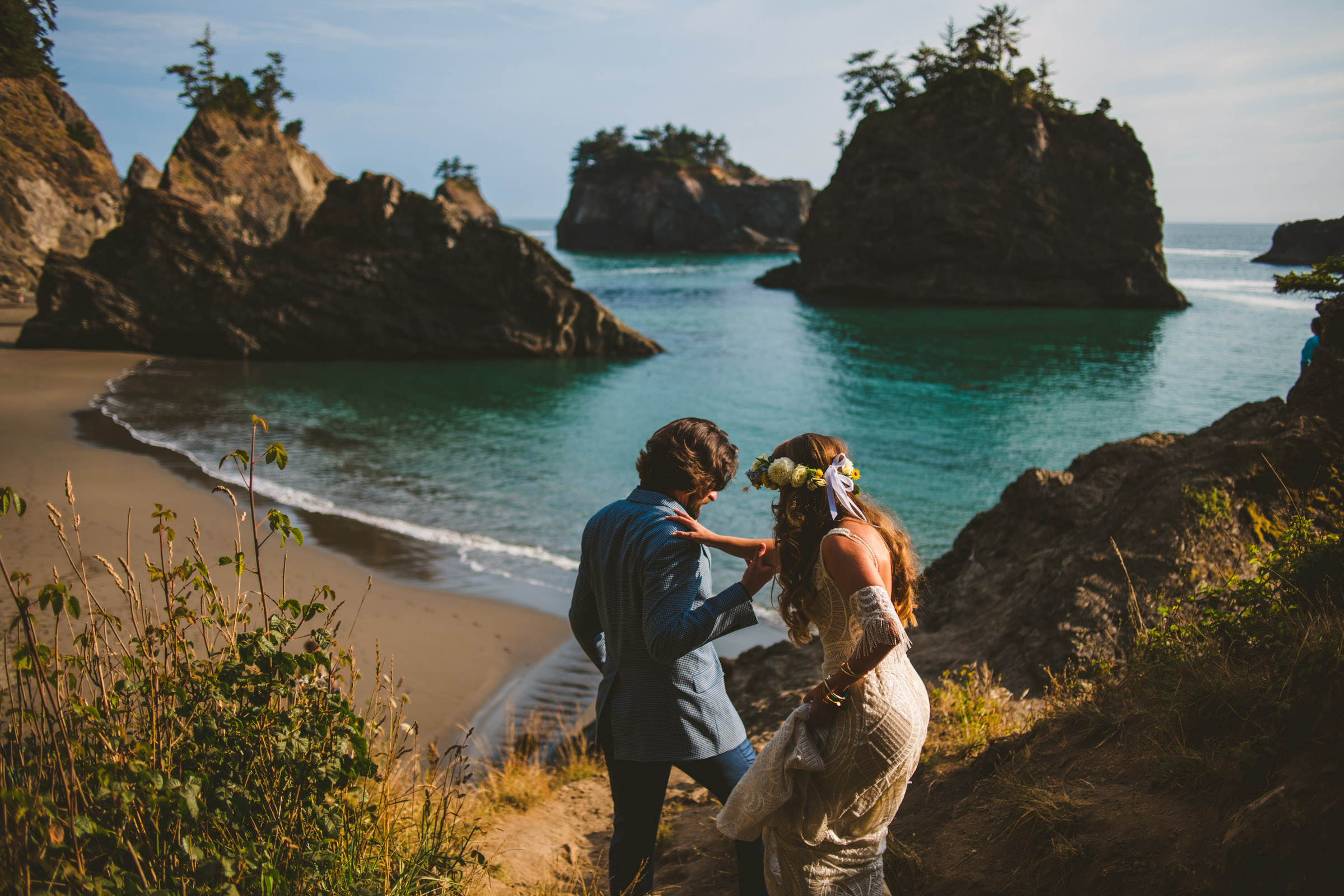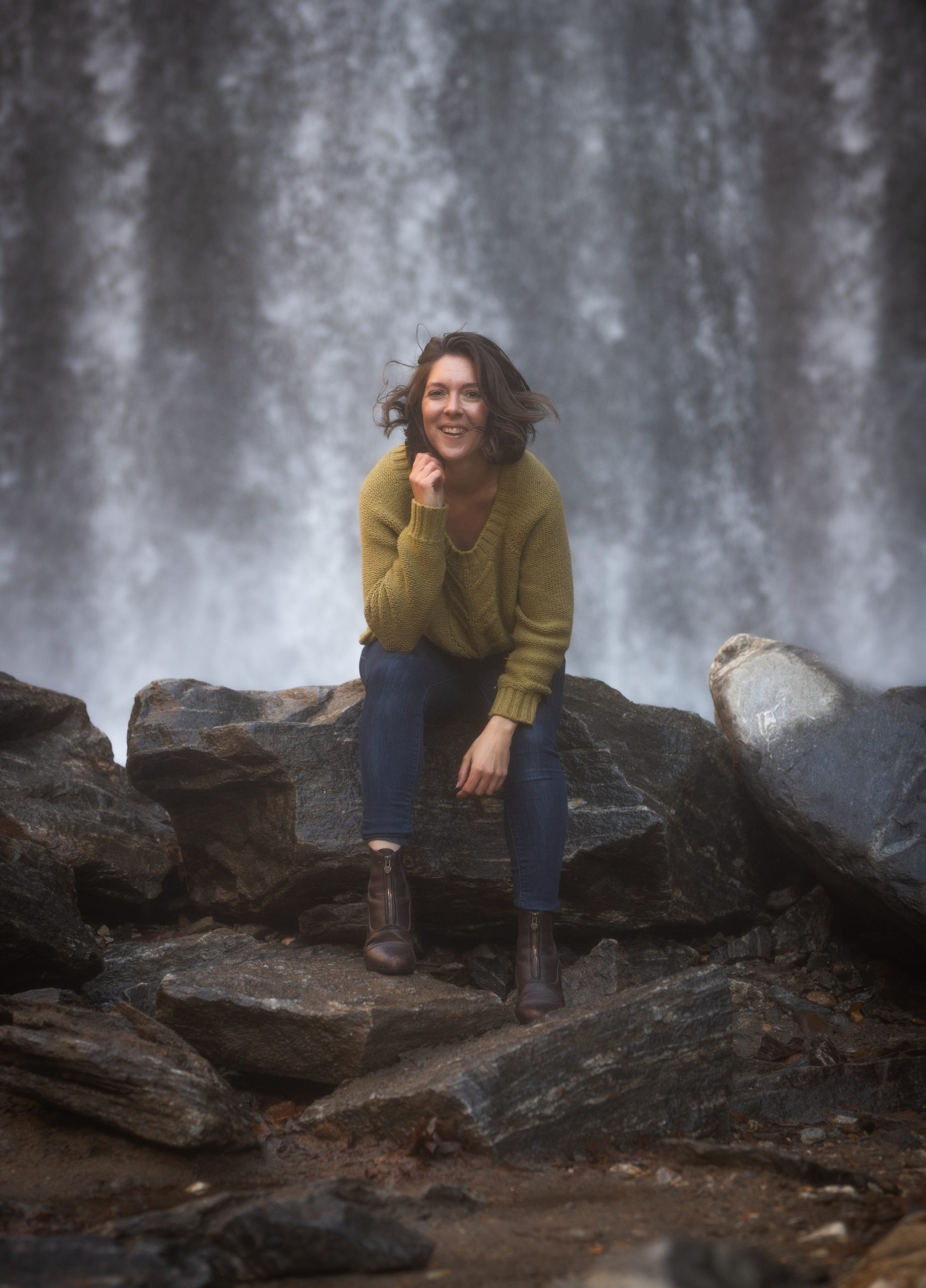 As an elopement photographer and outdoor enthusiast I get absolutely giddy with excitement when helping fellow adventure seekers, travelers, dreamers & fun-loving couples plan their experience based, intentional wedding days.
I live on the road full time traveling the country in my dream home on wheels – a 38' long fully off grid, converted bus.
Some of my favorite adventures include: Backpacking and ice climbing in Alaska, hiking the Napali Coast on Kauai, trekking in the jungles of Costa Rica.