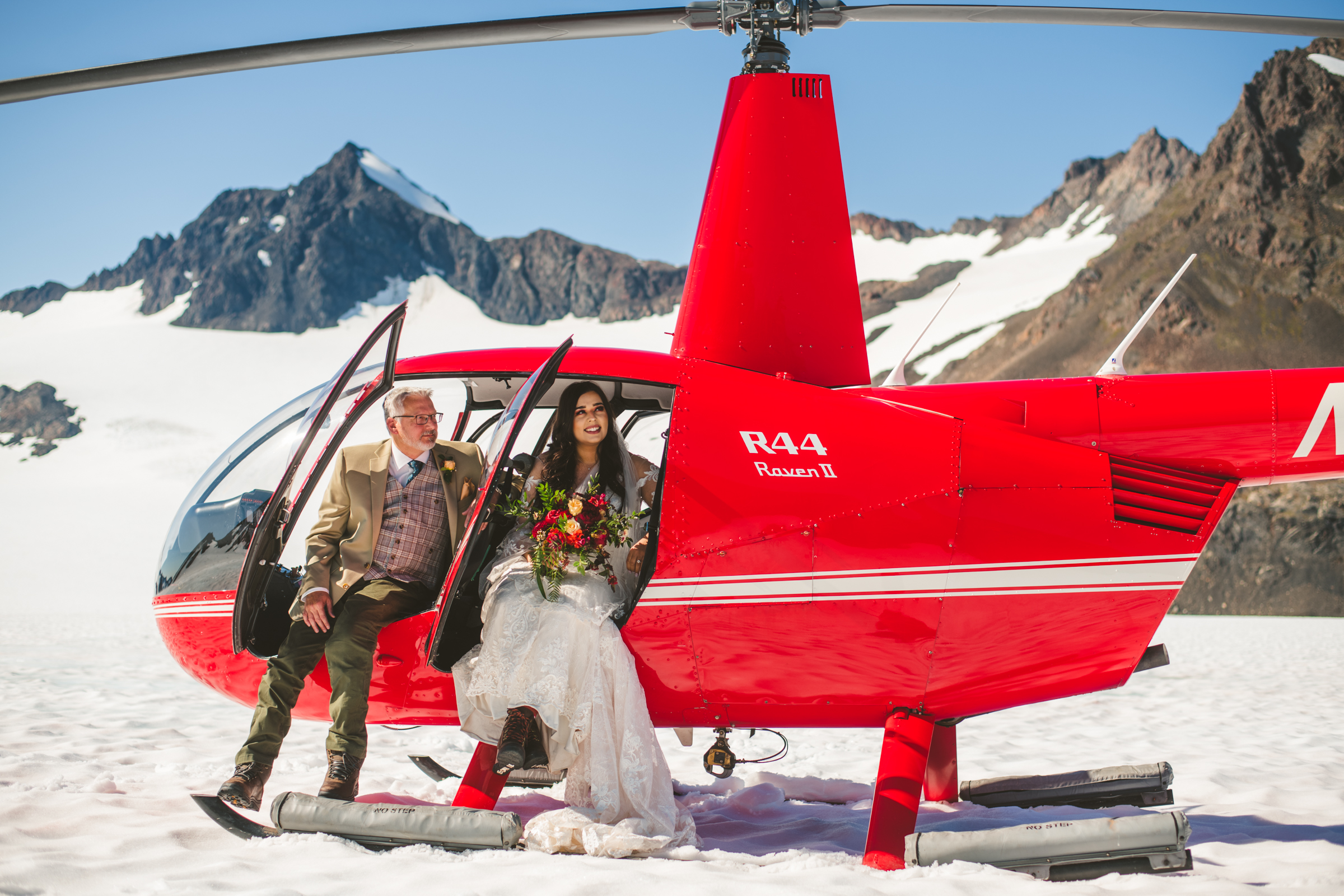 When you think of your ideal wedding day what does it look like? For Ariana & Dean it was chartering a helicopter somewhere remote & magical where they could say their vows with no one else around (except for me & our amazing pilot/minister ;). Alaska is the perfect place for a helicopter wedding & I was so thrilled to help them put together their dream day.

These two flew up from Louisiana for their Alaska elopement. They took 10 days to explore the state & were able to spend a few days in Hatcher Pass, Denali & then the Kenai Peninsula where they celebrated their elopement. I helped them choose Homer for their elopement day & found this cute little airbnb that sits right on the Kachemak Bay with the most stunning views of the mountains across the bay. Erik with Alaska Ultimate Safari's was our pilot, him and his wife Kirsten are both pilots and run their business together out of Homer. If you're looking for an awesome flying experience and someone who will go above and beyond for your helicopter elopement, I highly recommend reaching out to them!
We met up with Erik late morning & we departed the airstrip after intro's and loading up into the helicopter. Flying over Homer spit & up into the ice fields within Kachemak Bay Wilderness State Park. Alaska is vast & viewing it by helicopter is one of the best ways to get a sense of the scale. It's a place that will make you feel tiny! We flew for about a half hour before Erik set us down on this beautiful glacier tucked up between two mountain peaks. It was there that Ariana & Dean said their vows with Erik officiating the ceremony (yup, many pilots in Alaska are also ordained and are happy to perform wedding ceremonies as well!). It was a perfect day & if you're looking for a way to enjoy a variety of scenery, have a private wedding experience & get to experience something epic on your wedding day… I highly recommend considering booking a helicopter tour!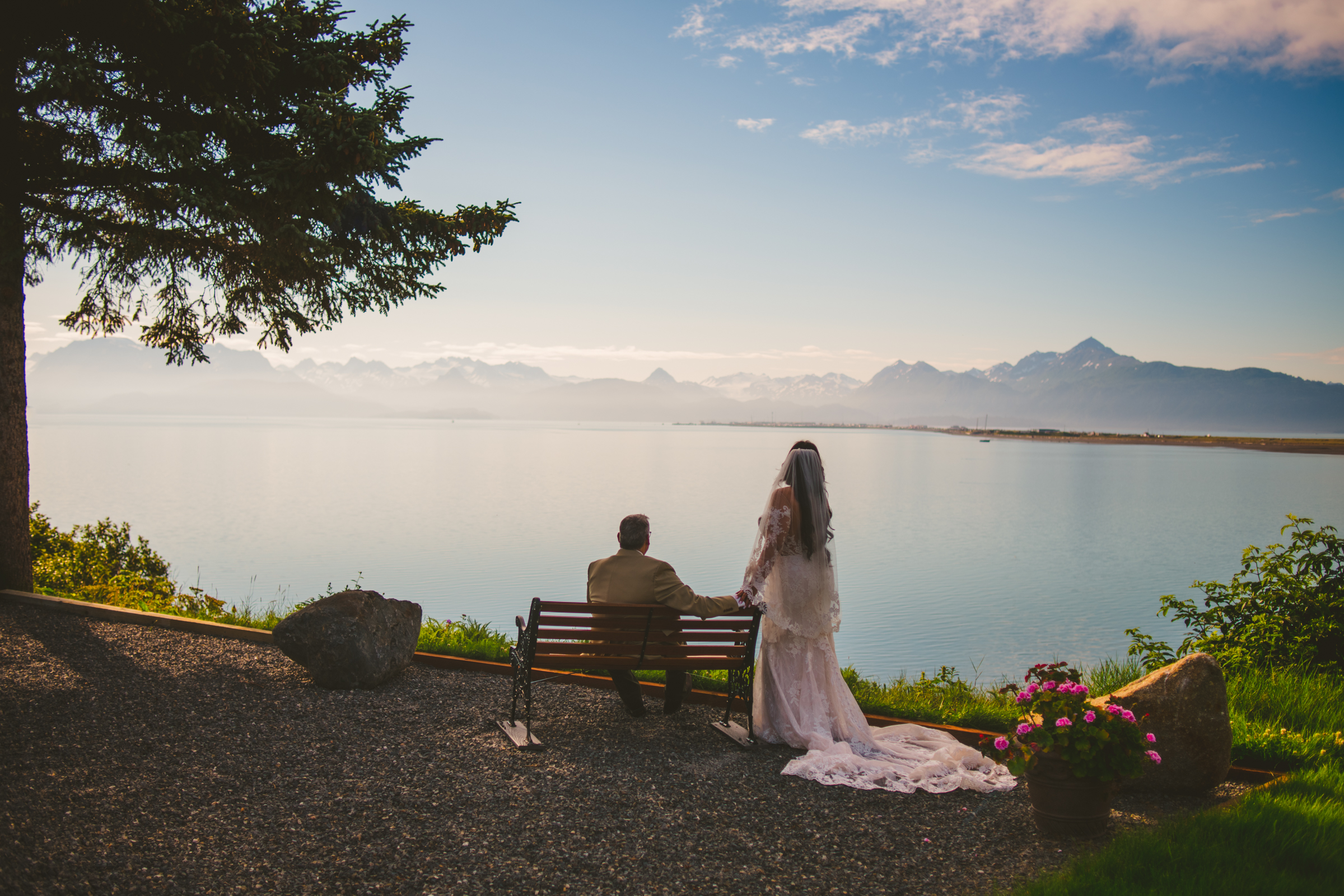 Alaska Helicopter Elopement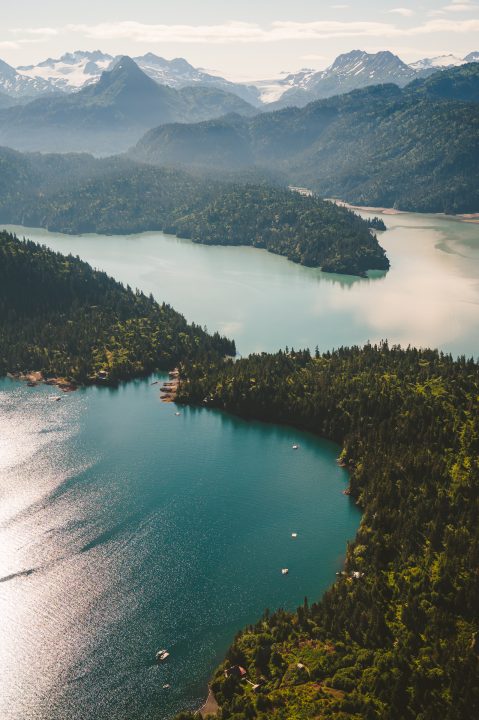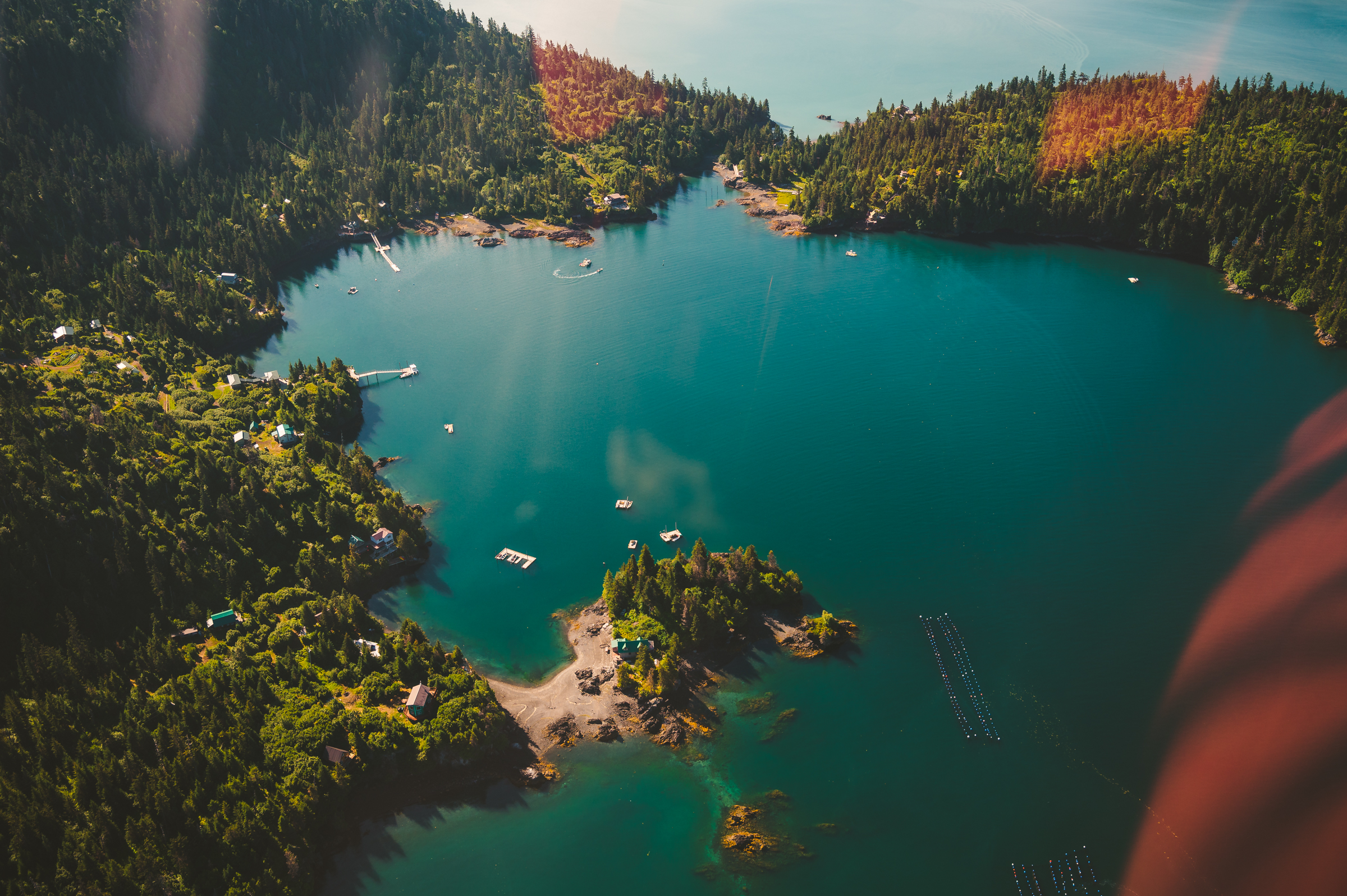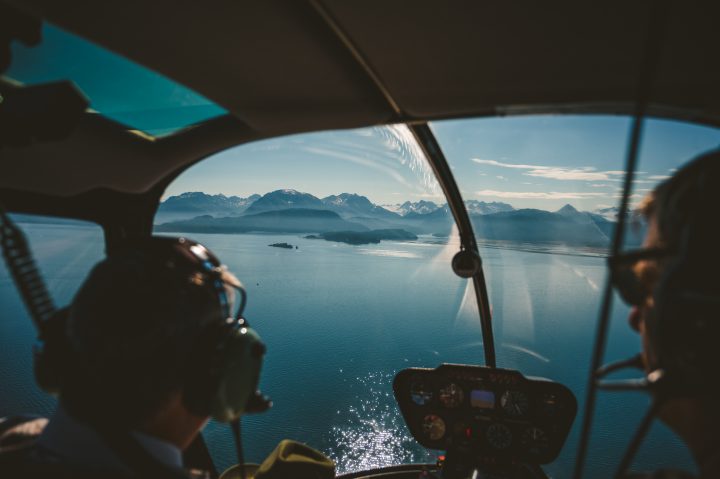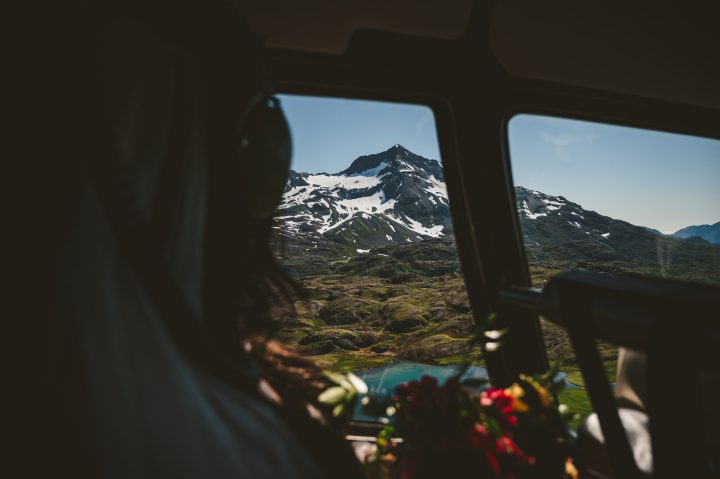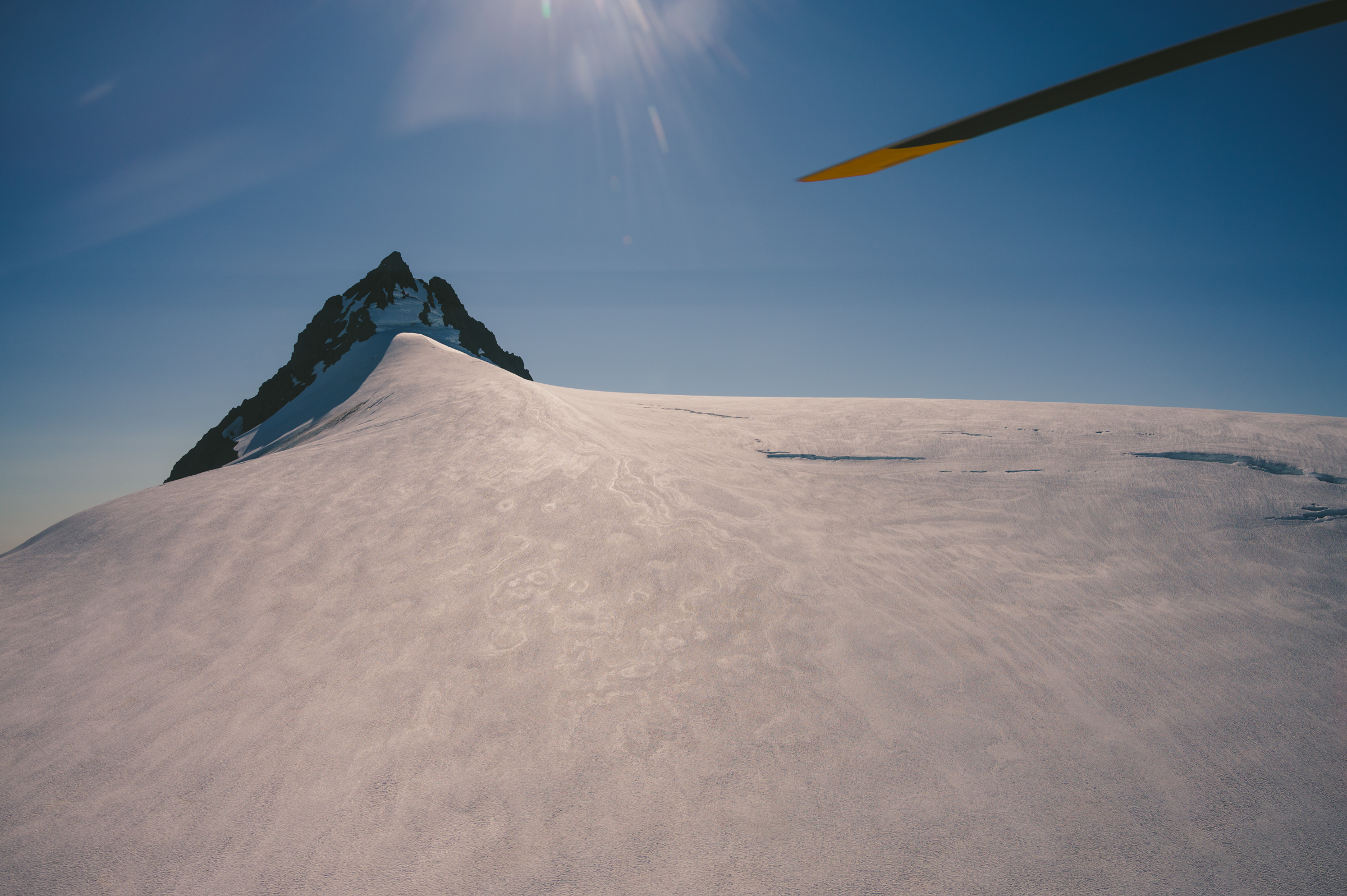 Within 15 minutes of departing Homer we were in a whole different world, flying over vast sheets of untouched ice.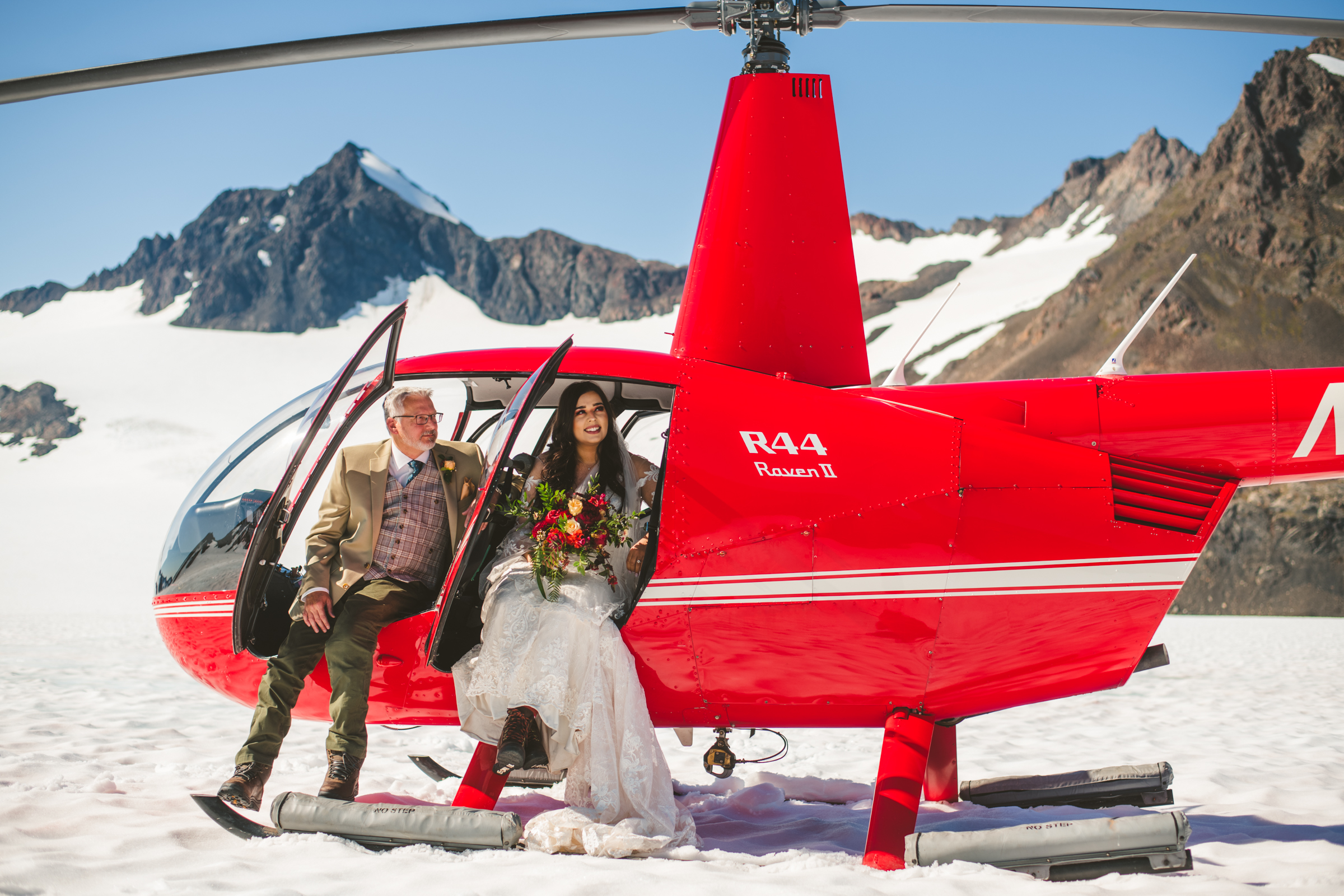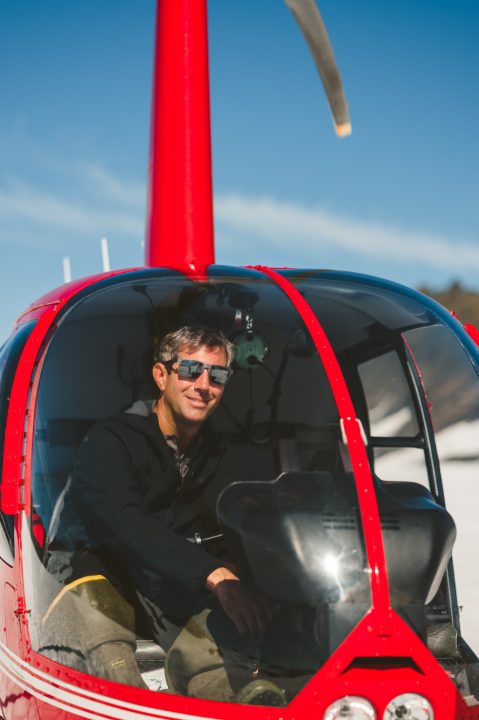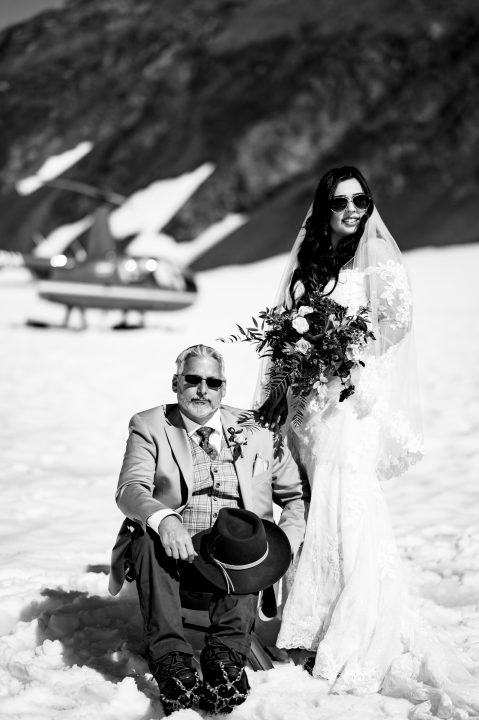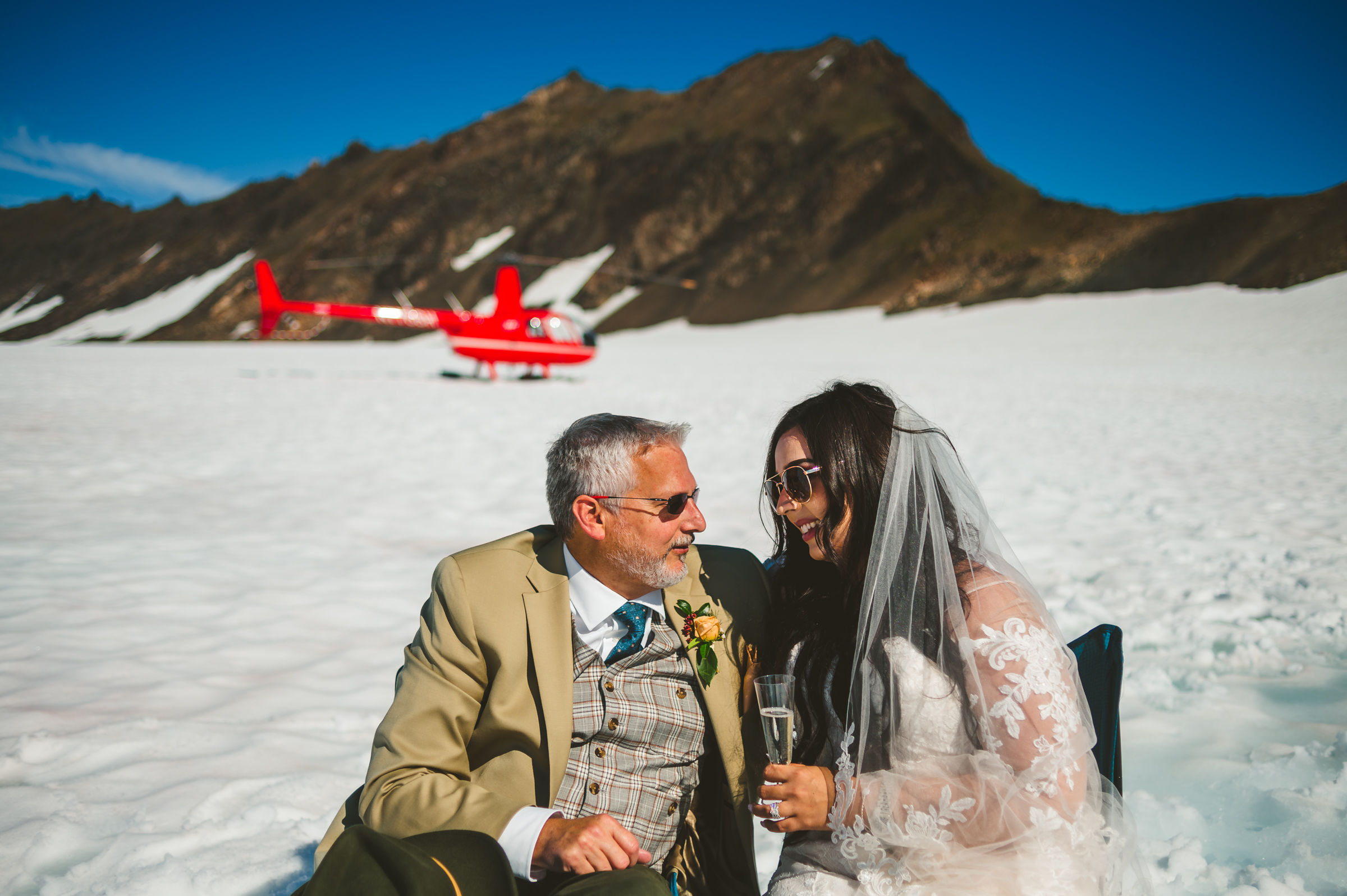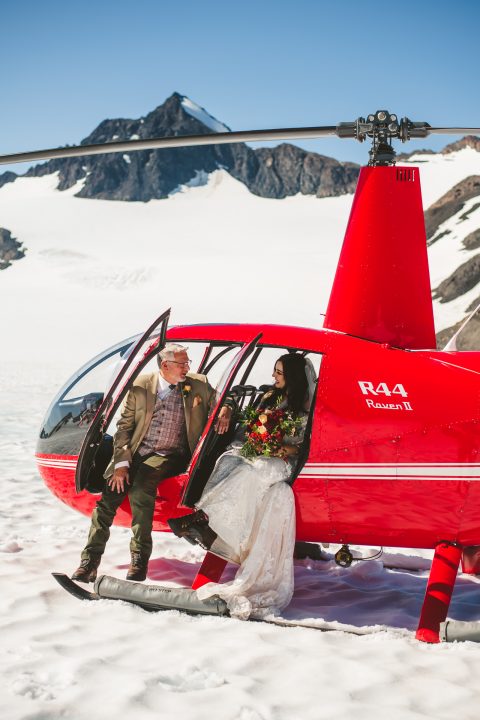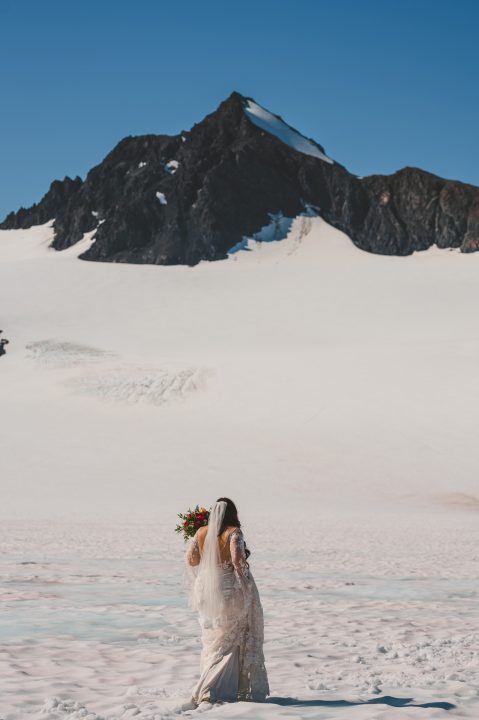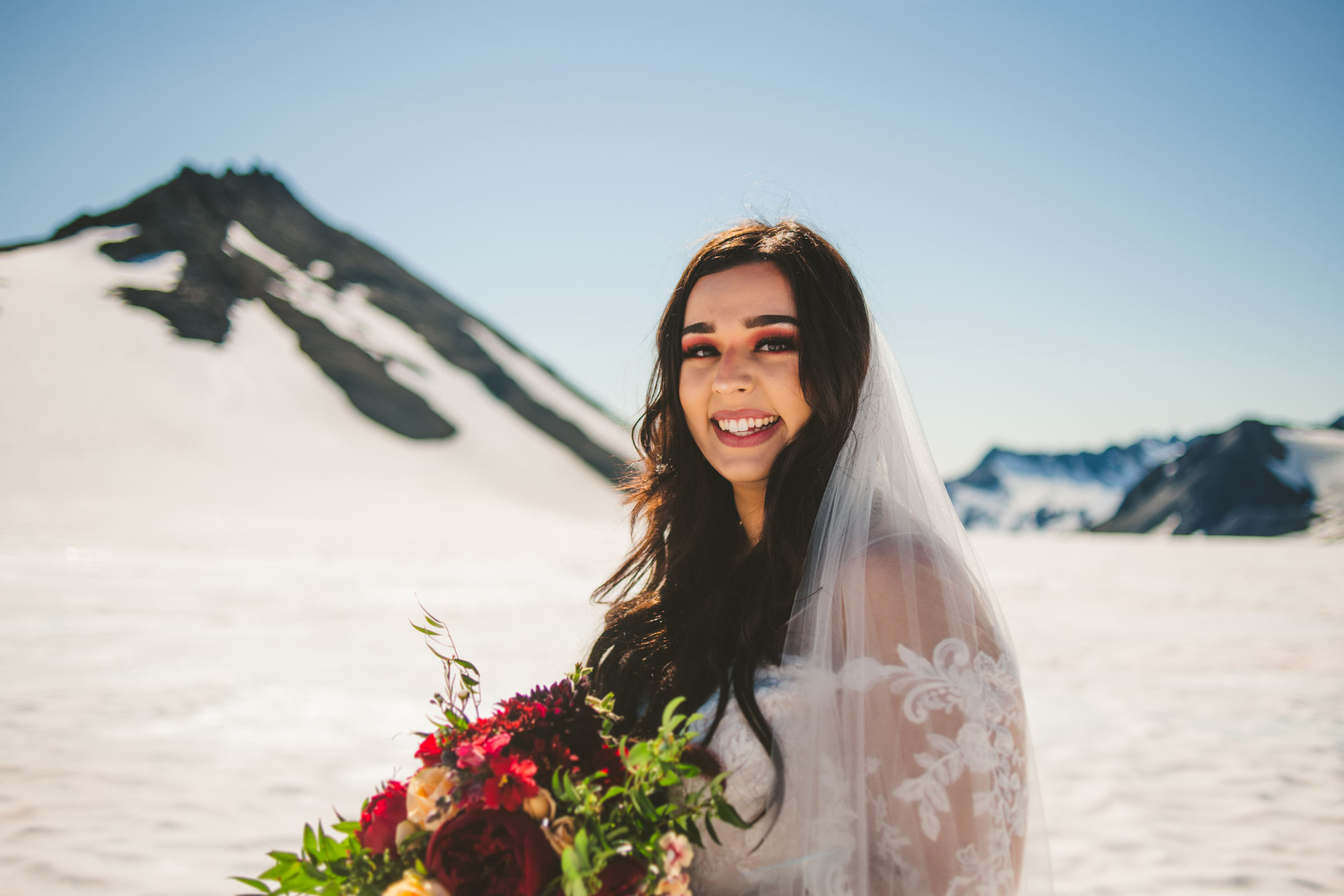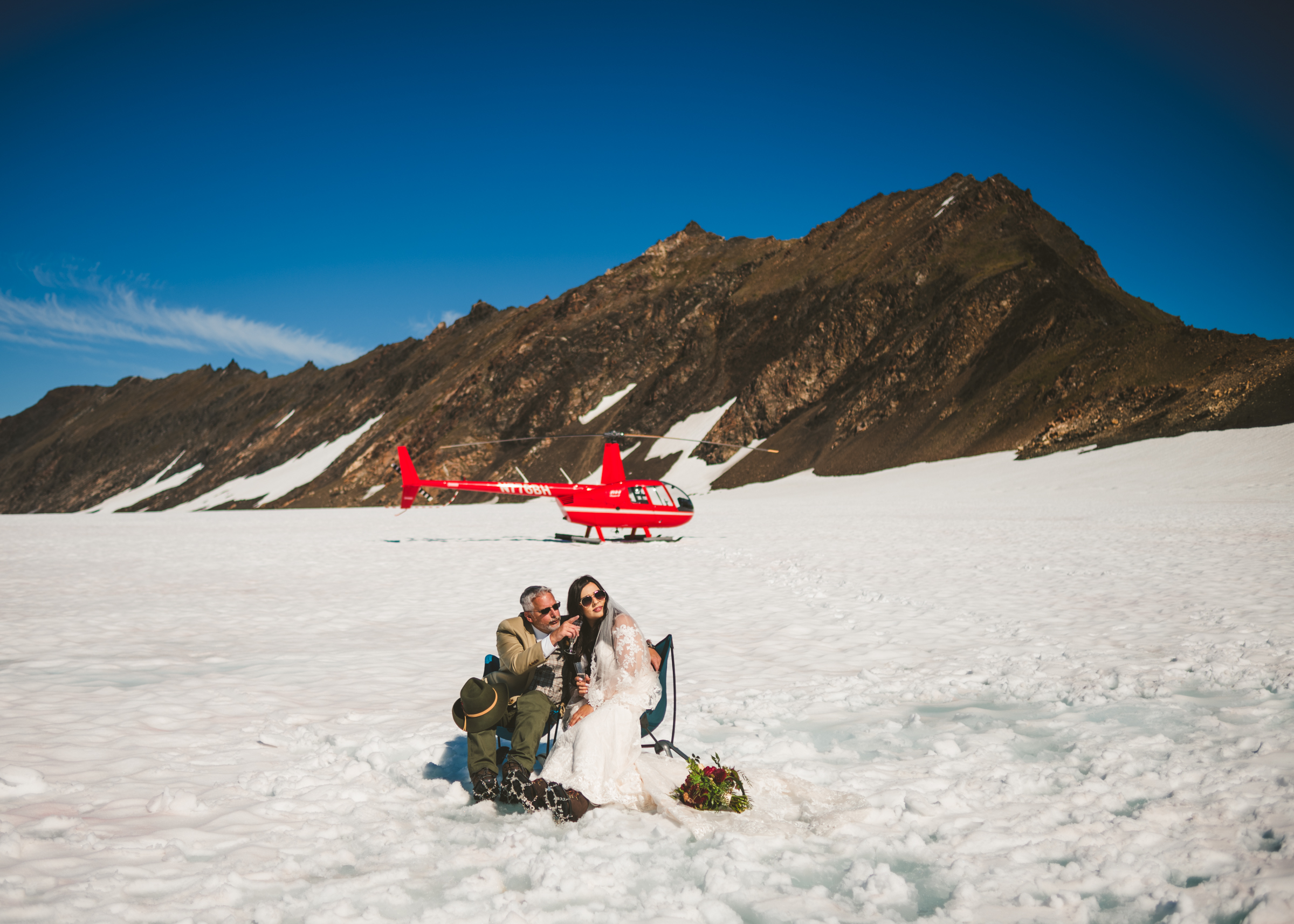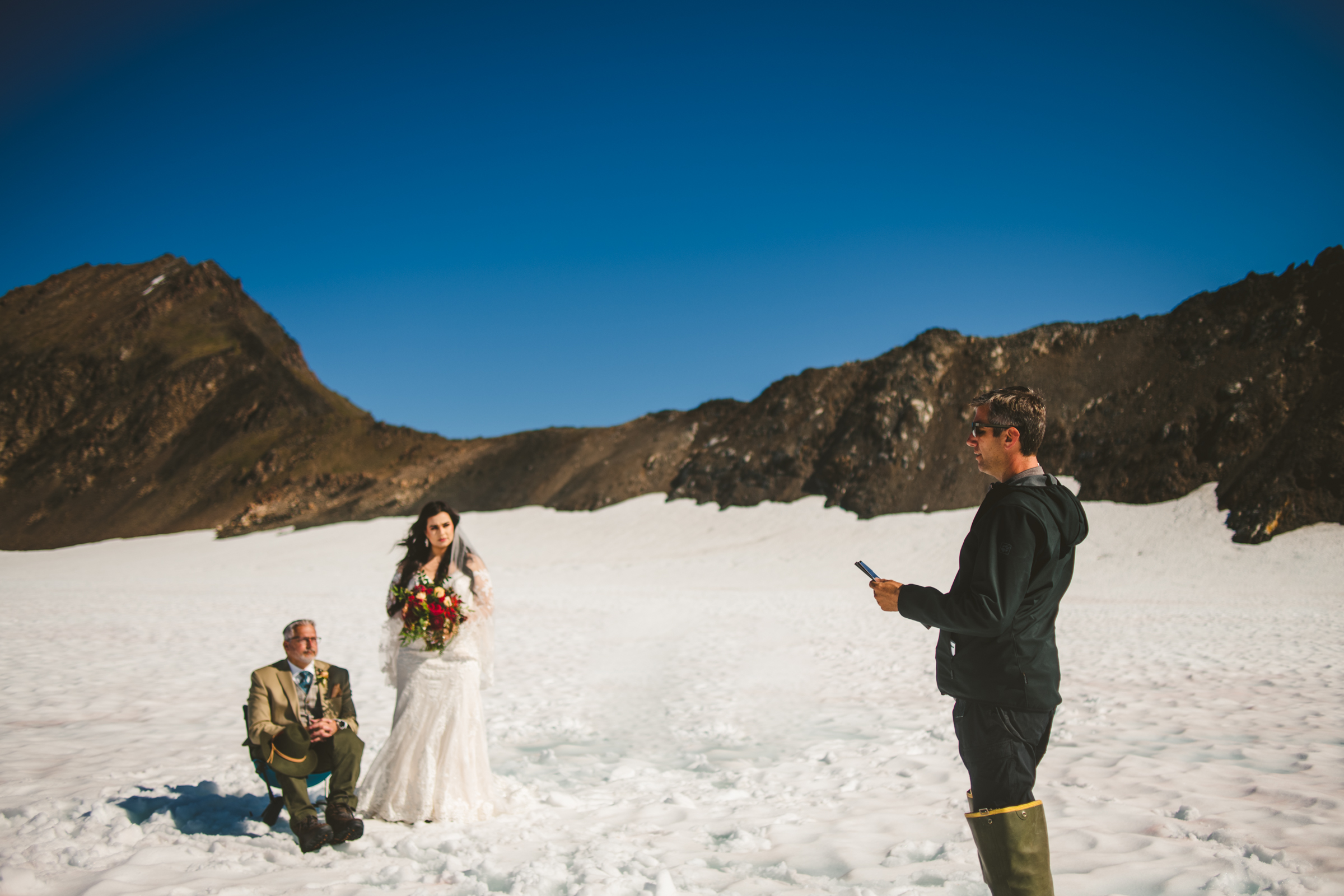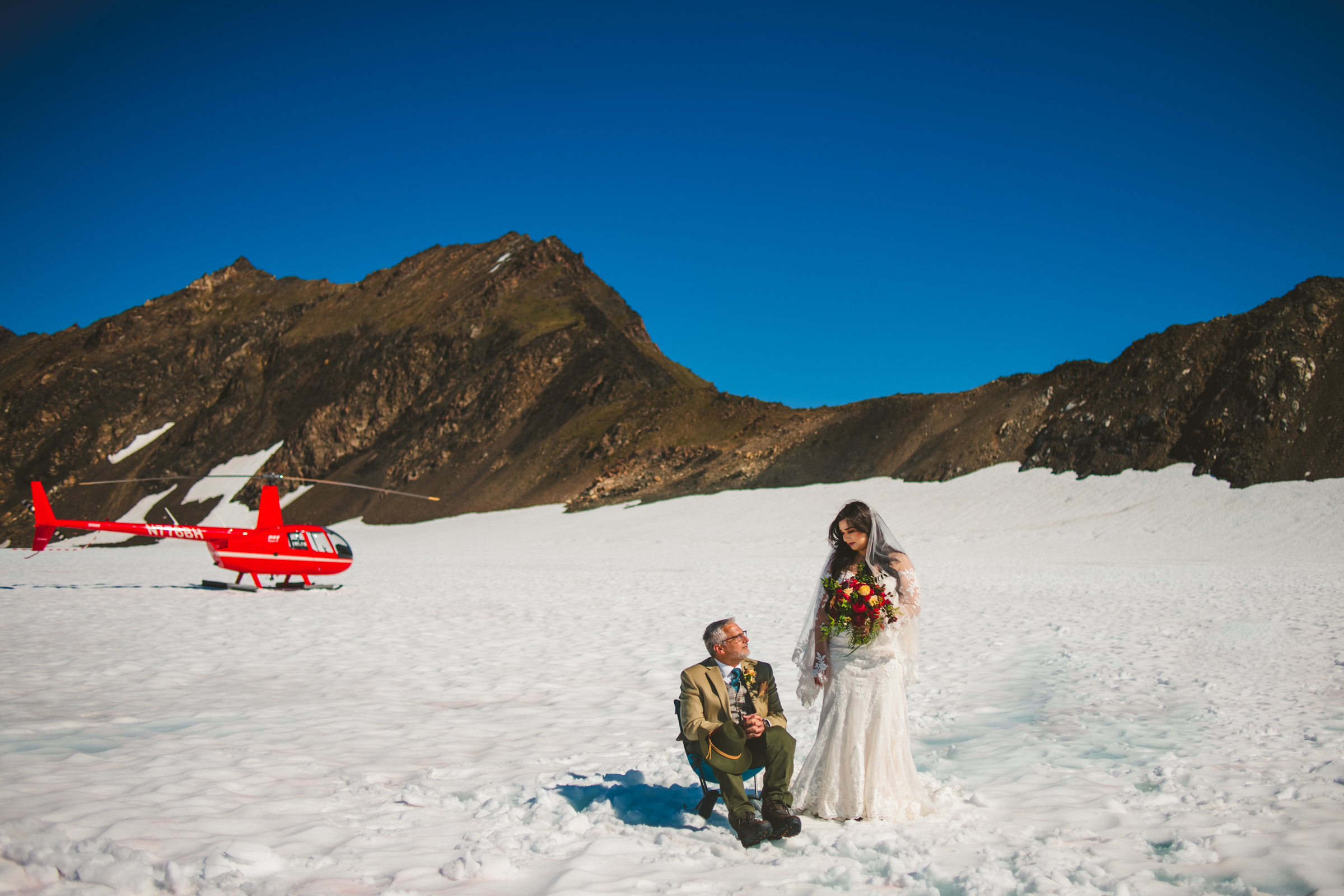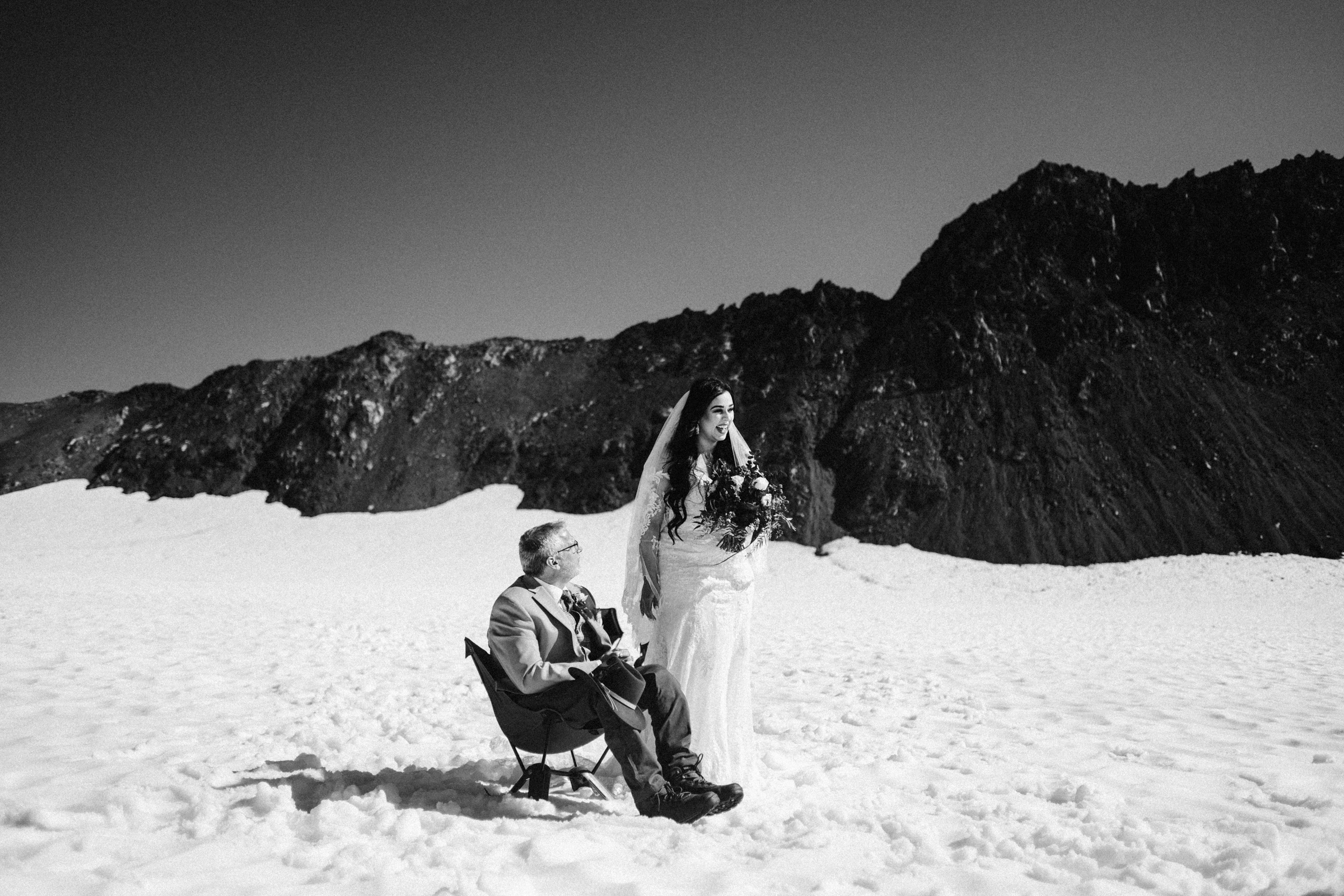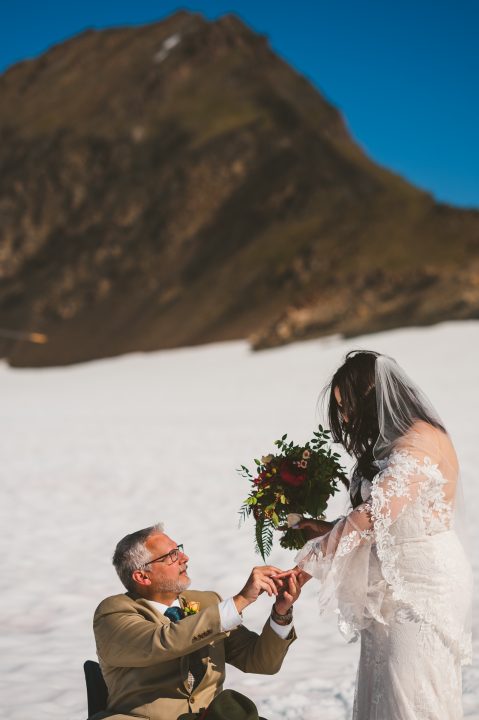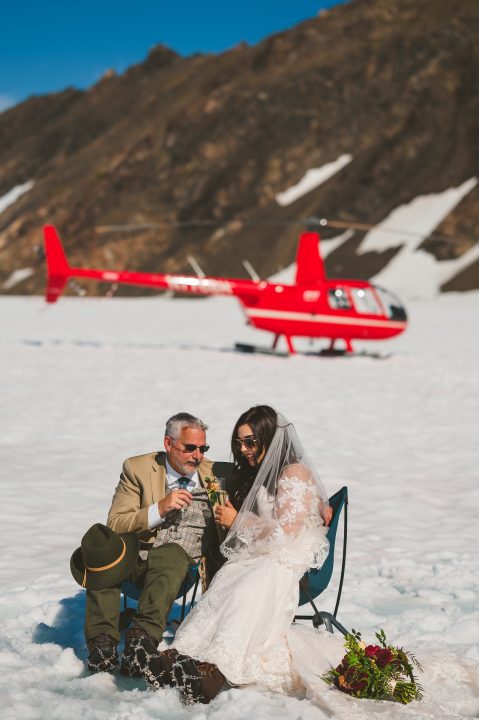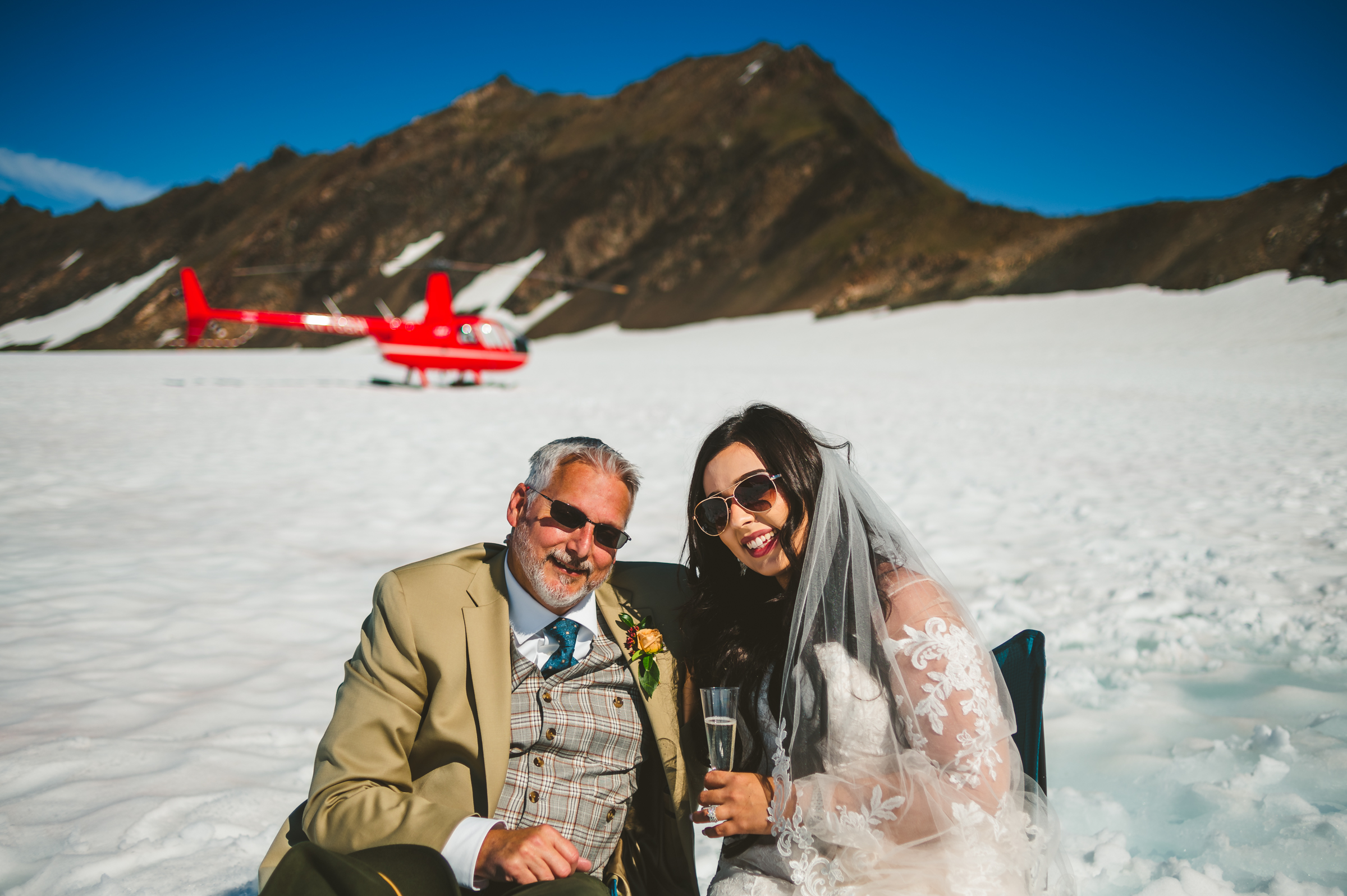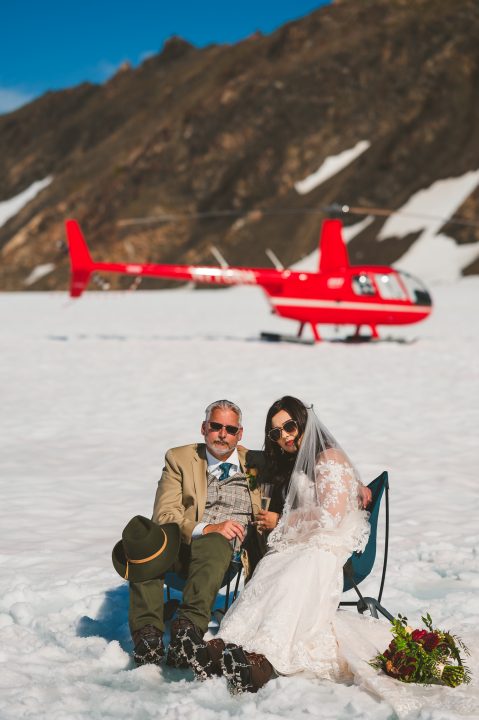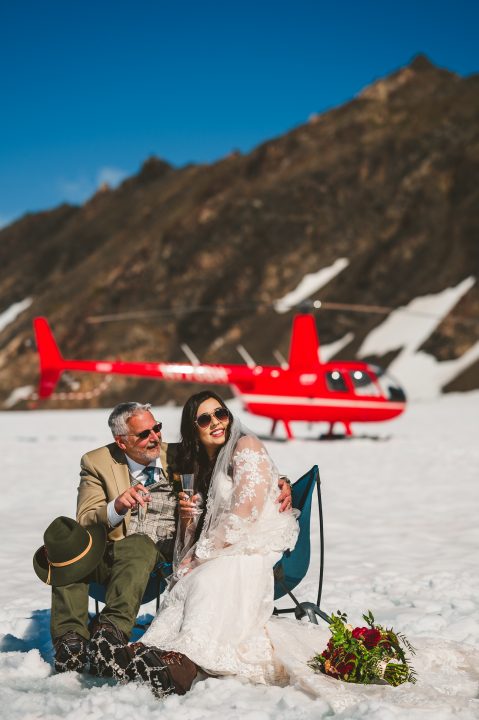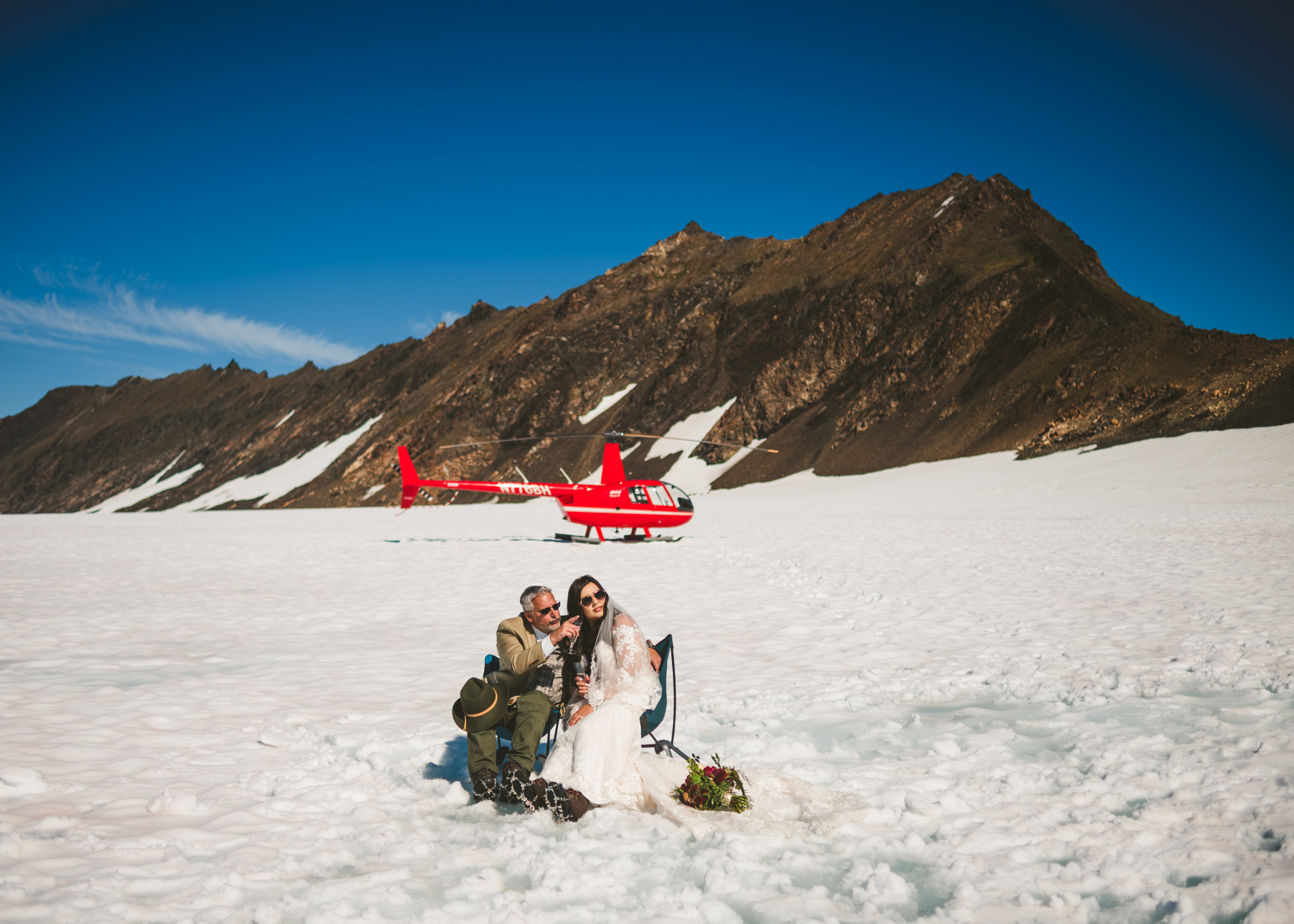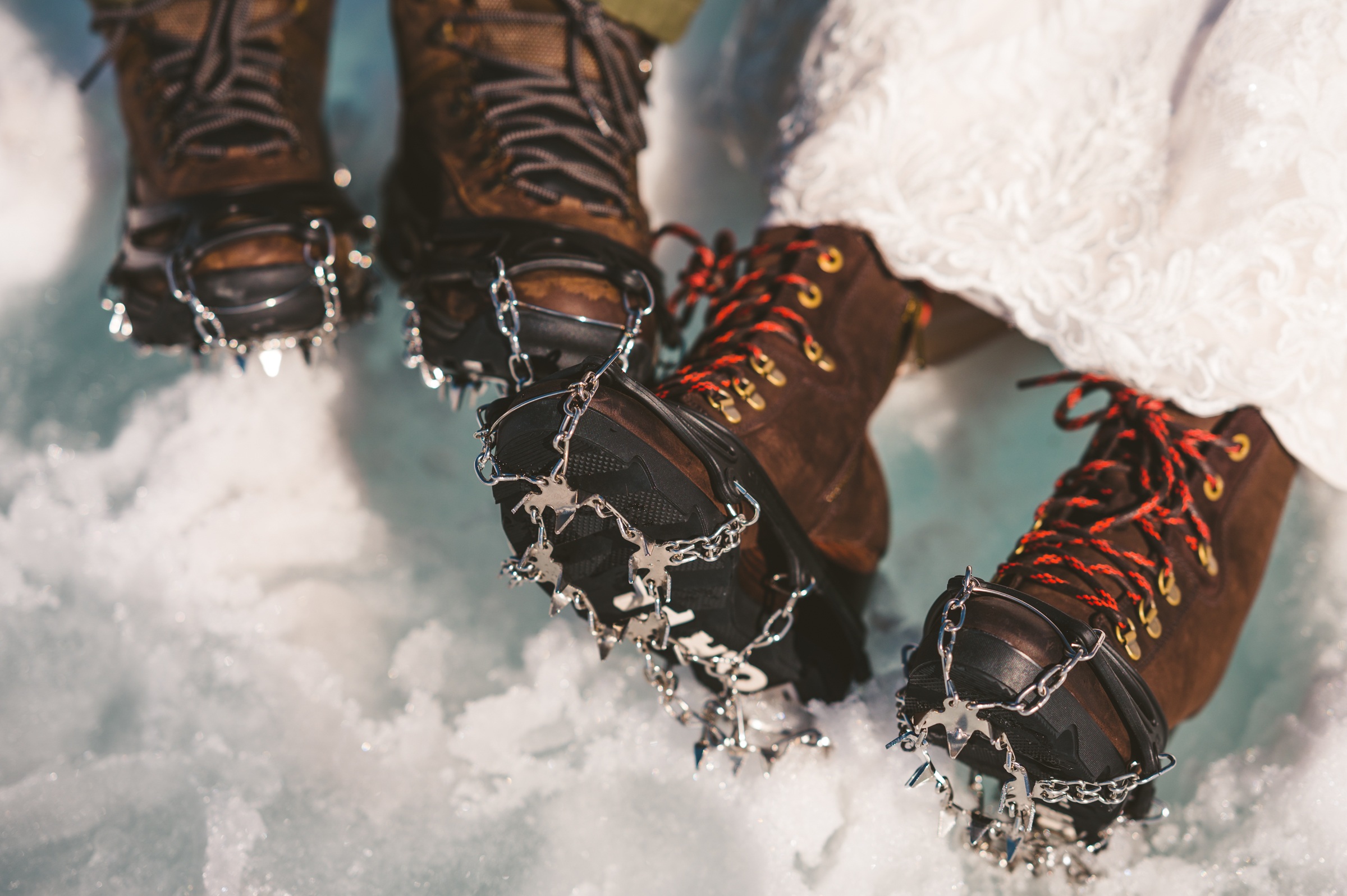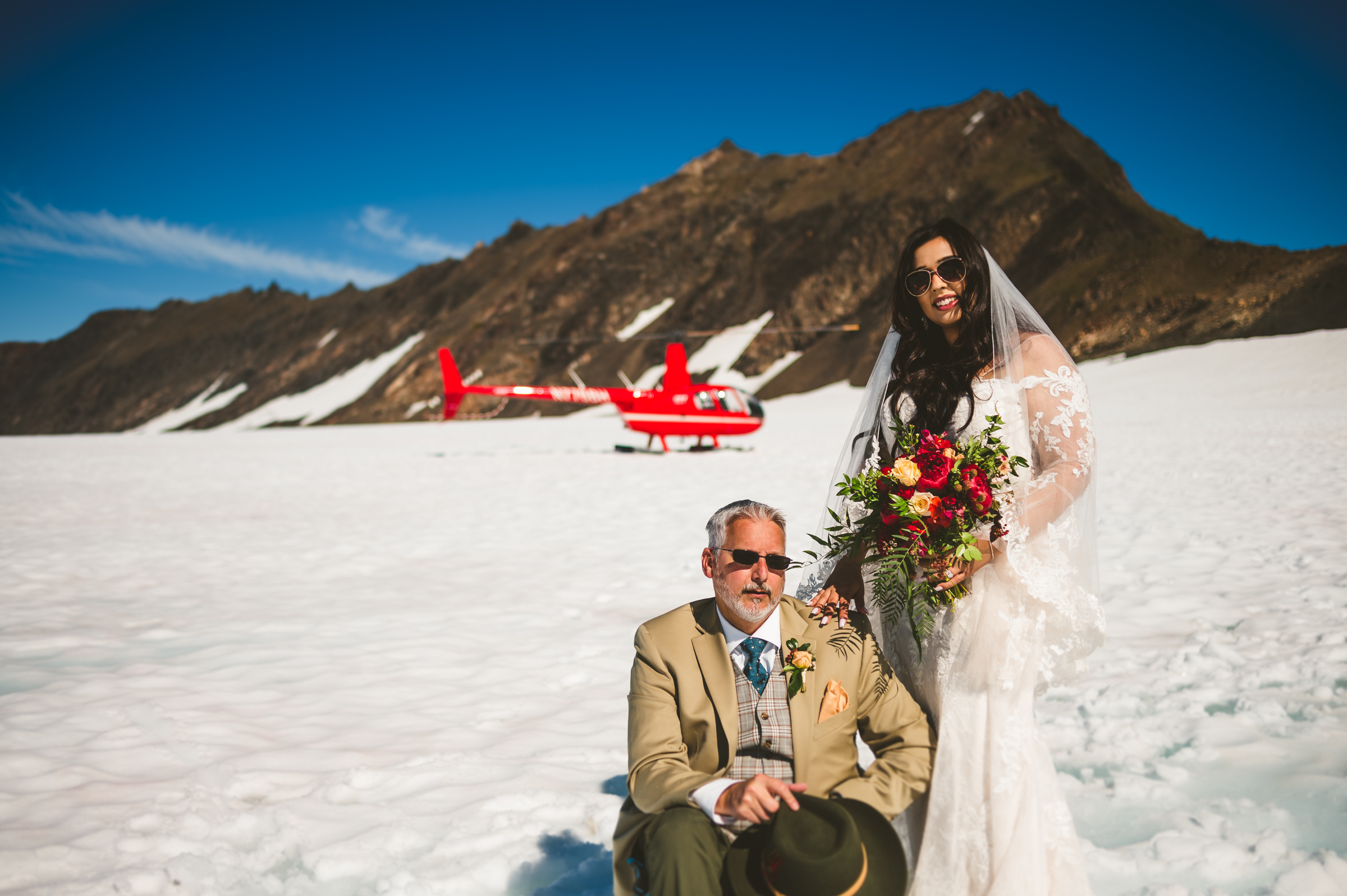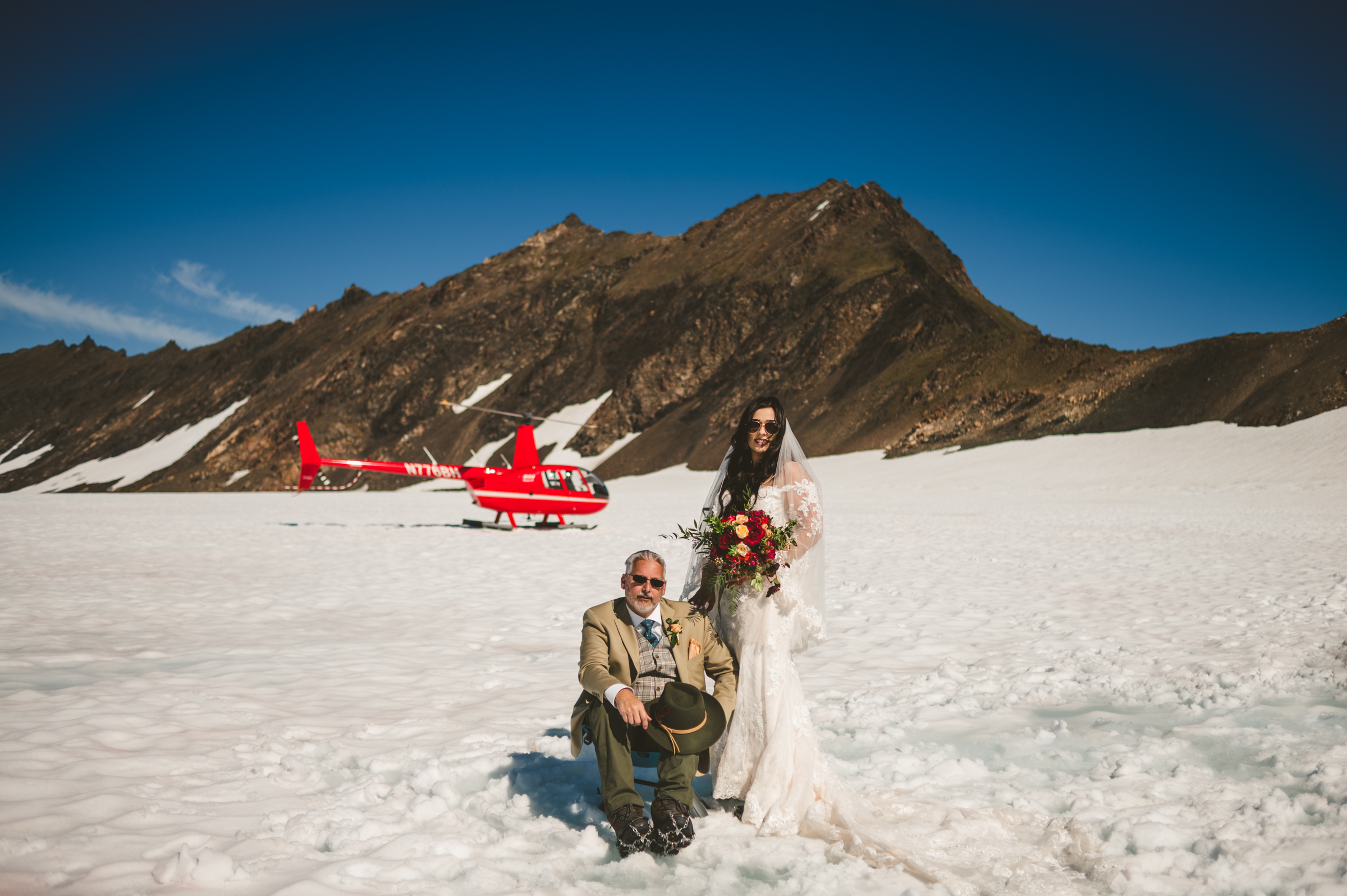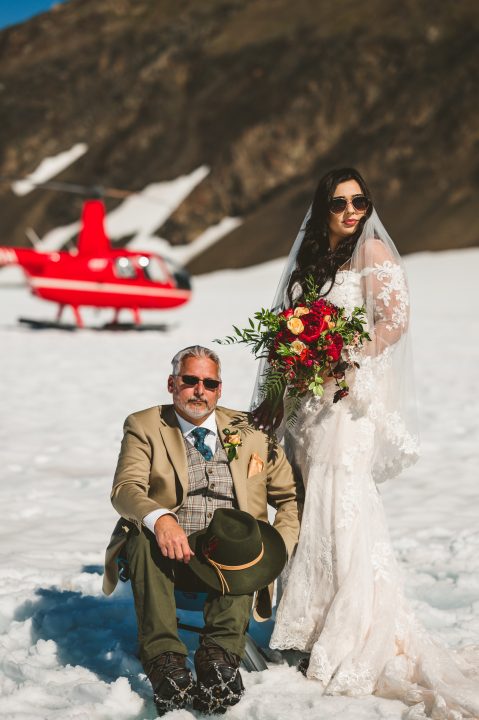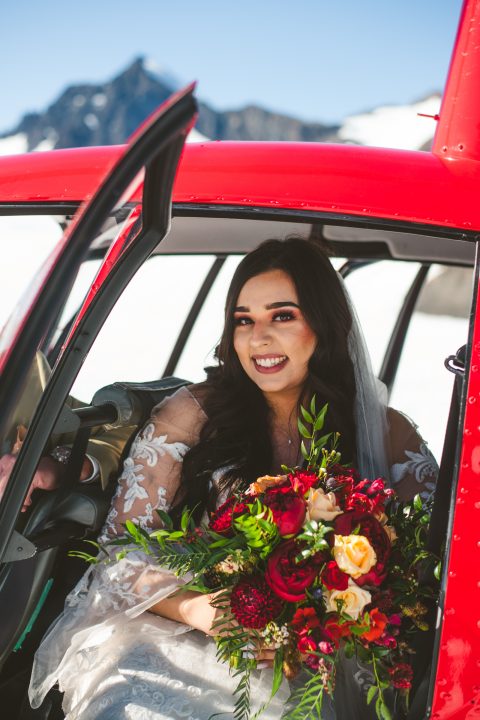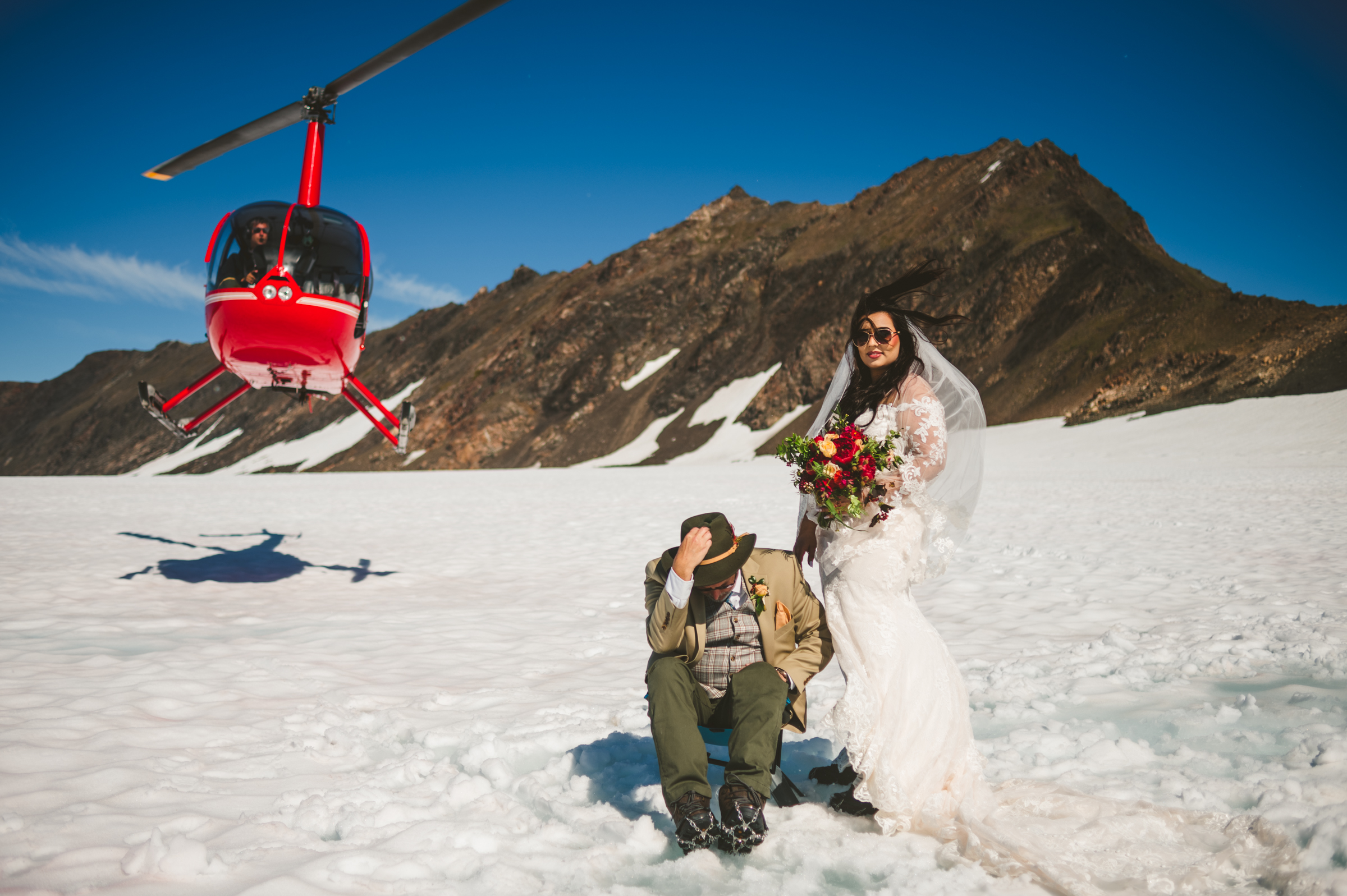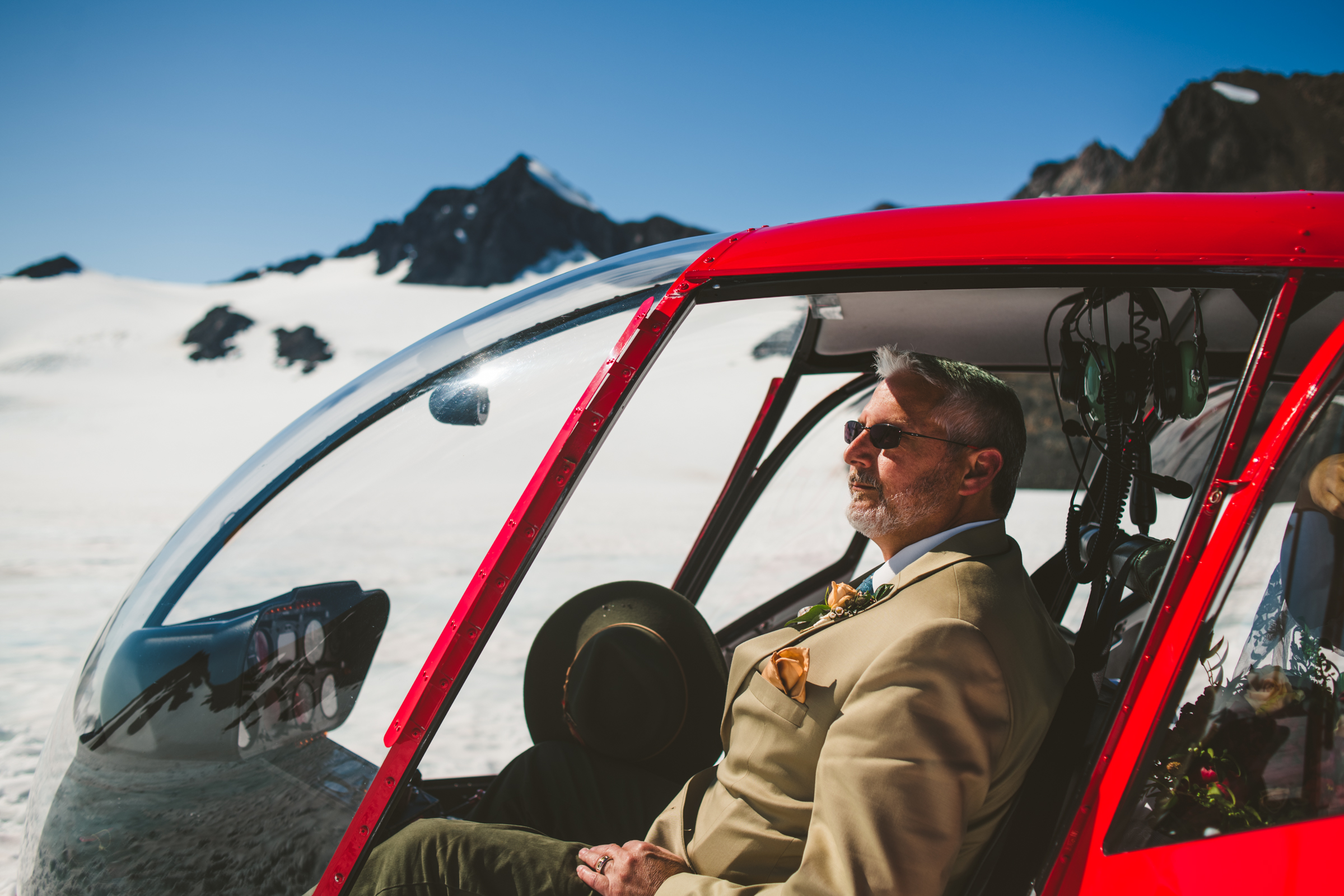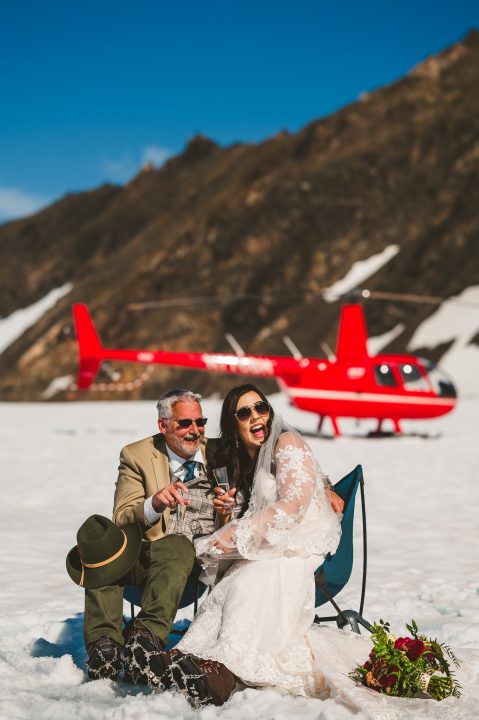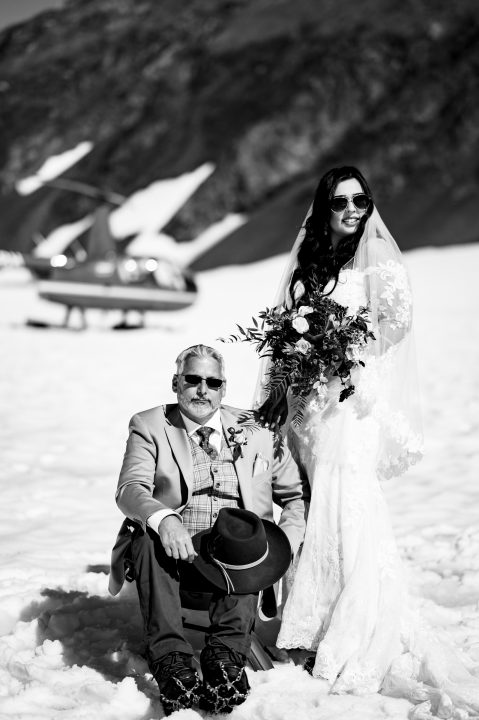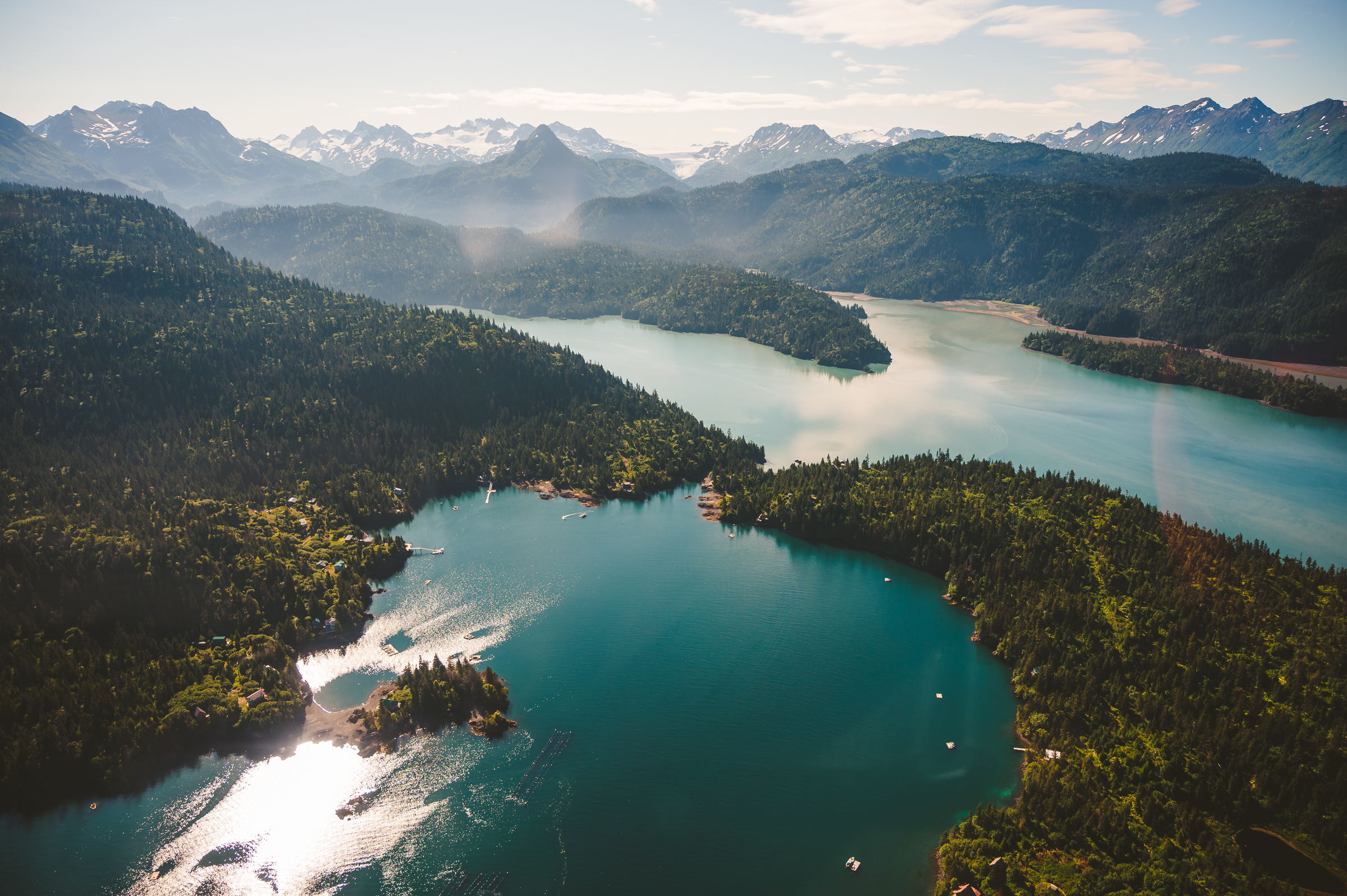 The town of Seldovia, Alaska sits across the bay from Homer & we flew over it on our way up to the glacier. Seldovia is only accessible by boat or plane and has a year round population of 300. There are some really incredible lodging options you can rent for a weekend long elopement in this part of Alaska!
Looking for lodging options for a micro wedding in Alaska? See my blog post featuring the 25+ Best Small Wedding Venues in Alaska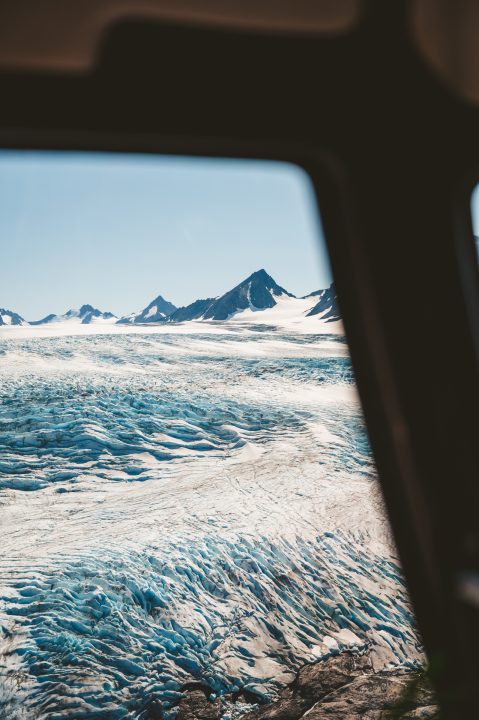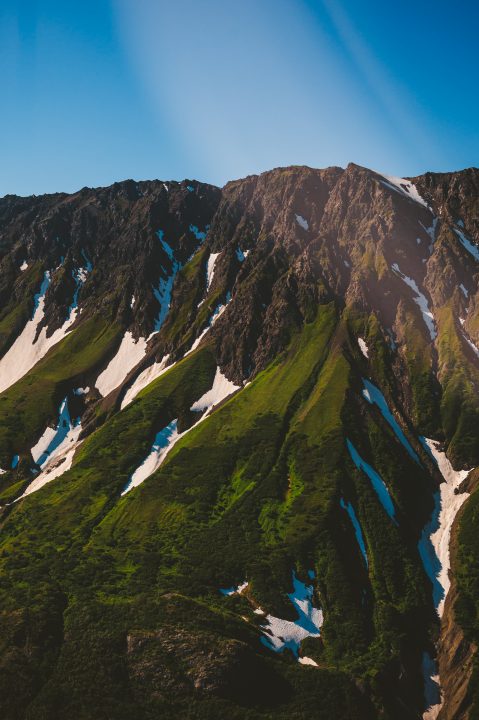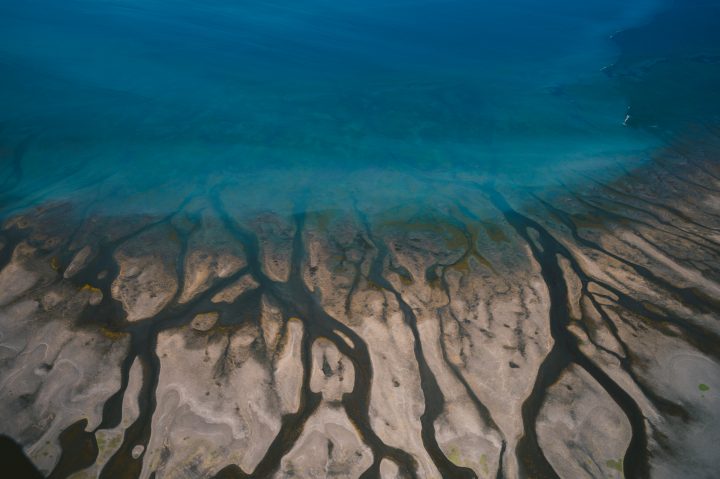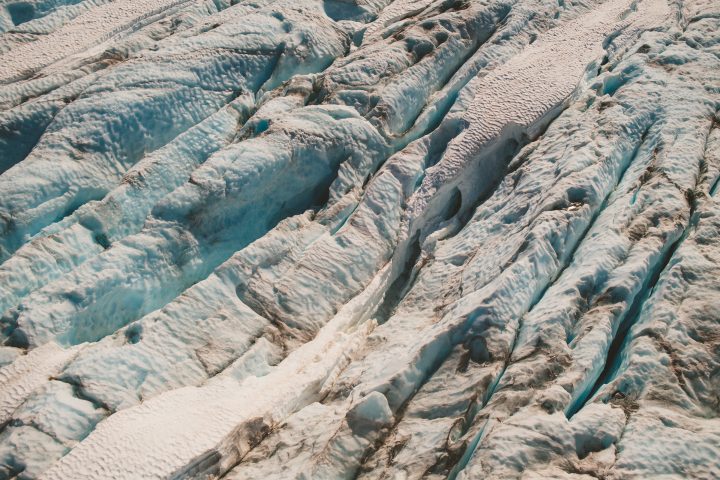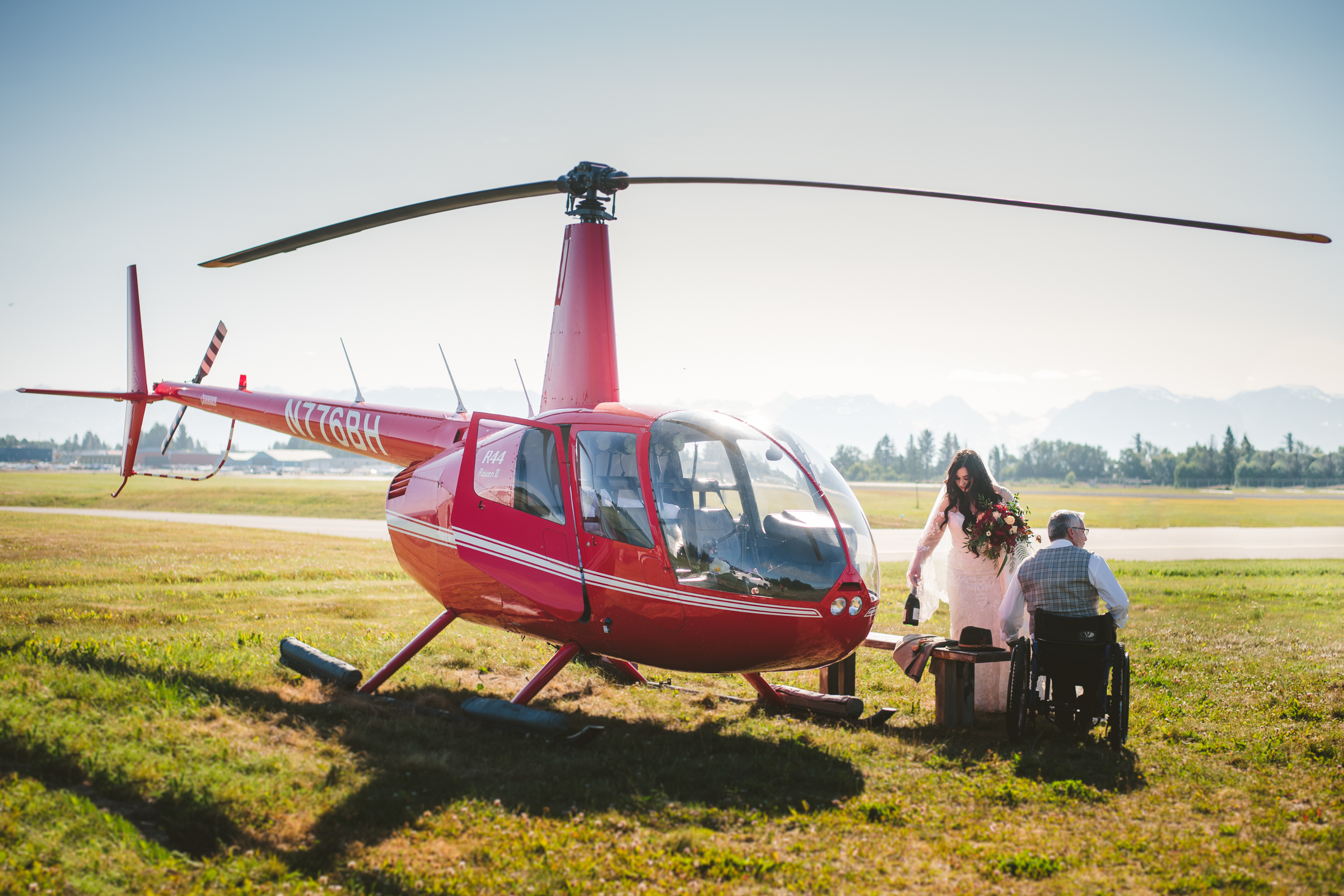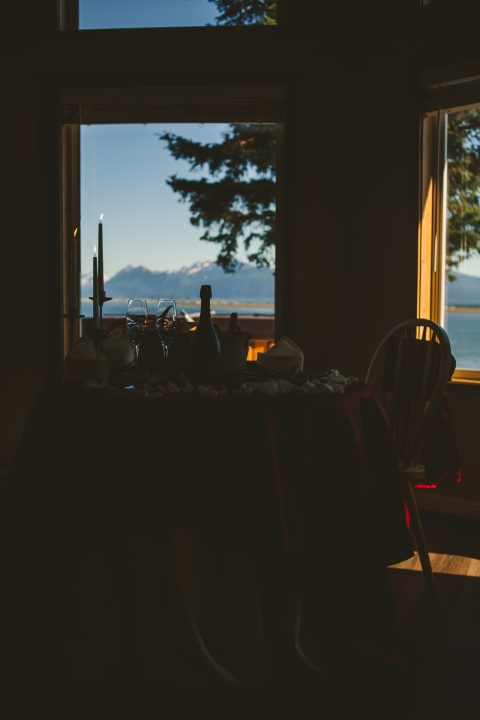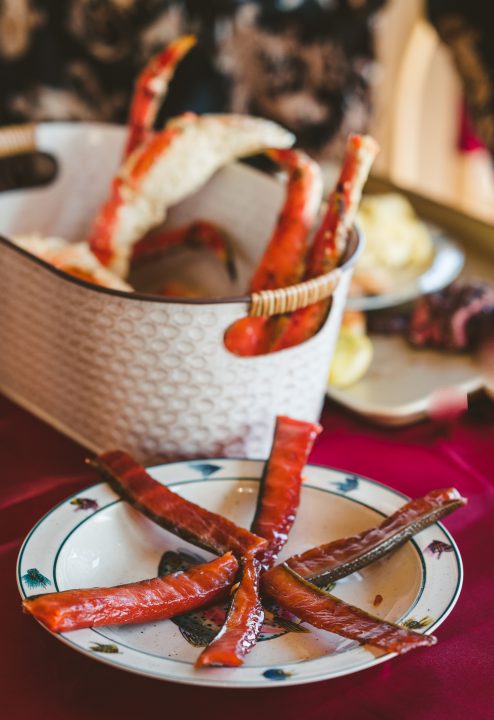 Ariana & Dean ended their elopement day by enjoying amazing local seafood at their airbnb. Check out those views from the living room of their house rental!
Alaska Helicopter Elopement Resources
Denali Region – Denali Air
Seward & Kenai Fjords – Seward Helicopters
Homer – Alaska Ultimate Safaris
Girdwood – Alpine Air Alaska
Alaska Elopement Resources
I am so excited to be offering all inclusive Alaska elopement packages as well as Alaska photography packages for summer 2022 and 2023! I grew up spending summers exploring the heck out of this incredible state and I have a long list of places that would be absolutely amazing for your adventure elopement or intimate wedding! If you're considering eloping & love big mountains, glaciers, forests and wide open spaces, Alaska is such an awesome place for your elopement! The landscape in Alaska is amazing! You can have your elopement ceremony on a glacier via a helicopter and then fly over a volcano before landing on a mountain peak for a picnic or celebratory champagne toast. I'm booking just 15 elopements for the 3 months I'm there each summer. If you're hoping to elope or have your intimate wedding in Denali National Park, The Kenai Peninsula, Wrangell St Elias NP , or any of the many other epic spots Alaska has to offer…. Get in touch with us as soon as possible! I'd love to help you plan your day!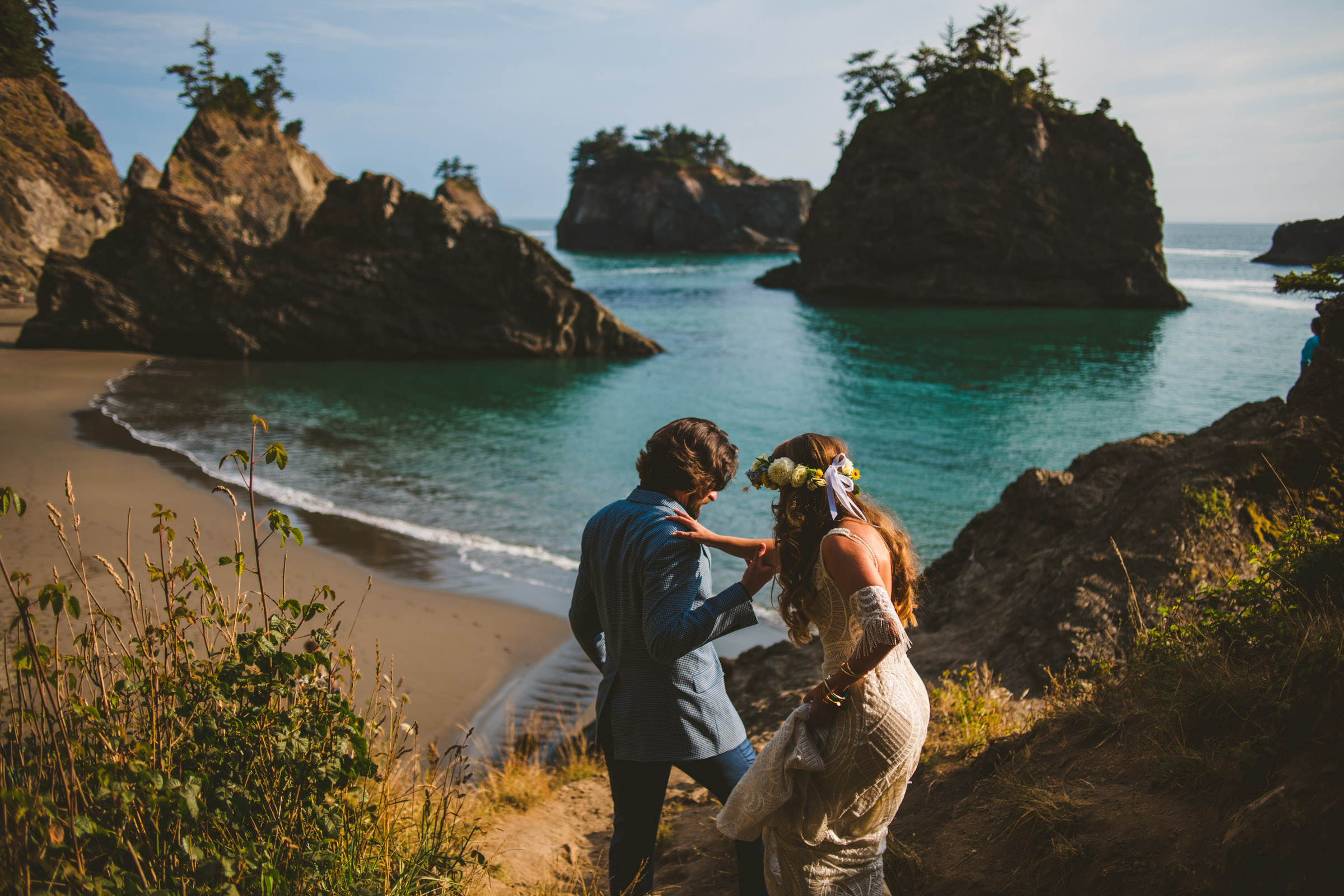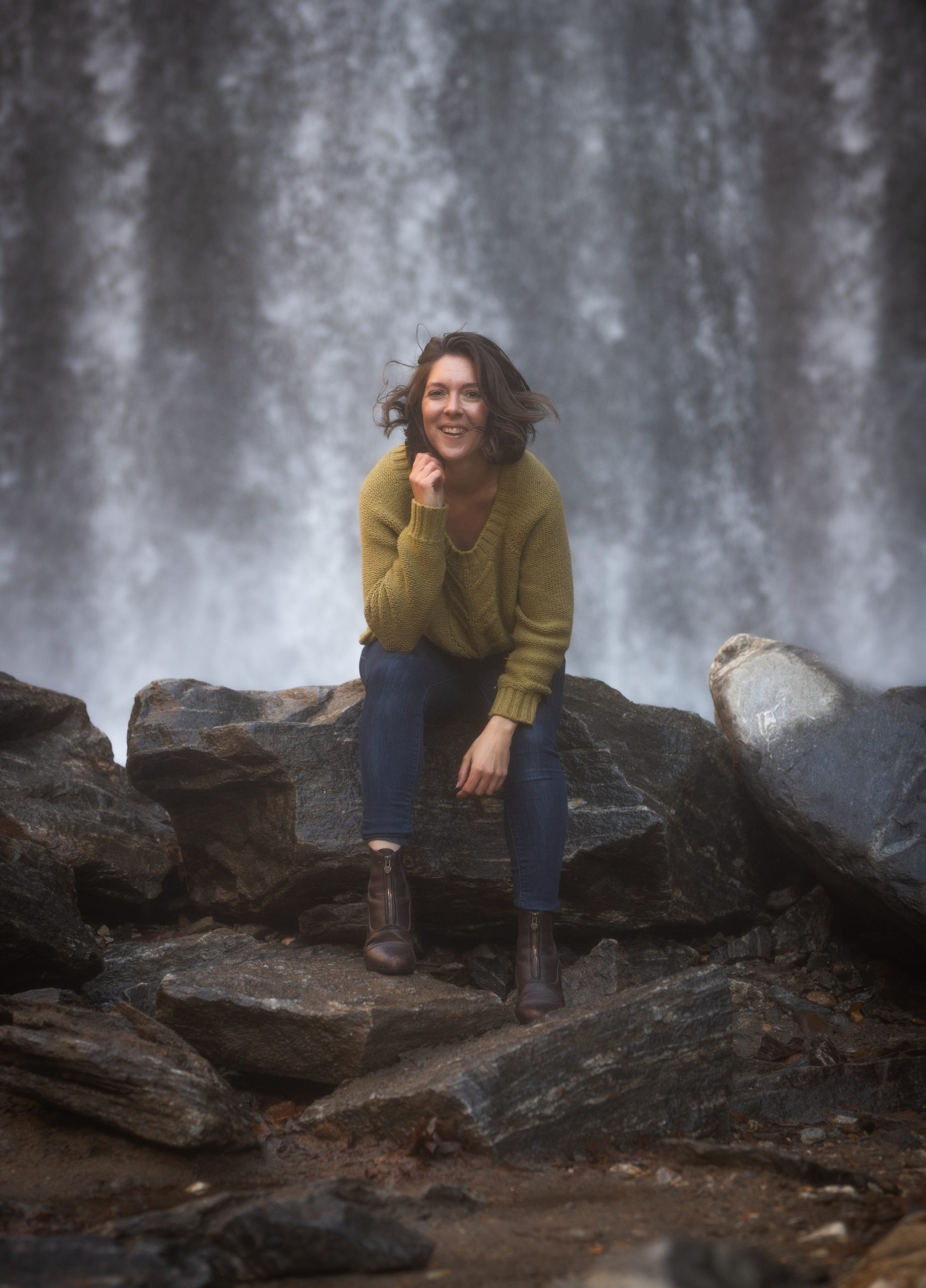 As an elopement photographer and outdoor enthusiast I get absolutely giddy with excitement when helping fellow adventure seekers, travelers, dreamers & fun-loving couples plan their experience based, intentional wedding days.
I live on the road full time traveling the country in my dream home on wheels – a 38' long fully off grid, converted bus.
Some of my favorite adventures include: Backpacking and ice climbing in Alaska, hiking the Napali Coast on Kauai, trekking in the jungles of Costa Rica.