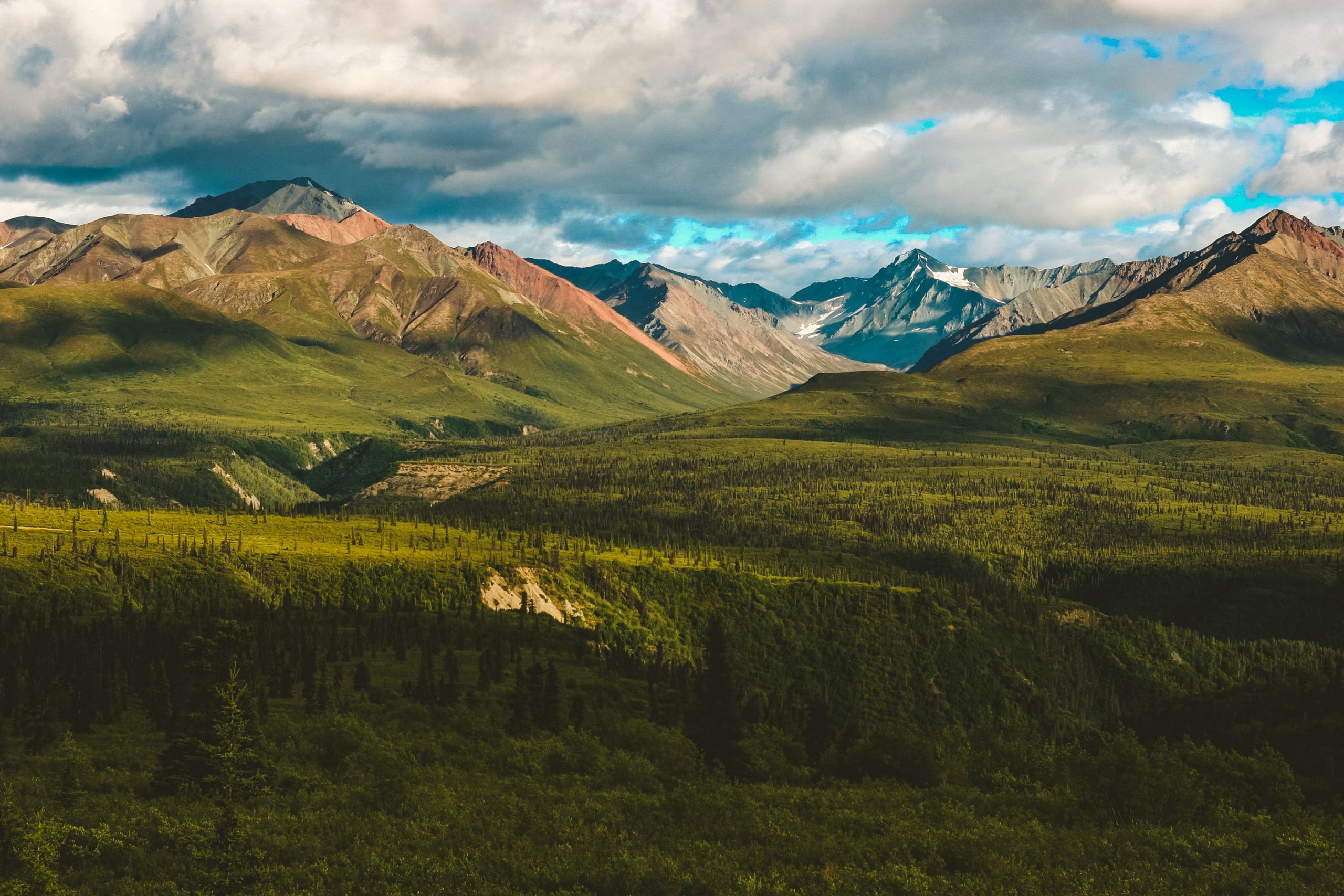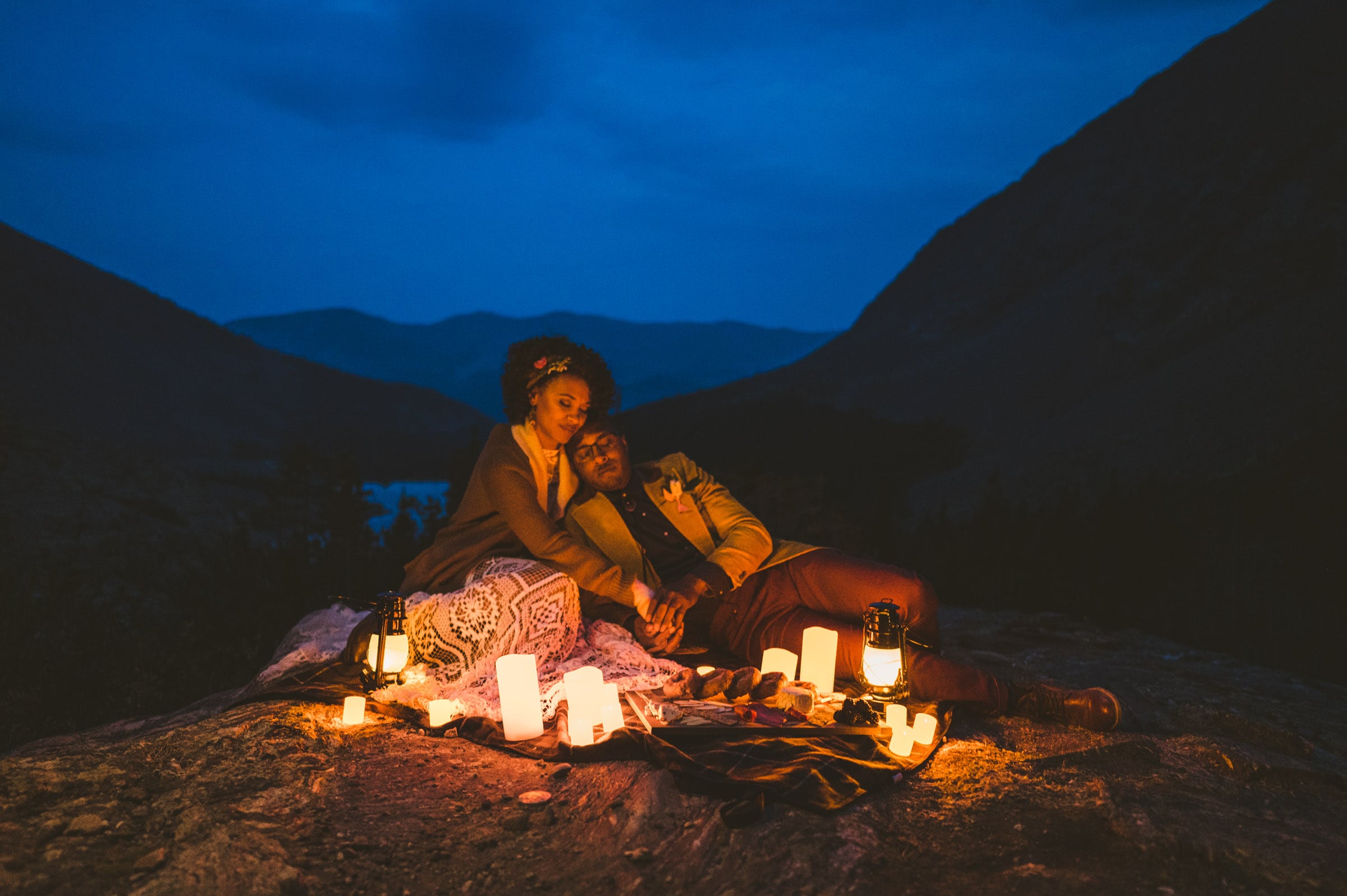 Alaska Elopement Planning Guide: Where to Stay, What to Do & More!
First things first, you might be wondering:
I'm going to go ahead and make a bold statement… You should have an Alaska elopement because there is absolutely no where else in the United States that offers the same variety of unbelievable terrain that Alaska has. Alaska holds some of the most incredible elopement locations on the North American continent. From epic glaciers and mountain tops, to fantasy-like islands, beaches and lush forests, Alaska is an adventure-lover's playground. Activities like ice climbing, kayaking, dog mushing, helicopter rides, and all the hiking you could ever want are accessible throughout the massive state. Not only can you get married in Alaska, but make the trip worth it and make a vacation or honeymoon out of it as well!
The wildlife and scenery here is like nowhere else on earth. Polar bears, moose, elk, wolves, and even whales are just a few of the amazing animals you can catch sight of here. 54 million acres of the state are designated as national parks, not including the nature preserves, state parks, Bureau of Land Management areas, and other public lands. The scenery throughout the state ranges from tundra plains to mountains and beaches, providing a wide variety of stunning backdrops for your special day.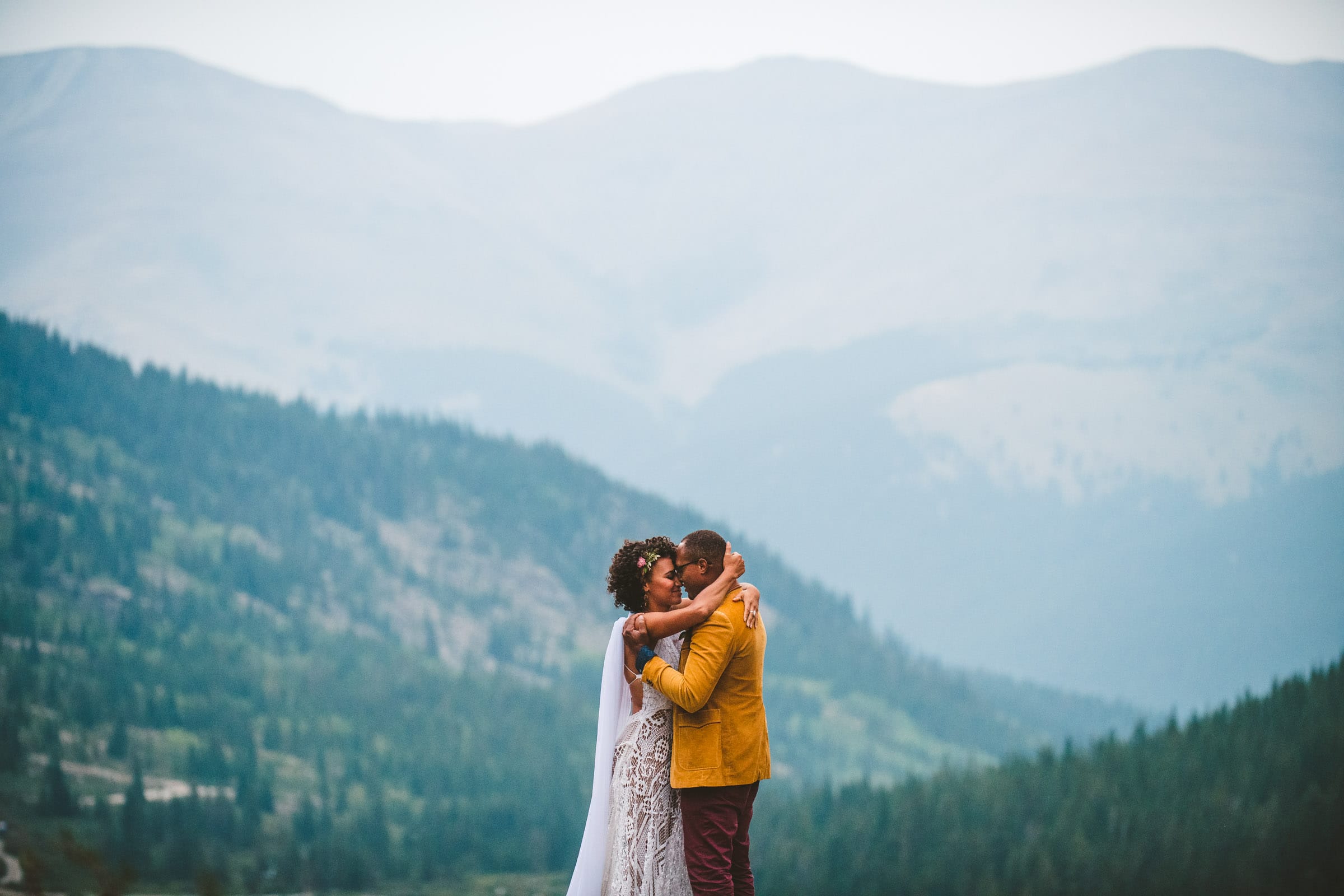 How to Get Married in Alaska
Alaskan marriage laws are similar to those in most states. Any two people over the age of 18 may apply for an Alaska marriage license Licenses are valid for 3 months from the date of issue and cost $60. Two witnesses must be present and the ceremony must be officiated by a marriage commissioner. If you are eloping in Alaska and would like one of your friends to marry you, this is entirely possible with just a few steps.

Because Alaska has a 3 day hold it's important to plan accordingly and arrive 4-5 days prior to the date you'd like to get married.

As your Alaska elopement photographer I can connect you with an amazing officiant who can legally perform your ceremony. If you're considering a helicopter charter I know a couple helicopter pilots who are ministers in the state of Alaska & will happily marry you & your fiance' on a glacier!
Something to keep in mind; if you want to have less to worry about during your elopement in Alaska, you can always get legally married in your home state and then celebrate your elopement with an amazing adventure and vows exchange in Alaska. But having an Alaskan marriage license can be a pretty cool perk! In Alaska you can also get marriage certificates which are sort of like certified copies of your marriage license.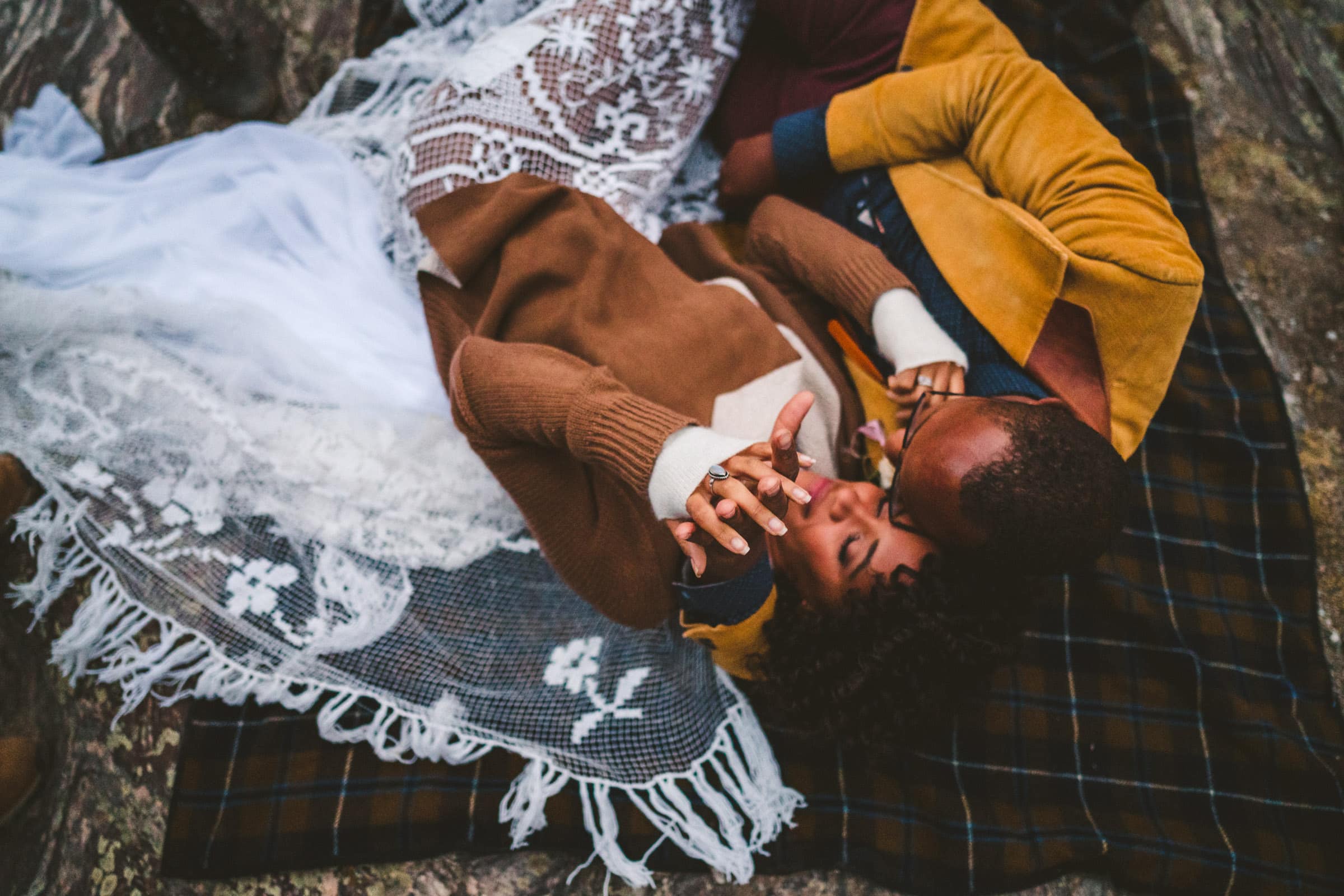 When You Should Elope in Alaska
When you should elope in Alaska is mostly based on the location and activities you plan on. Summer days are very long and fairly warm, with highs being in the 60's in most of the state, though it can be much warmer or cooler. Most adventure options are available during the summer from June-September, as winter makes things less accessible due to inclimate weather and many more hours of darkness. August is probably my favorite month as it's still warm but the evenings start getting darker and by the end of August you have opportunities to see the unforgettable northern lights.
Winter may be for you however, if you want to include any winter sporting activities, like the state sport of dog mushing or skiing. You could even take a train ride aboard the Alaskan Railway! Locations may differ, but generally September is the best time to catch the stunning fall colors. Weather does vary greatly from region to region because of the vastness of the state of Alaska, so make sure you do research on any specific regions you have in mind. For example the coast near Homer will be more mild than up near Talkeetna or Fairbanks.

As your Alaska elopement photographer, I'm always happy to help guide you and give you suggestions on where and when to go!
The Best Elopement Locations in Alaska
With Alaska being such a large state, it may seem a daunting task to select one location out of all of the great ones. Glaciers populate the landscape, along with many mountains, lakes and plenty of greenery and wildlife. Alaska is a great place to choose for a wedding day you will never forget. Each area of Alaska has its own unique features and just a few paragraphs will never do them justice, but below is an introduction into some of the best places in Alaska to elope.

Denali National Park is a 6 million acre national park in the south-central part of the state. Named after the tallest peak in North America, Denali, Denali National Park is one of the most popular parks in Alaska. The park is contained in a section of the Alaskan range and has glacial valleys and rivers, as well as many glaciers themselves.
Hiking here is plentiful in Denali, with trails of all difficulties through varying scenery. From tundra with mountain views to mountain lakes or even steep hikes that lead to sweeping vistas, a totally unique and beautiful backdrop for your wedding is not hard to find. Activities like biking and jeeping are also available, and for those who want a truly unforgettable experience, flightseeing can take you to rarely touched glaciers for a mid-summer snowball fight or even an overnight stay on a glacier.

For an incredible remote & luxurious experience you can get married in the heart of Denali at an epic location called the Sheldon Chalet – only accessible by helicopter.
For more Information on eloping in Denali:
Wrangell-St. Elias National Park and Preserve
Wrangell-St Elias National Park and Preserve is the largest national park in the United States and is known for its numerous, massive glaciers, wildlife, and even volcanoes. Hiking mountains, skiing glaciers, or rafting rivers is a great way to experience Wrangell-St. Elias as is flight seeing. Four mountain ranges collide here, but the real stars of the show are the glaciers. Glaciers take up as much as 35% of the park and provide much of the stream and river water in the area. Mount Wrangell is a still-active volcano that mostly spews steam from its vents near the peak, and is the only active volcano left in the range. With 9 out of 17 of the tallest peaks in the United States, the perfect scenic backdrop for your special day will not be hard to find.

Craving a exclusive & remote destination wedding experience with a group of your closest friends and family, check out Ultimata Thule Lodge
For more Information on eloping in Wrangell-St. Elias Mountains: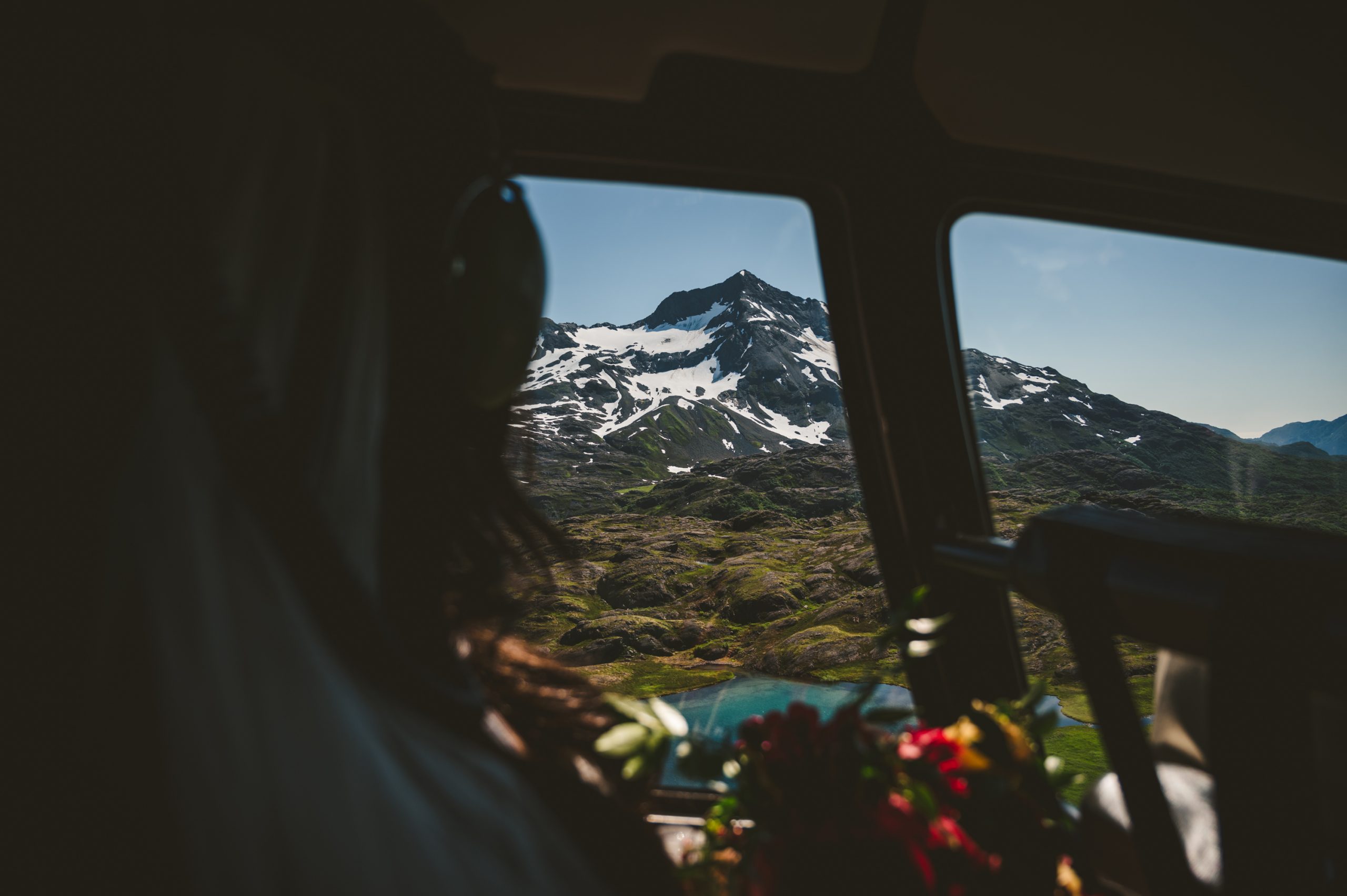 Hatcher Pass
Hatcher Pass is an area in the Talkeetna mountain range. Being only an hour and 20 minutes drive from Anchorage it makes it one of the more accessible locations for your Alaska elopement. Those famous photos of the red cabins sitting amongst tall mountains? Those are on Hatcher Pass at the lodge there and you can rent them for your own elopement: Hatcher Pass Lodge. This is a great summer destination for hiking and biking as well as simply enjoying the scenery. The valley floor starts at approximately 1,000 feet above sea level and Hatcher Pass takes you up to more than 6,000 above sea level. This makes for gorgeous mountain views that stretch on for miles.
Hatcher Pass is also a fantastic location for an adventurous winter elopement. With one of the earliest snowfalls in the state, this is a great place to ski or snowboard, snowmobile, or snowshoe. Groomed trails are maintained throughout the winter, but backcountry options abound. Even multi-day treks to secluded mountain huts are available for those experienced and brave enough.
Girdwood
Originally called Glacier City and founded as a supply camp for miners, today Girdwood serves as a basecamp for snowsport enthusiasts, hikers, rafters, and other adventurers. Only an hours drive from Anchorage and situated right by Alyeska Resort it's a fabulous easily accessible option for your Alaska elopement. For couples who don't want to hike the option to take Alyeska's Tramway opens up a world of possibilities for a gorgeous elopement ceremony. Girdwood has plenty to see year-round. Girdwood has many accessible glaciers, leaving it one of the best bets to observe these colossal features. Activities such as paragliding, climbing, rafting, sled dog trips and of course hiking are available during the summer for those who are adventurous enough. Or take the tram to the top of Mount Alyeska for an easy way to the stunning backdrop of the Turnagain Arm and several glaciers.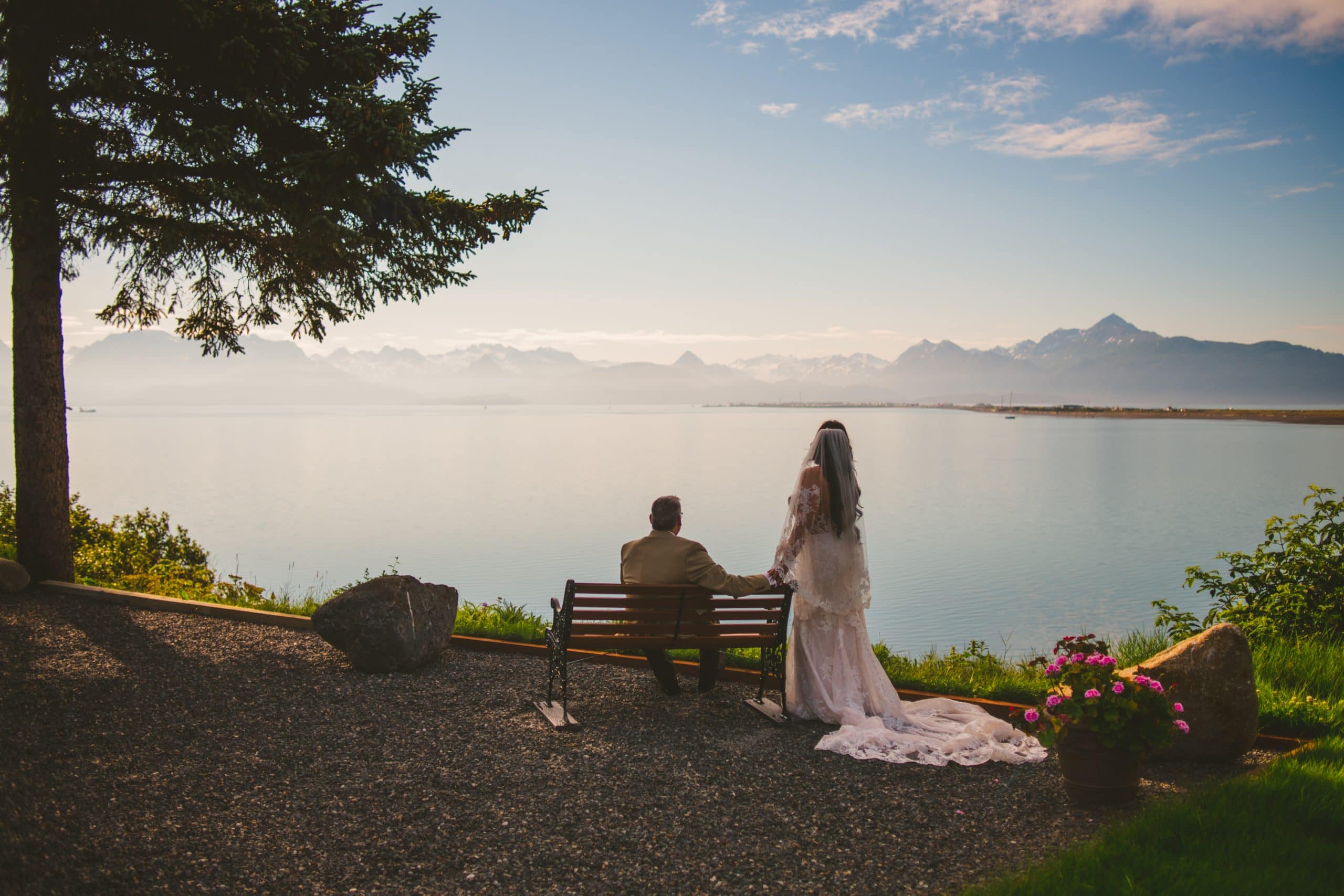 Kenai Peninsula
The Kenai Peninsula is a mountainous area that extends 150 miles into the sea, surrounded by Cook Inlet and the Prince William Sound, much of which is enclosed in Kenai Fjords National Park. There are 3 locations on the Kenai Peninsula that I think are some of the best places in Alaska to elope; Seward, Coopers Landing and Homer. The Kenai Peninsula is located just south of Anchorage, making it an easily accessible location for your alaska elopement. The northern coast is a marshy area with mountains and glaciers in the south-east and some larger lakes towards the center. Kayaking and boating here are popular, as you can approach many glaciers through many fjords. This can make for an incredible elopement experience! Who else can say they got married on a glacier?
The Town of McCarthy
McCarthy is situated deep in Wrangell-St. Elias and offers great options for seeing glaciers up close through hiking, backpacking, or by plane. Other popular activities include packrafting, alpine hikes, and a visit to the abandoned Kennicott Mine. Root Glacier trail may be the best in the area, taking you on Root Glacier and providing views of surrounding mountains and glaciers. Glacial lakes and streams criss-cross the glacier in summer and the moderate hike will reward you with views of the 6,000 foot Stairway icefall and a good chance to see bears foraging in a nearby moraine. Read more about eloping in McCarthy in my Wrangell-St. Elias elopement guide.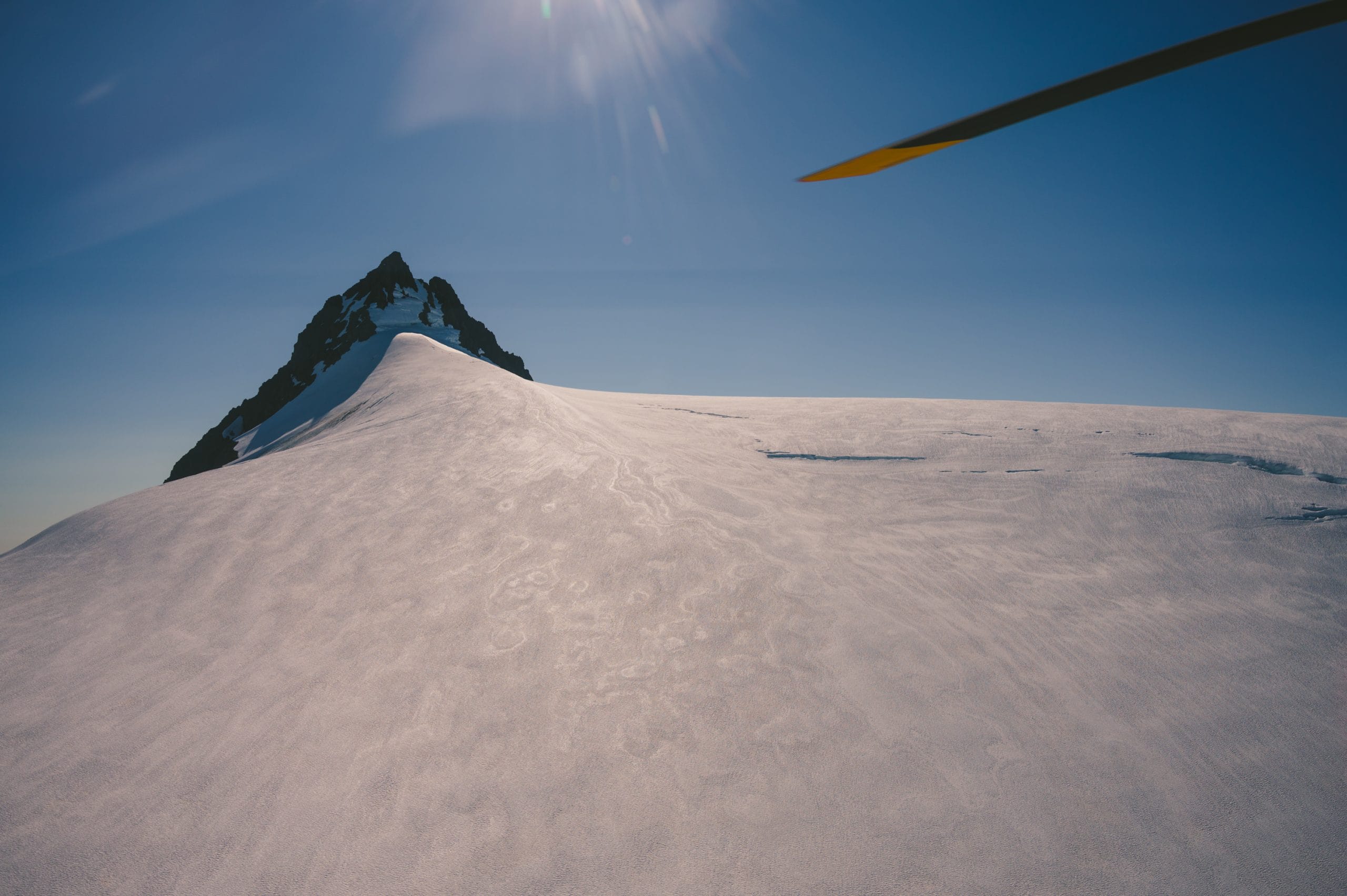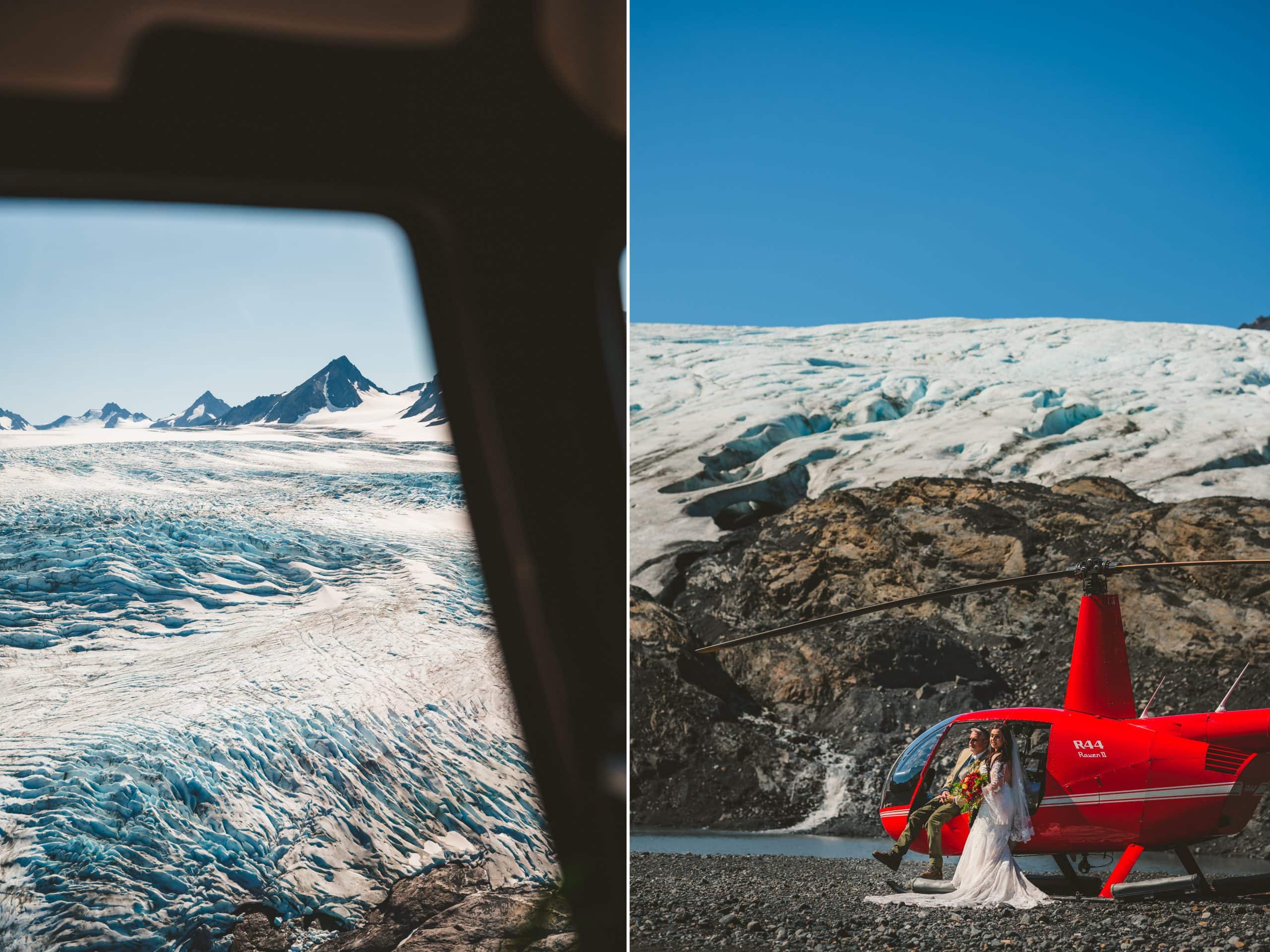 Things to Do for Your Adventurous Elopement in Alaska
Your wedding day is one you should never forget, so why not do it Alaskan style? Opportunities here are like nowhere on earth, so why not take advantage of it? Helicopter or bush planes can take you places otherwise inaccessible. You could kayak, packraft, go ice climbing, hike glaciers, or combine a few of these for the ultimate experience and make for some jaw-dropping photos. If you would like something more low-key, the Alaskan Scenic Railway
Take a Ride in a Helicopter
Helicopters not only can take you flightseeing but can also take you on top of glaciers or high alpine locations. From short rides to all day flights and tours, a helicopter is one of the best ways to enjoy the beauty of Alaska from a birds eye view to up close and personal. Many companies even offer elopement packages with multiple landings at different locations to make the most of your special day and offer various locations for photos.
Go Ice Climbing
Ice climbing can often be combined with flightseeing and landing on a glacier, though there are many other options for approach hikes, and even multi-day adventures. Trips are guided by professionals and can accommodate any level of experience. If you are an experienced ice climber, look into areas like Eagle River and Symphony Lakes, Hatcher Pass, and Purinton Creek.
Hike an Alaskan Glacier
With an estimated 100,000 glaciers across the state, there is no shortage of unique glacier locations for your elopement waiting for you. Some easily accessible glaciers such as the Exit Glacier or Byron Glacier, both in Kenai Fjords National Park may be better for an elopement due to the shorter length of hike. If you are down for more of a trek, Exit Glacier's Harding Icefield Trail takes you past a waterfall and up to the top of the glacier.
A train ride is not typically what you think of when you think of Alaska, but this is actually a fantastic way to see the beauty of Alaska. Many routes take you away from any road or trail, leaving the railway the only way to catch many of these stunning views. Some tours can be taken in one day, for example, from Anchorage to Denali, but other packages last days with included bus tours and lodging.
Tour by Air in a Bush Plane
Touring by air is one of the best ways to see Alaska. Floatplanes can take you to gorgeous mountain lakes or to the tops of mountains and glaciers. They can take you above even the highest mountains giving you a birds eye view of Alaska's stunning peaks and glaciers.
For the brave, fly-in hiking and backpacking trips, rafting, camping, and even drop-offs at remote cabins are available.
Kayaking and Packrafting
Kayaking and packrafting are popular activities in Alaska, and for good reason. With miles upon miles of untouched rivers, streams, lakes, and coastline, these are great, affordable ways to still have a unique and adventurous wedding. Glacial lakes and streams are gorgeous with bright blue colors reflecting up from the ice, making for wonderful scenery for some adventurous photography. Kayaking can take you to otherwise inaccessible glaciers along the coastline, and even into some glacial canyons. Packrafting lets you enjoy hiking and rafting in one experience. A light raft can be carried in a backpack up river or glacial canyon, then inflated and ridden down the river or canyon. Or you could take a pack raft on a hike to a remote lake and enjoy the scenery from a different perspective.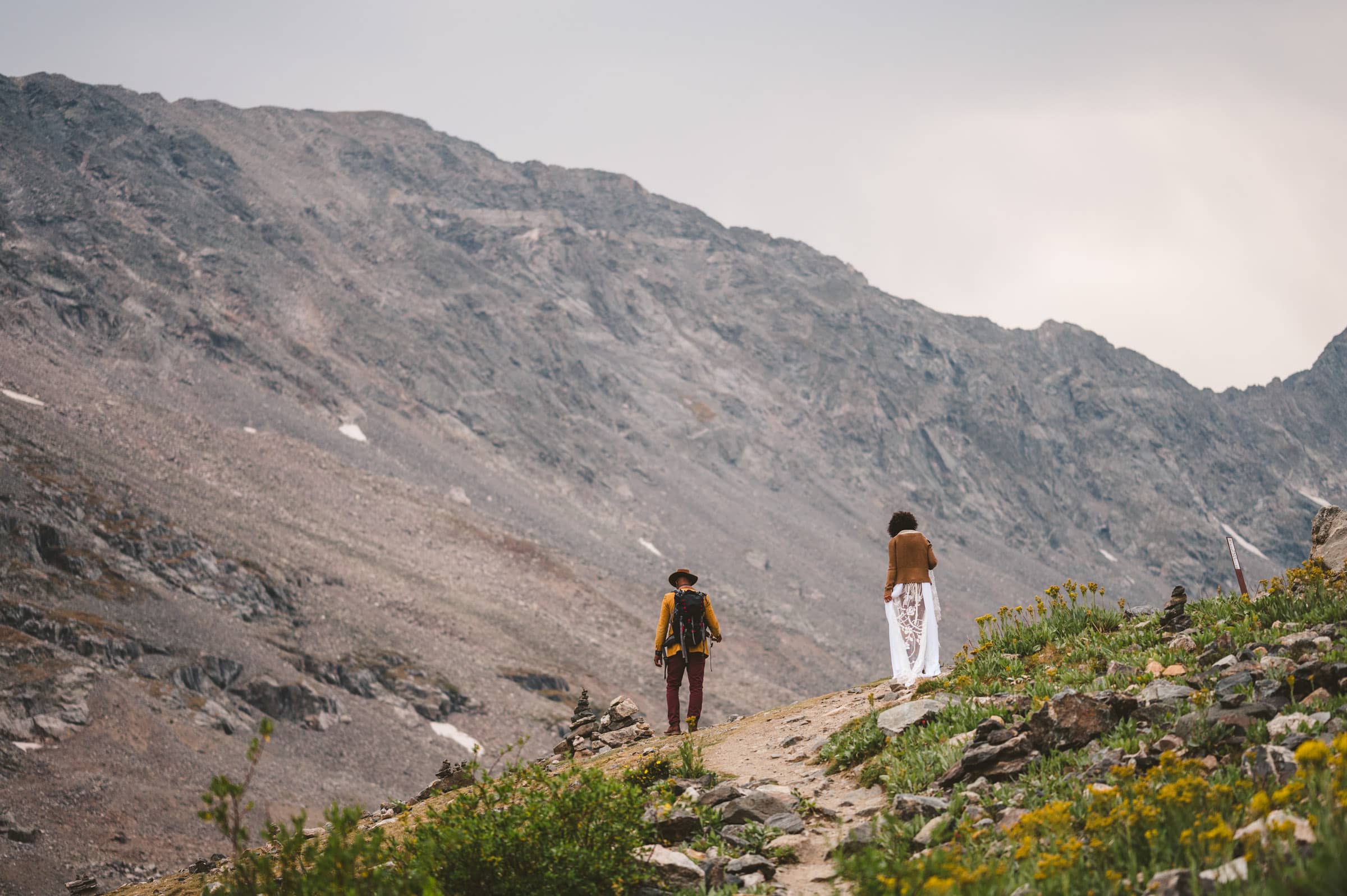 Alaska Elopement Checklist:
Book Your Most Important Vendors: I know I might sound biased here but booking your Alaska elopement photographer should be one of the first things you do because it will save you so much time planning your elopement day! Many elopement photographers like myself offer planning help & can direct you towards your dream location, lodging, other elopement vendors & craft an epic timeline!


Choose Your Alaska Elopement Location: Alaska is a big state so one the first things you should do is decide on a general area to elope. This will make it easier to move onto the next step.


Book Your Lodging, Flights & Elopement Day Activities: Once you have a general area in Alaska narrowed down for your elopement you can now focus on your flights, lodging and any tours/activities you want to ejoy on your elopement day.


Don't Forget to Get Any Permits Required & Arrive in Time to Get Your Marriage License! If you're eloping in a State or National Park you may need a permit, make sure to apply for these at least 60 days in advance. Arrive 4-5 days prior to your elopement so you can apply for your marriage license & then pick it up after the 3 day wait.


Your Elopement Day is Here: Enjoy the hell out of the amazing experiences you've planned on the day your marry your best friend!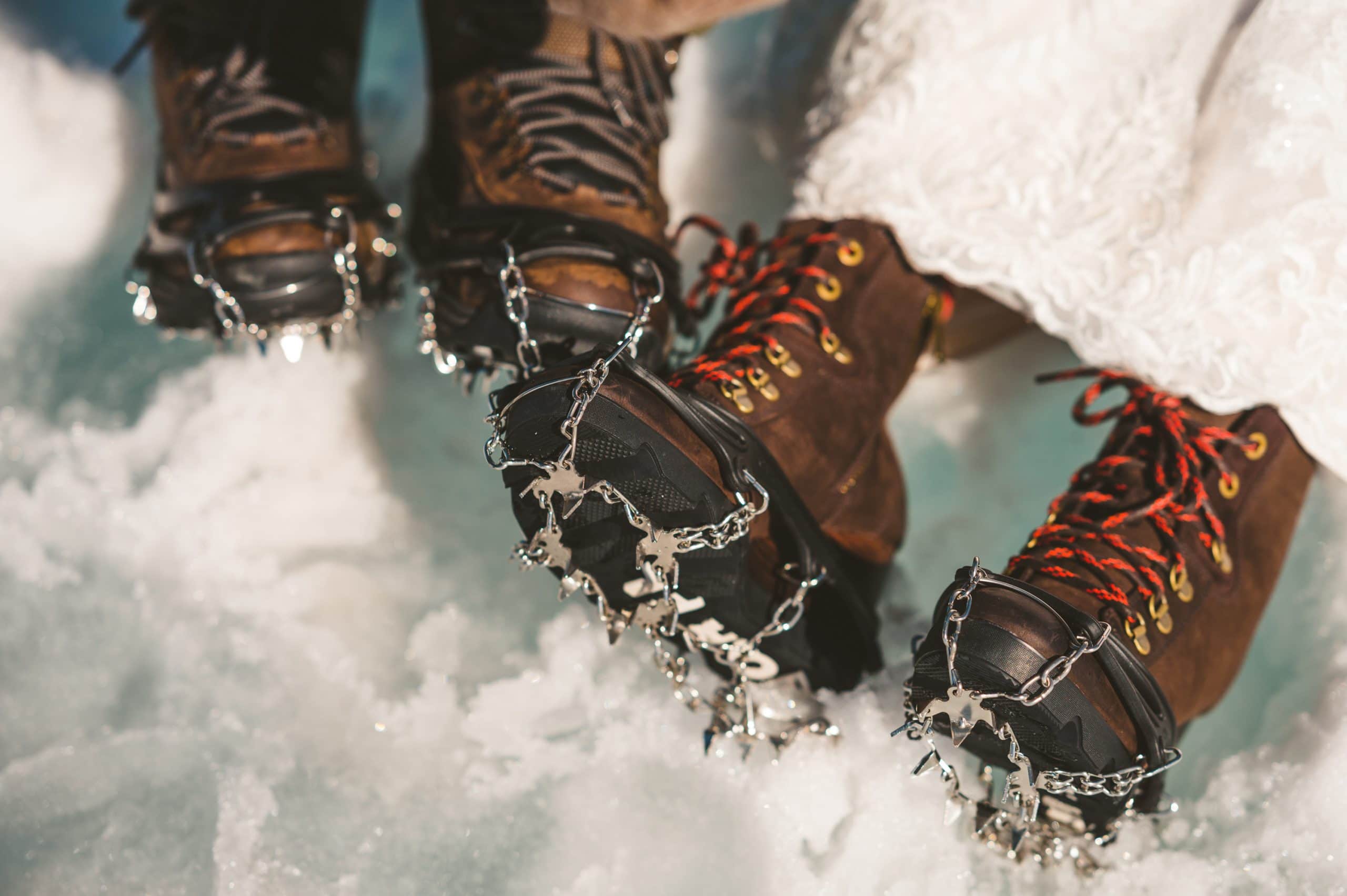 Gearing Up for Your Alaska Elopement
Getting ready for an elopement in Alaska can be a bit more difficult than other locations due to the different terrain and ever-changing weather. In many areas of Alaska, rain can happen at any time, so make sure you bring a good rain jacket. Many layers, preferably synthetic or wool, are important, even in summer, to keep you warm and dry. If you decide to hike in your suit or dress, make sure it is comfortable and allows freedom of movement.
Choosing appropriate footwear is also necessary as many areas are icy, muddy, wet, and otherwise slippery. Microspikes are a worthwhile investment if you plan to spend much time on any glaciers. Just remember to be prepared for anything that Alaska throws at you and do research on specific areas so you know what to expect. Even if you are super prepared, just know that you may get a little wet, a little muddy, or even a little cold. It's all part of the adventure of Alaska and you need to embrace that!

Don't worry – I provide all my couples with a helpful packing list for their Alaska elopement
Traveling to Alaska
Though driving is a realistic possibility (hello epic road trip!), the best and fastest way to travel to Alaska is by flying. The Anchorage airport is Alaska's main entrance by air, but flights can land in places like Fairbanks, Ketchikan, and Jeauno. Flights from Seattle to Alaska are generally the cheapest and most frequent. However, if you don't live in the northwest, Seattle likely isn't the best option. Sites like Kayak, Skyscanner, and Google Flights can help in your search for a cheaper flight. If you fly early in the morning or after major holidays, many ticket prices will be down since this is a down time for the airlines. And always be sure to book far enough in advance to avoid price hikes.
Alaska Elopement Photography Packages
Okay so you know you want to get married in Alaska, whats next?! I'm a adventure wedding photographer who specializes in helping couples plan their elopements in Alaska, around the United States & Worldwide. I would absolutely love to get started helping you plan your Alaska elopement. You can see my starting pricing below, drop me a note & I'll send along my full pricing guide for your Alaska elopement experience!
4 hours of elopement coverage in any area of Alaska (Full Day & Multi Day Coverage Options Available!)
Handcrafted Alaska elopement planning experience with unlimited assistance:

personalized location recommendations and questionnaires
Access to my list of the best Alaska elopement vendors & lodging
permit assistance
customized elopement timeline

Online gallery with full resolution and printing rights
48 hour sneak peak gallery from your Alaska elopement
Starting at $3,000 – Travel fees to ANYWHERE in Alaska are already included
Ready to start planning your Alaska elopement, click the button below to set up a free consult & we'll get started!
An elopement in Alaska should be one of the greatest experiences of your life and you should make the most of it! Alaska is a one of a kind place to elope and your adventure can be whatever you'd like. And don't be afraid to ask for suggestions or help. I'm here to help you make your elopement day perfect!
Looking for more elopement inspiration?!
Check out these related posts: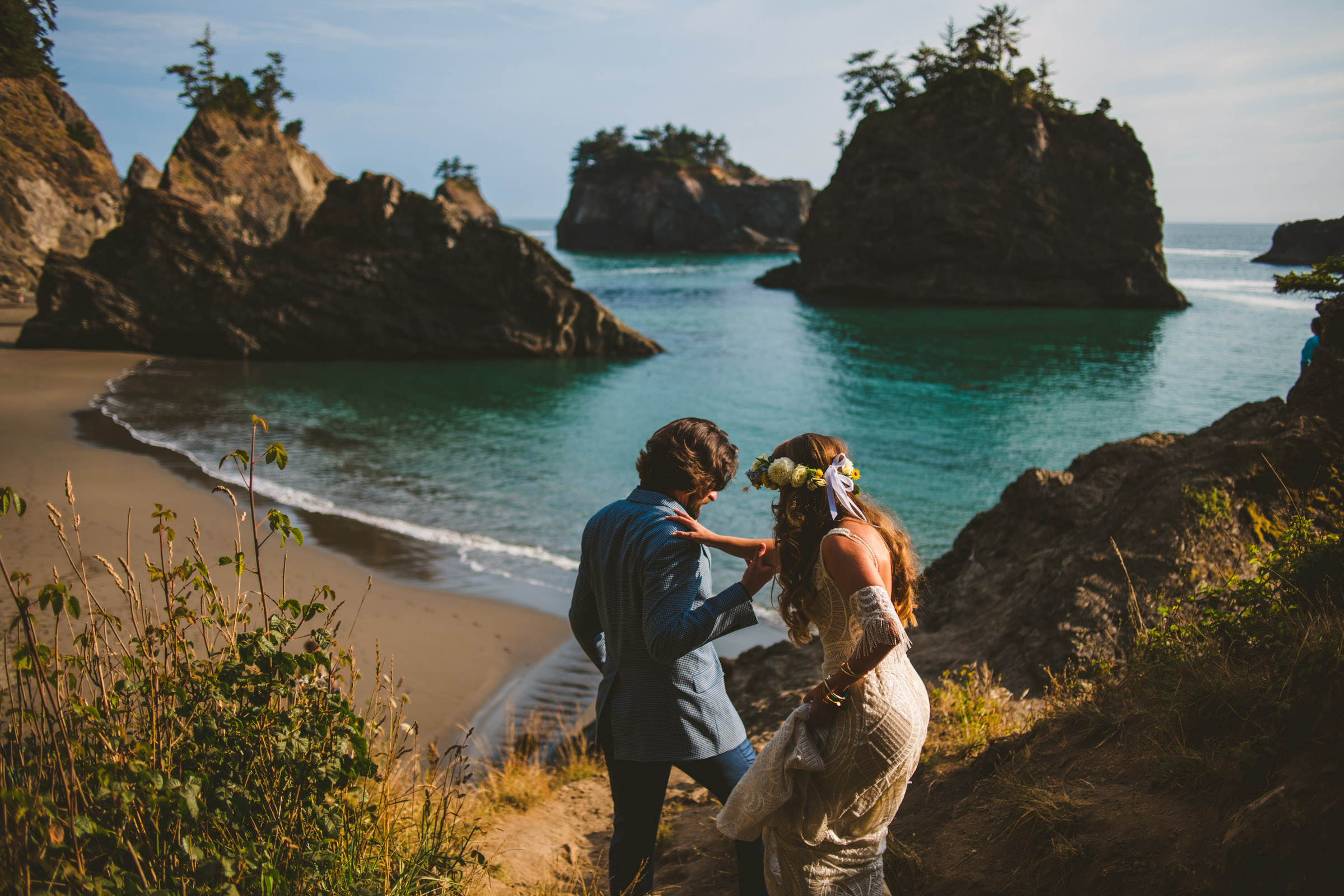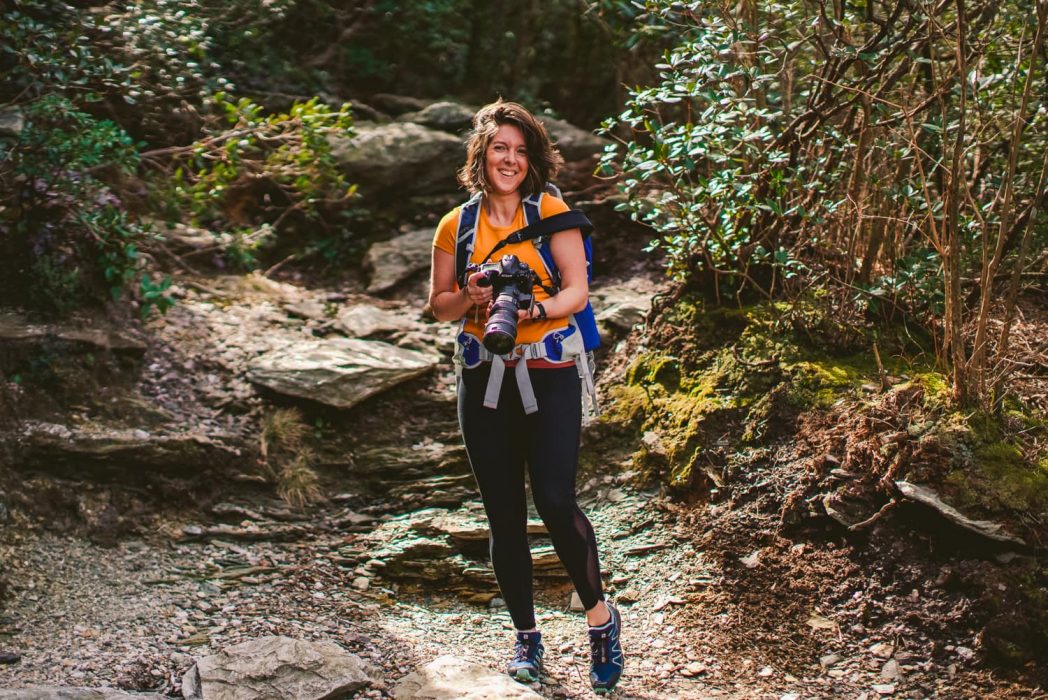 As an elopement photographer and outdoor enthusiast I get absolutely giddy with excitement when helping fellow adventure seekers, travelers, dreamers & fun-loving couples plan their experience based, intentional wedding days.
I live on the road full time traveling the country in my dream home on wheels – a 38' long fully off grid, converted bus.
Some of my favorite adventures include: Backpacking and ice climbing in Alaska, hiking the Napali Coast on Kauai, trekking in the jungles of Costa Rica.