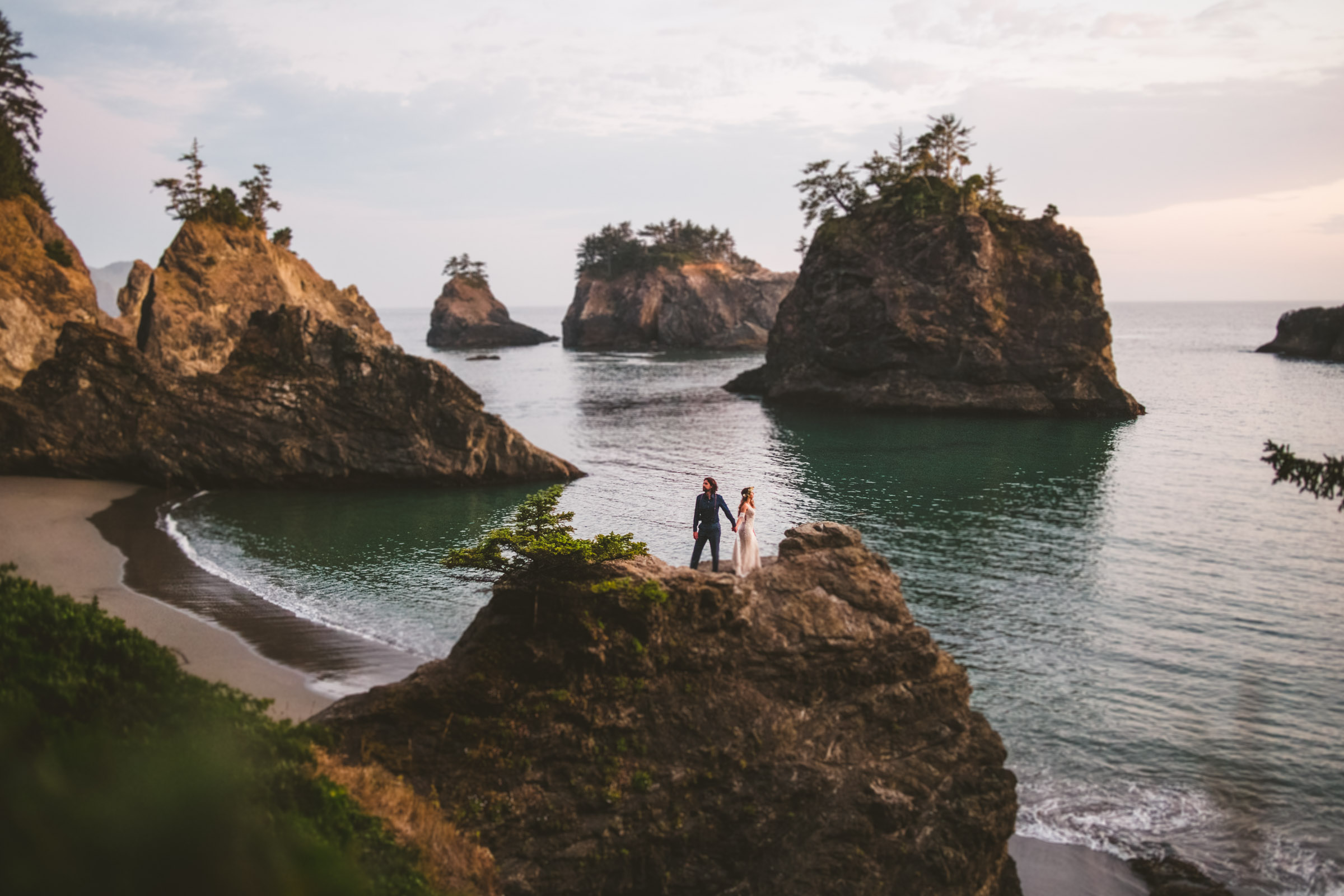 The Best Places to Elope in the U.S. & Worldwide | Comprehensive Guide for Where to Elope in 2022
What is the best location in the world to elope?
There's no really good answer to that question, except for one that you LOVE. The best elopement locations around the world range from sandy beaches and crystal clear water to epic mountain top views to remote glaciers only accessible by helicopter, and these are just a few of the best elopement locations. If you're wondering what the best place to elope in the U.S. or around the world is, you've come to the right place. Whether you're looking for an adventurous elopement location or a more relaxed elopement location, I can help you find the perfect location to suit your needs.
How to Choose The Best Elopement Location for You
Some Tips to Help you Choose the Perfect Location to Elope
When you think of a perfect day together, what do you imagine? Are you waking up in a hut by the beach to the sound of tropical birds and crashing waves, or are you making your way from your tent to a fire to watch the mountain sunrise? What would you like to do together on your elopement day? Would you rather take a long hike to epic vistas or, is a day spent relaxing in a cozy cabin more your style? What about your wedding dinner? Are you content with a simple dinner packed along on your adventure, do you prefer dinner reservations at a nice restaurant or a private chef to prepare a 3 course meal?
It is important to forget about the specifics or logistics of your wedding for a moment, that's what elopement vendors like me are here for!
Instead close your eyes and think about what you truly enjoy doing together! Ask yourselves:
Eloping is so much more than a traditional wedding. With an elopement, you have the ultimate freedom to choose an adventure that you will absolutely love and never forget!
Weather is a factor to consider. Would you prefer the heat or cold? Weather varies by location and time of year, so make sure to consider what time of year you're planning to elope & pick your location accordingly.
Lastly, but most importantly consider what kind of experience you want your elopement to be. Maybe you want to pick a place neither of you has been before so you can experience something new together! Or, is there a location that is important to you because it's where you first met, visited often as a kid, or some other special memory? Would you like the scenery of a national park as the backdrop to your elopement or would you like something more remote with less people around? And how adventurous do you want to get with your elopement? Do you like helicopter or Jeep rides, sailing or diving, or would you rather keep it simple?
There is a lot that goes into choosing the right elopement location after all; it's the most special day of your life, so you want to be sure your location is just right! Hopefully this guide can help you narrow down the options or at least inspire some new ideas for your perfect elopement location.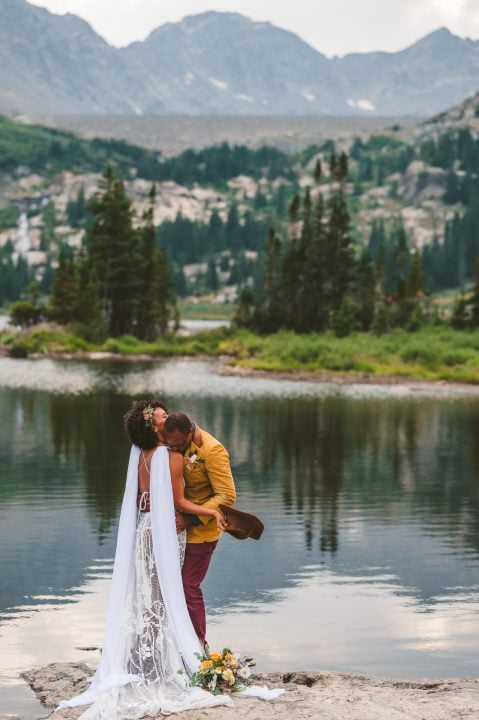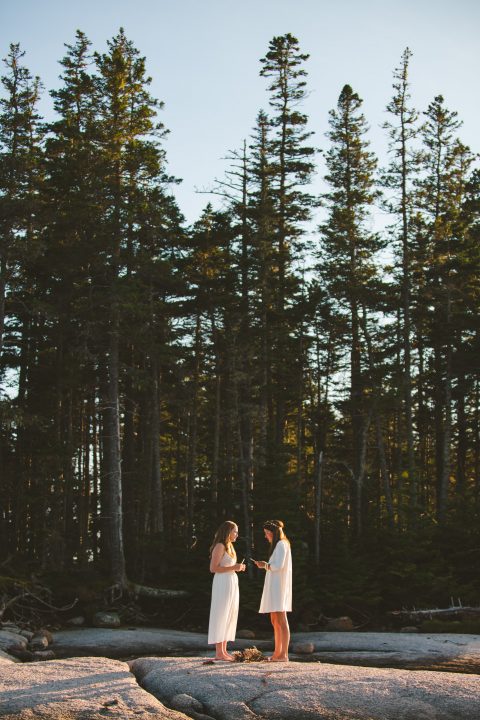 The Best Places to Elope in the United States
The United States has sooo many amazing locations to elope, that it's hard to narrow it down to a few regions. With 62 national parks and countless national forests, BLM land, and wilderness areas, the United States has some of the most diverse elopement locations in one country. From tropical beaches in Puerto Rico, to glaciers in Alaska, islands in Hawaii, towering mountains of Colorado, or the deserts of Utah, there is no shortage of variety when choosing a location to elope in the United States.
AMW Studios Top 5 List of The Best States to Elope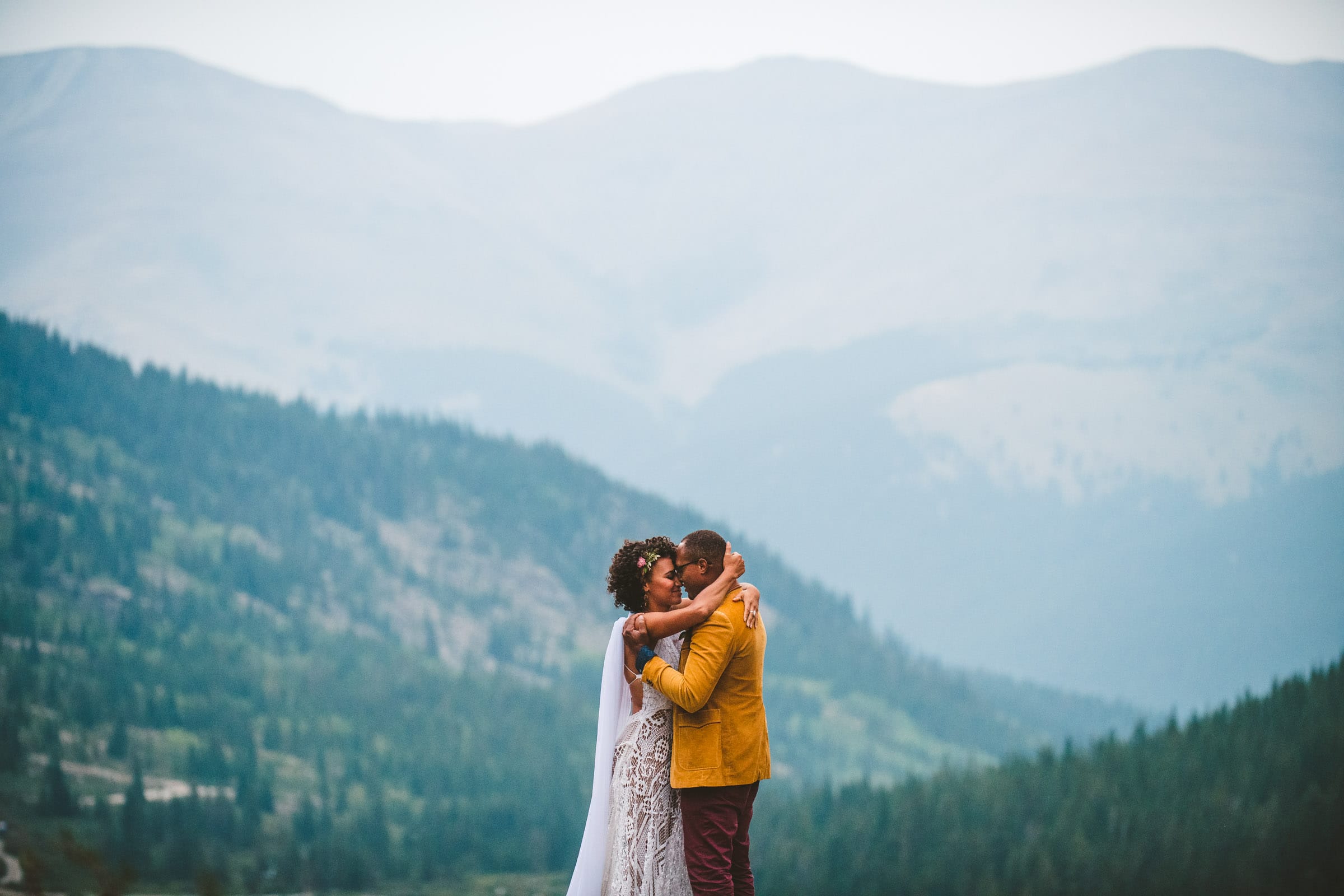 When it comes to stunning locations in the United States, Alaska might just take the cake. Some of the highest peaks in North America call this state home, as well as many glaciers and an endless amount of wildlife. One of the best ways to observe these is through flightseeing. Tours can take you to the tops of mountains and land on glaciers making for a truly unforgettable experience on your wedding day.
Denali National Park is home to the tallest peak in North America, the Denali. This park sits in the center of the state and is home to many glacial valleys and rivers, as well as many glaciers. Hikes here stretch into both extremes of difficulty, with many of the best ending at gorgeous views of the surrounding mountains and tundra. For those looking for more of an experience, biking and jeeping are both popular activities here, and a night spent on a remote glacier would be a night you would never forget.
Kenai Peninsula
The Kenai Peninsula, skirted by Prince William Sound and Cook Inlet, is mostly enclosed in Kenai Fjords National Park. Although fairly small in size (at least when compared to the rest of the state) Kenai Peninsula has plenty of beauty to boast in its many inlets, lakes, and marshes. Kayaking and other forms of boating are popular here, and provide some of the best ways to get up close and personal with glaciers and the surrounding landscape. Stay in the awesome towns of Homer or Seward & explore from there!
Girdwood
Girdwood was originally a supply town for nearby gold mines, and today serves as a basecamp for the nearby Alyeska resort. Winter sports enthusiasts will feel right at home at the resort, with skiing, snowboarding, and even dogsled rides, but many other activities are waiting for you nearby. Paragliding, rafting, climbing, and of course hiking are all within reach during the summer months. This is also home to some very easily accessible glaciers, making it a great place for those who desire the unique opportunity to see and walk on a glacier, with little effort.
Alaska Elopement Resources: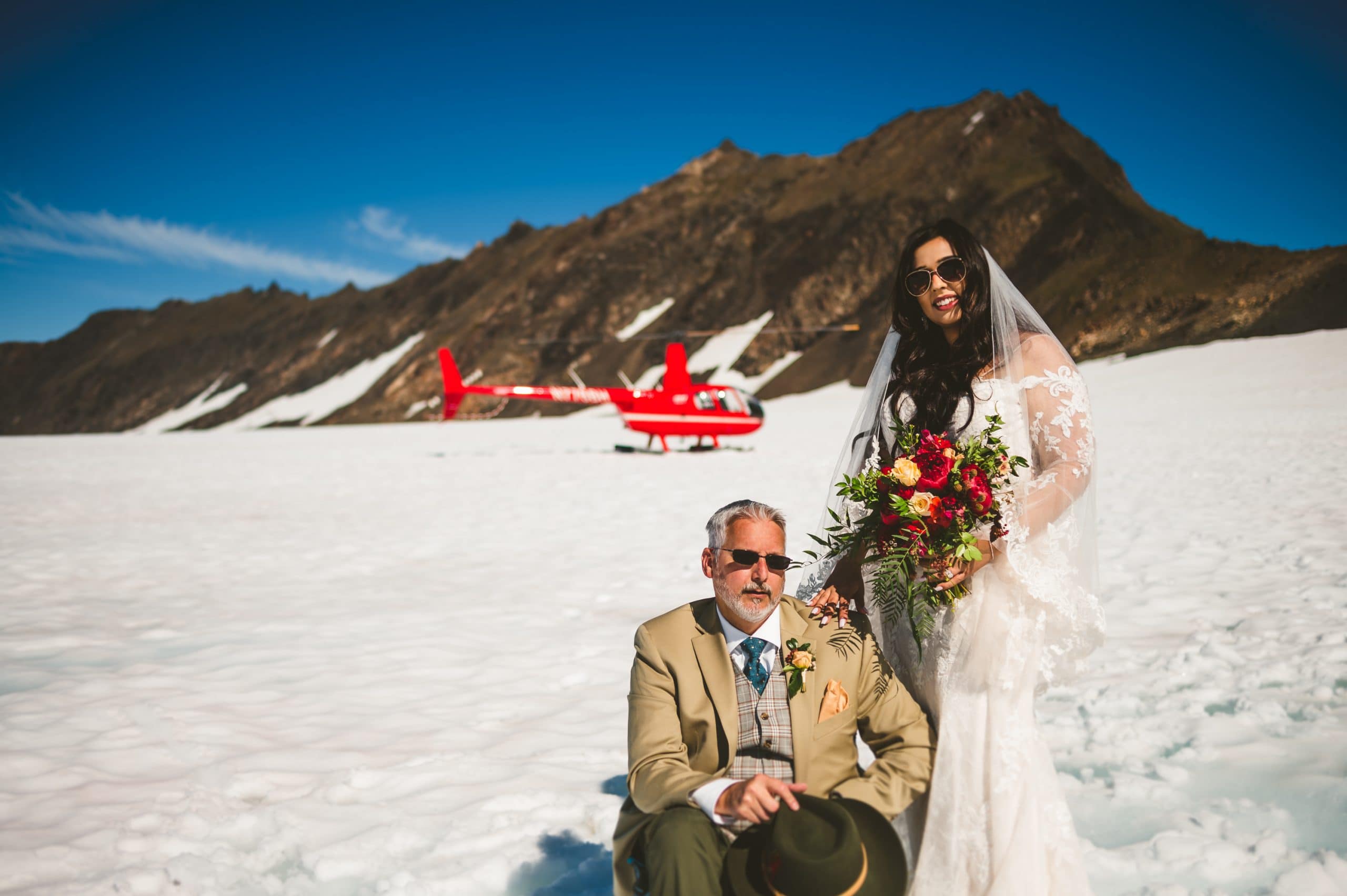 Colorado Elopement Locations
Colorado is really the perfect do-it-all state when it comes to outdoor adventure, making it the perfect location for those looking for a more adventurous experience. In addition to this, there is no bad time of year to visit Colorado. In spring, mountain meadows burst with a variety of wildflowers. Summer and fall are ideal for hiking, Jeeping, climbing, rafting, and nearly any other outdoor activity. Colorado lives up to its nickname of "Colorful Colorado" in the fall months with amazing displays of autumn colors. And Colorado's many ski towns show their true beauty during the snowy winter months.
Rocky Mountain National Park
Rocky Mountain National Park is an iconic place in Colorado. With plenty of mountain vistas, waterfalls, wildlife, and alpine lakes, it's no wonder this is one of the most popular locations to elope in Colorado. Permits in Rocky Mountain National Park are required here due to the popularity of the park. But it's no wonder! It doesn't get more Colorado than this!

Rocky Mountain National Park is an iconic place in Colorado. With plenty of mountain vistas, waterfalls, wildlife, and alpine lakes, it's no wonder this is one of the most popular locations to elope in Colorado. Permits in Rocky Mountain National Park are required here due to the popularity of the park. But it's no wonder! It doesn't get more Colorado than this!
Ouray & The San Juan Mountains
The San Juan Mountains sit in the south-west corner of the state, and are a lot less crowded than the national parks previously mentioned, but are in no way lacking beauty. The towns of Ouray, Silverton, Telluride, and Purgatory all make great base camps for your elopement adventure and each offer their own twist on mountain life. This area is great for hiking and jeeping, as well as winter sports like ice climbing, skiing, snowboarding, and soaking in a lot of different hot springs.
Great Sand Dunes National Park
What if I told you that some of the largest sand dunes in North America were in Colorado? Pretty crazy, right?! Great Sand Dunes National Park is totally unique, with massive dunes skirted by mountains, this park makes for some phenomenal photographs. As visually stunning as this park is however, this is a great place for a relaxing elopement. Slide down the dunes during the day, soak in some nearby hot springs in the evening, and top off the day with stargazing from your tent on the sand.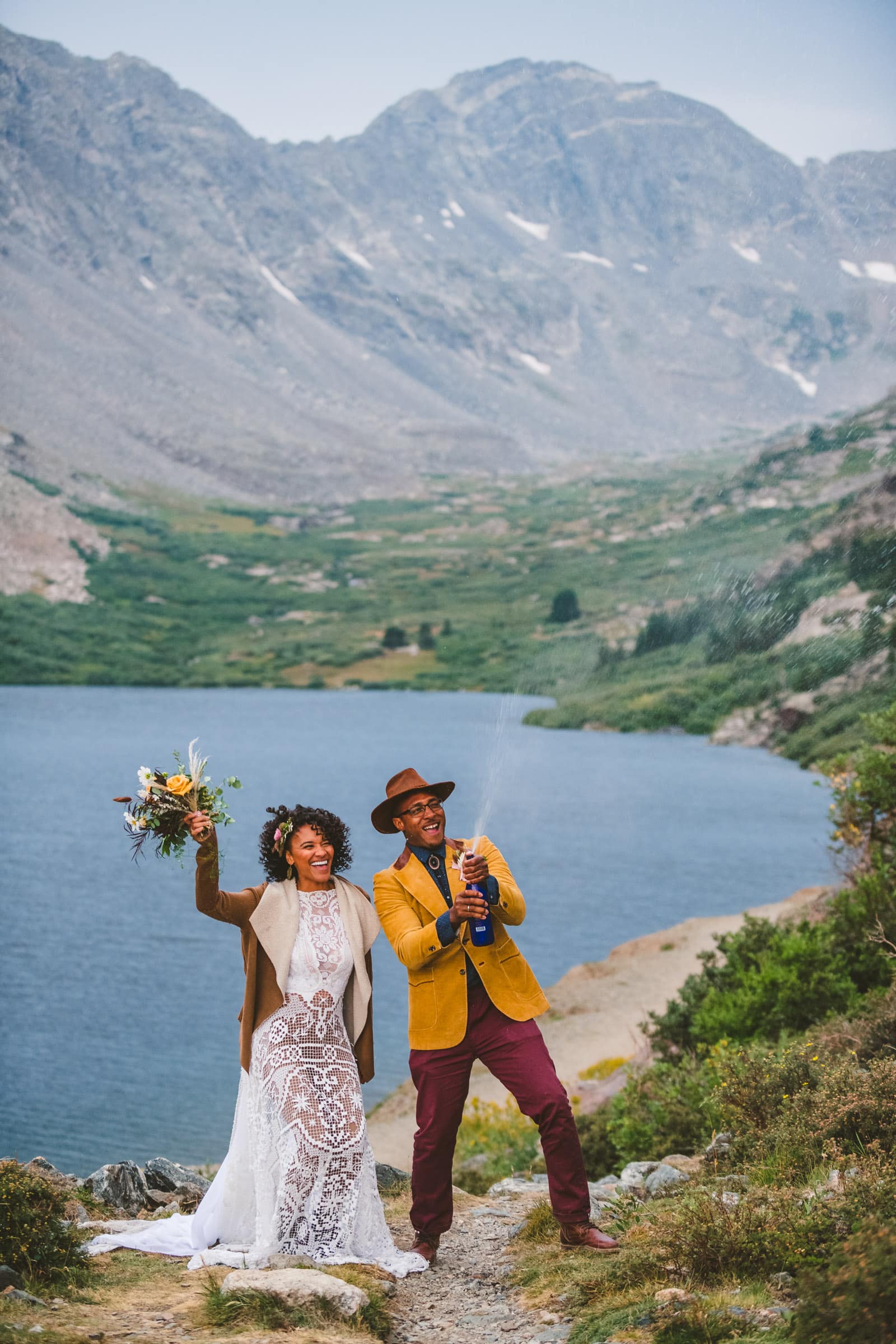 Best California Elopement Locations
California is known for many things, among them being some of the most beautiful natural wonders in North America. Redwood forests dot the coast, El Capitan and Half Dome tower over Yosemite Valley, and the scorching, yet beautiful Death Valley lies on the Nevada border. There are a lot of different locations to consider from coastal areas, to deserts, to forests and mountains.
Yosemite
Yosemite is full of epic, iconic locations, and you should totally check them all out! But for some of the most amazing wedding pictures you'll ever see, head over to Taft Point, if you're not afraid of heights! For the adventurous, take up a hike up Half Dome. It rewards you with similar views, but includes a 16 mile round-trip hike, not for the faint of heart. For those who prefer to stay grounded, El Capitan valley is a beautiful meadow backed by the sheer granite walls of El Capitan.
Redwood National Forest
Many people know that redwoods are some of the tallest trees on the planet, but Redwood National Park is so much more than just trees! In addition to the one-of-a-kind redwood forests, this park offers gorgeous coastal rainforest vistas and ocean views. With plenty of easily accessible campgrounds and hikes, this is a great park for those who want those epic photos with a little less of the work. For a beautiful places to stay, be sure to check out the Yosemite Valley Lodge.
Joshua Tree National Park
A desert may not be the first thing that comes to mind when thinking of the landscapes of California, but Joshua Tree National Park is not a plain old desert. Plenty of unique flora and fauna call this place home, and unusual rock formations and shrubs dot the landscape. This is an excellent place to find some peace and quiet and enjoy the starry night sky. However, since it does get very hot in the summer here, fall, winter, and spring are highly preferred seasons.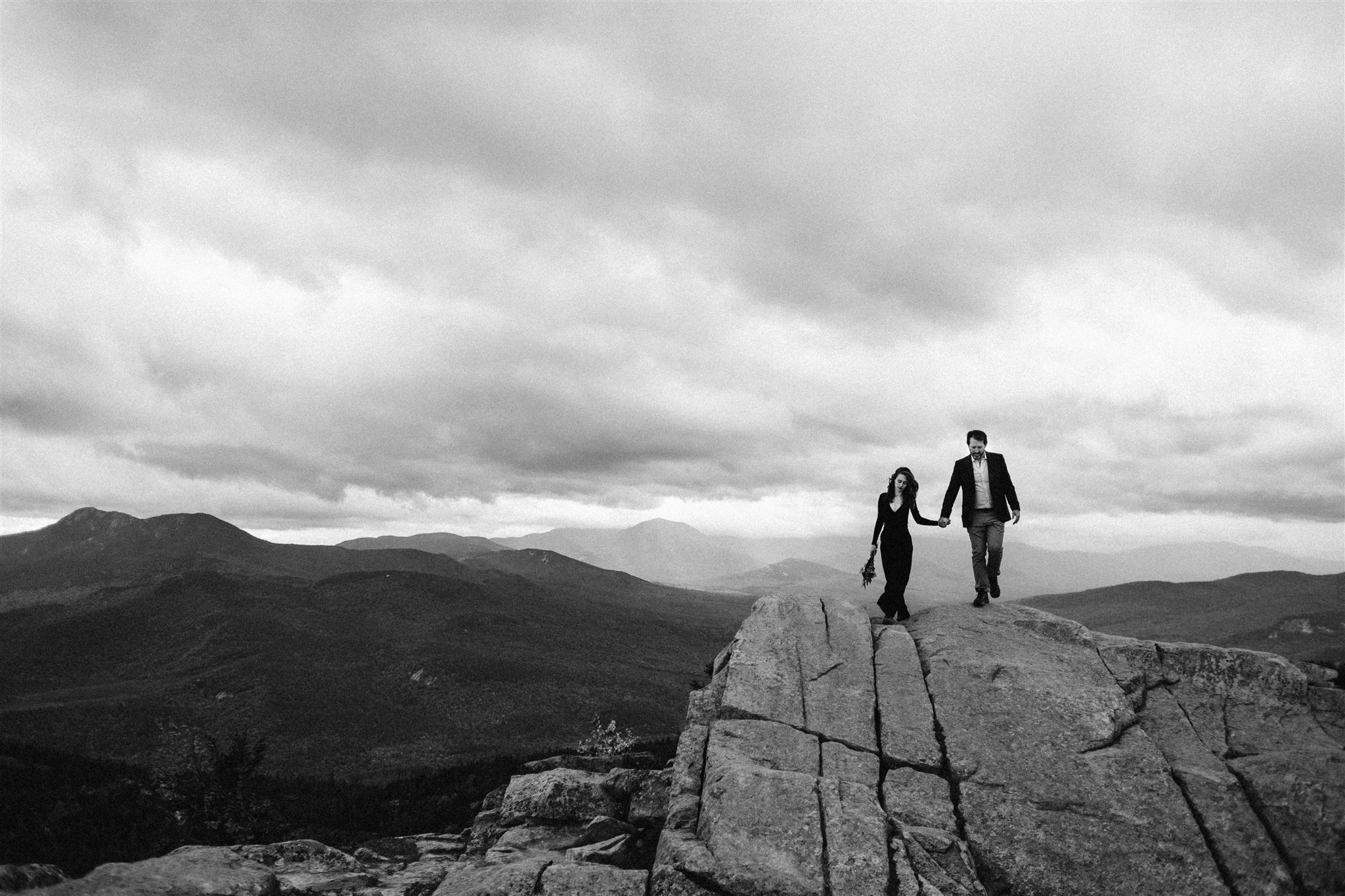 New Hampshire Elopement Locations
New Hampshire is an incredible location for your elopement if you crave epic mountains and rugged landscapes that rival the west coasts rocky peaks. There are quaint New England towns with Inns & BnB's you can book as the home base for your elopement in NH.
The White Mountains are the rugged mountains that stretch through northern New Hampshire and dip into Maine. They are named after the snow capped peaks that tower over the wilderness. The Presidential Range is the crowning jewel of the White Mountains; featuring some of the highest, most rugged peaks on the East Coast with Mount Washington being the tallest!
More Resources for your New Hampshire Elopement:
White Mountains Elopement Guide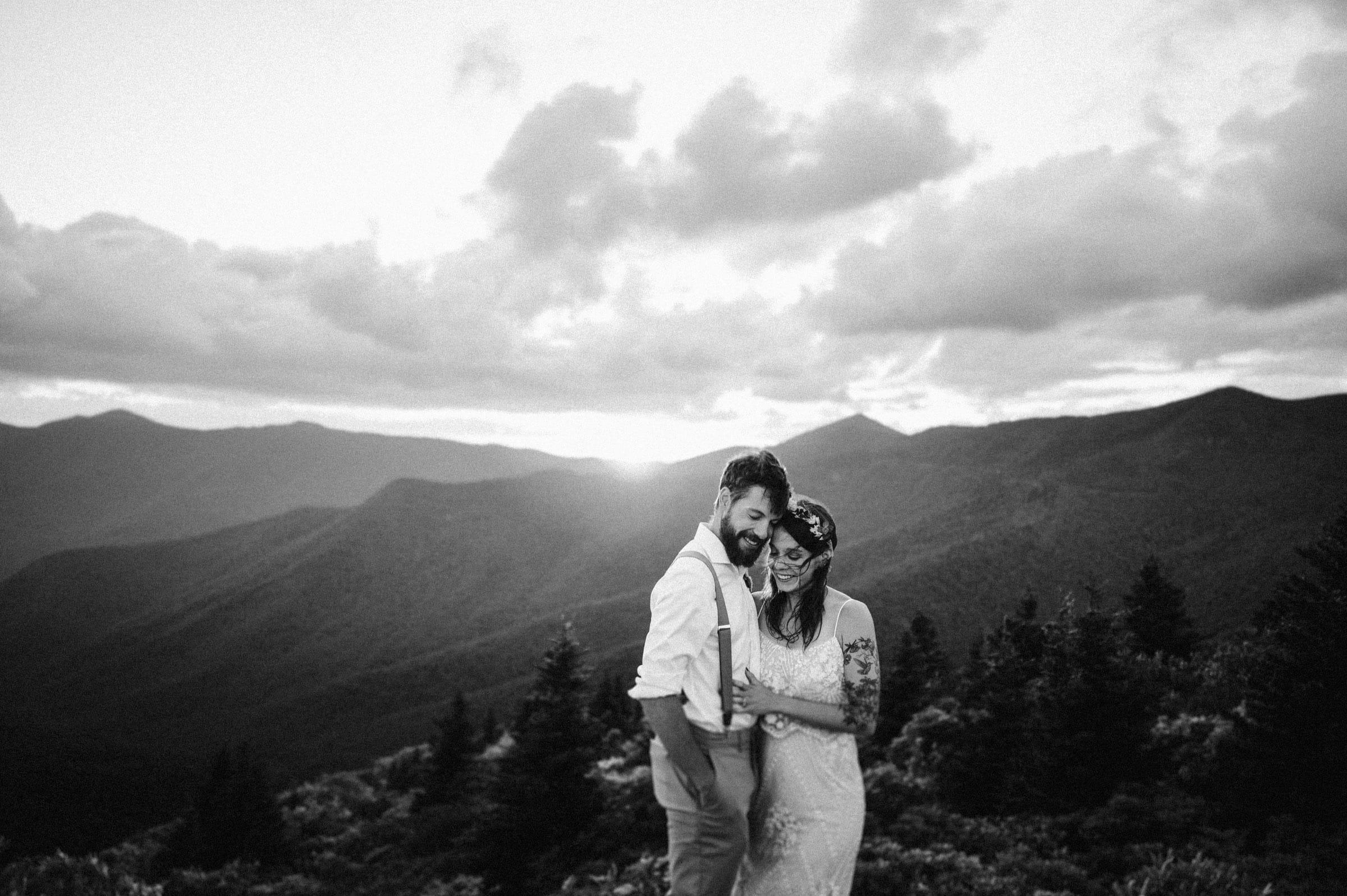 North Carolina Elopement Locations
One of the best locations to elope on the east coast of the United States, North Carolina offers some of the best of both beaches and mountains. The coastal plains on the Atlantic stretch over 300 miles north to south, with plenty of options in between for an immaculate beach wedding. Or for those who fancy a different experience, visit Asheville in midwinter to see this town in all of its glory.
Asheville
Asheville is a great elopement destination year-round due to the variety of activities at your fingertips. Summer is a great time to explore the area's many streams, waterfalls, and overlooks. Winter draws many when the surrounding mountains are blanketed in snow and the ski lifts open. However, because of the mild weather, many of your favorite hikes are often still open for winter hiking. And don't forget about fall, the turning of the trees is not an event you'd want to miss.
More Resources for your Asheville Elopement
Outer Banks
The Outer Banks of North Carolina are just what you think of when you think of a beach elopement: spotless white sand, crashing waves, and crystal-clear salt water. Beaches are some of the best locations to catch the sunrise or sunset, making your day that more special. Since North Carolina is on the east coast, sunrise is usually the preferred time of day. Plenty of variety can be found here, as every isle is different from the next, and always shifting, not to mention the beautiful piers reaching into the ocean. These can make the ideal location to read your vows and take in the surroundings.
Great Smoky Mountains National Park
Great Smoky Mountains National Park is the most visited national park in the United States, and it's no wonder why! The Appalachians really show off here, with ancient, rounded mountains interwoven with many mossy stream beds and plenty of diverse plant and animal life. Take a hike on one of the many trails, take "America's favorite drive" on Blue Ridge Parkway, or stay in a cozy cabin with the love of your life.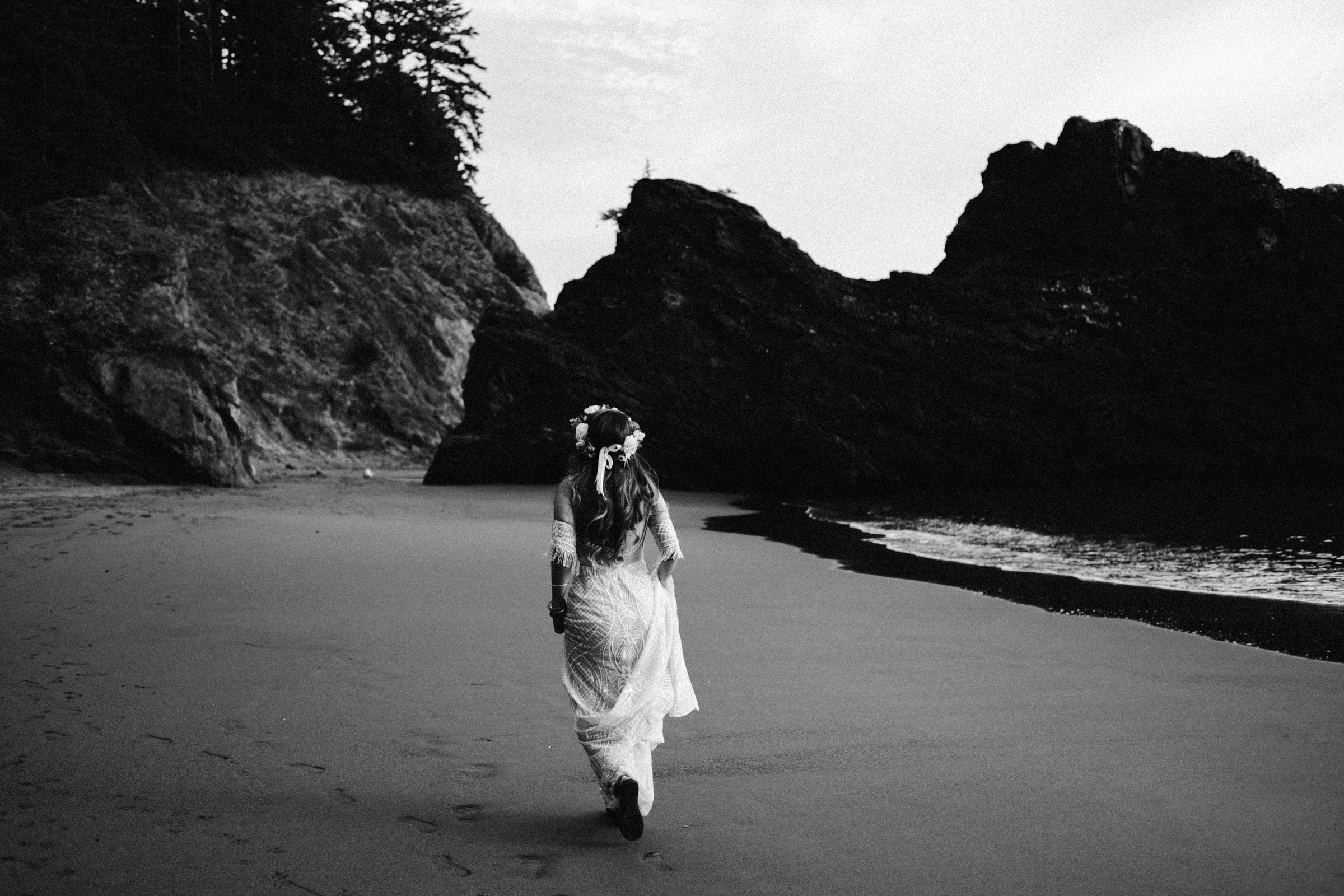 Pacific Northwest Elopement Locations
Often, scenery from the Pacific Northwest seems to be pulled straight from a childhood book about a magical forest. From lush temperate rainforests, to rocky mountain tops, or black sand beaches, the Pacific Northwest is an adventurer's wonderland. And the location near the coast means many areas are still accessible when much of the Northern Hemisphere is covered in snow.
Olympic National Park
Olympic National Park is like taking the whole of the Pacific Northwest and putting it in a microcosm. Ruby Beach is a rocky beach accessed by a short hike, opening to incredible views of the ocean surrounded by driftwood and unique rock features. Plenty of alpine lakes and mountain tops are easily accessible, but for more intimacy, plenty of more difficult, out of the way hikes are available. And all of this is surrounded by an ancient, lush forest just waiting to be explored.
Mount Rainier National Park
The perfect backdrop to your wedding day could be Mount Rainier, in Mount Rainier National Park. This park offers more than just a mountain however, and is full of deep forests, serene alpine lakes, and plenty of beautiful overlooks! Some of the more unique locations are the many fire lookouts around the park. These provide some of the best views in the park, and due to the often remote locations of these lookouts, give you some much desired intimacy.
Smith Rock State Park
Unless you're a climber, this isn't a location you would usually think of when you think of the Pacific Northwest. The fog and clouds of the coast fade away and are traded for arid, sunny weather and plenty of beautiful scenery. Plenty of trails cross the high desert, through valleys, and between towering rock features. Every trail is beautiful and unique, with many accessible overlooks and rock features.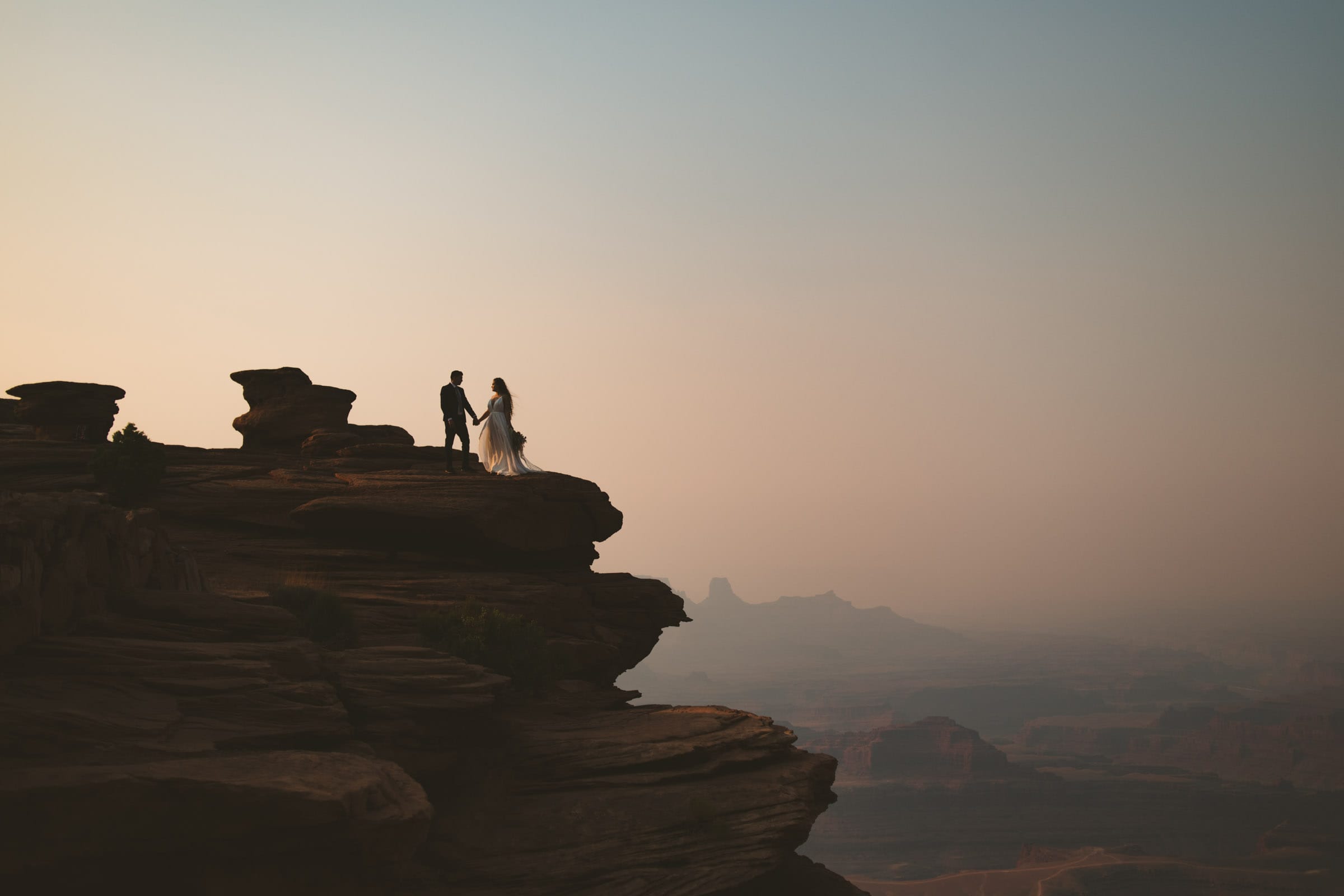 Utah Elopement Locations
For those in love with the desert, crazy cool rock formations, or salt flats, Utah is a great location for your elopement. Plenty of opportunity for some alone time can be had in the vibrant landscape of the desert, mountains, or shores of Lake Powell. Millions of acres of public land wait in Utah to be explored by the adventurous.
Moab
As beautiful and stunning as Arches National Park is, the surrounding area around Moab is just as gorgeous, but more remote and with more to explore. This could very well be one of the best place in the country for a Jeep wedding. Miles upon miles of trail can be accessed by your own rig or a rented 4×4, taking you to out of the way locations unseen by others. For those who want to really push the limits, (of weddings or human potential, you decide) Moab offers world class climbing and slacklining at formations like Castleton and many others. For those who would prefer a calmer experience, these formations can provide the backdrop to a beautiful hike or bike ride.
View My Moab Elopement Guide for Resources on How to Elope in Moab
Bonneville Salt Flats
The Bonneville Salt Flats are exactly what they sound like, miles and miles of flat salt. When flooded, even with just an inch or two of water, the flats reflect the sky, making your elopement photos look unreal. Even when not flooded the flats make an incredibly unique location for your elopement, especially at sunrise and sunset. And after your elopement, you can always go for the land speed record, right? No, okay…
Lake Powell
Lake Powell spans the border between Arizona and Utah in the 1.25 million acre Glen Canyon National Recreation Area. It is the second largest man-made reservoir. Plenty of backcountry land surrounds the lake, perfect for a backcountry elopement with the red rocks as your stage and the shimmering lake as your witness. This area offers much of what the rest of Utah's national parks do, but is much better suited for summer elopements, as long as you don't mind jumping in! You can rent a Jeep and go to some cliff overlooks, or get a houseboat and spend a couple days out on the water for a multi-day elopement at Lake Powell.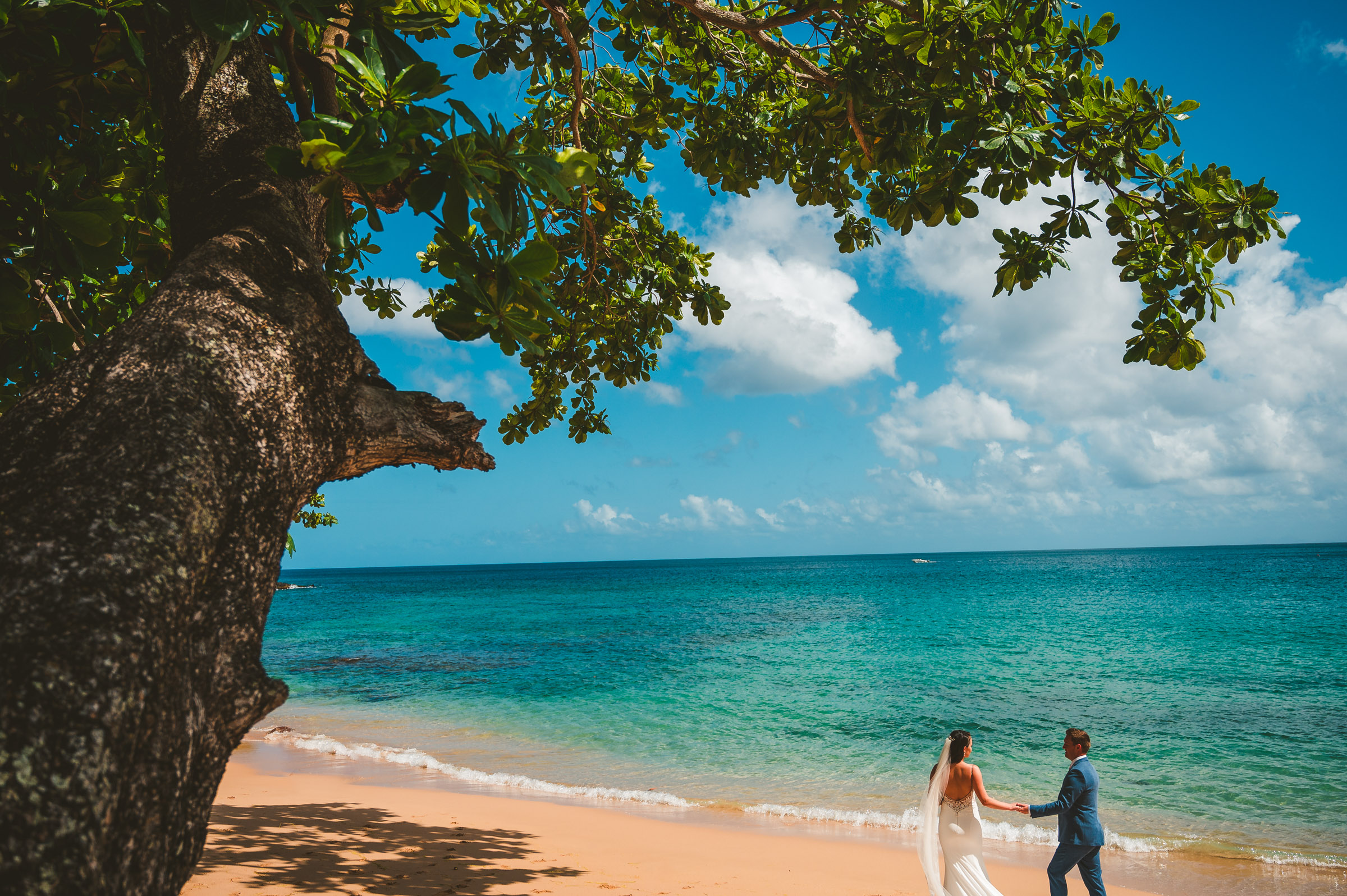 Puerto Rico
How about a destination elopement? Puerto Rico is a great place to elope, especially if you are from the U.S. Traveling to Puerto Rico is just like traveling to another state. No other special documentation or currency is needed and English is commonly (but not always) spoken by the locals.
Your best elopement options here are the pristine tropical beaches and mountains. The beaches here are the gorgeous white sand beaches popular throughout the Caribbean and the water is warm enough to enjoy year-round. The mountains here are rocky and covered in tropical rainforest, often stretching to the shore of the Carribean Sea, making for some really unique elopement locations. However, because of the location, summers can be quite hot and humid, but the surrounding ocean offers an easy reprieve from the heat, not to mention the photo opportunities and fun experiences for your elopement in Puerto Rico.
The Best Elopement Locations Around the World
For those world travelers, or those who want to really get out there, the United States may not be enough. There are plenty of other incredible places throughout the world! Of course this isn't a complete list of all the great places to elope, but this will give you some ideas for your greatest adventure yet!
Greenland
Tell your family you're having an island wedding, because you're headed to Greenland, the world's largest island. I hope you like ice! But Greenland is a lot more than just ice. (But there is a lot of ice if you're into that.) Most of the country is located above the Arctic Circle. This means lots of snow and chilly temperatures, but brings tons of beauty along with it. The Aurora Borealis is quite the sight to behold in the winter months along with a multitude winter activities. Summer awakens the rugged terrain, bringing plenty to do in the way of hiking, kayaking, or even whale watching for an amazing, adventurous elopement.
Winter in Greenland
The winterscapes of Greenland are truly something special. Backdrops of glaciers and mountains are easily found, but not always easily accessed. These can be accessed via helicopter, dog sled, cross-country skis, snowshoes, or snow machine in the winter months. The winter months also deliver some of the best light shows in the world, the Northern Lights. These spectacular wonders of nature will be sure to leave you speechless and make your elopement one that will not be forgotten quickly.
Summer in Greenland
Greenland is a hiker's paradise, with the most famous, the Arctic Circle Trail, stretching approximately 100 miles through awe-inspiring terrain. Along the way are huts for you to stay in, which are free, and plenty of opportunity to observe wildlife and other natural wonders. Summer also opens the many fjords for kayaking and other forms of boating. These can bring you up close and personal with massive glaciers and surfacing whales.
Africa
When considering some of the best elopement locations around the world, don't immediately dismiss Africa. This entire continent is bursting with vibrant cultures and some really special wildlife. Despite its past, Rwanda is now known as one of the safest countries in Africa. Rwanda has multiple sustainable safari lodges. These allow you to rest in comfort and enjoy the unique wildlife the country has to offer.
The Sossusvlei area is a beautiful area of the Namib Desert. The iconic red sand dunes cover the landscape surrounding this salt and clay pan. To get a better view of these features tours by airplane or even by hot air balloon are available. However, if you want to observe the wildlife that Africa is known for, Kenya's Amboseli National Park and Masai Mara Reserve are some of your best bets.
Canada
Canada, eh? Not a bad option for an elopement if you ask me! From ever popular and beautiful Banff to the more out of the way, but mesmerising Newfoundland and Labrador, Canada has a lot of land, and just as much variety to choose from. Banff is one of the premier elopement locations in Canada, and for good reason. Turquoise lakes and glaciers combine with sharp peaks to form magnificent landscapes unlike anything you've seen before. Complete with many lodges and even hot springs, Banff National Park is a great place to take in the scenery and relax at the same time.
Farther to the west is the Great Bear Rainforest, a large untouched temperate rainforest stretching down the coast of British Columbia. Here you can find ancient mossy forests, and if you're lucky, a Kermode bear, a unique subspecies of black bear of which 1 in 10 have a white coat! On the opposite coast lies Newfoundland and Labrador. This rocky coastal area is full of rocky fjords and hikes with ocean views. The small but colorful fishing villages fit so perfectly, adding to the charm of the area.
Ireland
There's something about the sleepy tranquility of Ireland that is hard to find anywhere else. The location of the island makes fog and rain a regular occurrence, but this adds to the nearly enchanted atmosphere. The coastal cliffs are perhaps the best known elopement location in Ireland. These stunning features give you a view stretching for miles of the lush, green Irish countryside. These cliffs put you hundreds of feet above the wave crashing below you and with plenty of room to spare, you won't have to worry about crowded areas surrounding your intimate event.
This is also a land with a lot of history, with some great castles, historic churches, and of course plenty of pubs to explore. Some castles in Ireland can be rented for your elopement, while others are old and crumbling, becoming part of the countryside again. If you'd like to keep at least some of the elements of a traditional wedding, this country has many small, quaint churches for you and your significant other to have a great elopement together in Ireland.
Iceland
The name Iceland can be misleading, making you think this country is not much more than a boring landmass of ice and snow. Though not very large, it has so much to offer, though there are some pretty sweet glaciers and ice caves you may want to check out for your elopement in Iceland. Similar to Ireland, Iceland gets a lot of wet weather. You can use this to your advantage, because weather like this can make dramatic, epic photos at your elopement.
For a small island, there is a great variety in the beaches there; rocky beaches, black sand beaches, and wonders like the Diamond Beach surround the island. Diamond Beach is a beach with large chunks of glacial ice that resemble massive diamonds spread across the shore. There are also many locations that are unreachable unless by 4×4 that guarantee you intimacy on your big day. And of course, if you happen to visit in the winter months, you may even catch a glimpse of the northern lights
Central America
Central America is one of the best locations in the world for those who want a picturesque beach wedding, complete with white sand beaches, crystal clear water, and beautiful sunsets. Costa Rica has a jaw-dropping amount of biodiversity in its rainforests and boasts many beautiful waterfalls, perfect for couples who want to have a wedding venue surrounded by nature, with the stunning backdrop of the Costa Rican rainforest and ocean.
For a more beach-oriented elopement, Panama and Belize are fantastic locations. Belize has many, many islands ranging in atmosphere from resort style palm beaches and hotels to more laid back islands, where it may be easier to find a bit more privacy. Panama has plenty of islands and beaches too; it borders both the Pacific and Atlantic oceans. Sunrise on the Atlantic, sunset on the Pacific! Panama is also quite American-friendly. English is the second most spoken language and the USD is the official currency.
Europe
In Europe, each country has its own personality and landscape. Finding an elopement location in Europe that suits you well is important. An elopement in Paris is about as romantic as you could ever picture, with places like Venice and Rome not far behind. Additionally, the cities of Stockholm, Amsterdam, and Vienna should not be left out when mentioning city locations for a European elopement. Really, any city you take a liking to is a great place to elope in Europe. So many cities in Europe have a long and interesting history behind them, adding to the story of your wedding.
For a more adventurous outdoors elopement, the Swiss Alps are some of the best mountains Europe has to offer year round. These mountains have it all: skiing, hiking, climbing, biking and much more. The Nordic countries also offer many opportunities to explore the outdoors in a new and exciting place, with the benefit of being near the ocean as well. For a warmer, elopement day, the Mediteranian coast has many great resorts, beaches, and islands to explore, along with great weather and food!
Packing and Traveling Tips for Your Destination Elopement
A wedding is stressful enough, and hopefully some of those stresses are eliminated by an elopement, but adding a long distance journey can add a bit to the planning you need to do. Here are a few tips on planning and traveling for your elopement to hopefully ease the stress.
Packing Dresses
Traveling with a wedding dress can be stressful. If you are flying to your elopement destination, calling your airline ahead of time can work wonders to ensure your dress arrives safely with you at your elopement destination. Bringing your dress as carry-on is usually recommended. You don't want the airline to lose your wedding dress! If you ask nicely, the flight attendants will often help you out as much as they can to help keep your dress wrinkle free. Having your dress folded by professionals who made your dress will also help to eliminate most wrinkles. And finally, taking a travel sized steamer and wrinkle release spray is never a bad idea.
Booking Flights
No one likes booking flights, right? You often wonder if you got the best deal or when the best time to buy tickets is. The best advice I can give you is to check multiple sources continually for travel deals and promotions. Also, travelling during off seasons and not around holiday generally means cheaper tickets and less crowded airports. Use sites like Kayak and Google Flights to examine different dates and flight options. Being flexible as to exactly when you are flying in and when you are flying out can also help you in finding cheaper flights.
Planning an elopement in some of the most epic locations in the world can be a bit more work, but the payoff is so worth it! You get to spend the best day of your life with someone you truly love, and create some amazing memories you will cherish together for the rest of your lives. Of course there are other fantastic places for your elopement and this post only covers a few of them. I hope you were able to gain some inspiration and get excited for your elopement! And lastly, I cannot emphasize this enough, talk to others with experience; your photographer, other couples who have eloped, and the locals, these people will help you and set you up for success for the elopement of your dreams!
Happy eloping everyone!
We can't say enough how absolutely wonderful our experience was with Ariel at AMW Studios. From our very first conversation, she helped us to formulate a plan for an elopement that included our families and still allowed for us to have some alone time on a hike. She also helped us find the perfect location and vendors to make our dream a reality. The whole day was exactly as we imagined and we absolutely love the photos that we're able to share with friends and family who weren't in attendance. Many people have told us that they didn't fully understand our plan until they saw the pictures and could see so clearly the joy of our intimate celebration. Would absolutely recommend her!
Beautiful photography and a magical day. Ariel was perfect for us! The thought of planning a wedding (even a scaled down elopement) overwhelmed me, but Ariel's energy and excitement was contagious. I am so happy we reached out to her. She helped us put together the perfect celebration and then captured it beautifully. She is so easy and fun to work with!
Ariel was a DREAM to work with! She is such a go-with-the-flow / roll-with-the-punches kind of person and she goes above and beyond the call of a regular photographer! She is so sweet, direct/quick, professional, and can work with anybody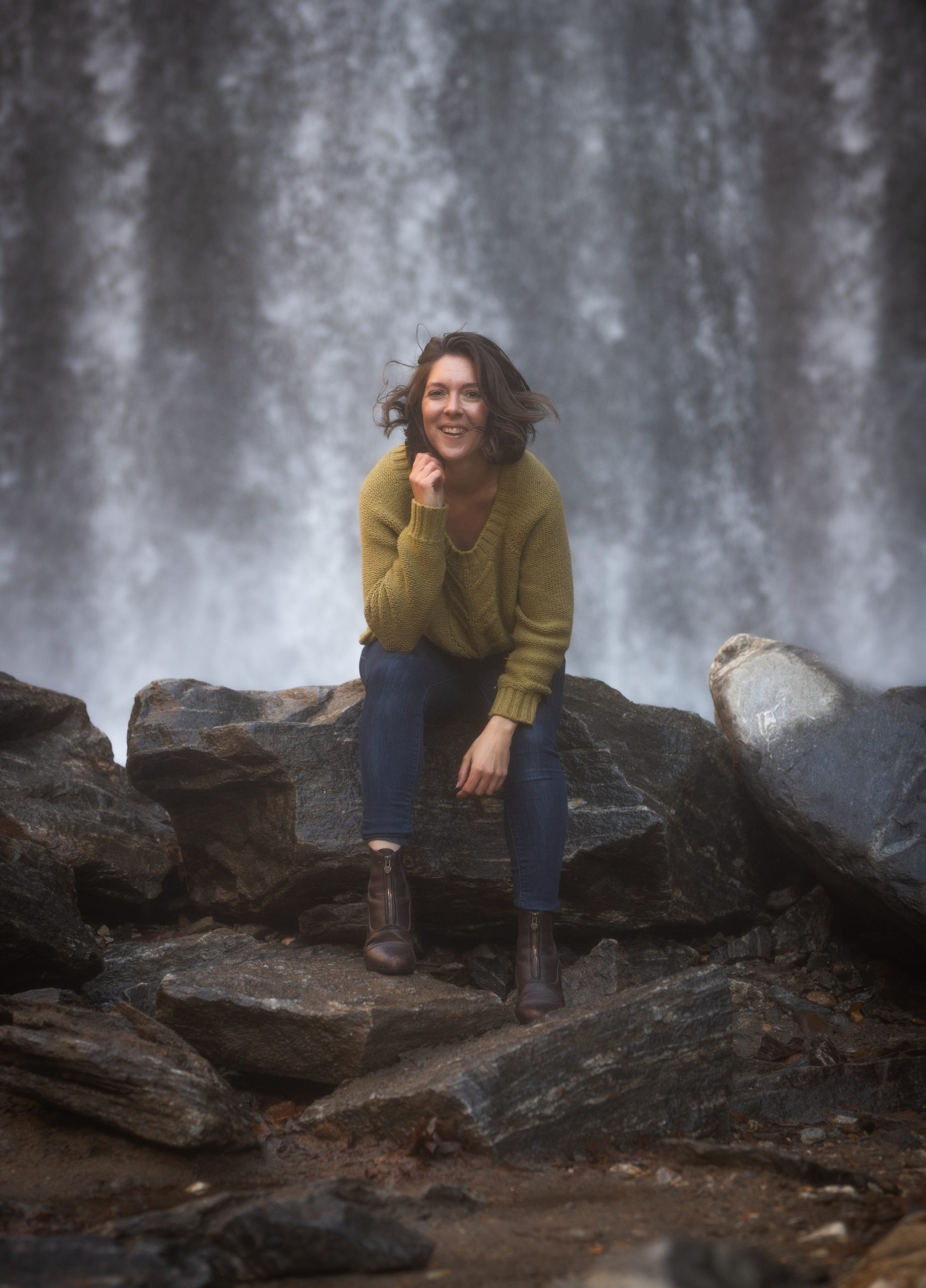 As an elopement photographer and outdoor enthusiast I get absolutely giddy with excitement when helping fellow adventure seekers, travelers, dreamers & fun-loving couples plan their experience based, intentional wedding days.
I live on the road full time traveling the country in my dream home on wheels – a 38' long fully off grid, converted bus.
Some of my favorite adventures include: Backpacking and ice climbing in Alaska, hiking the Napali Coast on Kauai, trekking in the jungles of Costa Rica.