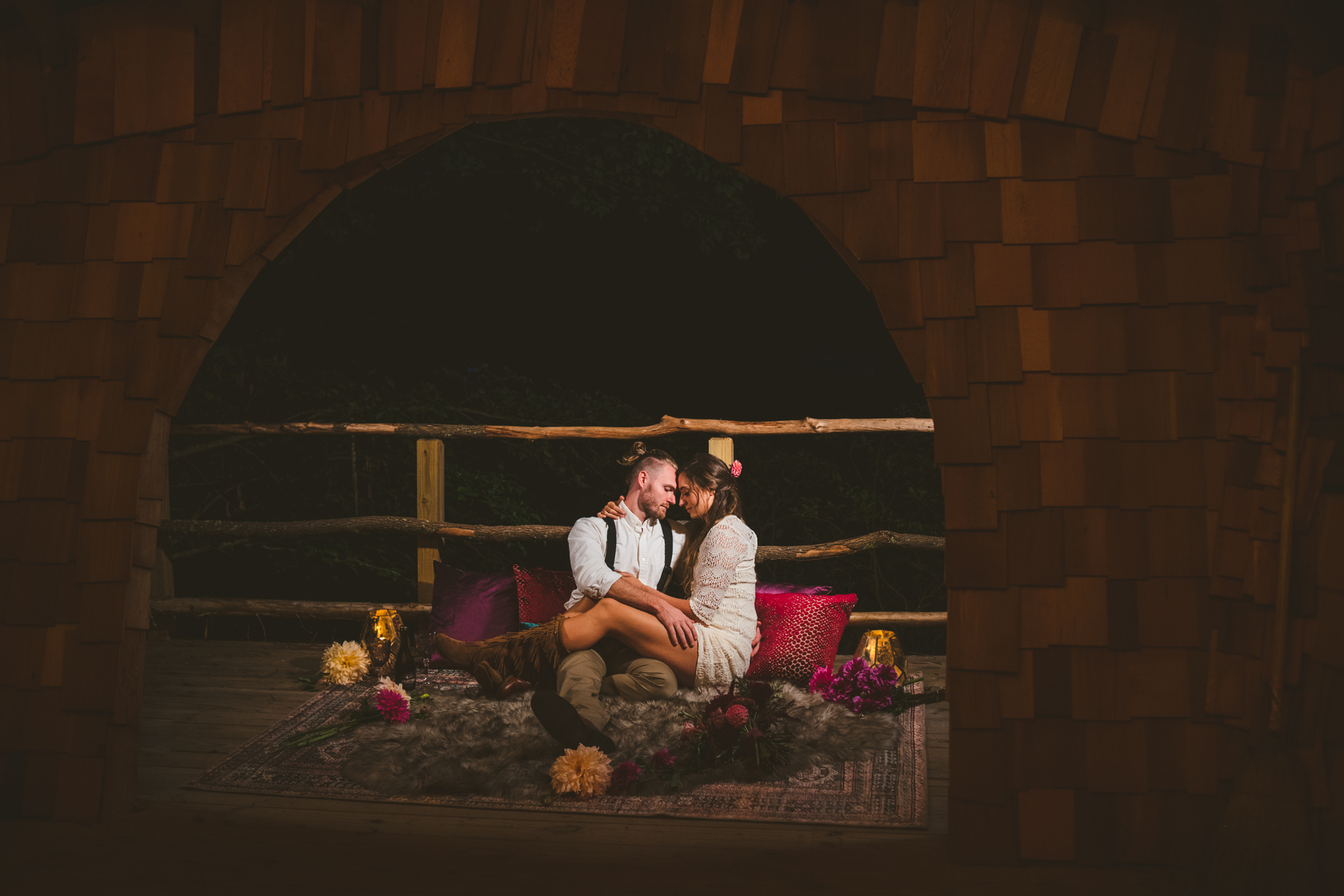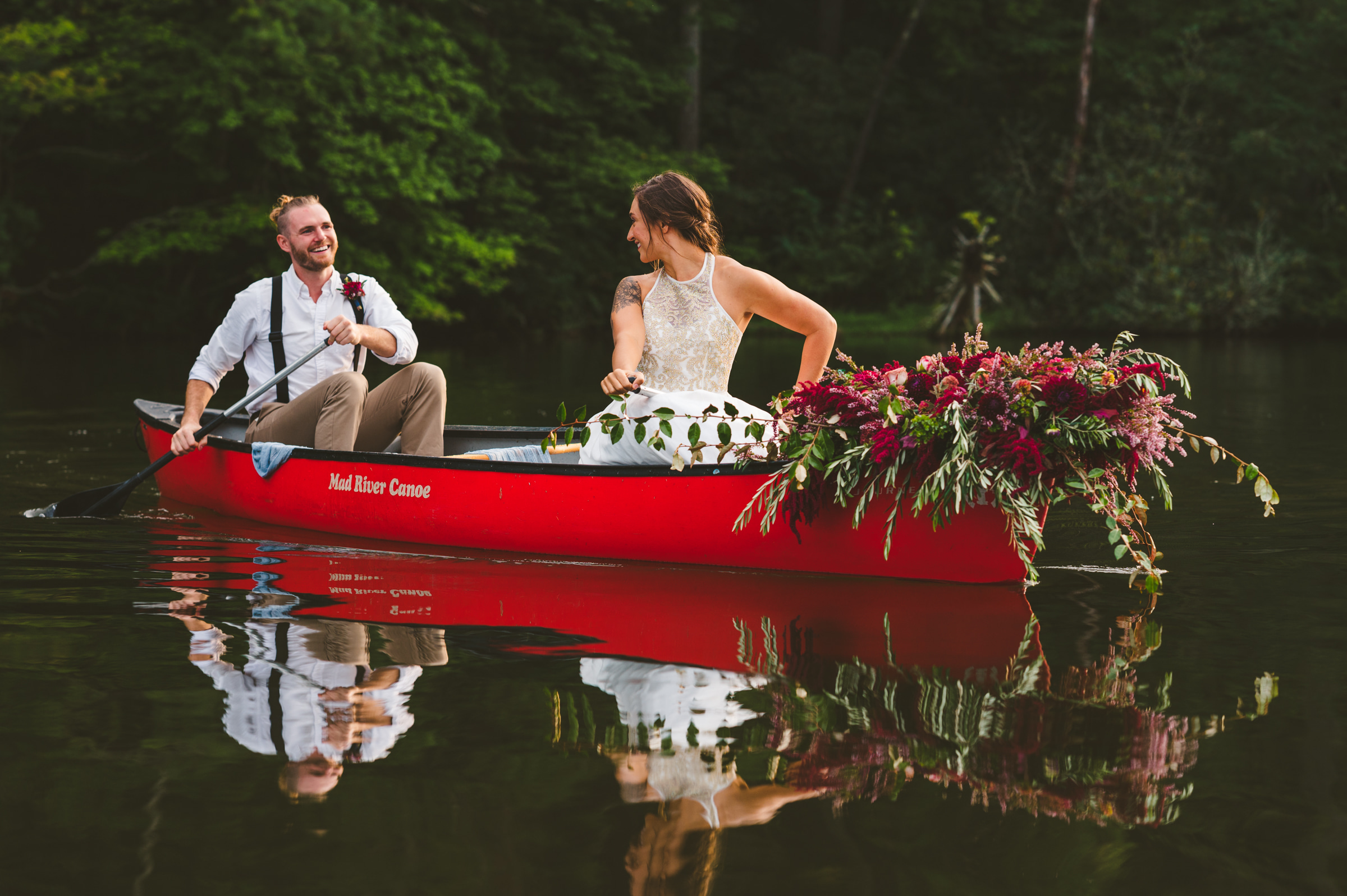 15 Ideas to Adventure on Your Elopement Day Instead of Hiking
I'll be the first to admit that I'm one of those crazy people who loves a good thigh burning, make you sweat hike. In fact one of my favorite sayings that I learned & have embraced ever since my first Spartan race is, "Embrace the Suck". Yeah you might feel like you want to die but the reward of making it to the top of the mountain & soaking in those gorgeous views… There's nothing quite like it. Okay, stop right there because here comes the but, I also think that hiking is not the only way to adventure on your wedding day & in the adventure wedding industry there is this assumption that if you want to have a true adventurous, out of the box wedding day that it must involve strapping a bouquet to your backpack & hitting the trails. I'm hear to tell you that this simply isn't true! In fact, there are so many ways to embrace adventure on your wedding day without breaking a sweat & I'm so excited to share some of my favorite ways!
So whether you love hiking but want to save it for another day, you hate hiking or you would have a hiking elopement but maybe you're eloping with family and want some other, more family friendly ways to embrace your love of adventure… Keep reading & then reach out!
I would love to help you plan a day that is unique, intentional & fun as hell!
Adventure Elopement Idea #1
Paddle, Row, Float
If you love the water & boats why not incorporate them into your elopement day for a little adventure on the water. You could:
Decorate your canoe & take a relaxing paddle around a lake post ceremony.
Float the Colorado river near Moab for a lazy afternoon on the water!
Or if you craving a longer adventure there are some epic places to go canoe/kayak camping. Paddle out to your own private island & spend a couple days in a wilderness paradise! See Abigail and Kate's two day kayaking elopement off the coast of Maine.
There are countless locations that would be amazing for a kayaking or canoeing elopement. Here are some of my favorite places for a scenic wedding day paddle: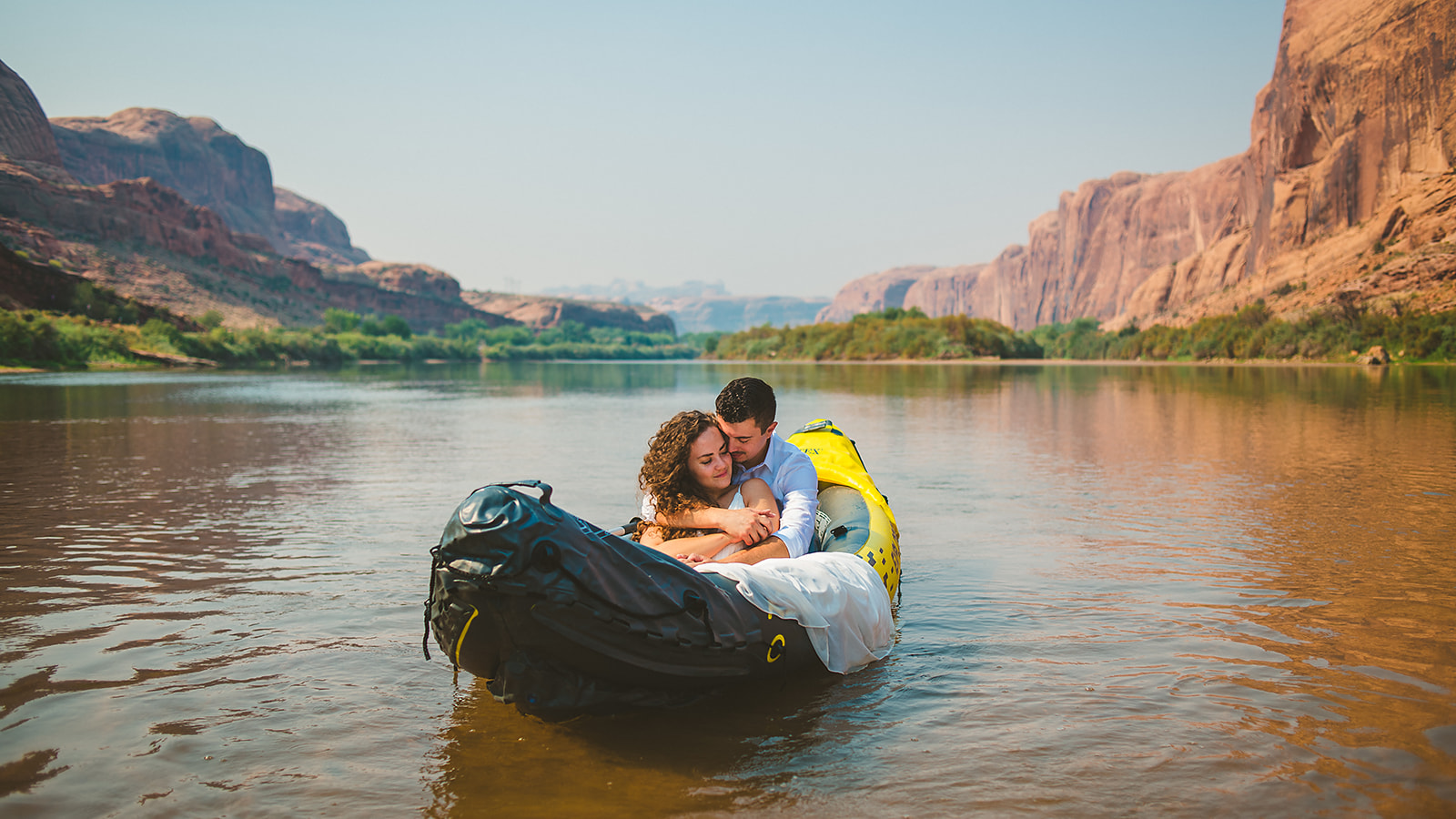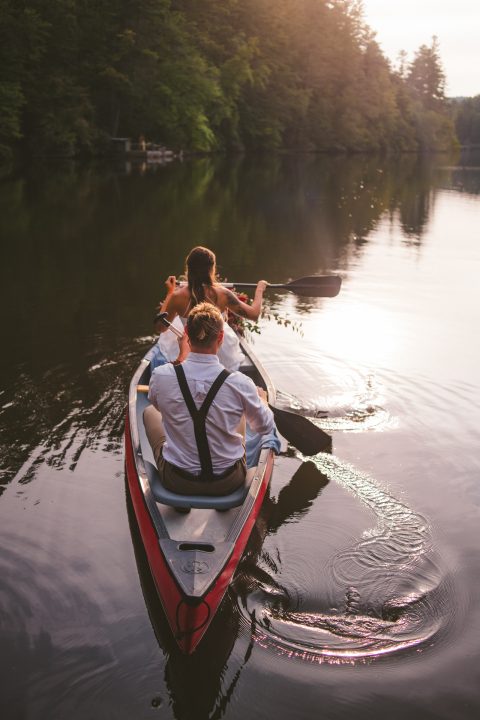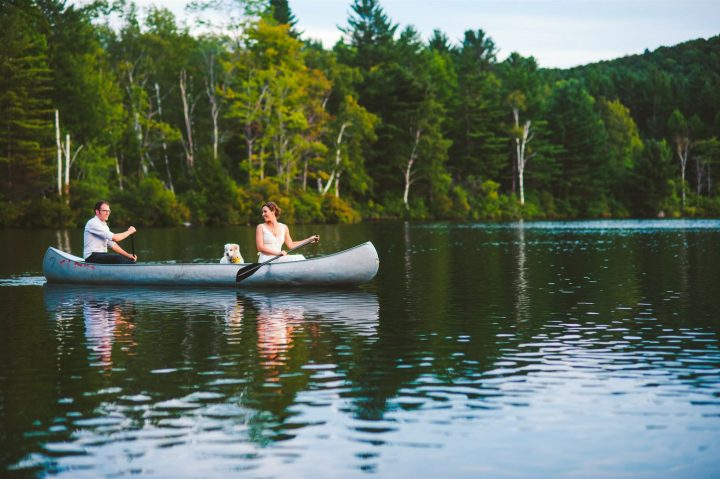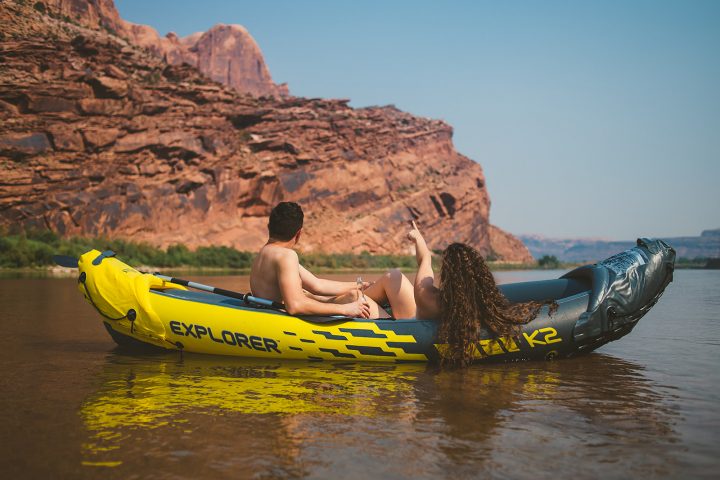 Adventure Elopement Idea #2
Charter A Helicopter
Helicopters are one of the most incredible ways to adventure on your wedding day! If you're seeking a private location for your elopement ceremony but don't want to hike 10+ miles, booking a helicopter charter is one of the best ways find your perfect location to say I do. In Alaska a helicopter can set you down on a vast ice field that will make you feel small or up on a high mountain ridge where you'll get a birds eye view of the incredible scenery Alaska is known for!
Best locations for a helicopter elopement: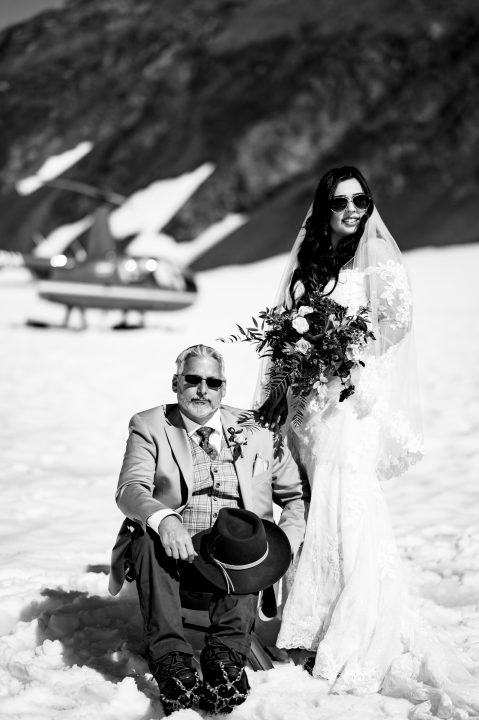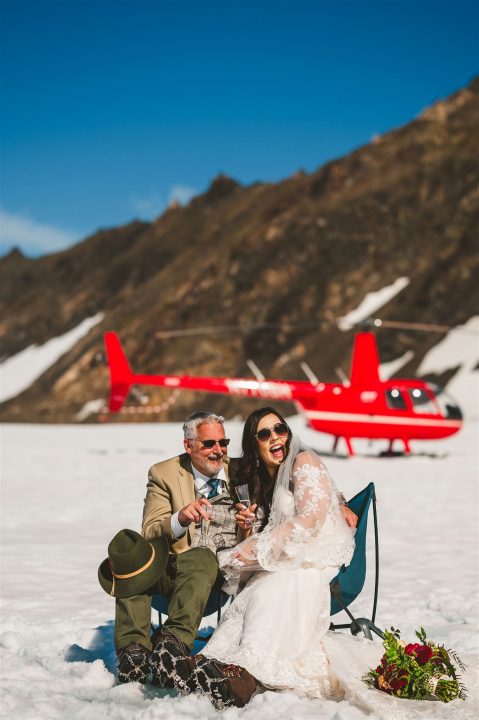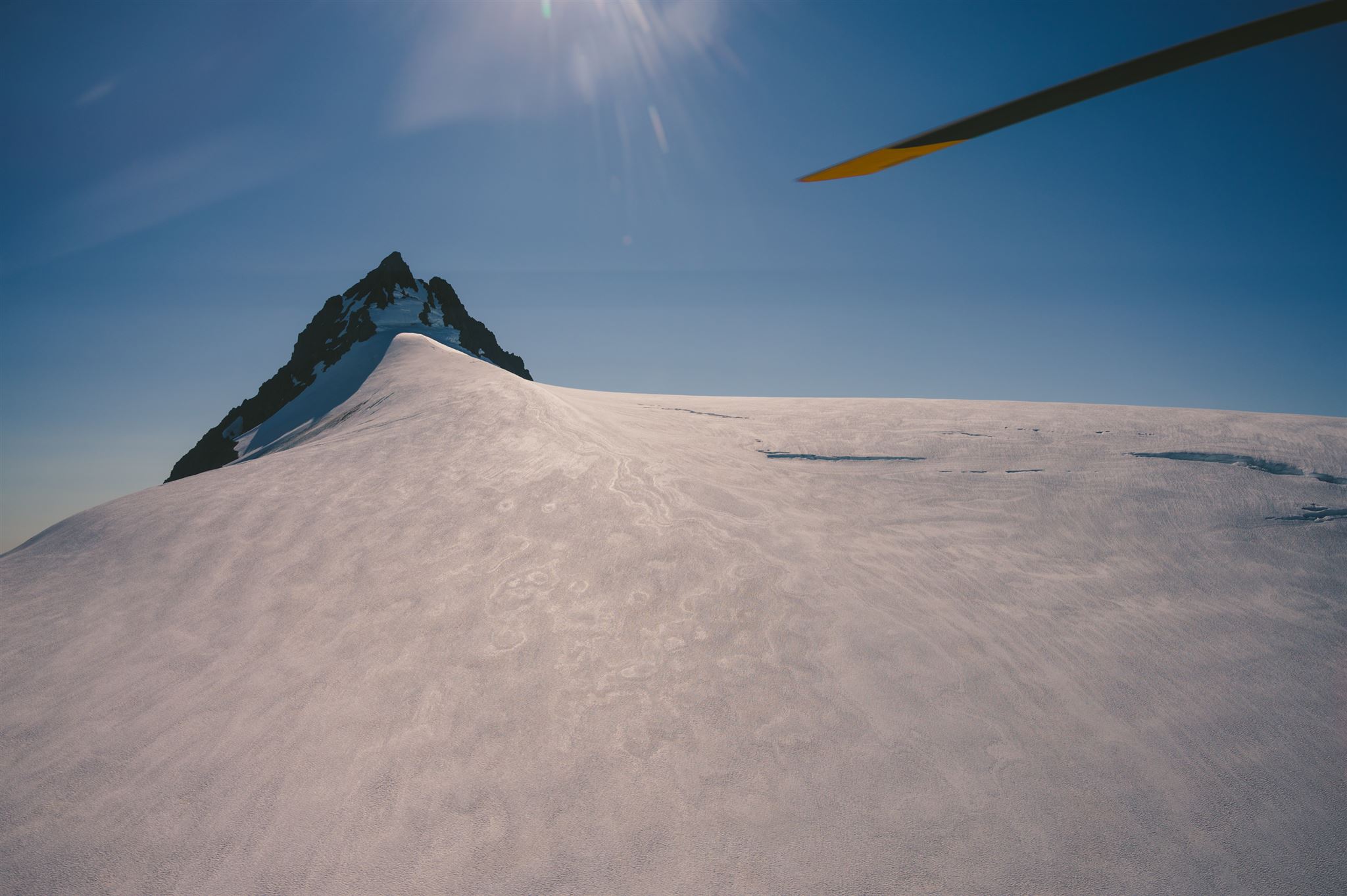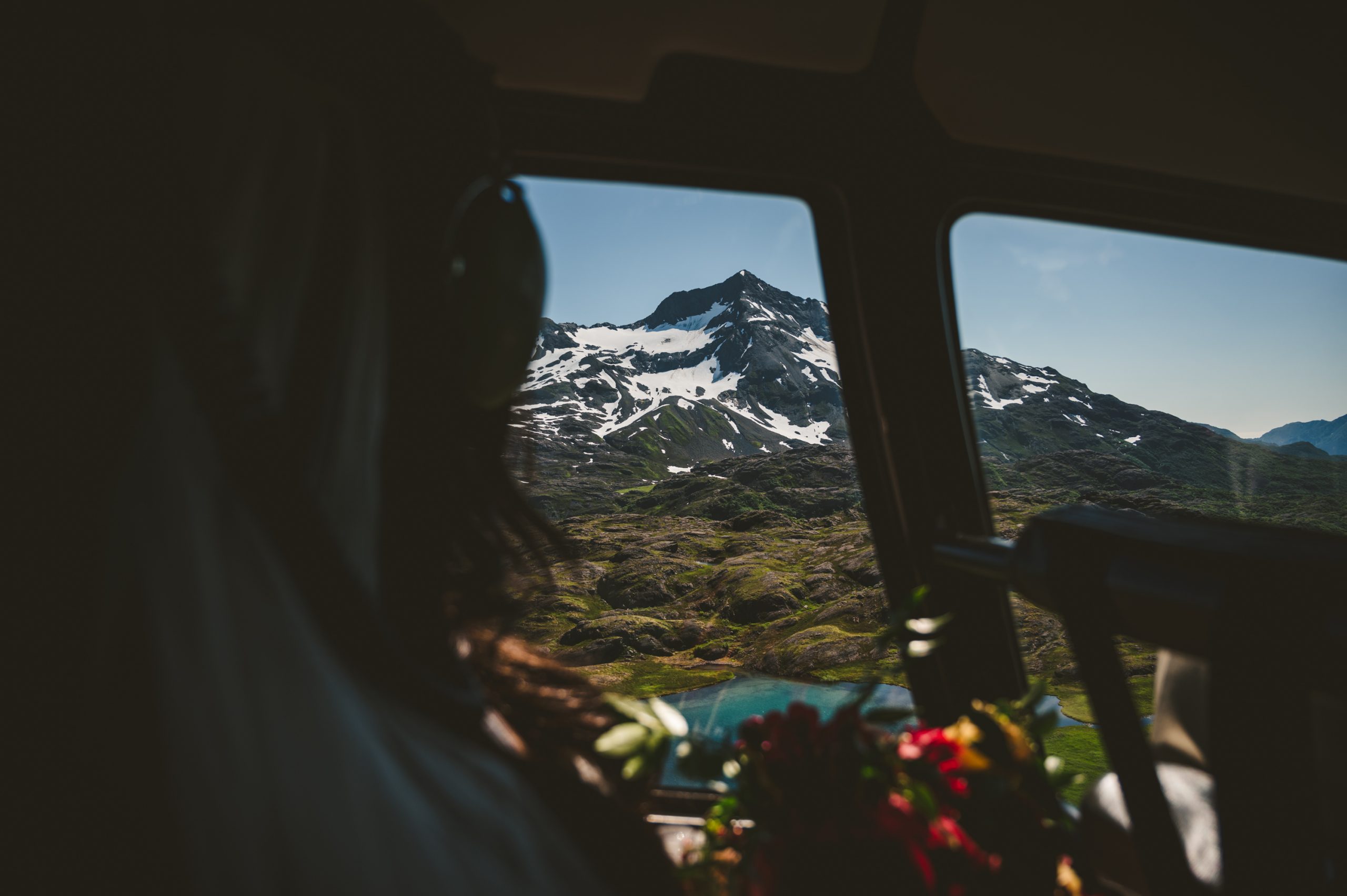 Adventure Elopement Idea #3
Charter a Sailboat or Catamaran
Looking for an exhilarating and luxurious way to spend time on the water for your wedding day? Booking a catamaran or sailing adventure might be perfect for you! This is a great activity for elopements with family or friends – Say your vows out on the water & have a special wedding dinner on board the boat. You could even take it a step further and book a multi day sailing charter around the Hawaiian islands
Best locations to for a sailing/catamaran elopement:
Florida Keys
St. Lucia
Costa Rica
Hawaii
Adventure Elopement Idea #4
Go off roading or Book a Jeep Tour
How fun would it be able to be transported to a remote high alpine pass or to some of the most epic red rock vistas? Book a jeep tour for you & your guests for an intimate wedding adventure that won't be soon forgotten, this is a great way to find a more secluded place to say your vows! Off road jeep adventures are one of my personal favorite ways to adventure on your wedding day!
Best Locations to go off roading on your elopement day: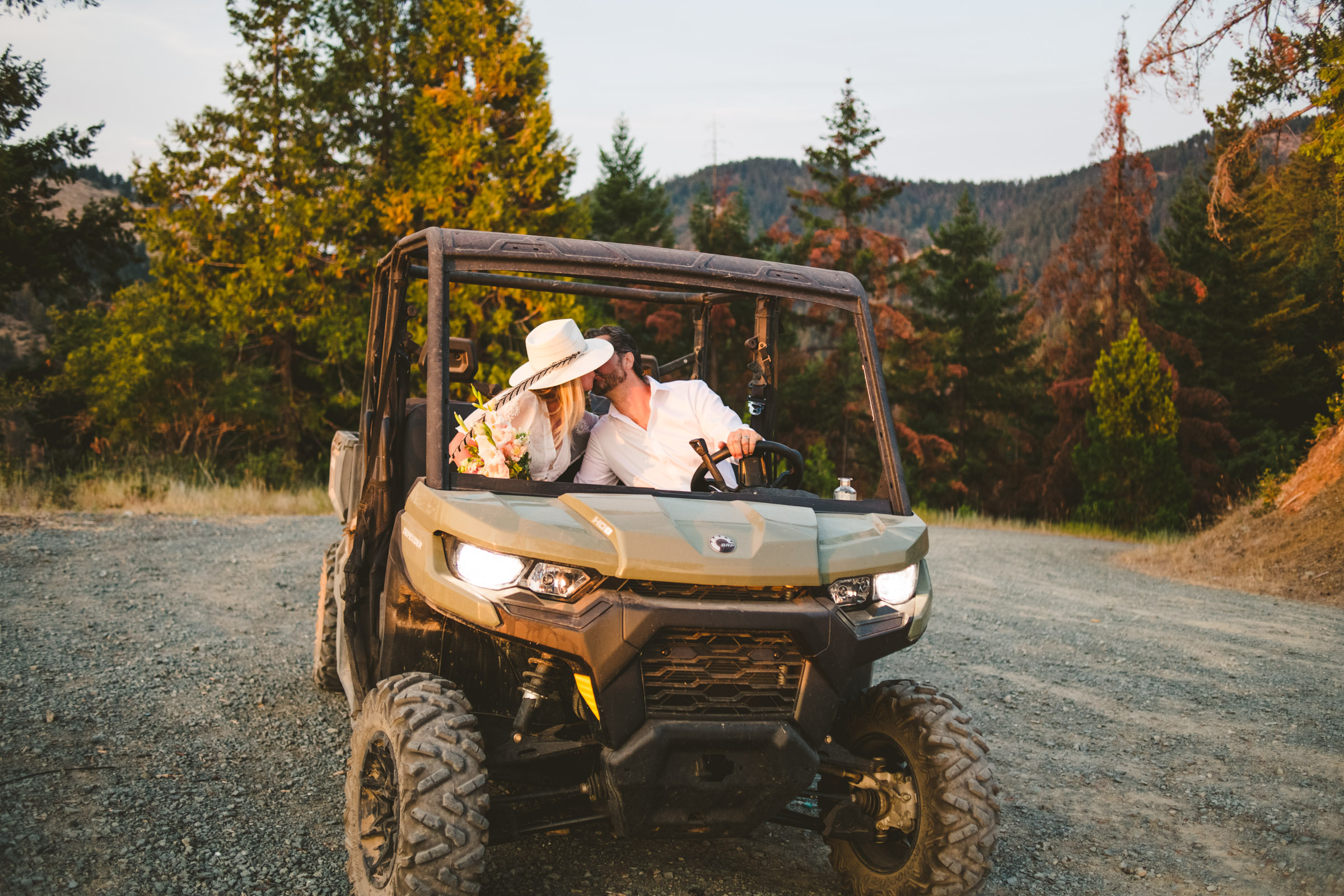 Adventure Elopement Idea #5
Elope in a Treehouse
What could be more romantic or adventurous than booking an intimate treehouse for your elopement lodging! Base out of your treetop house and in the case of inclement weather you'll have the sweetest spot to say your vows!
Best Locations for a Treehouse Elopement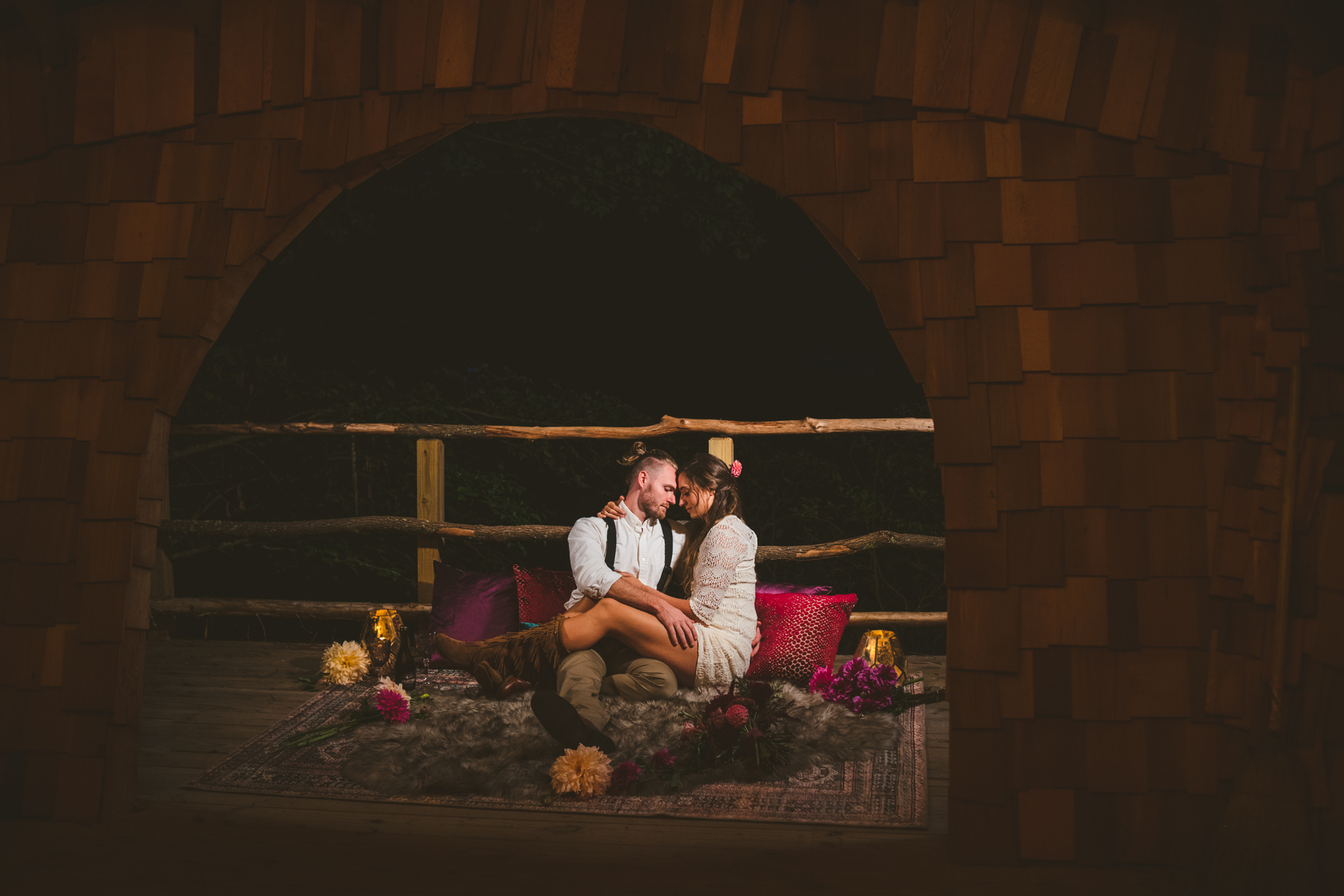 Adventure Elopement Idea #6
Go Horseback Riding
If you're not much of a hiker, horses are in incredible way to see some beautiful scenery on your wedding day (and take some epic pictures!)! Imagine riding up to your mountain top ceremony & saying your vows in a peaceful location. You could even pack lunch or dinner and ride to a second location for fancy picnic. Do a short 2 hour ride or if you're an avid equestrian why not book a point to point horseback camping trip & make it a multi day experience! Horseback riding is one of those activities that are available in most locations. Check out a few of the best places below!
Best Locations for a Elopement on Horseback: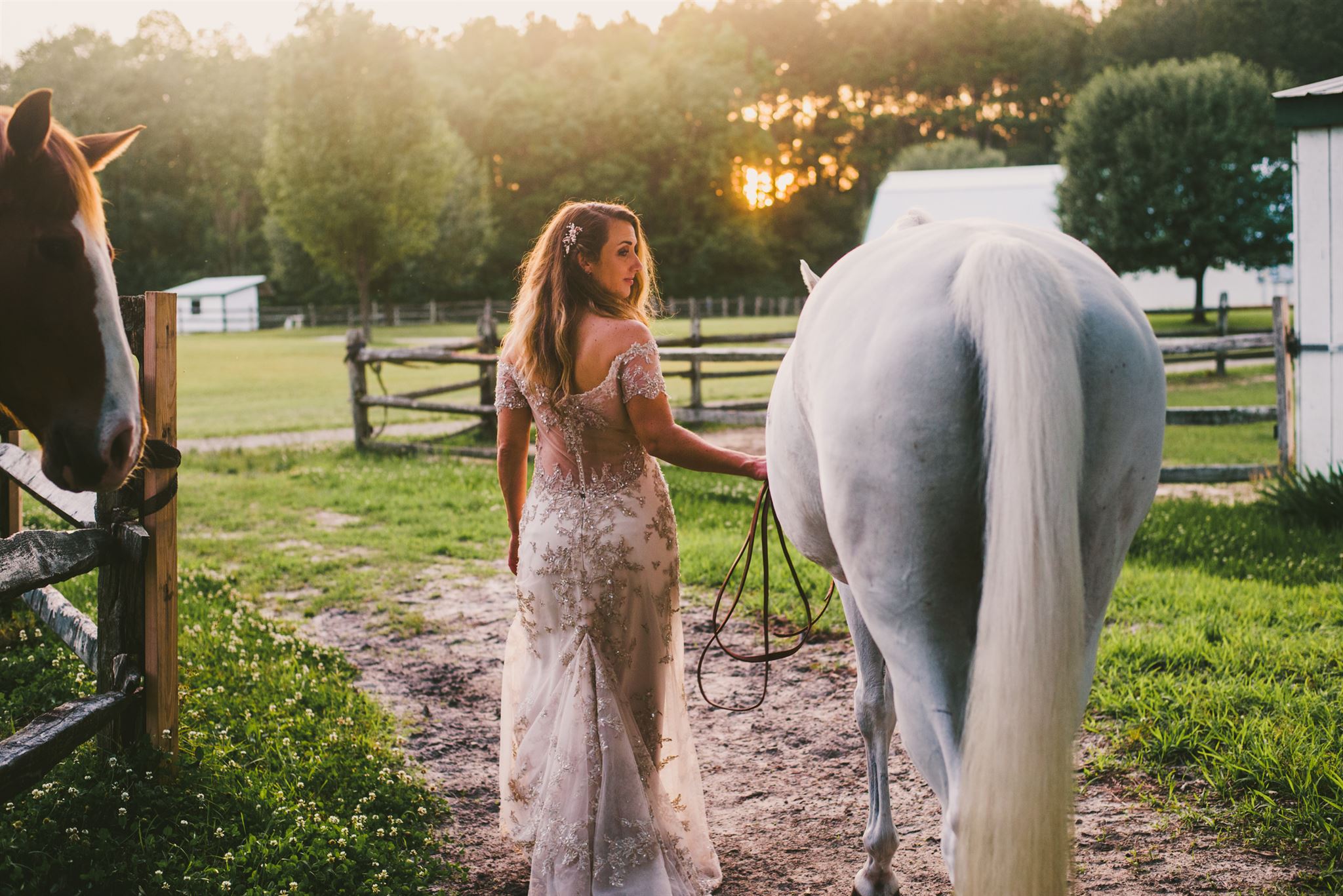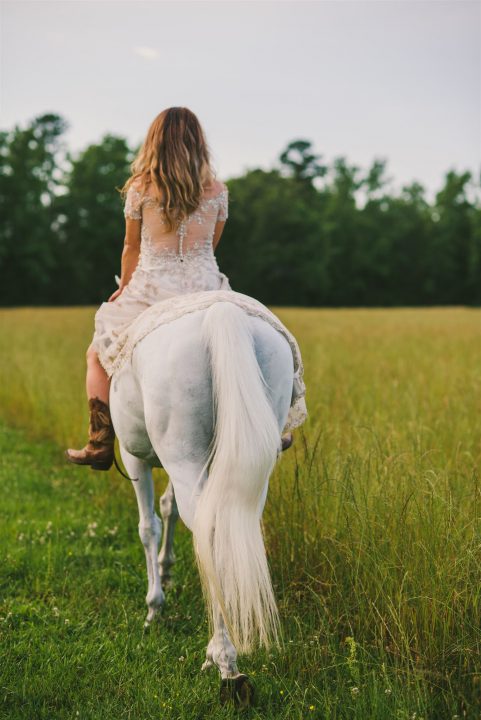 Adventure Elopement Idea #7
Elope on a Beach
From rocky and wild to sandy and tropical beach elopements offer a variety of scenery and adventure! I'm not much of a lay on the beach for hours person but I still adore the ocean. You could have a stunning sunset ceremony followed by a romantic dinner under the stars. Have a picnic, wildlife spot, swim, surf, scuba dive. Some of the most stunning beach locations have awesome adventures close by so a beach elopement is a perfect option if you're eloping with family! The more chill of your guests can enjoy lounging on the beach while the adventurers can go explore!
Best Locations for an Adventurous Beach Elopement:
Kauai
Costa Rica
Maine
Oregon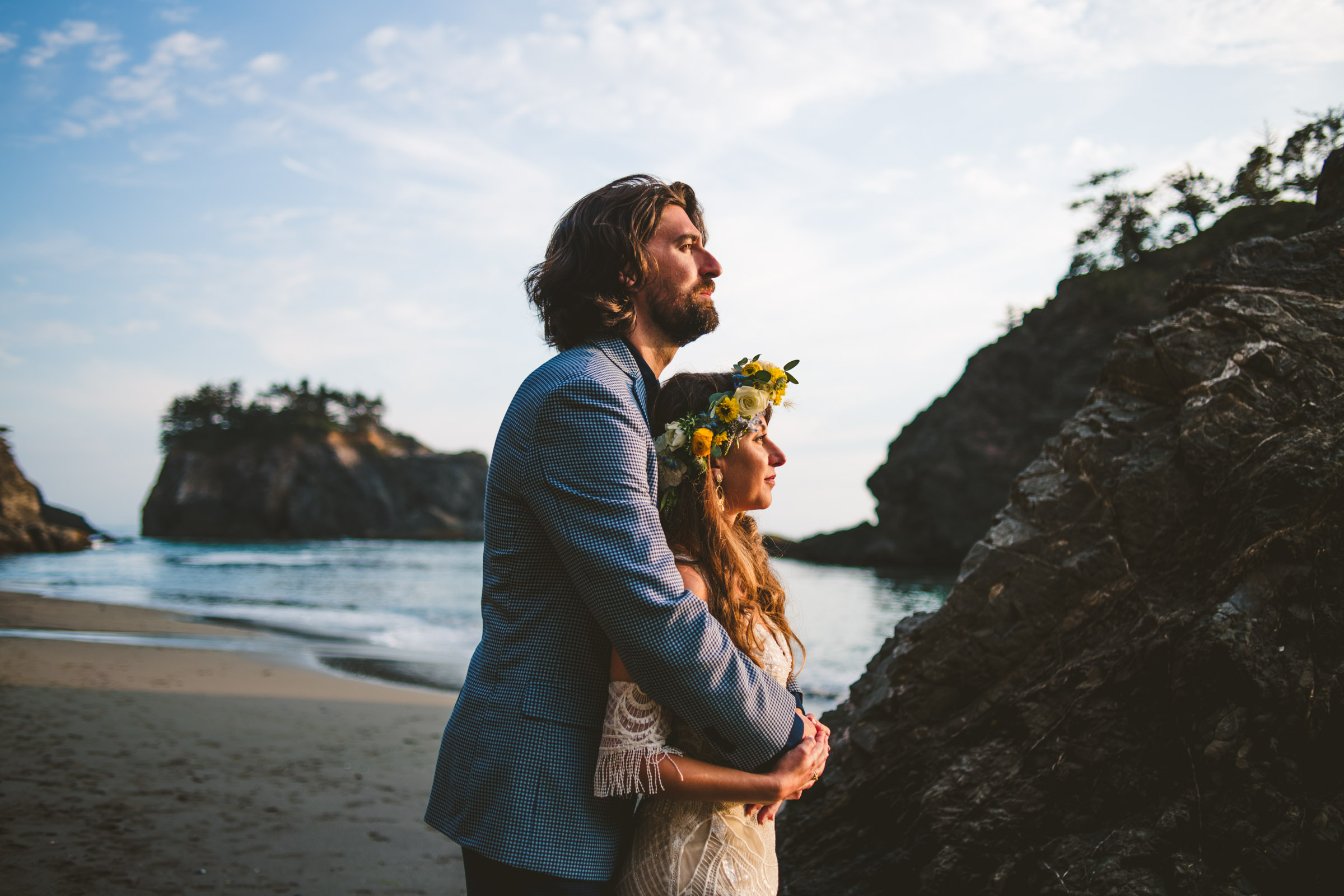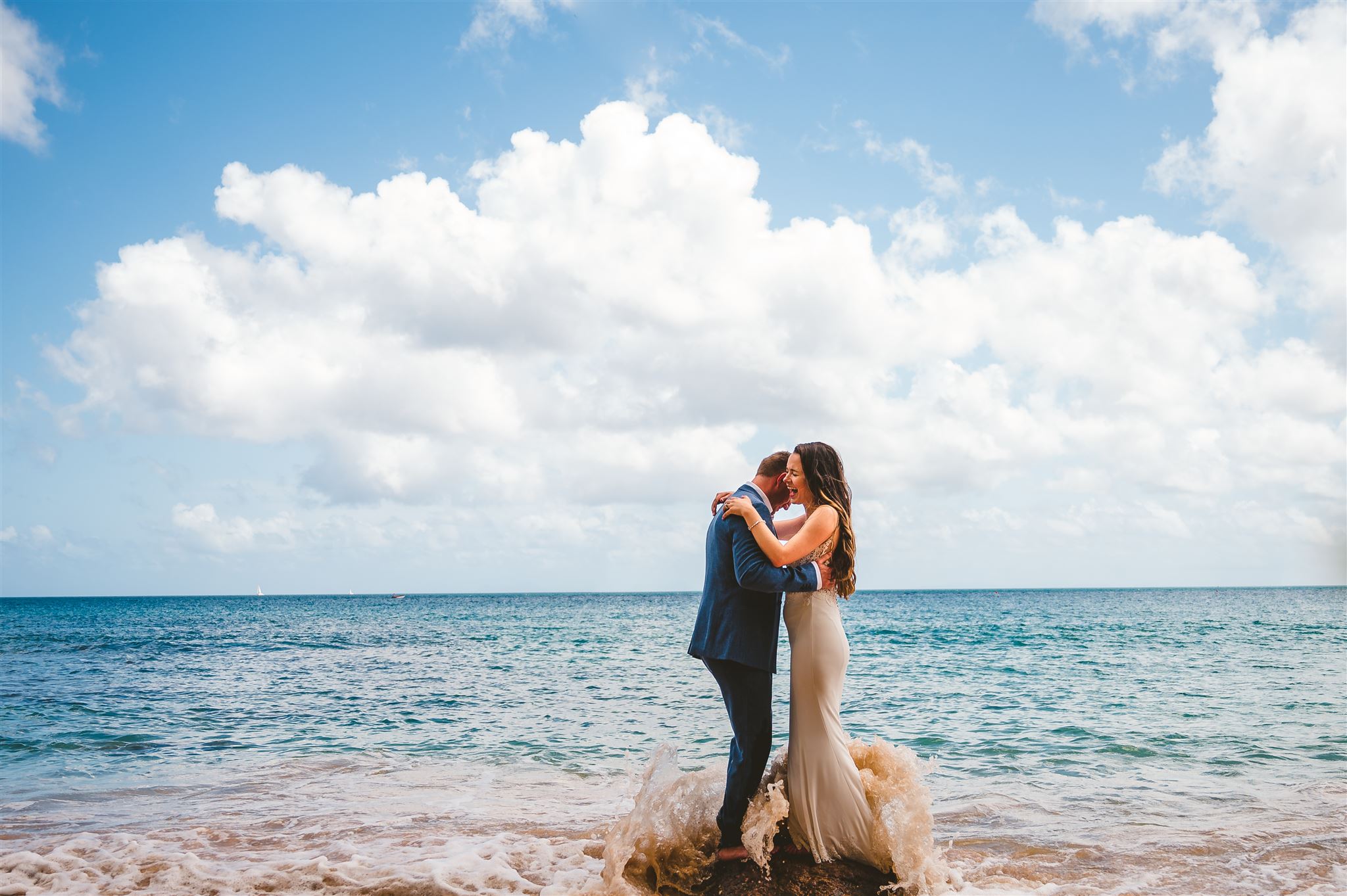 Adventure Elopement Idea #8
Go for a Swim
What better way to start the day than seeking out the area's best swimming hole & taking the plunge together! Whether you want a relaxing swim or something more thrill like cliff jumping this is such a fun elopement day activity!
Best Locations if You Love to Swim: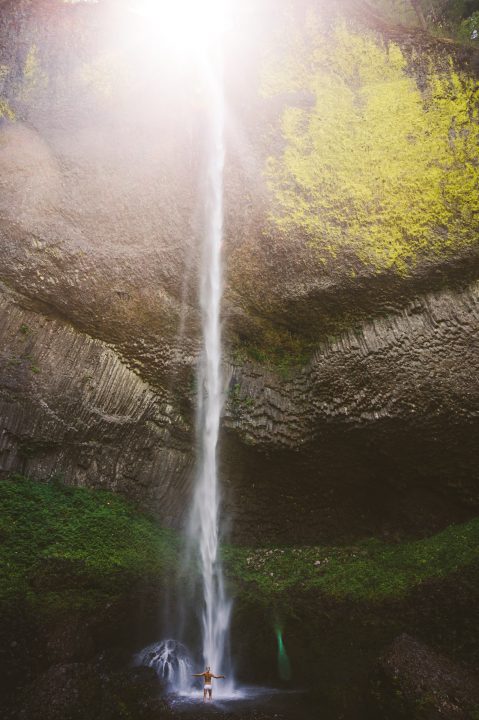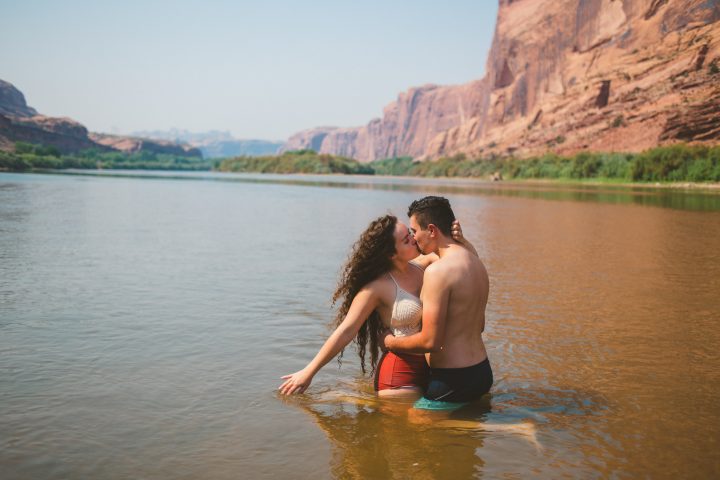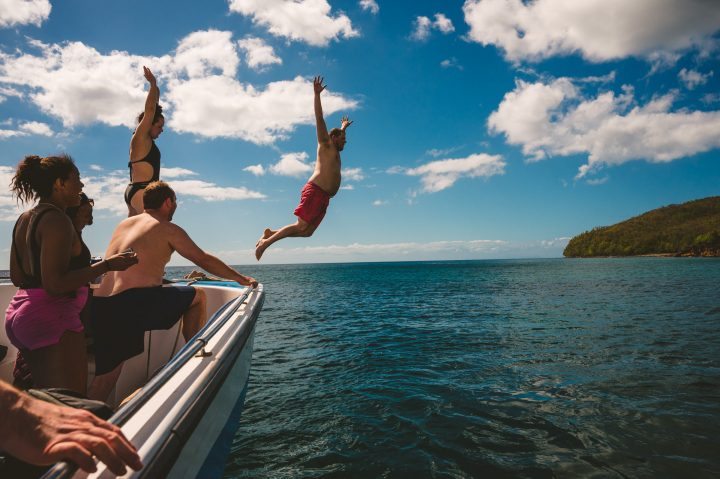 Adventure Elopement Idea #9
Travel Someplace You've Never Been
What could be more adventurous than choosing to elope in a location that is brand new to both of you! How fun would it be to explore a new place for the first time, together, while you elope!?! Together! It can make for some of the most amazing memories. Extend your trip & you can easily turn it into your honeymoon!
Epic Locations to Elope To:
New Zealand
Patagonia
Iceland
Kauai
Africa
Looking for more location inspiration?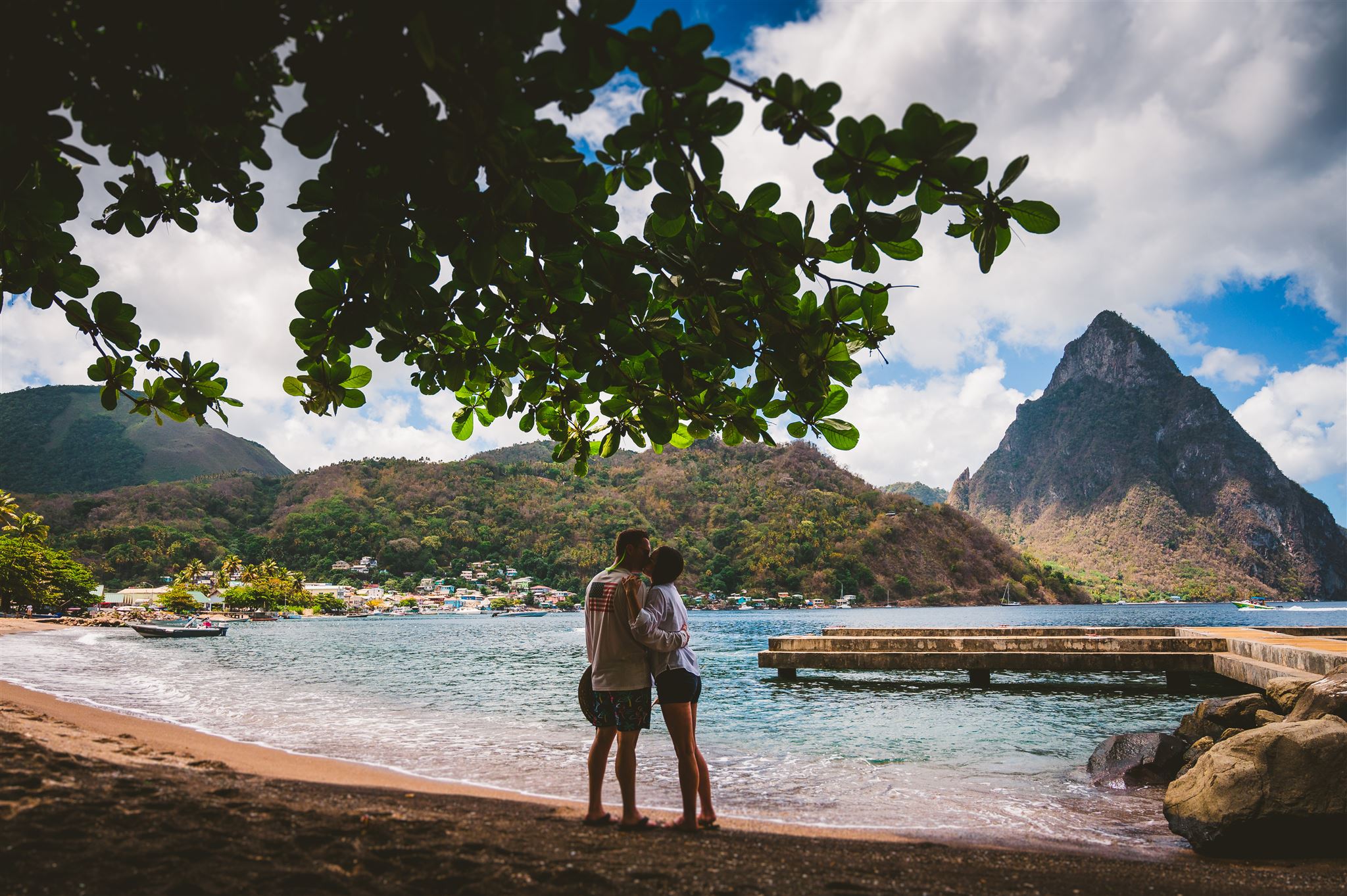 Adventure Elopement Idea #10
Have a Fancy Picnic Outdoors
Picnics are such a fun way to enjoy delicious food in a beautiful location. Close your eyes and imagine saying your vows out in a beautiful scenic area, instead of having to run off right away to get to dinner… bring dinner to you & enjoy it while watching the sunset! You can have a picnic anywhere; the forest, on a beach, a glacier, a mountain top. Your wedding picnic can be as simple or elaborate as you want! I even know some pretty amazing vendors who specialize in "fancy" picnics for elopements!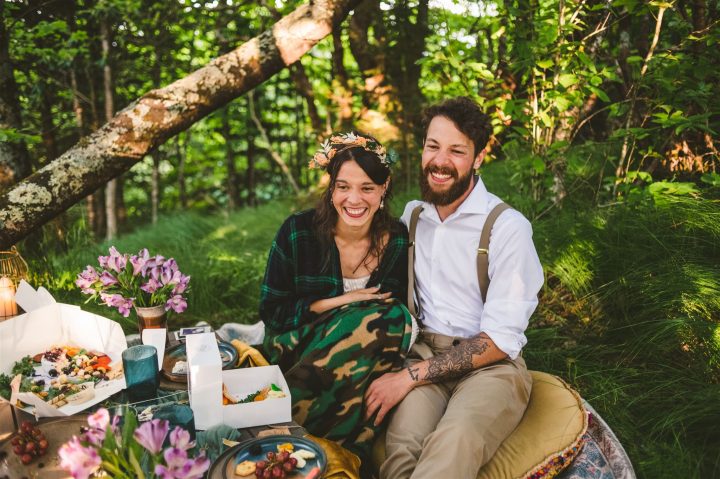 Adventure Elopement Idea #11
Elope in The Desert – Endless Views with Easy Access
Deserts are home to such a unique & beautiful landscapes. With very minimal effort your feet can put you in some pretty epic locations such as this spot near Moab, Utah where we may have been 500 feet from the car! Deserts offer really amazing activity options; exploring slot canyons, rafting, rock climbing, horseback riding, star gazing & more!
You can view my guide to eloping in the desert here.
Amazing Desert Locations to Elope:
Arizona

New Mexico
Atacama Desert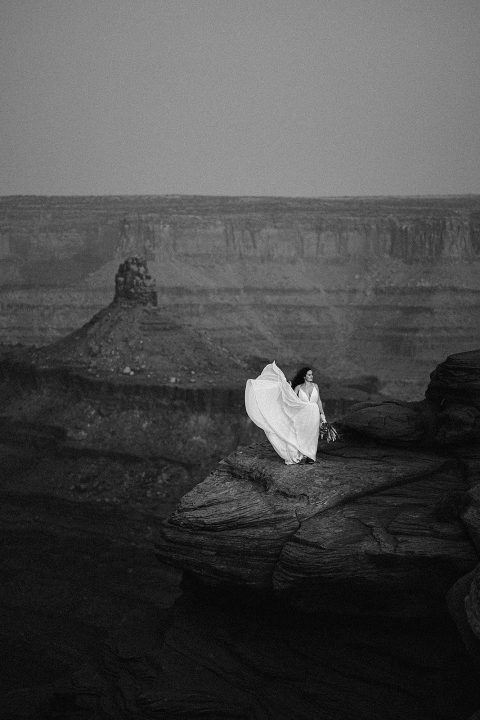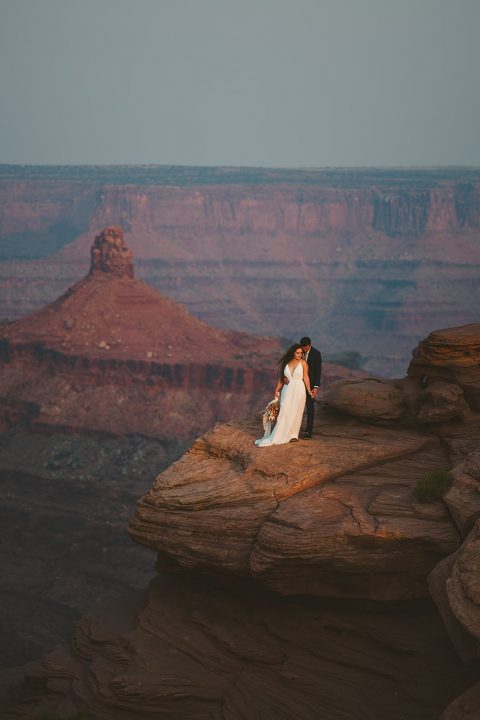 Adventure Elopement Idea #12
Go Stargazing
Perhaps the most peaceful of my elopement activity suggestions, stargazing is the perfect way to wind down an amazing, action packed day! Imagine stepping out onto the front lawn of your airbnb after finishing a delicious wedding meal cooked by a private chef. After a few photo's documenting you guys under the incredible night sky, why not thrown a blanket down, put your favorite song on and snuggle up for some relaxing stargazing.
Fun note, my husband and I love stargazing so much when we built out our bus we added a large rooftop deck that we love stargazing from!
Best Locations to View the Stars:
Alaska In the fall
Montana
Big Bend National Park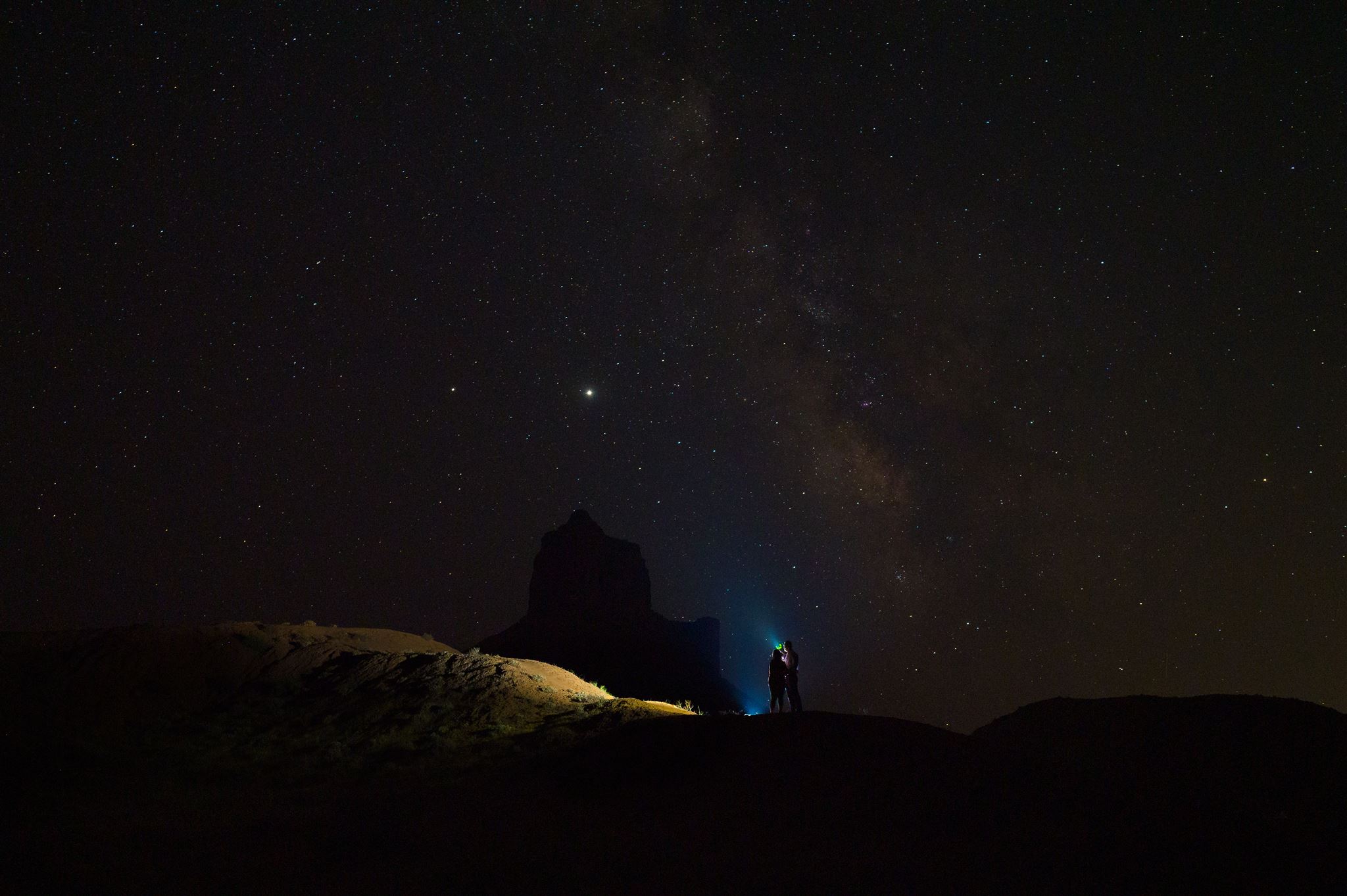 Adventure Elopement Idea #13
Go on a Road Trip
Roadtrips are such a fun way to see some amazing sights & have a blast on your elopement day! Pick a location, map it out & choose some places to stop along the way; a scenic overlook, a cool brewery, an incredible restaurant, take a stroll down a boardwalk. Make it a few hour adventure or a multi-day road trip staying in a new location every night!
Short Road Trip Locations
New Hampshire's – Mount Washington Auto Road
Million Dollar Highway in Colorado
Going to the Sun Road
Drive the Road to Hana
Multi Day Road Trip Locations
The Pacific Coast Highway

Million Dollar Highway in Colorado

The Blue Ridge Parkway
Drive the Loop around the Olympic Peninsula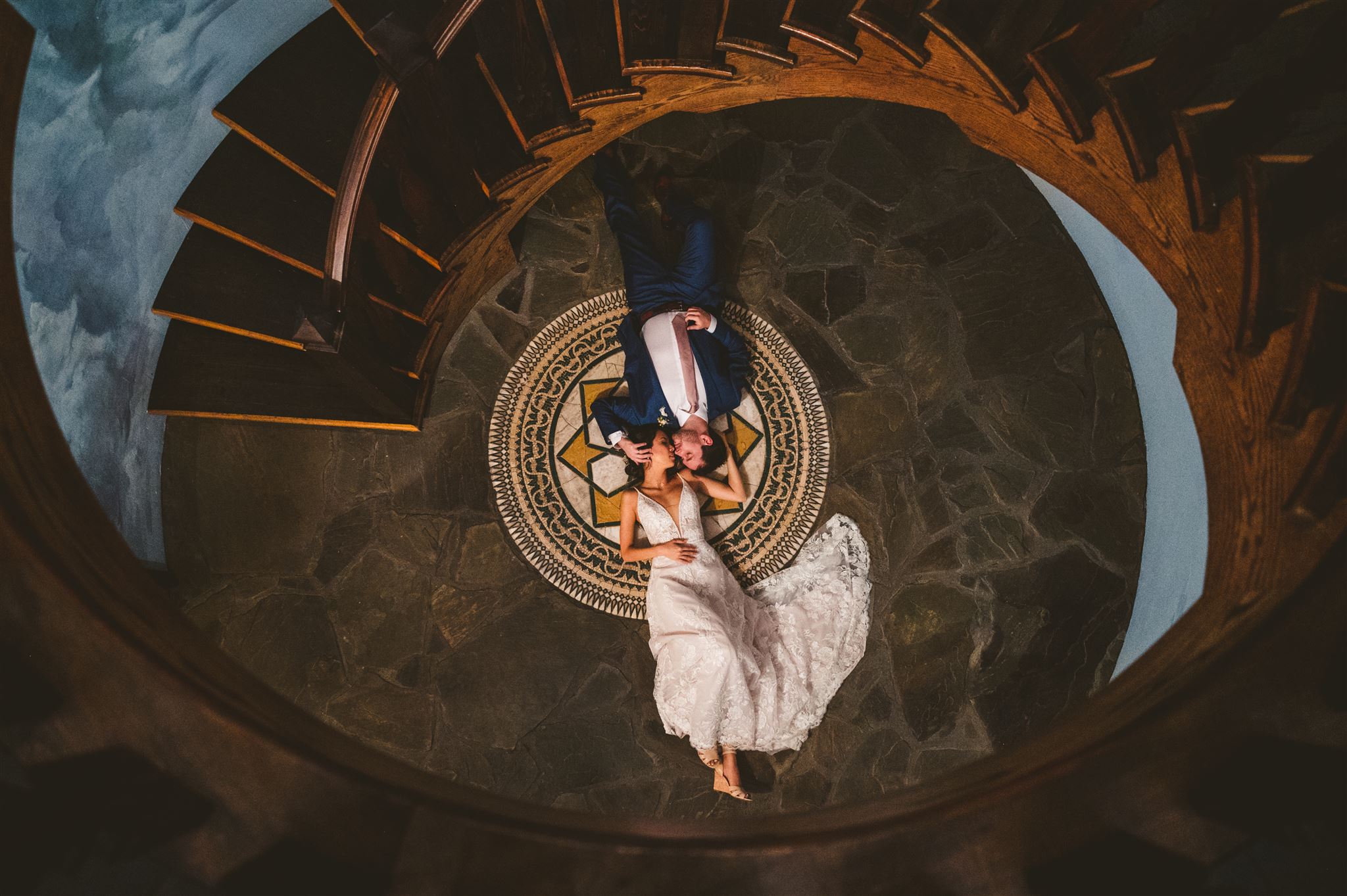 Adventure Elopement Idea #14
Take a Ride on a Ski Lift or Gondola
If you love skiing or snowboarding why not choose a winter wonderland & hit the slopes for your elopement! Take a ski lift to the top of the mountain and say your vows before skiing down the mountain! If you're not cold weather people, keep in mind many ski lifts/gondolas operate in the summer & this is a great way to get some awesome views without hiking to the top of the mountain!
Best Locations For Skiing or Snow Boarding
Colorado

Wyoming

Idaho

New Hampshire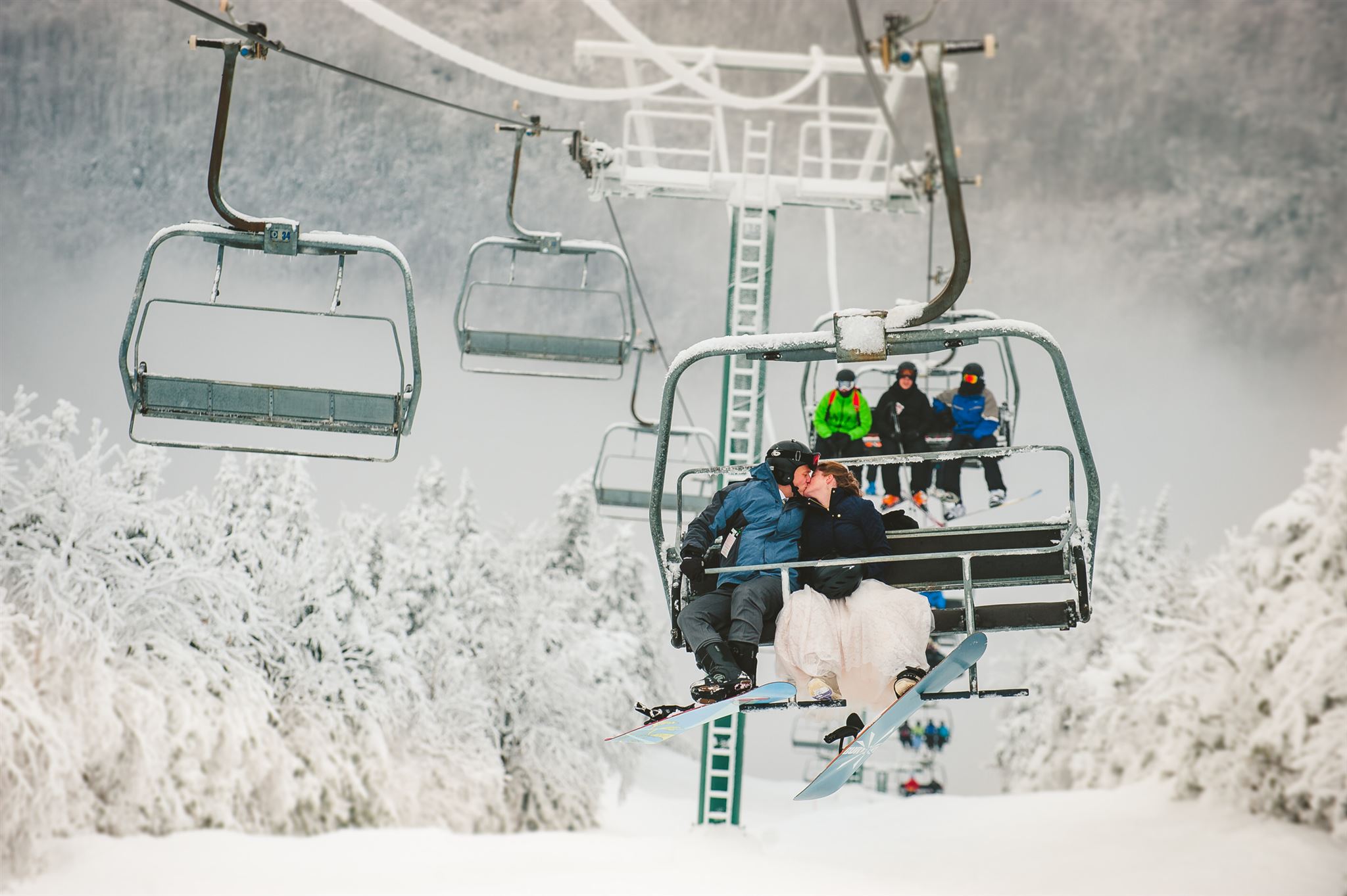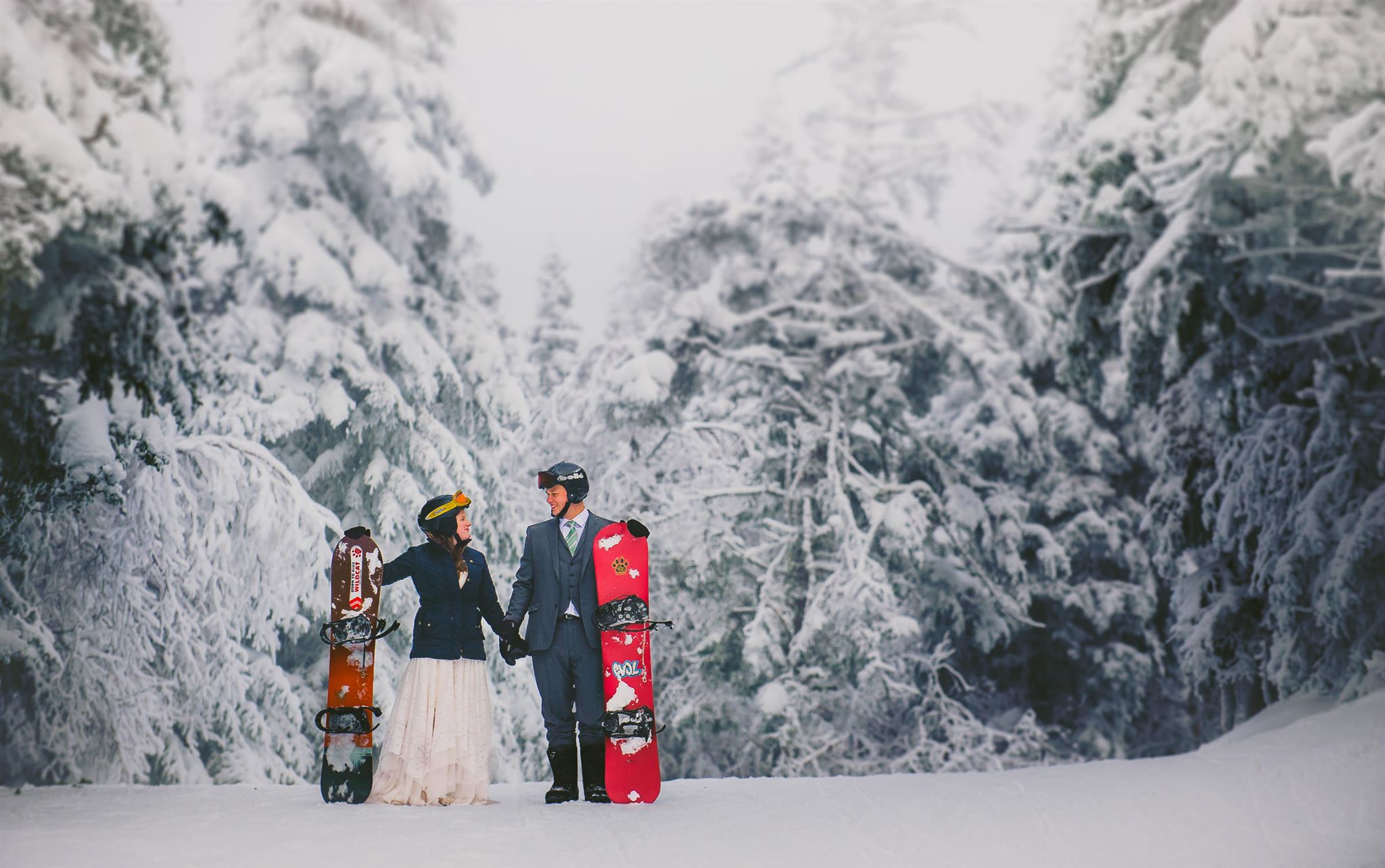 Adventure Elopement Idea #15
Go Camping or Glamping
So many stunning national parks and scenic areas have amazing campgrounds you can stay in that require zero hiking 😉 If you love the idea of spending the night in the great outdoors but don't want to backpack consider booking a campsite instead!
Want an outdoor inspired overnight with a little more luxury consider booking a stay at a glamping resort like Under Canvas or Autocamp
Best Locations For Camping or Glamping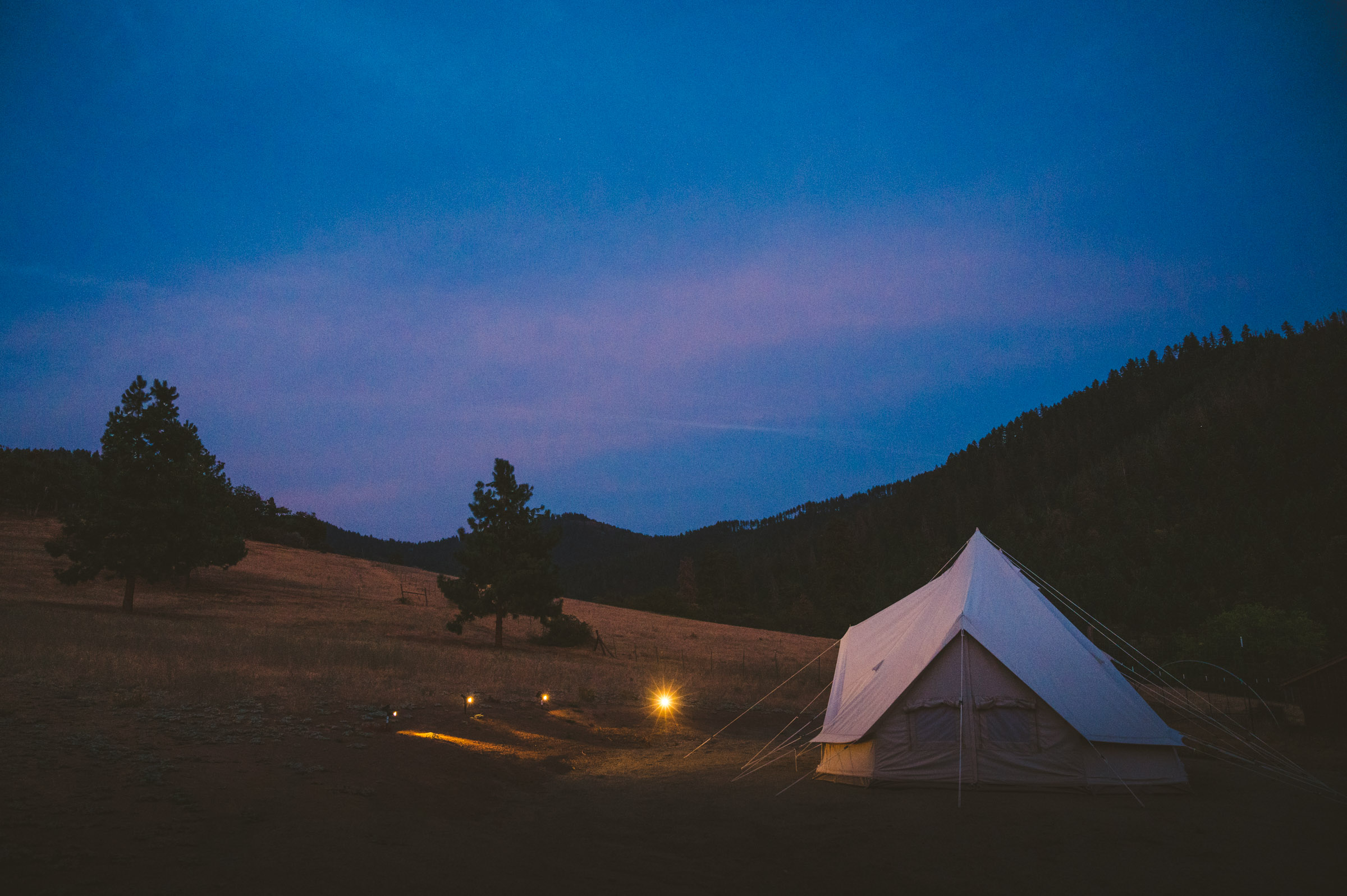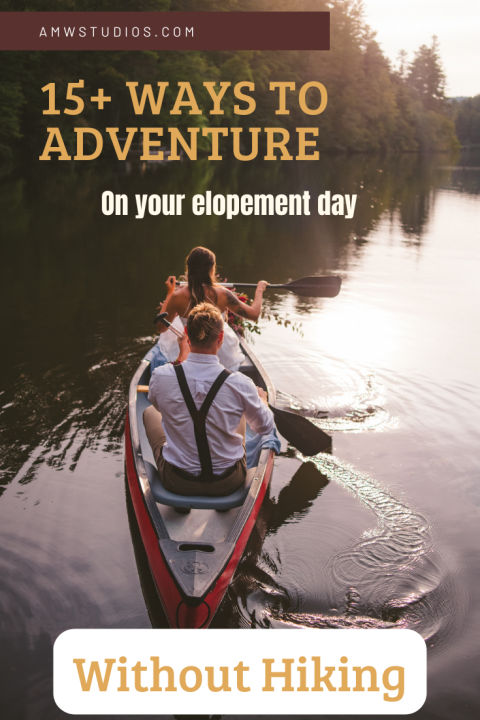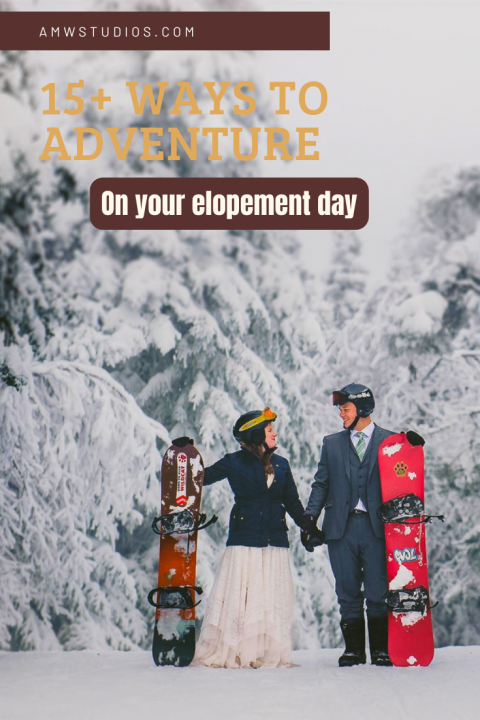 Looking for more elopement inspiration?!
Check out these related posts: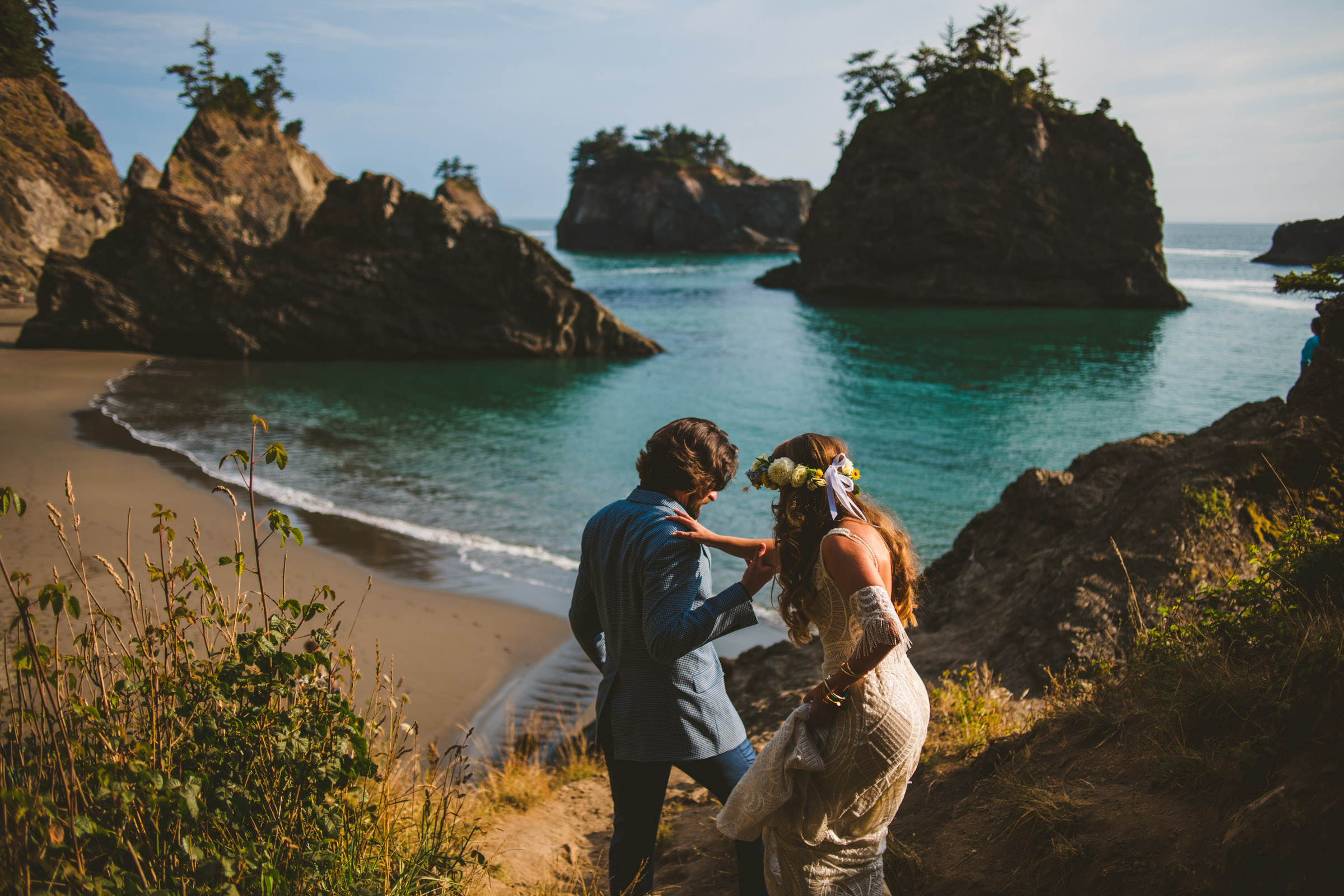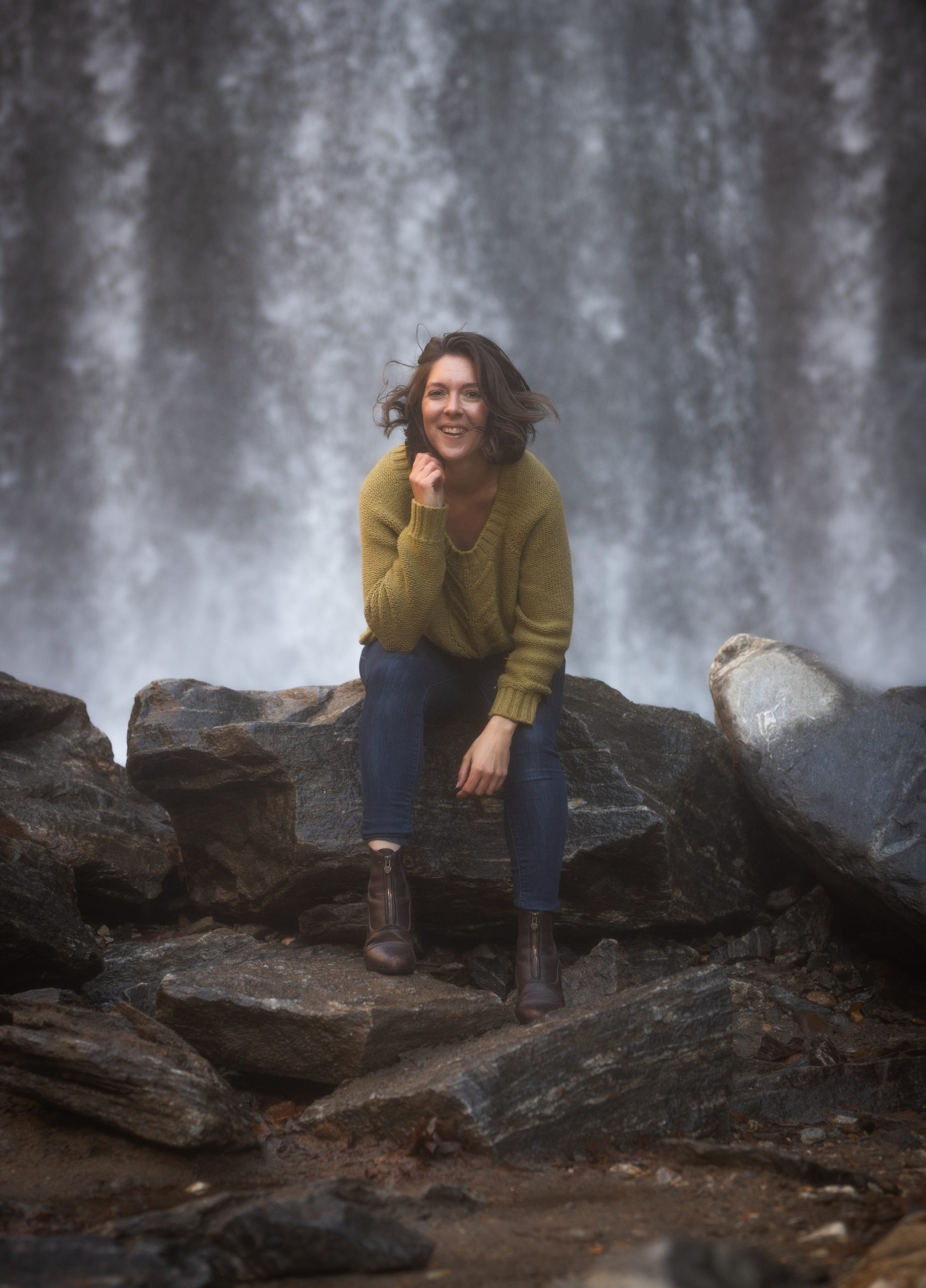 As an elopement photographer and outdoor enthusiast I get absolutely giddy with excitement when helping fellow adventure seekers, travelers, dreamers & fun-loving couples plan their experience based, intentional wedding days.
I live on the road full time traveling the country in my dream home on wheels – a 38' long fully off grid, converted bus.
Some of my favorite adventures include: Backpacking and ice climbing in Alaska, hiking the Napali Coast on Kauai, trekking in the jungles of Costa Rica.