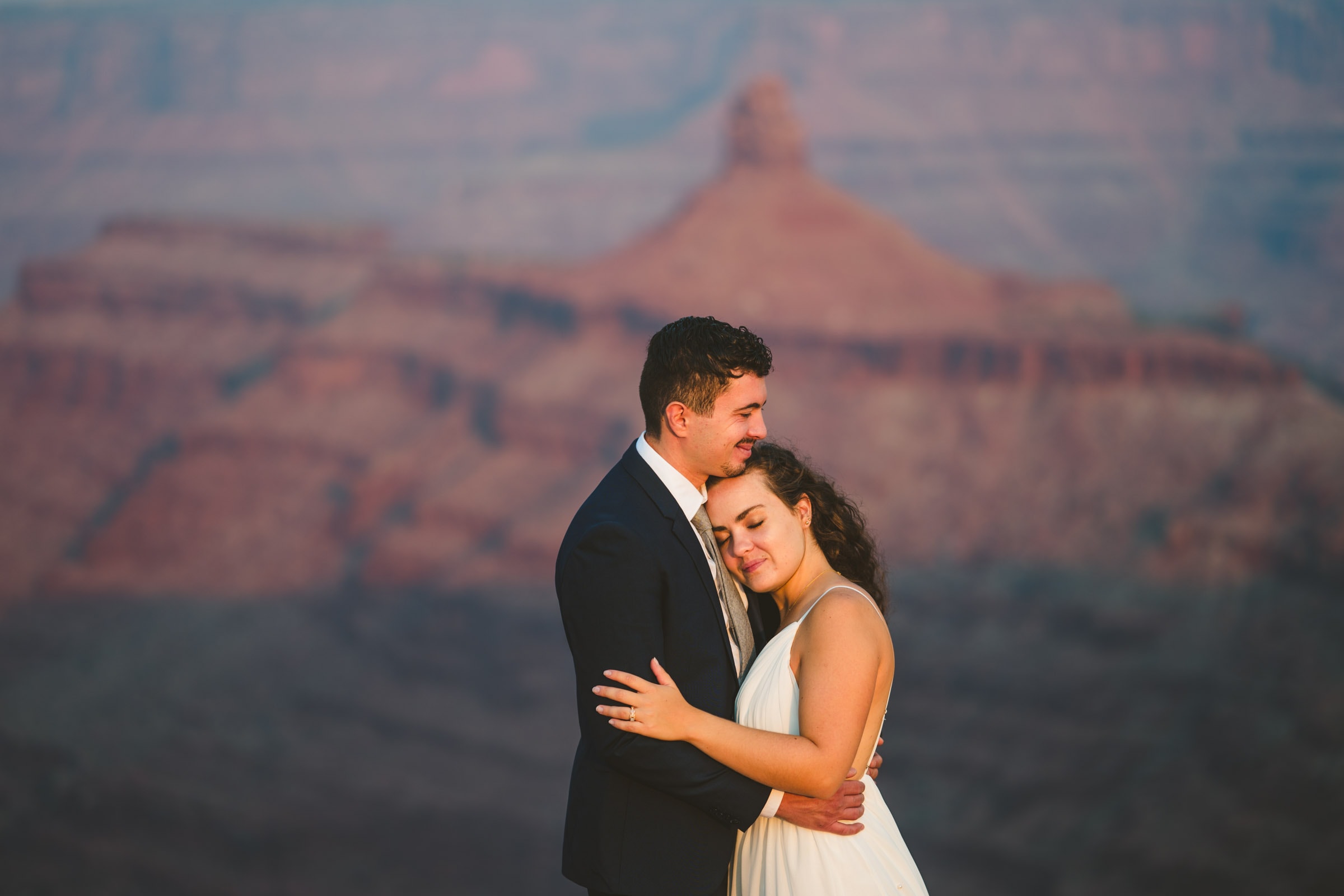 Utah Elopement Planning Guide: Where to Stay, What to Do & More! *Updated for 2022*
Did you know Utah is home to 5 incredible national parks? Yup, they're called Utah's "Mighty Five" and each of them is packed with awe-inspiring red rock landscape waiting to be explored! From Zion's magnificent red cliffs to the vast canyons & rivers of the less traveled Canyonlands, Utah has a plethora stunning places to say I do. Want to avoid the crowds that popular places like Zion or Arches draw? Utah has an unlimited number of stunning locations that are off the beaten path. The first time I traveled to Utah I was blow away at all the cool locations I could take couples who wanted to escape the crowds and today I'll share just a couple today!
With so many great elopement locations in Utah, it is hard to pick just one for your wedding day, but as your Utah elopement photographer & expert planner I'm here to help you find the location that fits you the best. My all inclusive elopement packages in Utah are designed to eliminate any stress of where to elope or what vendors to choose! I take care of booking your luxe lodging, photography & have a team of incredible local vendors to make your day absolutely amazing! Want to skip the stress of planning your own elopement?


There are so many incredible locations for your Utah elopement & I'm so excited to share them with you! But first, what should you know about Utah's marriage laws and eloping in Utah?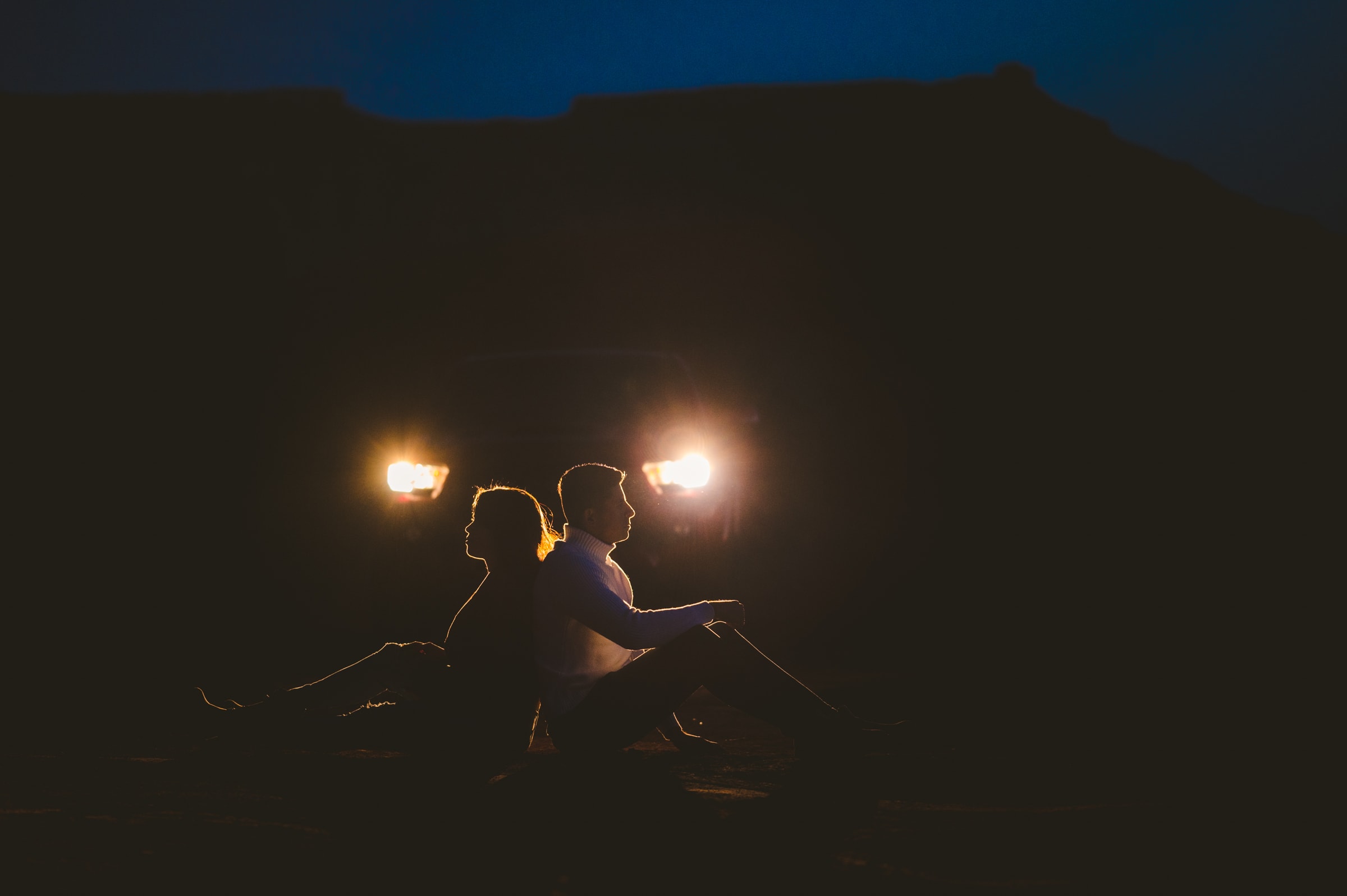 How to Elope in Utah
Utah's Marriage Laws and Marriage Licenses
Getting legally married in Utah is easy since Utah's marriage laws and processes for marriage is straightforward: Any couple over the age of 18 may apply for a marriage license. The cost of a Utah marriage license varies county to county but you can expect to pay somewhere between $20-$60. There is no waiting period so you can pick it up & get married the same day if you chose! Your Utah marriage license will expire 32 day's after issuance so if you live in Utah don't get excited and apply to early! You do not need to be a resident of Utah to apply and your marriage license is valid to get married anywhere in the state, you do not need to get married in the county you applied for your license.
Quick Steps to Make Your Utah Elopement Legal:
1. Apply & Get your Marriage License from any County Clerks Office
2. Some offices may require an appoint so check online or give the office a call before showing up. Because the cost of a Utah marriage license varies by county this is a great time to check the cost & ask how they prefer payment.
3. Bring Your Social Security numbers, and a government issued photo ID
4. You can use your Marriage License immediately
5. Make sure to deliver the signed Marriage License back to the issuing office within 30 days of signing it
Lastly, depending on your location and size of the wedding, permits may be needed to elope in national parks, national forests, and other public land, so research specific to the area is needed to keep your elopement safe and legal.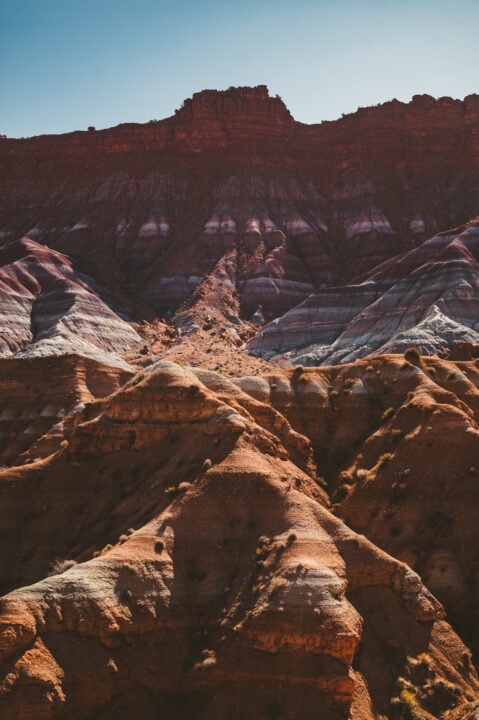 Best time of year to Elope in Utah
All four seasons are amazing in Utah but my favorite time of year is between October-April. Late fall & early spring is the shoulder season which means less crowds to contend with! Winters are mild in the southern part of the state & eloping in winter gives you the rare chance to see a beautiful coating of white snow against the red rock landscape! Utah's diversity of landscapes and climates are part of what makes it such an awesome place to elope!
Elope In Utah In The Summer
Best piece of advice to give if you choose to elope in Utah in the summer…. Avoid the desert, instead stick to northern part of the state up near Salt Lake or Park City where the big mountains are!
Elope In Utah In The Fall
The deserts of Utah are great in the fall. It's no longer scalding hot, making places like Zion National Park, Kanab, Lake Powell or Moab the best places to elope in Utah during this time of the year.
Be aware that fall is a big tourism time for places like Moab and Zion, I highly recommend waiting till later fall to elope in these locations!
Elope In Utah In The Winter
If your schedule works that winter months are the best time for you to elope but you don't want snow, eloping in southern Utah is a great option! The lower elevations don't see much snow but you may get to see snow capping the beautiful red cliffs at higher elevation locations like Zion!
Elope In Utah In The Spring
The desert regions are a great options for spring elopements in Utah! Usually by February It's begun to warm up but the crowds have not yet begun to flock to places like Zion or Moab.
The Best Places to Elope in Utah
Now that you have your marriage license, you're ready to head off into the desert's of Utah for your elopement. But what direction should you go? Should you head southwest to St George or Kanab where you find popular elopement locations such as Zion National Park as well as endless equally as beautiful options that are less well known (those more private locations…. that's my specialty!). Or, perhaps beautiful Moab calls your name? Here you'll have your choice of endless BLM land or the more popular beauty of Arches National Park. Want more trees & less red rock desert? Head northwest to the towering mountains surrounding Salt Lake City.
Where Can I Elope in Utah
My Top 5 Places to Elope in Utah
Moab/ Home of Arches, Dead Horse Point & miles of gorgeous, less traveled public land
St. George / It might be most famous for being the closest big town to Zion National Park but St. George has so much more to offer, from Snow Canyon to the vast beauty of Red Cliffs Recreation, there are endless options for your stunning desert elopement.
Kanab / Sand dunes, Sand caves and epic slot canyons await your elopement adventure
Zion National Park / Famous for Angels Landing, Zion boasts epic red rock scenery. Towering mountains, rivers & tree's, there is so much beauty packed into this fairly small National Park.
Glen Canyon & Grand Staircase Escalante / Set between Kanab, Utah and Page, Arizona this lesser known part of Utah is a gem. Packed with awesome colorful mountains, the longest & deepest slot canyon in the world and the beautiful Lake Powell – This area of Utah is an adventurers dream.
Moab
Moab is an outdoor lovers dream. There are so many options for your desert elopement if you choose Moab as your destination. From the ever popular Arches National Park where red rock monoliths create the most beautiful formations. Head to Dead Horse Point to see the Colorado river wind its way through canyon gorges over 2000 feet deep. Want to avoid crowds? There are miles and miles of public lands just waiting to be explored via foot or renting a jeep for some off road exploration.

Arches National Park
Canyonlands National Park
Dead Horse Point
BLM Land – Castle Valley & so much more!

Want to know more about eloping in Moab? View my Moab Elopement Guide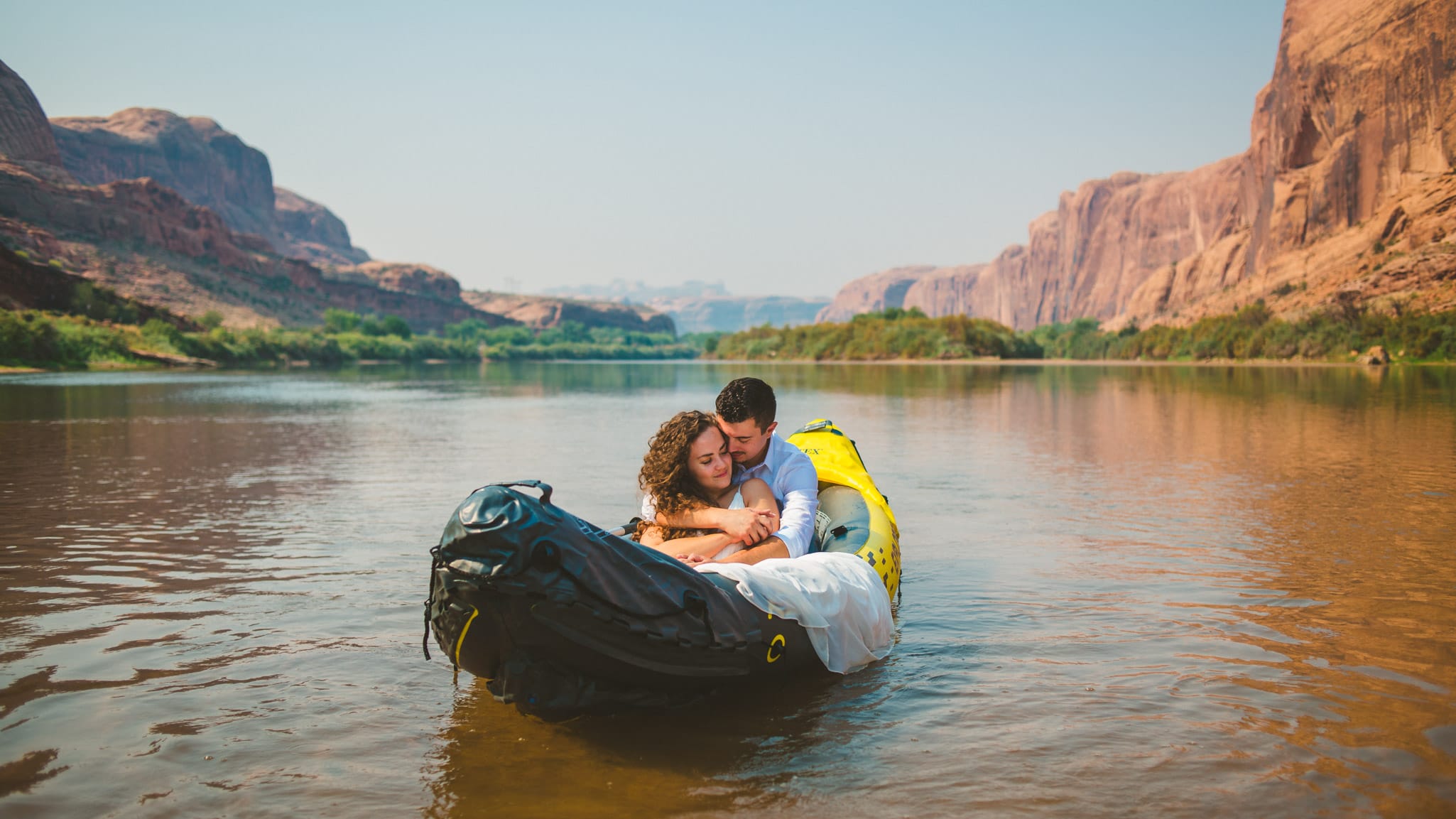 Zion National Park
Surely you've heard of Zion, Utah's most visited National Park. Featuring massive, red sandstone cliffs rising above green pine tree forests. There are endless hiking options & ways to enjoy Zion; in fact Zion Helicopters offers an amazing flying experience and will even set you down on a private piece of desert where you can say your vows! Springdale, the town just outside the park, offers many incredible lodging and dining options. If you're looking for an upscale glamping experience Open Sky Zion or Under Canvas are two incredible options! Because Zion is one of Utah's most popular places, I highly recommend planning your elopement in early spring or late fall to avoid peak tourist season.

Want to experience the wonder of Zion but elope somewhere more private? This part of Utah is jam packed with amazing lesser known locations in Hurricane/La Verkin area where you can say your vows in private. I would love to show you my favorite off the beaten path locations! Inquire today for more information!

Observation Point
Checkerboard Mesa
Canyon Overlook
Kolob Terrace Rd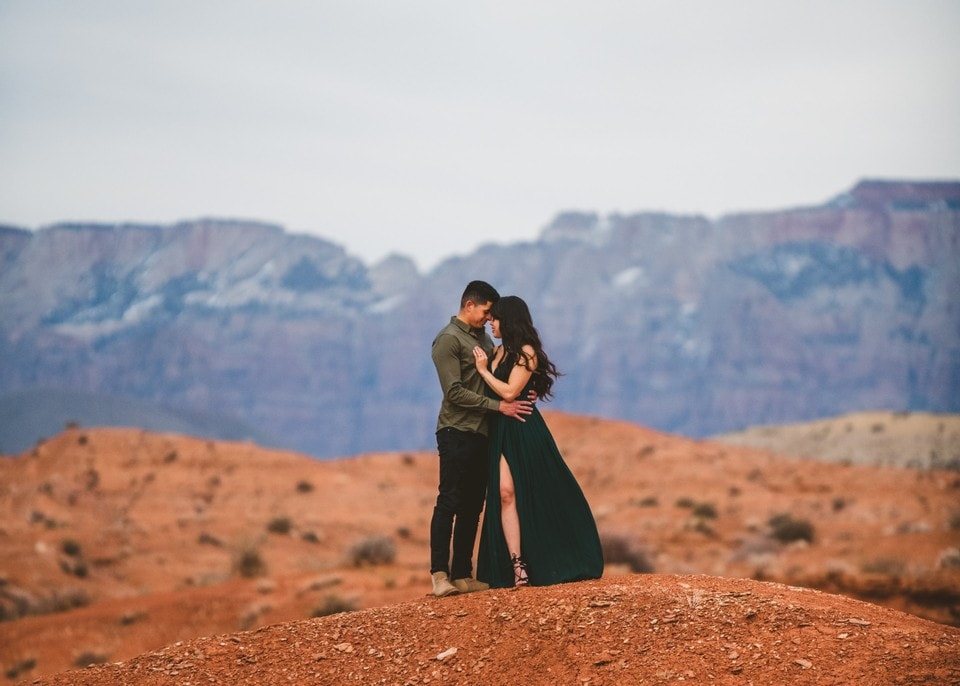 St. George
Snow Canyon State Park & neighboring Red Cliffs Recreation are two of my favorite places to take couples for their elopement. There are so many great hikes to enjoy such as Yant Flats which has scenery that looks like it's out of a Dr. Seuss book. The best thing about this area is it's so close to Zion that you can visit both if you chose two over a couple days!

Snow Canyon
Red Cliffs Recreation
Babylon Arch
Sand Hollow State Park
Top Secret, unamed locations near Zion without the crowds 😉


Salt Lake City
When one thinks of Utah usually they think of red rock deserts, slot canyons, arches and sandstone cliffs but Utah has so much more! Surrounding Salt Lake City are the big beautiful mountains of the Wasatch Range. In the summers you'll find wildflowers blooming alpine meadows & towering peaks rising from green forests!

Bonneville Salt Flats
Bear Lake Utah
Antelope Island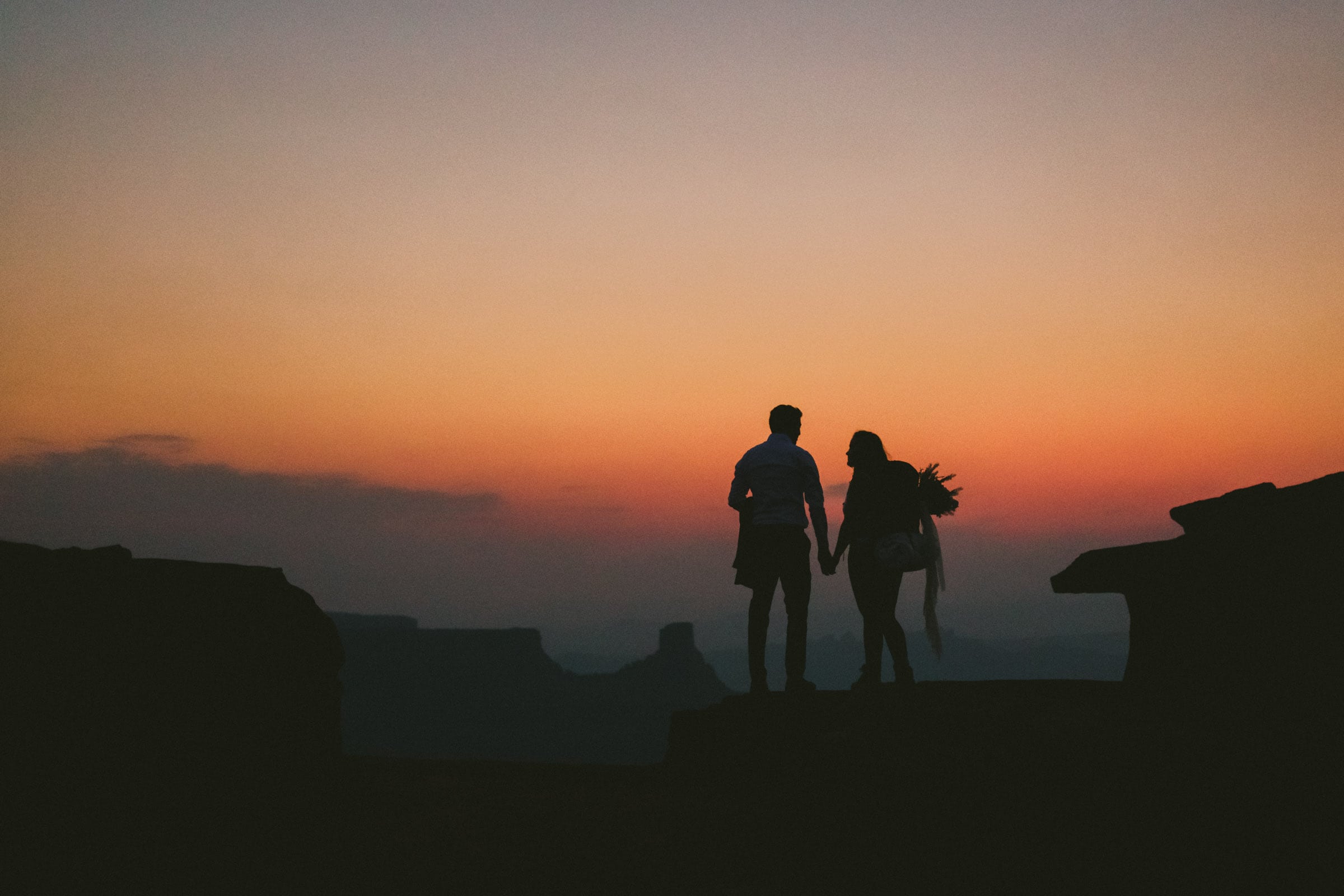 Located on the eastern side of Zion National Park lies the cute town of Kanab with an abundance of awesome outdoor adventures waiting. Try your hand at sand boarding on Utah's most beautiful dunes; Coral Pink Sand Dunes, visit the eastern/high elevation section of Zion National Park, explore slot canyons or enjoy some of Utah's best off-roading trails. From Kanab it's a quick jaunt north to Bryce Canyon or east to Page, Arizona where Horseshoe Bend and Lake Powell await!

Coral Pink Sand Dunes
Bryce Canyon
Hike Through Slot Canyons
Grand Staircase Escalante & Pariah
Lake Powell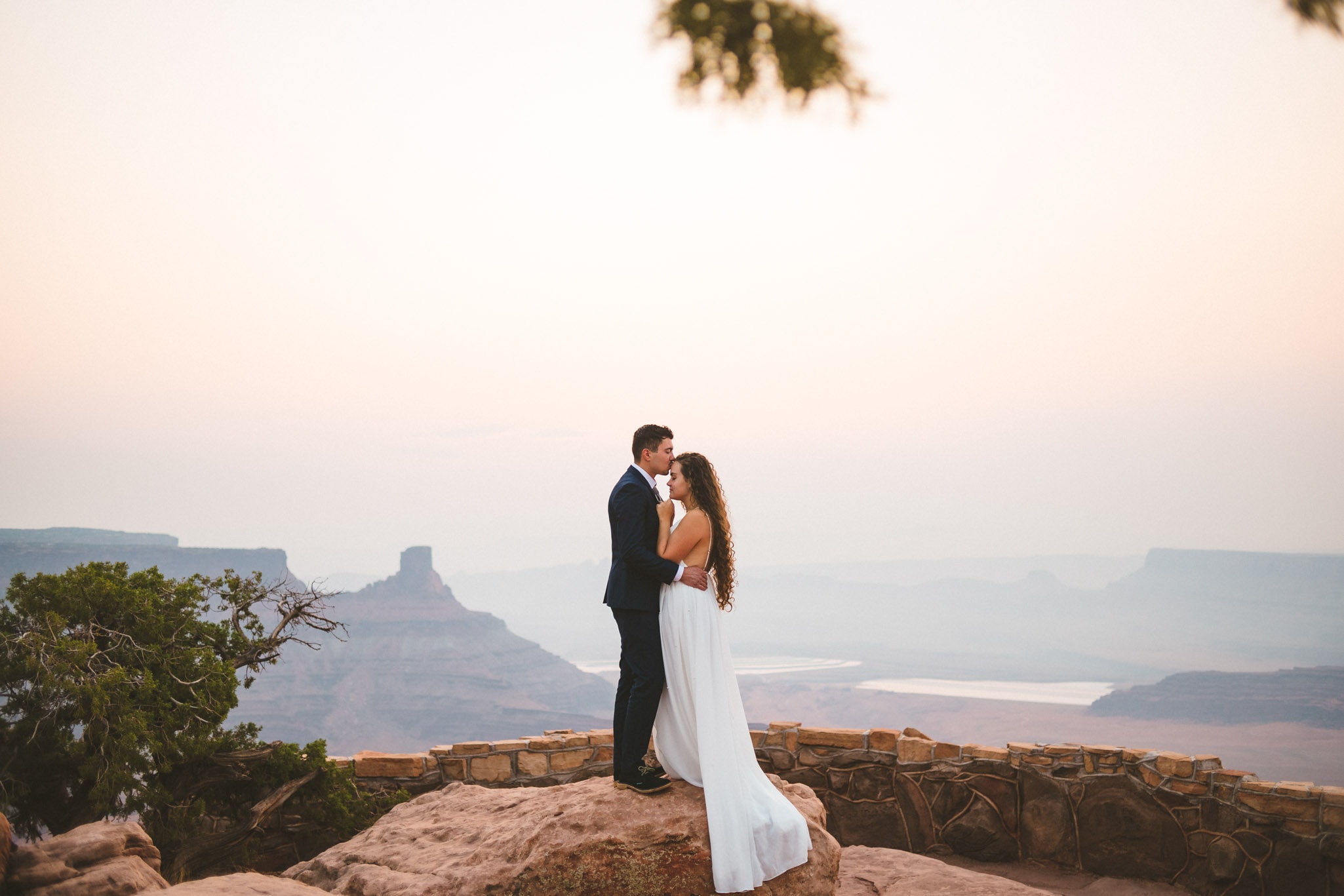 Fun Activities For Your Utah Elopement
Think of your elopement as a one-of-a-kind, adventure-filled experience.
You get to make your wedding day your own by incorporating activities that you ordinarily can't do during a traditional wedding! Utah is filled with opportunities to have a fun adventure! Here are some popular activities you could do if you elope in Utah:
Rent a Jeep for some awesome 4×4 adventures!
Take a dip in natural hot springs
Fly over Zion in a Helicopter
Hike Angels Landing
Ride a cable car to the top of a mountain
Go Sand boarding at Pink Coral Sand Dunes
Rock Climb
Stroll through slot canyons
Go Stargazing (so many dark sky areas in Utah to enjoy viewing the milky way)
Jump in a lake
Visit Homestead Crater
Book a Horse Back Riding Tour
Take a ride in a Hot Air Balloon
What you do on your elopement day doesn't all have to be wedding-related. There are so many ways to turn it into a series of amazing experiences! How you choose to elope in Utah is up to you and your partner!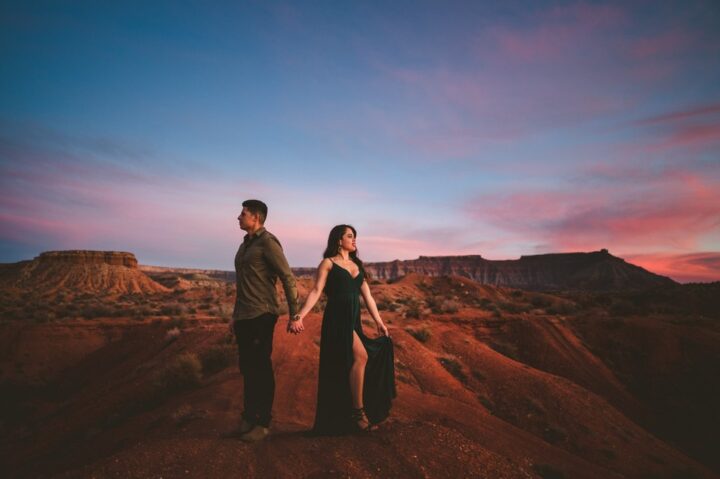 Utah All Inclusive Elopement Packages
Photography Coverage
Handcrafted Utah elopement experience that includes:

3 nights lodging in upscale airbnb or boutique hotel
Upscale Farm To Table Elopement Dinner by private chef

Officiant & epic ceremony location
Flowers
Excursion of choice (Canyoneering, Jeep 4×4, Hot Air Balloon, Horseback Riding, Kayaking tour)
Customized elopement timeline
All Vendor Coordination


Looking for more elopement inspiration?!
Check out these related posts: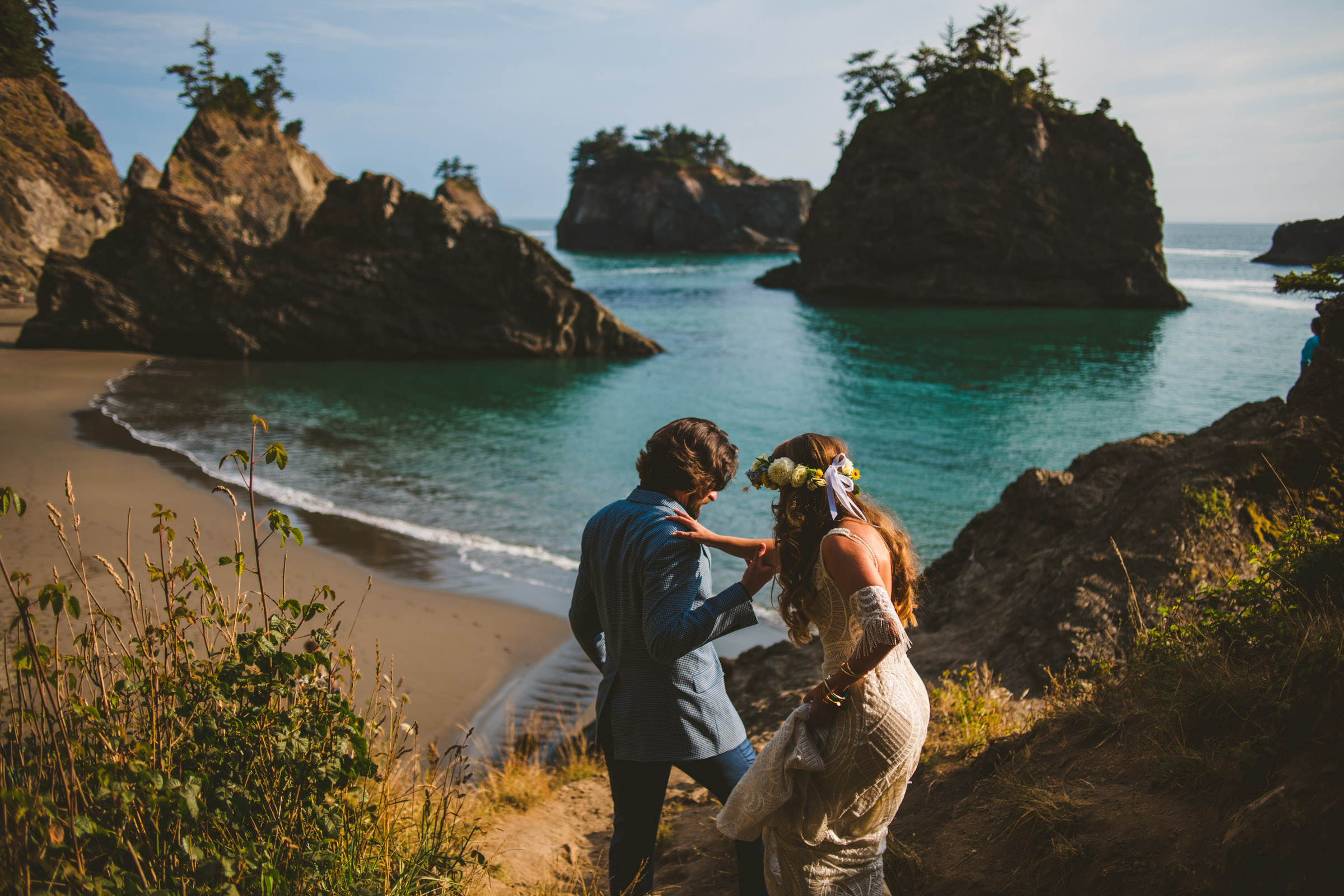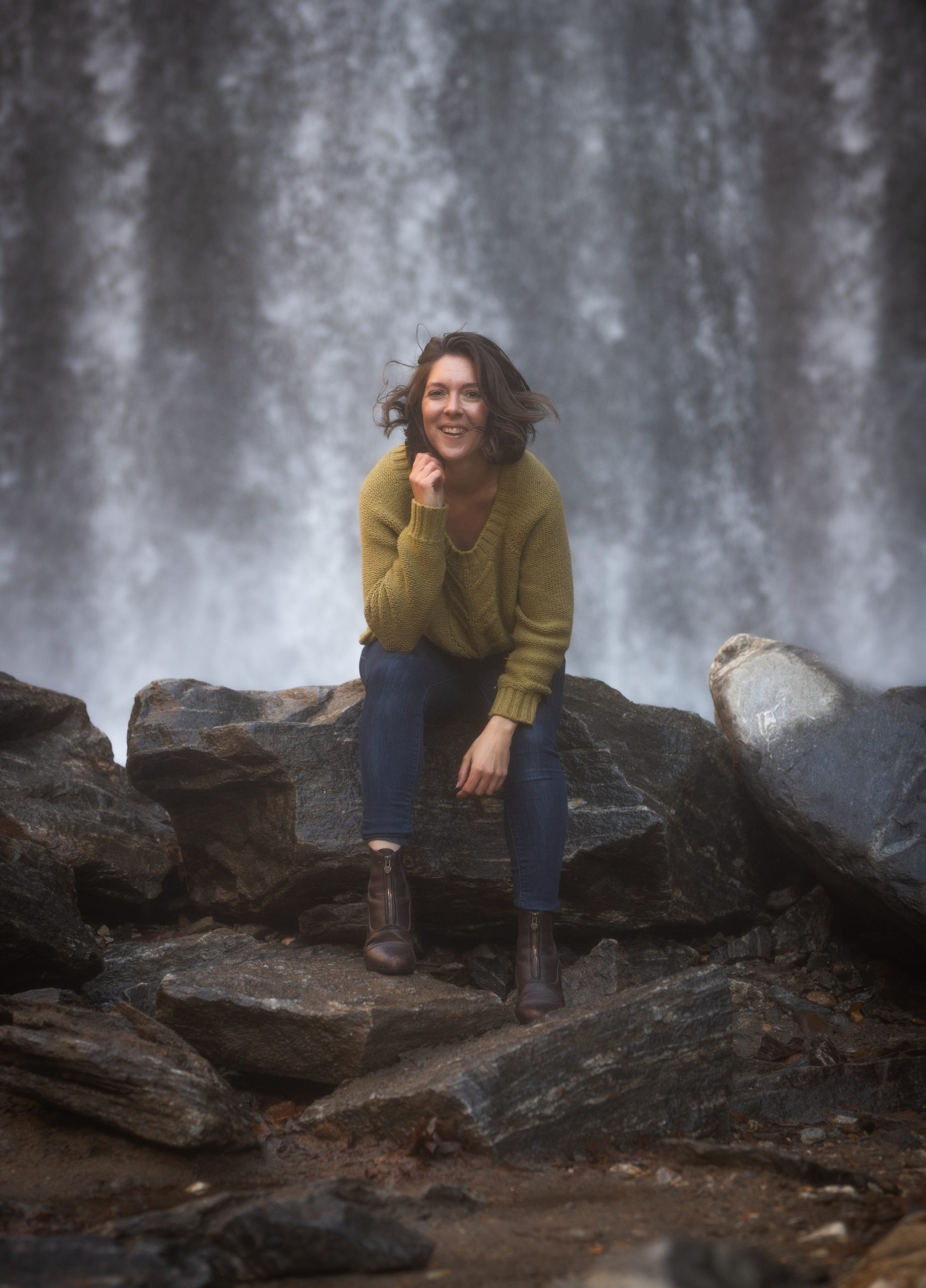 As an elopement photographer and outdoor enthusiast I get absolutely giddy with excitement when helping fellow adventure seekers, travelers, dreamers & fun-loving couples plan their experience based, intentional wedding days.
I live on the road full time traveling the country in my dream home on wheels – a 38' long fully off grid, converted bus.
Some of my favorite adventures include: Backpacking and ice climbing in Alaska, hiking the Napali Coast on Kauai, trekking in the jungles of Costa Rica.